Market Overview
The Global Touchless Door Activation Switch Market Size is projected to grow at CAGR of approximately 10.1% during the forecast period.
In order to reduce the spread of germs and the transmission of disease, touchless doors provide a hands-free entry solution. They work well in hospitals, restaurants, and other establishments where sanitation is crucial. Employee sick days are also reduced as a result of reducing pollutants. Additionally, these devices lessen the chance of harm and injury. Their timed opening enables secure building entry while their sensors make sure they never close on someone. They are useful in crisis situations as well.
The market for automated door activation in new buildings and repair or replacement projects in existing structures are primarily driven by their installation. Commercial, industrial, and residential sectors, as well as retail, hospitality, recreational facilities, institutions including hospitals and educational institutions.
Market Dynamics
Market Drivers
Growing Use of Touchless Technology at Work
To support their employees, organizations have begun introducing novel strategies and procedures involving touchless technology. Businesses are refining their procedures by implementing touchless employee and guest check-ins, using sign-in apps and employee QR codes that don't require any physical contact. More than 62% of customers anticipate using touchless solutions more frequently once the outbreak has subsided, which accelerated the adoption of touchless technology.
Because of the current COVID-19 epidemic, people are more conscious of the need to practice good hygiene and limit the transmission of disease. By eliminating the need to touch handles on doors, non-contact gate activation switches help keep buildings hygienic.
Having touchless door activation switches installed can increase building security by facilitating rapid egress in the case of an emergency. They can also aid in security by allowing only authorized employees to enter a building.
Market Restraint
Fluctuating Costs for Raw Materials
The price of raw materials makes up a sizable amount of the overall cost of production. Vendors create strong, dependable, and secure touchless doors using premium raw materials. The three main raw materials utilized to make touchless doors are cast iron, steel, and aluminum. For suppliers, the availability and price volatility of these raw commodities might present a serious operating risk.
Many people may be afraid to utilize touchless door activation switches because they are unfamiliar with them and do not understand how they work.
Market Opportunities
Expanding Opportunities in Construction and Real Estate
The expansion of commercial buildings including office buildings, malls, and retail spaces is anticipated to boost the growth of the touchless door activation market on a global scale. The majority of commercial spaces use the most recent infrastructure and technology to enhance the overall aesthetics of the area and provide the highest level of security and comfort.
Creation of New Ideas and Products
The market for touchless door activation switches has a lot of room for growth and development of new products. Business opportunities exist in areas such as sensor innovation, touchless switch integration with other building automation systems, and innovative user interface design.
Market Scope
Report Metric
Details
Market Size by 2031
USD XX Million/Billion
Market Size in 2023
USD XX Million/Billion
Market Size in 2022
USD XX Million/Billion
Historical Data
2019-2021
Base Year
2022
Forecast Period
2023-2031
Report Coverage
Revenue Forecast, Competitive Landscape, Growth Factors, Environment & Regulatory Landscape and Trends
Segments Covered

Segment by Type

Infrared Sensor
Microwave Sensor
Laser Sensor

Segment by Application

Residential
Commercial

Geographies Covered

North America
Europe
APAC
Middle East and Africa
LATAM

Companies Profiles

Assa Abloy
Allegion
Dormakaba
Iseo
Hoyles Electronic Developments
Stanley Black & Decker
Boon Edam
Tormax Usa
Pepperl+fuchs
Ms Sedco
Nabtesco
Camden Door Controls
Erreka Automatic Access
Anviz Global
Datawatch Systems
Idemia
Kastle
Rollseal
Dortronics Systems
Segmental Analysis
Segment by Type
The infrared sensor works by sending out a beam of infrared light and picking up any reflected energy from nearby people or things. Infrared sensors are frequently employed when combined with other sensors to offer accurate and reliable detection, making them ideal for use in touchless door activation switches.
Microwave sensors are devices that send out microwaves and pick up on the shifts in wave frequency caused by the presence of an individual or object in their field of view. Since microwave sensors are capable of identifying motion through walls and other impediments, they are frequently utilized in touchless door activation switches.
In order to detect a presence of individuals or things, laser sensors can be used to project a laser beam. Highly accurate and adaptable, these sensors have several possible uses, including as touchless door activation switches. While useful in many situations, laser sensors higher price tag can often make them less desirable.
Segment by Application
Homes, flats, and condos are just some of the places where you'll find touchless door activating switches put to good use. For those transporting groceries or other heavy objects causing it challenging to open doors by hand, these switches can be installed to facilitate easier and cleaner entry and exit.
Businesses, healthcare facilities, terminals, and other public buildings frequently install touchless door activation switches. These controls can be used to restrict access to certain locations, making them more secure and making public spaces more accessible for those with impairments.
Regional Analysis
The Global Touchless Door Activation Switch Market is segmented by region as North America, Europe, Asia Pacific, Latin America, and Middle East and Africa.
As the need for more sanitary and convenient door solutions grows, the market for touchless door activation switches is predicted to expand rapidly over the next several years. According to the market research, the market in North America will be the largest, followed by the markets in Europe and Asia-Pacific.
Due to the increasing concern for personal hygiene in the aftermath of the COVID-19 outbreak, the North American market is predicted to account for the lion's share of global sales. Touchless door solutions are becoming more popular in several sectors, including the healthcare industry, the hotel industry, and commercial buildings, all of which should increase demand for Touchless Door Activation Switch in the area.
Touchless door solutions are becoming more popular in many different sectors, including the healthcare, hospitality, and commercial real estate industries, all of which bode well for the European market. Demand for the Touchless Door Activation Switch is predicted to increase as the area experiences a rise in the demand for sophisticated and energy-efficient building solutions.
As more and more businesses throughout the region, including those in the healthcare, hotel, and commercial real estate sectors, implement touchless door solutions, the Asia-Pacific market is predicted to expand at a modest pace. A rise in urbanization and infrastructure investment is also taking place in the area, which should increase the need for cutting-edge building solutions like the Touchless Door Activation Switch.
The rising demand for touchless and sanitary door solutions, as well as the rising acceptance of innovative building solutions across a variety of sectors, bode well for the future of the Touchless Door Activation Switch market. As consumers become more conscientious of their personal hygiene, the North American market is poised to maintain its dominant position. However, both the European and Asian-Pacific markets are poised for rapid expansion as a result of rising demand for touchless door solutions across a wide range of industries.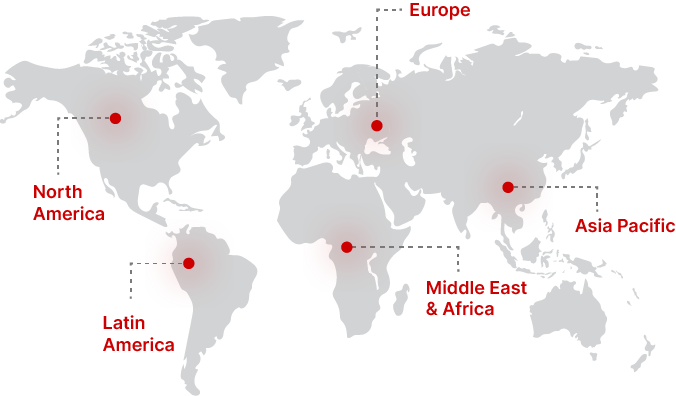 Regional Growth Insights
Download Free Sample
Key Players
Assa Abloy
Allegion
Iseo
Hoyles Electronic Developments
Stanley Black & Decker
Boon Edam
Tormax Usa
Pepperl+fuchs
Ms Sedco
Nabtesco
Camden Door Controls
Erreka Automatic Access
Anviz Global
Datawatch Systems
Idemia
Kastle
Rollseal
Dortronics Systems
Touchless Door Activation Switch Market Segmentations
Segment by Type
Infrared Sensor
Microwave Sensor
Laser Sensor
Segment by Application
Frequently Asked Questions