Market Overview
According to Reed Intelligence the Transdermal Drug Patches Market Size will approximately grow at a CAGR of 8.2% during the forecast period.
A transdermal drug patch is a patch that attaches to the skin and contains drug or medication. The drug from the patch is absorbed into the body over a period of time. It is a replacement of pill or injection as it provides more comfort and causes no pain while treatment. A transdermal patch acts as a carrier for a drug, holding it until it's applied. At the point of application, the patch's adhesive secures it to the skin, and the drugs contained in the patch will begin to permeate into the bloodstream.
Transdermal patches are widely used for the treatment of angina, hypertension, and other cardiovascular conditions. Transdermal patches are utilized to deliver hormones, such as estrogen and testosterone, for hormone replacement therapy in conditions like menopause or andropause. Transdermal patches are used for local and continuous drug delivery in the treatment of chronic pain, post-operative pain, and neuropathic pain.
Nicotine patches are a popular form of transdermal delivery which are used in smoking cessation programs to reduce nicotine cravings and help individuals quit smoking. Transdermal patches are explored by many pateints for the treatment of neurological disorders, including Alzheimer's disease, Parkinson's disease, and migraine.
Novartis AG, Johnson & Johnson, Mylan, N.V., Teva Pharmaceutical Industries Ltd., Hisamitsu Pharmaceutical Co Inc., Purdue Pharma L.P are some of the major players in the Transdermal Drug Patches Market.
Market Dynamics
Market Drivers
Increase in Chronic Diseases
Chronic diseases such as cardiovascular diseases, diabetes, and pain-related conditions are on the rise globally. Transdermal patches provide a convenient and effective way to deliver medications for these conditions, contributing to the growing demand for such patches. These patches are used for primary treatment of the diseases to get relief from the pain. The awareness of the transdermal patches is increasing in Economically developed regions and the regions adopting newer treatment sources for the patients. The increase in chronic diseases globally is the key driver of the demand of transdermal patches in the region.
Increase in Aging Population
The aging population is increasing in most of the regions and they need long term treatment. It may be difficult for some old age individuals to swallow the pills of relieving pain. The transdermal patches may be a good alternative for the aging population to control pain or other chronic diseases if recommended by doctor. They are used by the aging population only when the doctors recommend it because it might cause skin allergies which may not be bearable by the old people. Doctors now a days have started recommending transdermal patches to the old population which is driving Transdermal Drug Patches Market Growth.
Market Restraints
Skin Irritation and Allergies
Some individuals may experience skin irritation, redness, or allergic reactions when transdermal patches are used or are not removed after the time limit. The adhesive components or other ingredients in the patch formulation can lead to skin sensitivities, leading to discomfort or adverse reactions. This can affect patient compliance and limit the use of transdermal patches. The patient may resist using transdermal patches whose skin is sensitive and is prone to allergies. Transdermal patches are usually not recommended to the patients with sensitive skin or are suggested to remove earlier before there is any allergy.
Transdermal patches have limitations in terms of the drug dosage that can be delivered through the skin. The patch size and the drugs physicochemical properties determine the maximum dosage that can be given to a patient according to the requirement. In some cases, delivering high doses of certain medications may not be possible using transdermal patches which need alternative or high drug dosage. Transdermal drug patches usually do not high dosage as it may cause skin allergies arising eventually ending up into skin diseases. These may be the restraints of the Transdermal Drug Patches Market.
Market Scope
Report Metric
Details
Market Size by 2031
USD XX Million/Billion
Market Size in 2023
USD XX Million/Billion
Market Size in 2022
USD XX Million/Billion
Historical Data
2019-2021
Base Year
2022
Forecast Period
2023-2031
Report Coverage
Revenue Forecast, Competitive Landscape, Growth Factors, Environment & Regulatory Landscape and Trends
Segments Covered

Segmentation by Type

Fentanyl Transdermal Patch
Nicotine Transdermal Patch
Buprenorphine Transdermal Patch
Clonidine Transdermal Patch
Oxybutynin Transdermal Patch

Segmentation by Application

Hypertension
Contraception
Analgesia
Smoking Cessation
Angina

Geographies Covered

North America
Europe
APAC
Middle East and Africa
LATAM

Companies Profiles

Mylan
Novartis
Johnson & Johnson
Agile Therapeutics
Teikoku Pharma USA
Immune Pharmaceuticals
Hercon Pharmaceuticals
Pocono
DURECT Corporation
Xel Pharmaceuticals
Segmental Analysis
Segmentation by Type
Fentanyl Transdermal Patch
Fentanyl is a synthetic opioid medicine used to treat moderate to severe pain, it is up to 100 times stronger than other opioids like morphine, heroin or oxycodone. Transdermal fentanyl is a medication used in the management and treatment of chronic pain and cancer pain. It is part of the opioid class of drugs. The patch has an adhesive side that contains an active ingredient that must be applied directly flat on the skin. The most common adverse drug reactions of transdermal fentanyl are nausea (incidence of 10 to 90%), vomiting (incidence of 10 to 90%), and constipation. Fentanyl is from the class of medicines called narcotic analgesics. Fentanyl patches are used for long lasting pain relief for constant, around the clock cancer pain.
Nicotine Transdermal Patch
This medication can help you quit smoking by replacing the nicotine in cigarettes. When a person stops smoking, they go through withdrawal from nicotine that causes symptoms such as irritability, mood swings, restlessness, trouble concentrating, and increased appetite. This medication helps reduce the symptoms of nicotine withdrawal by replacing some of the nicotine that the person no longer receives through cigarettes. The nicotine patch when applied to the skin delivers a steady dose of nicotine over a 24-hour period. The dose is reduced until the person no longer craves nicotine, and they can stop using the medication. This medication works best when used with a comprehensive program to quit smoking.
Buprenorphine Transdermal Patch
Buprenorphine is a synthetic opioid analgesic that binds to opioid receptors in the brain and blocks the sensation of pain. It is also a partial agonist. it produces a less intense opioid effect compared to full agonists like morphine or oxycodone. It is applied to the skin and delivers a continuous and controlled amount of the medication over a specific period of time for about typically 7 days. The patch releases buprenorphine through the skin and bloodstream, providing pain relief for a longer period of time. The patch can also be a suitable option for patients who have difficulty swallowing pills or have gastrointestinal issues.
Clonidine Transdermal Patch
Clonidine is a centrally acting alpha-2 adrenergic agonist that is basically used for the treatment of high blood pressure (hypertension). It stimulates alpha-2 receptors in the brain, which leads to a decrease in sympathetic outflow from the central nervous system which leads to low blood pressure. In addition to treating hypertension, clonidine is also sometimes used for other conditions such as attention deficit hyperactivity disorder (ADHD), menopausal flushing, opioid withdrawal symptoms, and certain types of pain conditions. Clonidine can have some common side effects like dry mouth, drowsiness, dizziness, constipation, and low blood pressure. Serious side effects are rare but can occur.
Oxybutynin Transdermal Patch
Oxybutynin is an anticholinergic medication. It is used to treat overactive bladder (OAB) symptoms such as urinary urgency, frequency, and incontinence. The transdermal patch facilitates a controlled release of oxybutynin through the skin into the bloodstream. It is typically applied to the abdomen, hip, or buttock area and should be applied for 3 to 4 days before replacing it. Oxybutynin blocks the action of acetylcholine which is a neurotransmitter responsible for muscle contractions in the bladder. It helps to decrease urinary urgency and frequency by reducing Bladder muscle spasms. It also shows side effects like oxybutynin, whether taken orally or through the transdermal patch, may include dry mouth, constipation, blurred vision, dizziness, and drowsiness.
Segmentation by Application
Transdermal patches are not commonly used as treatment for hypertension. Clonidine Patch and Nitro-glycerine Patch can be used to treat Hypertension. Clonidine is an alpha-2 adrenergic agonist which is used to treat Hypertension by lowering the blood pressure. It is usually used when other oral antihypertensive medications don't have effect on the body. Nitro-glycerine Patch is generally used for chest pain which can also lower the blood pressure. They relax and widen the blood vessels by reducing the load on the heart and improving blood flow. Although Transdermal Drug Patches are not used for treatment of hypertension frequently, they are used to get a relief from pain.
Contraceptive patches are a form of hormonal birth control that deliver a combination of estrogen and progestin hormones through the skin into the bloodstream. These patches prevent ovulation by thickening the cervical mucus to resist sperm movement and thinning the lining of the uterus avoid implantation. The patch is a small, thin, adhesive square that should be applied to clean and dry skin. They are commonly applied to areas like buttocks, upper arm, abdomen, or upper torso. The patch is generally used in a cycle of 28-day. They also have some non-contraceptive benefits as they reduce menstrual cramps gives pain relief during the time of periods.
Transdermal patches are easy to use and do not require injections or oral administration. They can be applied to the skin directly over the site of pain, providing localized relief. This route of administration is especially beneficial for patients who have difficulty swallowing medications or those who require long-term pain management. Compared to oral medications, transdermal patches can potentially minimize systemic side effects because the drugs bypass the digestive system and are absorbed directly into the bloodstream. This can be particularly advantageous for patients who are sensitive to the gastrointestinal effects of certain analgesics. Compared to oral medications, transdermal patches can potentially minimize systemic side effects because the drugs bypass the digestive system and are absorbed directly into the bloodstream. This can be particularly advantageous for patients who are sensitive to the gastrointestinal effects of certain analgesics.
Transdermal patches are available for different patients for dosage ranging from low to high doses of nicotine. The initial dosage is determined based on the individual's smoking habits, typically starting with higher doses for heavy smokers and lower doses for light smokers. The duration of treatment varies depending on the individual's smoking habits and overall progress. The standard treatment duration is usually around 8-12 weeks, but it can be if doctors suggest. Transdermal patches may be used in combination with other smoking cessation methods, such as oral medications or behavioural therapies, to increase the chances of success. Transdermal patches may have side effects such as skin irritation, itching, or redness at the application site.
Transdermal nitro-glycerine patches are usually used to treat angina which is a condition of chest pain or discomfort caused by reduced blood flow to the heart. Nitro-glycerine is a vasodilator i.e., it relaxes and widens blood vessels, improving blood flow to the heart muscle. Nitro-glycerine patches are usually applied to the chest or upper arm to deliver a continues dose of medication to prevent or relieve angina symptoms. These patches are generally designed to and worn for a specific duration such as 12 or 24 hours before being replaced.
Regional Analysis
The Global Transdermal Drug Patches Market is segmented by region as North America, Europe, Asia Pacific, Latin America, and Middle East and Africa.
North America
The companies in North America are engaged in developing and commercializing innovative transdermal patches for the treatment of a variety of chronic diseases. Alza Corporation, Sandoz ,Actavis are some of the key players of transdermal patches in the region. Hormone replacement therapy is another major application segment of transdermal patches in Canada. Drug-in-adhesive patches are the most common type of transdermal patch, accounting for the largest Transdermal Drug Patches Market Share. This drives the market in the region due to increased medication.
Europe
The Transdermal Drug Patches Market in France is expected to grow at a CAGR of 5.5% from 2022 to 2030. The pain management segment is the largest segment of the French market. This is due to the increasing frequency of chronic pain conditions such as arthritis, migraine, and diabetic neuropathy in the region the demand for Transdermal patches is increasing. Hormone replacement therapy, and smoking cessation are the main Transdermal Drug Patches Market Drivers in Germany. The transdermal patches market grows at much faster rate than the market in France. There is huge demand for the growing demand for non-invasive drug delivery methods in UK which acts a driver of the market in the region.
Asia Pacific
The Transdermal Drug Patches Market in China is expected to grow at a CAGR of 11.5% which is higher than the European countries. The hormone replacement therapy segment is the second largest segment, accounting for a share of over 20% and the Pain management segment has 50% of Transdermal Drug Patches Market Share in the region which is the highest segment. Single-use patches are expected to dominate the market in India as they are available in lower prices. The major segment of distribution is Hospitals. In Indian market the transdermal patches are mostly purchased for pain relief than other chronic Diseases. All these factors collectively drive the market of the transdermal patches in the region.
South America
The Transdermal Drug Patches Market is growing at a steady rate as compared to the other regions due to lack of awareness and medical facilities in the region. In Brazil the growing rate of diseases such as Hypertension and diabetes are the main driver of market. In Chile there is not more awareness about the transdermal patches. The market is growing at a steady rate due to lack of more hospitals in the region. As there are developments being made in the Hospitals and its services and newer treatments are being adopted the market is expected to grow in the upcoming years.
Middle East and Africa
Increasing healthcare infrastructure, rising awareness about transdermal drug delivery, and growing demand for chronic disease management contribute to the market's expansion. The Transdermal Drug Patches Market in Africa is relatively smaller compared to other regions. Affordability, developing infrastructure of hospitals are the restraints of the market in the region.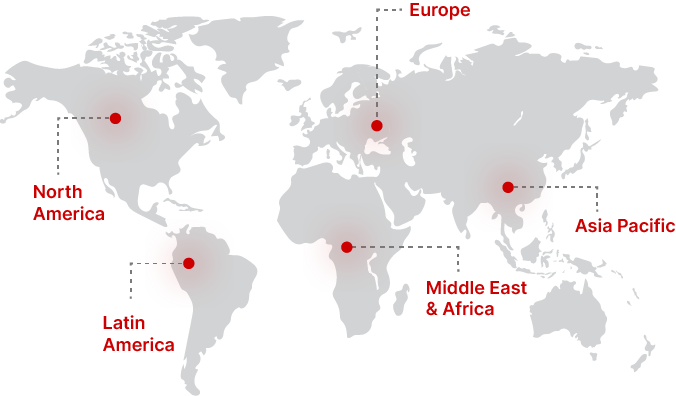 Regional Growth Insights
Download Free Sample
Key Players
Mylan
Novartis
Johnson & Johnson
Agile Therapeutics
Immune Pharmaceuticals
Hercon Pharmaceuticals
Pocono
DURECT Corporation
Xel Pharmaceuticals
Transdermal Drug Patches Market Segmentations
Segmentation by Type
Fentanyl Transdermal Patch
Nicotine Transdermal Patch
Buprenorphine Transdermal Patch
Clonidine Transdermal Patch
Oxybutynin Transdermal Patch
Segmentation by Application
Hypertension
Contraception
Analgesia
Smoking Cessation
Angina
Frequently Asked Questions