Market Overview
According to Reed Intelligence the Underground Gas Storage (UGS) Market Size will approximately grow at a CAGR of 2.2% during the forecast period.
The market is impacted by a number of things. The demand for natural gas is rising internationally since it is cleaner and more ecologically friendly than other fossil fuels. This is the first important element. Natural gas is required for the production of electricity, home heating, and a variety of industrial processes. To meet the rising demand for gas and provide a consistent and regular supply, a reliable storage system must be built.
The Underground Gas Storage (UGS) Market Growth is significantly impacted by difficulties with supply flexibility and energy security. Underground gas storage facilities provide a strategic reserve of natural gas, allowing nations to maintain a steady and secure energy supply. These facilities help ensure a steady energy supply at times of high demand or in the case of delays in gas transportation networks by balancing differences in supply and demand.
Market Dynamics
Market Drivers
Energy Security and Supply Flexibility
Underground gas storage improves energy security by guaranteeing a consistent supply of natural gas, especially during periods of peak demand or in the event of outages in gas transportation networks. It gives flexibility to maintain continuous energy flow while reducing variations in supply and demand.
Natural gas is crucial as a backup fuel for intermittent renewable energy output as the world transitions to the generation of energy from renewable sources. Underground gas storage facilities enable the storing of extra natural gas produced during periods of low demand in order to ensure its availability when renewable sources are not enough.
Market Restraints
Subterranean gas storage is subject to stringent regulatory constraints that protect public safety, environmental integrity, and community acceptance. Project timescales may be delayed as a result of the length of time and difficulty in securing the necessary rights and permissions.
Geographic and technological restrictions
The local geology affects the viability of subterranean gas storage. Some geological formations may have limited ability to hold gas. Additionally, difficulties with drilling technology, gas extraction and injection, and maintaining the integrity of storage wells may provide constraints.
Market Opportunities
Integration with Renewable Energy Infrastructure
By integrating underground gas storage with renewable energy infrastructure, such as power-to-gas facilities, it is feasible to store surplus renewable energy as synthetic natural gas or hydrogen. The transition to a greener energy system could be easier as a result of this link.
For existing underground gas storage facilities to comply with modern operational and safety regulations, they must be upgraded and changed. By expanding and improving the present infrastructure, market participants have the opportunity to enhance storage capacity and improve operating efficiency.
Market Scope
Report Metric
Details
Market Size by 2031
USD XX Million/Billion
Market Size in 2023
USD XX Million/Billion
Market Size in 2022
USD XX Million/Billion
Historical Data
2019-2021
Base Year
2022
Forecast Period
2023-2031
Report Coverage
Revenue Forecast, Competitive Landscape, Growth Factors, Environment & Regulatory Landscape and Trends
Segments Covered

Segmentation By Type

Depleted Fields
Aquifers
Salt Caverns

Segmentation By Application

Transportation
Life

Geographies Covered

North America
Europe
APAC
Middle East and Africa
LATAM

Companies Profiles

John Wood Group PLC
Chiyoda Corporation
Mitsubishi Heavy Industries Ltd
Enbridge Inc.
Engie SA
NAFTA
Centrica Storage Ltd
Rockpoint Gas Storage
Cardinal Gas Storage Partners
SNC-Lavalin
CB&I
Segmental Analysis
Segmentation By Type
Depleted natural gas or oil fields include facilities for underground gas storage. Although the hydrocarbon reserves in these fields have already been depleted, if production falls, they may be utilised as gas storage. Depleted fields are advantageous for storing subterranean gas because of their attractive geological characteristics and pre-existing infrastructure.
Aquifers are permeable subsurface rock formations with a substantial water-holding capacity. Aquifers may be utilized for underground gas storage by injecting and withdrawing natural gas when correctly defined and built. Aquifers are a flexible choice for gas storage since they are ubiquitous across several geological formations and offer a sizable storage capacity.
Solution mining subterranean salt deposits produces salt caverns. They provide very stable and safe settings for the natural gas storage. Salt caverns' excellent sealing capabilities allow for effective gas management and disposal. They meet the demands for both large-scale gas storage and high-pressure storage applications.
Segmentation By Application
Underground gas storage is one of the most crucial components of the industry's support system. Pipelines and distribution networks may receive a consistent and continuous supply of natural gas from gas storage facilities. When there is a high demand for gas, it can be extracted, and when there is a low demand, it may be stored, giving the transportation sector flexibility and guaranteeing a constant supply for customers.
The "Life" application area covers the use of natural gas for residential, commercial, and industrial purposes. To address the various energy needs of homes, companies, and industries, underground gas storage facilities are required. Gas may be saved during low-demand seasons like the summer in order to recover it when it is most required, as during the winter or the busiest business hours.
Regional Analysis
The Global Underground Gas Storage (UGS) Market is segmented by region as North America, Europe, Asia Pacific, Latin America, and Middle East and Africa.
North America
The United States and Canada are primarily responsible for driving this region's mature UGS market. The area has a sizable natural gas resource base and an established pipeline network. The UGS facilities in North America are essential for preserving energy security, controlling seasonal demand shifts, and guaranteeing a steady supply of natural gas to users in the residential, commercial, and industrial sectors.
Europe
The top four nations in the European Union's Underground Gas Storage Market are France, Germany, the United Kingdom, and Italy. UGS facilities are highly desired in the area because to its high natural gas consumption, broad energy mix, and close proximity to significant gas-producing areas. Because it aims to reduce its dependence on imported gas and take into account intermittent renewable energy sources, Europe is also particularly interested in enhanced supply flexibility.
Asia Pacific
The use of natural gas is rising quickly in this area, which includes nations like China, India, Japan, and South Korea. The need for UGS facilities is influenced by increasing urbanization, industry, and the transition to more environmentally friendly energy sources. UGS infrastructure is being built by nations like China to promote economic growth, provide energy security, and lessen their dependency on coal.
Middle East and Africa
Due to its abundant natural gas reserves, the Middle East and Africa area is a potential location for UGS development. The United Arab Emirates, Qatar, and Algeria are three countries with significant UGS capacity to fulfill local and export demand. Opportunities for UGS growth are presented by the region's rising natural gas consumption, which is being fueled by the need for power generation and economic diversification.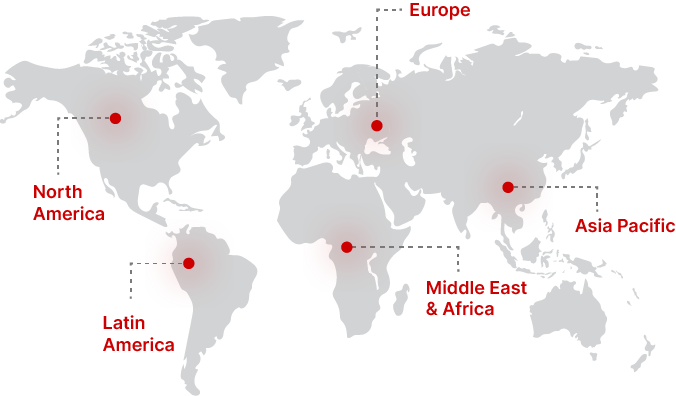 Regional Growth Insights
Download Free Sample
Key Players
John Wood Group PLC
Chiyoda Corporation
Mitsubishi Heavy Industries Ltd
Engie SA
NAFTA
Centrica Storage Ltd
Rockpoint Gas Storage
Cardinal Gas Storage Partners
SNC-Lavalin
CB&I
Recent Developments
The storage capacity of the current underground gas storage facilities has been increased via a number of development initiatives. These improvements are intended to boost the flexibility of the gas supply system and satisfy the rising natural gas demand.
Underground Gas Storage (UGS) Market Segmentations
Segmentation By Type
Depleted Fields
Aquifers
Salt Caverns
Segmentation By Application
Frequently Asked Questions