Market Overview
According to Reed Intelligence the Vibration Isolation Mounts Market will approximately grow at a CAGR of 7.7% during the forecast period.
In the last several years, there has been a consistent increase in the demand for vibration isolation mounts. Isolating vibrations and safeguarding costly equipment is why vibration isolation mounts are useful in so many different kinds of businesses. Numerous factors, such as increasing industrialization, stricter worker safety laws, and the need to enhance equipment efficiency, are driving the market.
Manufacturing, transportation, aerospace, and construction are just some of the sectors where vibration control solutions are in high demand, which is likely fueling market expansion. The manufacturing industry makes heavy use of vibration-causing machines and tools. Isolation mounts reduce vibrations, which improves equipment dependability, boosts product quality, and decreases the frequency with which expensive repairs are required. There has been a rise in the demand for vibration isolation mounts in the automobile sector as more individuals become aware of the benefits of doing so for passenger comfort in relation to road and engine noise reduction.
Due to rising industrialization, stricter regulations, and a more concerted effort to ensure the safety of machinery, the need for vibration isolation mounts is on the rise. The introduction of cutting-edge equipment is expected to stimulate business growth. The expected growth of the market for vibration isolation mounts may be attributed to the increased emphasis on worker safety, equipment efficiency, and environmental sustainability among businesses of all sizes and sectors.
Market Dynamics
Market Drivers
Legal and societal restraints Both voluntary and mandatory regulations in the industry emphasize the need of vibration damping. As more individuals learn about the potential benefits of vibration isolation mounts for worker safety, environmental impact, and regulatory compliance, their usage is on the increase.
Market Restraints
Technical factors such as frequency, amplitude, and load capacity must be taken into account while selecting and installing vibration isolation mounts. It may be challenging for the typical person to install and utilize a vibration isolation mount.
Market Opportunities
Several industries, including aviation and automotive manufacturing, have realized the value of eliminating vibrations. The market for cutting-edge technology like electric automobiles, lightweight materials, and high-tech devices is growing, which might be good news for producers of vibration isolation mounts.
Market Scope
Report Metric
Details
Market Size by 2031
USD XX Million/Billion
Market Size in 2023
USD XX Million/Billion
Market Size in 2022
USD XX Million/Billion
Historical Data
2019-2021
Base Year
2020
Forecast Period
2023-2031
Report Coverage
Revenue Forecast, Competitive Landscape, Growth Factors, Environment & Regulatory Landscape and Trends
Segments Covered

Segmentation By Type

Cylindrical Mounts
Bushing Mounts
Conical Mounts

Segmentation By Application

General Industry
Marine Industry

Geographies Covered

North America
Europe
APAC
Middle East and Africa
LATAM

Companies Profiles

Sumitomo Riko
Vibracustic
Contitech
Boge
Bridgstone
TOYO TIRE & RUBBER CO.
Hutchinson
Henniges Automotive
Cooper Standard
TUOPU
Zhongding
Yamashita
JX Zhao's Group
Asimco
DTR VSM
Luoshi
GMT Rubber
Segmental Analysis
Segmentation By Type
Mounting components to a cylindrical surface may reduce vibrations and secure them in place. Typically cylindrical, but available in other forms as well, these components are constructed from resilient materials like metal or rubber to reduce vibrations. The range of loads that may be supported by cylindrical mounts is extensive. Machines such as engines, pumps, and compressors benefit greatly from their ability to reduce vibration and noise in the vertical and axial directions.
To dampen noise and vibration, mounts often have rubber or plastic bushings. These mounts consist of an outer metal case around a rubber or similar elastomeric substance. Rubber's flexibility allows it to effectively absorb and block noise and vibrations before they can travel through a structure. The excellent dampening properties of bushing mounts allow them to efficiently absorb vibrations over a wide frequency range. They are widely used in HVAC units, power plants, and home appliances.
When space is at a premium or exact positioning is essential, a conical mount (also known as a tapered mount) may be the way to go. The mounts in question have a conical top plate, a conical bottom plate, and a tapered elastomeric connection between the two. The cone's improved vibration damping and structural stability come from its increasing rigidity throughout its length. Mounts with a conical base are used in many different types of equipment, as well as control panels and electronic housings.
Segmentation By Application
The word "industrial" is broadly defined to include many different types of businesses, such as those involved in production, transportation, aviation, electronics, and many more. Mounts that dampen vibration are an absolute need for everything used in manufacturing. By reducing vibration transfer to the environment, these mounts improve product quality and worker safety and comfort. Conveyor systems, manufacturing robots, and printing machinery all rely on them.
The maritime business encompasses everything and everything associated with or used in connection with water. Machines must be safeguarded against the vibrations and shocks induced by the impact of waves, engine operation, and other maritime operations. Everyone on board will be relieved to have access to technology that improve the ship's steadiness, noise levels, and resistance to quakes. Several mechanical and electrical ship systems may benefit from vibration-damping mounts. Equipment utilized for propulsion, auxiliary power, temperature control, and navigation all come under this umbrella.
Regional Analysis
The Global Vibration Isolation Mounts Market is segmented by region as North America, Europe, Asia Pacific, Latin America, and Middle East and Africa.
North America
Vibration isolation mounts are becoming more important in the rapidly developing sectors of the industrial, automotive, aerospace, and electronics markets in North America. Vibration isolation mounts are necessary in this industry due to the severe regulations put in place to protect both personnel and their equipment. As a bonus, congestion drops and energy efficiency rises. The growth of the business in the United States and Canada has been essential.
Europe
Europe is a potential market for vibration isolation mounts due to the region's sophisticated manufacturing industry, focus on industrial safety, and stringent regulatory requirements. The markets for automotive, aircraft, and general industrial vibration isolation mounts are all substantial in these three areas. The increased foot traffic and stricter noise and vibration rules have been good for my company.
Asia pacific
As government and private investment in infrastructure like public transit and manufacturing rises, so does the need for vibration isolation climbs. Countries like China, Japan, South Korea, and India are driving the fast growth of regional marketplaces. With the expansion of industry and investment, so too have the associated worker safety issues. Mounts that dampen vibrations might have several uses, from vehicles to electronics to DIY projects.
Latin America
As Latin America's industrial, automotive, and construction industries grow, so will the need for vibration isolation devices. Rising output, improved infrastructure, and increasing worker understanding of safety problems have all contributed to a rise in demand for vibration isolation mounts. Recent years have witnessed spectacular economic expansion in Brazil, Mexico, and Argentina.
Middle East
Vibration isolation mount standards vary widely across Middle Eastern and African countries. When the oil and gas sector grows in the area, vibration isolation mounts might be useful. The economy of neighboring countries are bolstered by those of the United Arab Emirates, Saudi Arabia, and South Africa.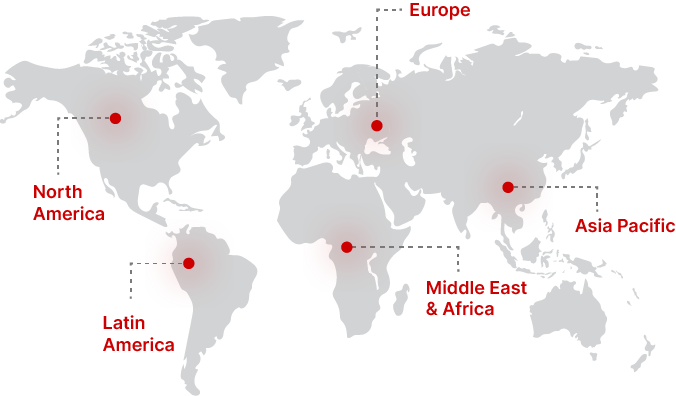 Regional Growth Insights
Download Free Sample
Key Players
Vibracustic
Contitech
Boge
Bridgstone
TOYO TIRE & RUBBER CO.
Hutchinson
Henniges Automotive
Cooper Standard
TUOPU
Zhongding
Yamashita
JX Zhao's Group
Asimco
DTR VSM
Luoshi
GMT Rubber
Recent Developments
Only lately have sophisticated, vibration-proof mounts been commercially accessible. The vibration data that is continuously obtained by sensors and monitoring systems may be used for predictive maintenance, remote monitoring, and performance enhancement.
Vibration Isolation Mounts Market Segmentations
Segmentation By Type
Cylindrical Mounts
Bushing Mounts
Conical Mounts
Segmentation By Application
General Industry
Marine Industry
Frequently Asked Questions