Market Overview
According to Reed Intelligence the Video ICs Market will approximately grow at a CAGR of 6.9% during the forecast period.
Recent growth in demand for top-notch video processing and image correction solutions has led to an expansion in the market for Video ICs. Just a handful of the many Video ICs Market Application include consumer electronics, transportation, and security systems. Using the information available, the market may be described as follows:
Considering that they enable the processing of several video inputs or outputs, these ICs are often utilized in switching, routing, and distribution systems for video. Additionally, significant market shares are held by the 1 Channel Video IC and 3 Channel Video IC, which are used in several applications needing single-channel or multi-channel video processing.
Market Dynamics
Market Drivers
Video surveillance technology is becoming more and more common. The market for video ICs is being driven by the need for increasingly sophisticated security and surveillance systems in both the residential and commercial sectors. These ICs carry out tasks including video gathering, compression, and analytics in order to construct sophisticated surveillance systems with characteristics like face recognition, object identification, and tracking.
Modern video-based solutions are being created for cutting-edge automobile applications including in-car entertainment, parking assistance, and driving assistance. Surround-view cameras, blind-spot identification, and accident avoidance are made possible by video ICs Market, which are highly sought-after in the automobile sector.
Market Restraints
Technical Difficulty and Compatibility
Due to the quick development of video standards and formats, it is difficult to design video integrated circuits (ICs) that are compatible with a variety of video sources and devices. The market may be constrained by the need to preserve backward compatibility and ensure smooth interoperability across diverse video technologies.
Because of problems with patents and intellectual property (IP), visual ICs are difficult. To create and commercialize Video ICs, businesses must manage complicated patent landscapes and license arrangements, which might provide logistical and financial challenges.
Market Opportunities
Autonomous Automobiles as driverless cars become more prevalent, opportunities for visual integrated circuits (ICs) in ADAS and autonomous driving applications are growing. Vehicle perception systems for object detection, lane maintaining, and collision avoidance heavily rely on Video ICs.
Applications in Industry and Healthcare
Video ICs are used in systems for industrial automation, robotics, and medical imaging in addition to consumer electronics. These industries provide prospects for Video ICs in disciplines including diagnostics, imaging in the medical industry, and machine vision.
Market Scope
Report Metric
Details
Market Size by 2031
USD XX Million/Billion
Market Size in 2023
USD XX Million/Billion
Market Size in 2022
USD XX Million/Billion
Historical Data
2019-2021
Base Year
2022
Forecast Period
2023-2031
Report Coverage
Revenue Forecast, Competitive Landscape, Growth Factors, Environment & Regulatory Landscape and Trends
Segments Covered

Segmentation By Type

1 Channel
2 Channel
3 Channel

Segmentation By Application

Visible Amplifier
Image Correction IC

Geographies Covered

North America
Europe
APAC
Middle East and Africa
LATAM

Companies Profiles

CEL
Cypress Semiconductor
Diodes Incorporated
Fairchild Semiconductor
Infineon
Intel
Intersil
MACOM
Maxim
MaxLinear
Microchip
New Japan Radio
NJR
NXP
ON Semiconductor
Renesas
Segmental Analysis
Segmentation By Type
This category includes video integrated circuits (ICs) that only have one channel for processing video. These integrated circuits (ICs) are designed to control video signals that originate from a single source or display. When a single video stream has to be processed or amplified, they are often employed.
These video integrated circuits (ICs) provide two channels for processing video. Due to their ability to simultaneously handle two video streams, these ICs are suitable for applications that need dual video inputs or outputs. They are often used in switching, routing, and distribution systems for video.
Three-channel video ICs make up this market for video processing. These ICs provide more advanced video processing capabilities since they can handle three video streams simultaneously. They are often used in multi-display setups, video surveillance systems, and multi-channel video mixing applications.
Segmentation By Application
Video signals are amplified using video amplifiers to provide the best degree of visual quality and signal integrity. Video amplifier ICs are employed in this industry to improve the sharpness, clarity, and color reproduction of video signals. They are used in video projectors, video display systems, and video distribution systems.
These ICs feature gamma correction, image stabilization, noise reduction, and color correction capabilities for precise and aesthetically pleasing video output. They are often found in cameras, video processors, and software for processing photos and videos.
Regional Analysis
The Global Video ICs Market is segmented by region as North America, Europe, Asia Pacific, Latin America, and Middle East and Africa.
North America dominates the global market for video integrated circuits. Due to the presence of significant technical companies like those that manufacture semiconductors and video equipment, the market is expanding in this region. The need for video ICs is being driven by a wide range of applications, including consumer electronics, transportation, and security and surveillance systems. The region is well known for its technological advancements as well as for its work in the study and development of video processing and encoding technologies.
Due to the expansion of video-based applications and the need for cutting-edge video technology, Europe is a significant market for video ICs. Countries like Germany, France, and the United Kingdom contribute significantly in this subject. In the automotive sector, where they are employed in things like ADAS and in-car entertainment systems, video ICs have a lot of space to grow. Both the increasing use of video streaming services and the installation of security cameras have an impact on market expansion in Europe.
In Asia Pacific, demand for video integrated circuits is rising fast. Chinese, Japanese, South Korean, and Taiwanese companies are some of the major market participants in this region. The region benefits from the presence of well-known semiconductor firms and a developing consumer electronics industry. The demand for smartphones, smart TVs, and other consumer goods with high-definition video capabilities is growing, which is causing the industry to grow. This market is expanding as a result of both the expanding usage of video surveillance systems and the quick expansion of the vehicle sector in countries like China and Japan.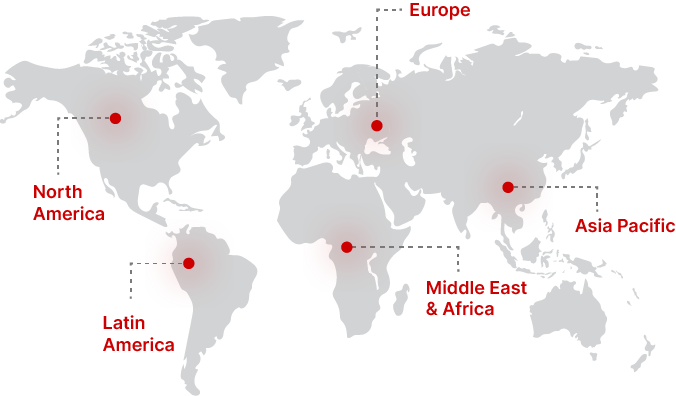 Regional Growth Insights
Download Free Sample
Key Players
CEL
Cypress Semiconductor
Diodes Incorporated
Fairchild Semiconductor
Infineon
Intersil
MACOM
Maxim
MaxLinear
Microchip
New Japan Radio
NJR
NXP
ON Semiconductor
Renesas
Video ICs Market Segmentations
Segmentation By Type
1 Channel
2 Channel
3 Channel
Segmentation By Application
Visible Amplifier
Image Correction IC
Frequently Asked Questions