Market Overview
According to Reed Intelligence the Global Vision Controller Market Size will approximately grow at a CAGR of 7.5% during the forecast period.
A vision controller is a computer created specifically for machine vision applications. It is usually equipped with a strong processor, enough memory, and several I/O ports for connecting to cameras, sensors, and other devices. In industrial settings, vision controllers are frequently utilized for quality control, item detection, and robotic navigation.
The growing need for machine vision systems in automotive, electronics, food & beverage, and healthcare industries is propelling the Vision Controller Market forward. Vision controllers are the brains of machine vision systems, operating numerous system components such as cameras, illumination, and image-processing software. They also allow the system to communicate with external devices like robots and PLCs.
The need for vision-guided robotics and machine vision systems in various industrial sectors is projected to drive growth in the vision controller market in the coming years. The growing use of automation and artificial intelligence in manufacturing is also projected to propel the vision controller market forward.
Market Dynamics
Market Drivers
Rising Interest In Automation And Robotics
With the increasing demand for automation in numerous industries, there is a growing demand for vision-based systems capable of performing complicated tasks. In automation and robotics applications, vision controllers offer accurate control and real-time decision-making. They aid in object recognition, defect detection, quality assurance, and automatic steering. The demand for vision controllers is increasing as companies strive to improve productivity, efficiency, and accuracy.
Artificial Intelligence (Ai) And Deep Learning Advancements
Recent advances in AI and deep learning algorithms have considerably improved visual controller capabilities. These controllers can now perform complex image-processing tasks like object recognition, image classification, and semantic segmentation. They may also adapt and learn from data, gradually improving their accuracy. AI and deep learning integration with vision controllers enable more sophisticated and intelligent vision-based applications, driving Vision Controller Market growth.
Market Restraint
The expense and complexity of deploying vision controllers is a significant limitation in the Vision Controller Market. Vision systems sometimes necessitate specific hardware components and software algorithms, which can be costly to build, integrate, and maintain. Furthermore, the complexity of setting up and configuring these systems can be a barrier for small and medium-sized firms that lack the requisite resources and experience. The hefty initial investment and ongoing operational costs may dissuade some potential users from using vision controllers, limiting market growth.
Market Opportunities
Increasing Use in the Automotive and Surveillance Industries
The automobile industry is quickly adopting vision-based systems for various applications, such as advanced driving-assistance systems (ADAS), autonomous vehicles, and driver monitoring systems. Vision controllers are essential for processing visual input from cameras and providing real-time feedback to these devices. Similarly, vision controllers are used in surveillance for activities such as facial identification, license plate recognition, and video analytics. The growing use of vision controllers in various industries, driven by safety, security, and efficiency requirements, contributes to the market's growth.
Market Scope
Report Metric
Details
Market Size by 2031
USD XX Million/Billion
Market Size in 2023
USD XX Million/Billion
Market Size in 2022
USD XX Million/Billion
Historical Data
2019-2021
Base Year
2022
Forecast Period
2023-2031
Report Coverage
Revenue Forecast, Competitive Landscape, Growth Factors, Environment & Regulatory Landscape and Trends
Segments Covered

Segment By Type

Compact Vision Controller
CompactRIO
Industrial Vision Controller

Segment By Application

Semiconductors and Electronics
Pharmaceutical
Packaging
Automobile Manufacturing
Textile
Tobacco
Transportation
Logistics

Geographies Covered

North America
Europe
APAC
Middle East and Africa
LATAM

Companies Profiles

Intel
The Inovance Group
Bestell Solution Pte Ltd
Matrox Imaging
KEYENCE
OMRON
VizCam
Axiomtek
Epson
NI
Segmental Analysis
Segment By Type
Compact Vision Controller
A Compact Vision Controller is a vision controller that is small in size. It often combines processor, memory, and I/O interfaces into a small device. Compact Vision Controllers are frequently employed in applications with limited areas, such as small machines or embedded systems. They provide the computational capacity and connectivity required for picture data acquisition and processing.
CompactRIO is a National Instruments (now part of NI) brand and product range that combines a Compact Vision Controller with reconfigurable I/O modules. It is a modular and tough industrial control system with real-time processing, signal conditioning, and I/O capabilities, as well as vision processing for machine vision applications. CompactRIO systems are commonly used in high-performance, reliable industrial automation, monitoring, and control applications.
Industrial Vision Controller
It is a vision controller that is specifically intended for industrial purposes. It is designed to resist tough industrial settings and includes robust hardware and software features to satisfy the demands of industrial automation. Advanced image processing capabilities, support for numerous industrial communication protocols, and interaction with industrial control systems are common features of Industrial Vision Controllers. They are utilized in various applications such as quality control, robotics, object recognition, and process monitoring.
Segment By Application
Semiconductors and Electronics
In this business, vision controllers are utilized for quality control and inspection of electronic components, circuit boards, and semiconductor chips. They can detect faults, measure dimensions, read barcodes, confirm the presence of components, and assure appropriate alignment during the manufacturing process.
Vision controllers are used in pharmaceutical manufacturing to inspect and verify the quality of tablets, capsules, and other drugs. They can detect flaws such as fractures, chips, or foreign particles and assure proper product packing and labeling.
Vision controllers are used for quality assurance and packaging inspection in the packaging sector. They can evaluate labels, confirm packing materials' existence and correct positioning, discover faults or contaminants, and assure appropriate sealing and packaging integrity.
Vision controllers are used in vehicle manufacturing for various activities such as component quality inspection, assembly verification, and defect identification. They can ensure precise part placement, detect painting or surface finish flaws, read vehicle identifying numbers (VINs), and monitor the assembly line for faults or missing components.
Vision controllers are used in the textile sector to control the quality of textiles, yarns, and finished textile products. They can discover faults in the material, such as stains, holes, or abnormalities, assure stable color matching, and supervise the production process to ensure quality requirements are met.
In the tobacco sector, vision controllers are used to inspect and manage the quality of cigarette products. They can detect and remove faulty or contaminated products, ensure proper packaging and labeling, and monitor the production line for deviations or faults.
Vision controllers are used in the transportation industry for various applications such as license plate identification, traffic monitoring, and automated toll collecting. They can read and recognize license plates, collect traffic data for congestion studies, and automate toll collection operations.
Vision controllers are essential in logistics operations, particularly warehouse management and inventory control. They can help with barcode scanning, package identification, object tracking, and automated sorting to streamline and optimize logistical procedures.
Regional Analysis
North America (United States, Canada, and Mexico)
Increasing automation in manufacturing processes, quality control needs, and the need for advanced imaging and inspection technologies are driving demand for vision controllers in North America. Vision controllers are widely used in the automotive, electronics, pharmaceuticals, and food & beverage industries. Several significant vision controller manufacturers and suppliers are based in North America. Companies in this region are frequently involved in the development of cutting-edge technologies and advances in the field of machine vision. Cognex Corporation, Keyence Corporation, Basler AG, National Instruments Corporation, and Omron Corporation are some leading participants in the North American vision controller industry.
Europe (Germany, UK, France, Italy, Russia, Spain, etc.)
Europe has been a competitor in modern automation technology to improve manufacturing productivity, product quality, and efficiency. This pattern is projected to continue, fueling demand for vision controllers. In Europe, machine vision systems are commonly utilized for quality control, inspection, sorting, and measurement tasks. Vision controllers are essential to these systems because they provide the processing power and connectivity required for real-time picture analysis.
Asia-Pacific (China, Japan, Korea, India, Australia, Southeast Asia, etc.)
Several factors contribute to the growth of the Asia Pacific vision controller market. First, the area has a strong manufacturing foundation, with major industrial production hubs such as China, Japan, and South Korea. In these industries, the requirement for automated inspection and quality control systems has spurred using vision controllers. Integrating artificial intelligence (AI) and machine learning (ML) algorithms into vision controllers has increased their performance and accuracy as technology advances. This has accelerated the use of vision controllers in a variety of applications.
South America (Brazil, Argentina, Colombia, etc.)
South America's manufacturing sector is expanding, including the automotive, electronics, food and beverage, pharmaceutical, and packaging industries. Vision controllers are rapidly being used in these industries to improve their processes' productivity, precision, and quality control. Government initiatives to promote industrial automation, growing labor costs, the need for enhanced product quality, and increased demand for efficient production processes are all factors impacting the growth of the vision controller market in South America.
Middle East & Africa (South Africa, UAE, Saudi Arabia, etc.)
Manufacturing, automotive, electronics, pharmaceuticals, and packaging are all industries that have an impact on the MEA vision controller market. Vision controllers are frequently used in these industries to conduct quality inspection, item recognition, measuring, and direction.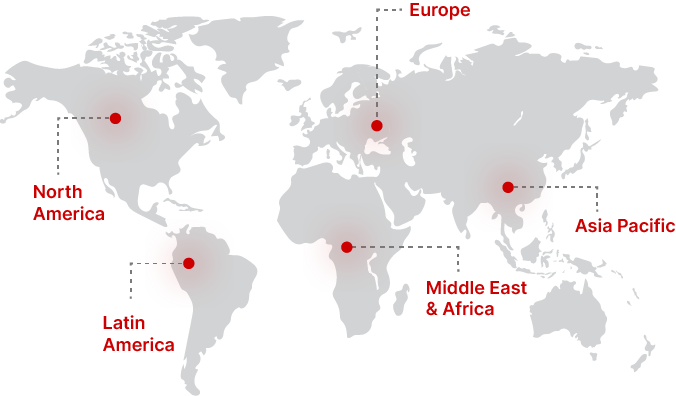 Regional Growth Insights
Download Free Sample
Key Players
Intel
The Inovance Group
Bestell Solution Pte Ltd
KEYENCE
OMRON
VizCam
Axiomtek
Epson
NI
Vision Controller Market Segmentations
Segment By Type
Compact Vision Controller
CompactRIO
Industrial Vision Controller
Segment By Application
Semiconductors and Electronics
Pharmaceutical
Packaging
Automobile Manufacturing
Textile
Tobacco
Transportation
Logistics
Frequently Asked Questions