Market Overview
The Global Wine Closure Solutions Market Size is projected to grow at a CAGR of approximately 6.1% during the forecast period.
A stopper, which is used to seal a bottle and prevent the wine from coming into contact with oxygen, is referred to as a closure in the wine industry.
The option for a closure is determined by factors such the potential for cork taint, oxygen permeability, and desired wine shelf life.
There are several options for wine closures, including glass, screw caps, synthetic closures, and traditional cork closures (or "corks").
Uses from the past that are no longer in use, such wooden stoppers covered in linen or wax.
Consumer reaction is another element. While Americans have mixed feelings about alternate closures, wine consumers in Australia and New Zealand are generally supportive of them. The impression that screw caps are associated with cheap wine may be changing in Europe.
Wine bottles with synthetic seals could enable for regulated oxygen transmission rates. There may be "easy open, easy recork" natural cork closures available, negating the need for a corkscrew.
Increasing wine consumption awareness and the appeal of wine among women more than men are two aspects that are driving the wine closure solution market.
Market Dynamics
Global Wine Closure Solutions Market Drivers
Appeal of Wine Among Women More Than Men
A glass of wine is the ideal partner for ladies at any social gatherings, whether they are outdoor gatherings or inside ones. Many ladies have varied meanings for this delicious treat in a glass. Some women drink wine for its health advantages, while others do so as part of their nightly routine, others think it goes well with reading books, and some do so to combat loneliness. Several women have also confessed that drinking wine makes them feel gorgeous and makes them appear more upbeat. The prestige that comes with wine consumption is another factor in a woman's liking of the beverage. Wine is preferred by 52% of women and 20% of males, according to the Beverage Intelligence Group. 59% of wine customers are women. As a result, the market for wine closure solutions is considerable.
Growing Awareness of Health Benefits Wine
Red wine has long been associated with heart health when consumed in moderation. The combination of alcohol and certain antioxidants found in red wine may help stave against coronary artery disease, the condition that causes heart attacks. Wine consumption has a variety of health advantages, including the ability to lower bad cholesterol, maintain heart health, regulate blood sugar, lower the risk of cancer, treat the common cold, maintain memory, and lower the risk of depression. Many of these factors contribute to the expansion of the wine closure market as consumption for wine rises along with consumption.
Global Wine Closure Solutions Market Restraints
Climate Change & Fast Growing Technology
Climate change, global warming, unexpected weather patterns, and how they affect vineyards and grapes in some places are some of the contemporary issues that winemakers are experiencing. At the same time, you are still expected to produce a wine that is true to its style, variety, and character. Temperature and precipitation variations can have an influence on grape yield, which can have an effect on the total demand for wine closures. Moreover, vineyards might suffer damage from adverse weather conditions like storms or droughts, which may impact the market for wine closures. The term "fast-moving technology" describes the quick rate of technological invention and advancement. This may have a variety of effects on the market for wine closure solutions. For instance, new technologies could appear that provide substitutes for conventional closure methods like corks or screw caps in terms of wine preservation. The market for wine closure solutions can suffer as a result of a decline in the demand for wine closures.
Global Wine Closure Solutions Market Opportunities
Sustainability and the Demand For Green Wines
Sustainable agricultural practices are becoming more popular among wineries. For their vineyards, they sometimes use solar energy; in other situations, they modify their logistical supply chains in an effort to find more environmentally friendly solutions that will reduce their overall carbon footprint. One well-known manufacturer embracing the sustainability craze is Spanish manufacturer Torres, which has adopted everything from solar panels to hybrid cars in an effort to be more environmentally friendly. Young millennial wine lovers are naturally latching on to this trend, to the point that marketing and PR companies are recommending wineries to highlight their green sustainability initiatives directly on the wine label. Sustainability and the desire for green wines will open up possibilities for environmentally friendly wine closure solutions.
Market Scope
Report Metric
Details
Market Size by 2031
USD XX Million/Billion
Market Size in 2023
USD XX Million/Billion
Market Size in 2022
USD XX Million/Billion
Historical Data
2019-2021
Base Year
2022
Forecast Period
2023-2031
Report Coverage
Revenue Forecast, Competitive Landscape, Growth Factors, Environment & Regulatory Landscape and Trends
Segments Covered

Segment by Type

Cork Stoppers
Plastic Closures
Screw Caps

Segment by Application

Family Winery
Commercial Winery

Geographies Covered

North America
Europe
APAC
Middle East and Africa
LATAM

Companies Profiles

Nomacorc
Cork Supply
Corticeira Amorim
MaSilva
Lafitte
Rich Xiberta
Portocork America
WidgetCo
Jelinek Cork Group
AMORIM
BENEBO
Vinvention
Guala Closures Group
Labrenta
DIAM
Precision Elite
Waterloo Container Company
Segmental Analysis
Segment By Type
Cork stoppers have been used as wine closures for centuries and are still a popular choice for quality wines. They are noted for their capacity to let a little bit of air into the bottle, which can help the wine mature gracefully. They are created from the bark of cork oak trees. Cork taint, a chemical substance that can ruin the fragrance and flavor of the wine, can also come from cork stoppers. Because of this risk, several wineries have started using alternate closure techniques.
The wine business is seeing an increase in demand for plastic closures such synthetic cork and plastic screw caps. They provide a consistent and dependable closing in addition to being a more affordable option than cork stoppers. Moreover, plastic closures may be made to allow for regulated oxygen transfer, which can enhance the wine's ability to age.
Wines with lower price tags frequently utilize screw caps as a sort of closure. They have the benefit of being simple to open and reseal, which makes them a practical choice for regular wines. Screw caps can also offer a dependable and constant seal, helping to preserve the wine's quality over time. However some consumers may still be hesitant to buy wines with screw tops because they still connect them with inferior wine.
Segment By Application
Family wineries often make wine in lower amounts and are modest to medium-sized businesses. They frequently place a strong emphasis on the winemaking process and the distinctive qualities of their vineyard in order to produce high-quality wines. So as to preserve the traditional feature of winemaking, they can decide to employ cork stoppers for their premium wines. To cut expenses while preserving quality, they may choose to use other closure options for their less expensive wines, such as screw caps or plastic closures.
Larger enterprises known as commercial wineries produce wine in greater volumes for a wider market. They could provide a wider selection of wines, including those that are more accessible and priced lower. As a result, they could use screw caps or plastic closures, which are economical and effective for higher manufacturing quantities. For their premium wines, meanwhile, which may have a bigger profit margin and are marketed to pickier customers, they could also employ cork stoppers.
Regional Analysis
The Global Wine Closure Solutions Market is segmented by region as North America, Europe, Asia Pacific, Latin America, and Middle East and Africa.
Europe
Europe is the dominant area in the wine closure solutions industry because to its long history of wine production. With an excellent climate and more than a million vines, Italy has a lengthy tradition of wine production in Europe that dates back to Greek colonization. The world's most prolific wine producers are located in Europe. Italy, France, and Spain, three notable wine-producing nations in Europe, came in first place among the world's top producers of wine in 2021. The three nations also make up a considerable portion of the world's vineyard surface area, mostly because of their Mediterranean climate, which has traditionally allowed for the flourishing of wine-growing in these regions.
Asia Pacific
The Asia Pacific wine market is expanding as a result of rising disposable income, growing urbanisation, and an increase in marketing and promotional efforts. With consumers' changing lifestyles, drinking wine at social gatherings and at celebrations has grown in popularity and prestige as a result, which is another major, reason driving the expansion of the wine industry.
The wine industry in the Asia-Pacific area is expanding as a result of nations like China, Japan, and India beginning to produce and sell their own wines. Also, both men and women are becoming more interested in wine, particularly in nations like China and Japan. China is the world's greatest producer of grapes, making up about half of global grape output, because to its vast landmass and hospitable environment. Also, both men and women are becoming more interested in wine, particularly in nations like China and Japan. Hence, if the wine industry expands, the demand for wine closure solutions will as well.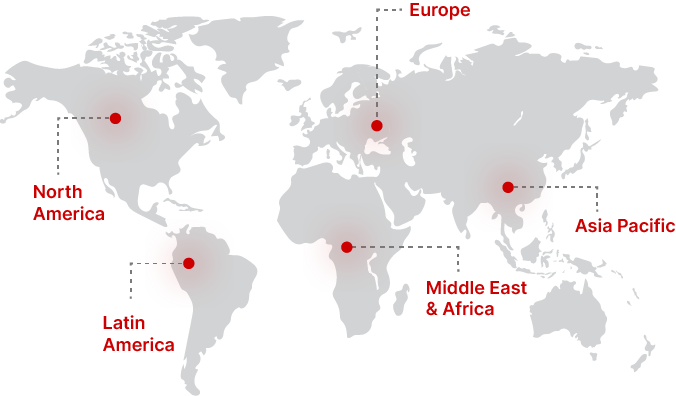 Regional Growth Insights
Download Free Sample
Key Players
Nomacorc
Corticeira Amorim
MaSilva
Lafitte
Rich Xiberta
Portocork America
WidgetCo
Jelinek Cork Group
AMORIM
BENEBO
Vinvention
Guala Closures Group
Labrenta
DIAM
Precision Elite
Waterloo Container Company
Recent Developments
March, 2023 - Packamama and Vinventions have partnered to sell each other's eco-flat bottles in France. By this exclusive sales partnership, the large team of Vinventions sales specialists will be able to sell these cutting-edge wine bottles to both its vineyard clients and the larger French wine sector.
Wine Closure Solutions Market Segmentations
Segment by Type
Cork Stoppers
Plastic Closures
Screw Caps
Segment by Application
Family Winery
Commercial Winery
Frequently Asked Questions