Market Overview
The Global 3C Consumer Lithium Battery Market Size is projected to grow at CAGR of approximately 10.3% during the forecast period.
The lithium cobalt oxide category has the largest market share in 2021 and is expected to retain a significant position throughout the projection period.
These batteries are often found in portable electronic devices, personal computers, digital cameras, and a broad range of other electronic items in the consumer electronics industry, which is a huge lover of lithium-ion batteries.
Market Dynamics
Market Drivers
Electric vehicles are powered by lithium-ion batteries. The widespread use of electric vehicles and plug-in hybrid electric vehicles has raised the need for lithium-ion batteries, which is expected to continue.
Consumer acceptance of electric vehicles has benefited the market for these environmentally friendly automobiles. The number of automakers working on new and improved electric cars has also increased.
Market Restraints
Spent batteries contain potentially dangerous chemicals like acids and heavy metals like mercury and lead. According to an Environmental Protection Agency study from July 2021, there have been 254 fires at 64 waste sites caused by lithium metal or lithium-ion batteries. Exhausted batteries must be stored in waterproof containers away from other flammable and combustible objects. In the event of a fire, have a Class D extinguisher and sand on available as a precaution.
Market Opportunities
Various manufacturers conduct research and development to create lithium-ion batteries that are more durable and safer. As the globe shifts toward sustainable energy, battery manufacturers have increased their R&D efforts to develop new battery chemistries.
Market Scope
Report Metric
Details
Market Size by 2031
USD XX Million/Billion
Market Size in 2023
USD XX Million/Billion
Market Size in 2022
USD XX Million/Billion
Historical Data
2019-2021
Base Year
2022
Forecast Period
2023-2031
Report Coverage
Revenue Forecast, Competitive Landscape, Growth Factors, Environment & Regulatory Landscape and Trends
Segments Covered

Segmentation by Type

Lithium-Cobalt Oxide Battery
Lithium-Titanate Battery
Lithium-Iron Phosphate Battery

Segmentation By Application

Intelligent Mobile Phone
Laptops and Tablets
Wearable Devices

Geographies Covered

North America
Europe
APAC
Middle East and Africa
LATAM

Companies Profiles

ATL
LG
Samsung
Murata Manufacturing
Zhuhai CosMX
BYD
Lishen Battery
EVE
Zhongshan Battery
Veken Battery
Highpower Technology
Great Power
Dongguan Liwinon
Segmental Analysis
Segmentation by Type
Lithium-Cobalt Oxide Battery
Lithium cobalt oxide, commonly known as lithium cobaltate or lithium cobaltite, is a crystalline solid that is dark blue or bluish-gray in color. It is frequently used in lithium-ion battery positive electrodes. The material is now employed as the cathode in some rechargeable lithium-ion batteries.As demand for lithium cobalt oxide in battery applications develops, the worldwide lithium cobalt oxide market is likely to expand rapidly.Because of its high specific energy, lithium cobalt oxide is utilized in mobile phones, laptop computers, and digital cameras. Cobalt oxide cathode and graphite carbon anode are used in batteries.During the forecast period, the lithium cobalt oxide market is expected to be driven by an increase in demand for lithium-ion batteries in various applications such as mobile phones and computers.
A lithium-titanate battery is a modified lithium-ion battery with a lithium-titanate nanocrystal anode instead of graphite. In comparison to carbon, which has a surface area of 3 square meters per gram, this provides the anode with a surface area of approximately 100 square meters per gram, allowing electrons to enter and exit the anode quickly. Furthermore, the positive redox potential of Li+ intercalation into titanium oxides is greater than that of Li+ intercalation into graphite. Because lithium dendrites form less frequently in titanate than in carbon, quick charging (higher charging current) is much safer in the former case.
Lithium-Iron Phosphate Battery
The lithium iron phosphate (LFP) battery is a kind of lithium-ion rechargeable battery that charges and discharges more quickly than other types of batteries. LFP battery packs are utilized in a broad variety of applications because they offer power density, high voltage, high energy density, extended life cycle, low discharge rate, reduced heating, and enhanced safety. LifePO4 batteries are in high demand in passenger cars, buses, low-speed electric vehicles, and hybrid electric vehicles because to their safety and cheap cost.
Segmentation By Application
Mobile phones are cell phones that provide basic functions such as text messaging, voice calling, audio and video visualization, and a camera. Cell phones with advanced computing capabilities such as Wi-Fi, web browsing, third-party applications, and mobile payment, information management solutions such as documents, emails, and contacts, GPS applications built in, and features such as voice and video calls and web access are referred to as smart phones.
Smart phones offer internet access, Bluetooth, games, cameras, multimedia messaging, FM radio, and multimedia functions in addition to communication. Phablets are gaining popularity as technology advances, resulting in a worldwide fall in laptop and personal digital assistant use.The dynamics and structure of the global mobile phone and smart phone ecosystem have changed dramatically in recent years. Lowering costs, improved design and functionality such as enhanced mobile browsing and email services, the emergence of new network technologies such as 3G and 4G, improved professional and personal data supervision, and the standardization and upgrading of all operating systems are all driving the growth of the mobile phone and smart phone markets.

A laptop, sometimes known as a notebook computer, is a small, portable computer that is powered by a battery and may be recharged using an AC adapter. Laptops are typically less than 3 inches thick, weigh less than 5 pounds, and are designed for minimal power usage. The linked tiny LCD or LED laptop display may be folded flat for transportation. The majority of individuals use laptop computers for a variety of reasons, including work, education, gaming, Internet browsing, personal entertainment, and regular home computer use. Some of the key drivers driving market expansion include increased internet use, rising disposable incomes, a growing global population, and more consumer understanding of new technology. One of the key reasons contributing to the market's positive outlook is the massive development of the information technology (IT) sector globally.
Consumer acceptance of smart wearable technology goods is driving market growth. These devices aid in health monitoring by employing sensors to measure cholesterol levels, calories burned, oxygen levels, and other parameters. Fitbit, Samsung, Noise, and Fossil Group, Inc. are also selling wearable technology watches and other accessories that have health monitoring features. Customers are anticipated to be interested in such a feature since it enables them to monitor their health, opening the way for market development.
Regional Analysis
The Global 3C Consumer Lithium Battery Market is segmented by region as North America, Europe, Asia Pacific, Latin America, and Middle East and Africa.
Germany will lead the European market in 2022. It is one of Europe's leading automobile manufacturers, contributing to the region's market growth.
Various European governments have been heavily supporting and investing in research and development (R&D) activities in the power sector in recent years. The demand for lithium-ion batteries in the European area is rapidly increasing due to rising automotive production, a growing need for energy storage solutions, greater use of electric cars due to environmental concerns, and major investments in lithium-ion battery research programs.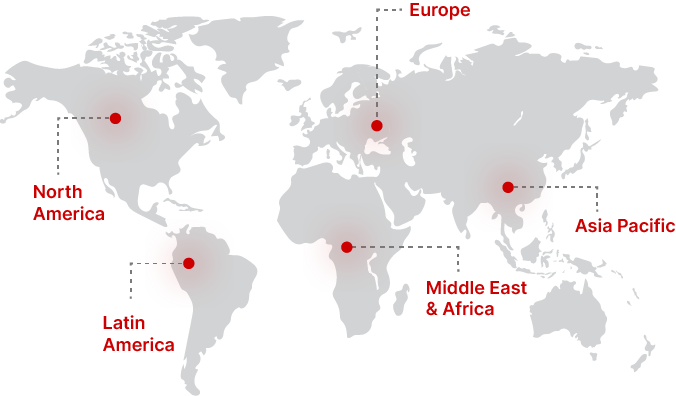 Regional Growth Insights
Download Free Sample
Key Players
ATL
LG
Murata Manufacturing
Zhuhai CosMX
BYD
Lishen Battery
EVE
Zhongshan Battery
Veken Battery
Highpower Technology
Great Power
Dongguan Liwinon
Recent Developments
Panasonic Holdings Corporation will develop a manufacturing facility in Wakayama Factory in western Japan in February 2022 to produce new "4680" lithium-ion batteries for electric cars in order to grow its business internationally. Productivity testing and mass manufacturing are expected to commence by the end of fiscal year 2024.
3C Consumer Lithium Battery Market Segmentations
Segmentation by Type
Lithium-Cobalt Oxide Battery
Lithium-Titanate Battery
Lithium-Iron Phosphate Battery
Segmentation By Application
Intelligent Mobile Phone
Laptops and Tablets
Wearable Devices
Frequently Asked Questions