Market Overview
The Global Primary Battery Sensor Market Size is projected to grow at CAGR of approximately 4.2% during the forecast period.
Market for sensors used in main or non-rechargeable batteries to monitor and report on vital statistics including charge level, voltage, and temperature is known as the market. Primary batteries have several uses and are often used in toys, remote controls, medical equipment, and portable electronics.
Market Dynamics
Market Drivers
An increasing number of gadgets use main batteries because of their cheap price, extended shelf life, and high energy density. Some examples are remote controls, toys, medical equipment, and portable electronics. The main battery sensor market is expanding due to the rising demand for primary batteries in these applications.
The equipment may be damaged or possibly become unsafe if primary batteries suddenly failed, therefore constant monitoring is required. Primary batteries with built-in sensors allow for continuous monitoring of their status, allowing for the discovery of potential problems at an early stage and the subsequent avoidance of device failure.
Sensors in main batteries may aid in optimizing energy consumption by giving information on the battery's state of charge and discharge, which is becoming more important as attention turns to energy efficiency. As energy consumption rises as a major issue, this may increase the total energy efficiency of devices that employ main batteries.
Market Restraints
Primary batteries can only be used in low-power devices with a low-duty-cycle use pattern. This restricts the main battery sensors target market and slows their development.
Competition from Rechargeable Batteries
Due to their longer lifetime and lesser environmental effect, rechargeable batteries are gaining in popularity. Competition from rechargeable battery manufacturers restrains the expansion of the main battery sensor market.
Market Opportunities
Increased use of remote monitoring and data transmission highlights the rising value of wireless sensors powered by main batteries. As a result, the market for main battery sensors has an opening to create more advanced wireless sensor solutions.
The need for medical equipment is on the rise, and main batteries are often used in these devices because of their extended shelf life and dependability. The main battery sensor market may capitalize on the growing demand for medical devices by creating additional solutions tailored to the needs of the healthcare industry.
Market Scope
Report Metric
Details
Market Size by 2031
USD XX Million/Billion
Market Size in 2023
USD XX Million/Billion
Market Size in 2022
USD XX Million/Billion
Historical Data
2019-2021
Base Year
2022
Forecast Period
2023-2031
Report Coverage
Revenue Forecast, Competitive Landscape, Growth Factors, Environment & Regulatory Landscape and Trends
Segments Covered

Segment by Type

Portable
Stationary

Segment by Application

Chemical Industry
Wastewater Treatment
Scientific Research
Medical Industry

Geographies Covered

North America
Europe
APAC
Middle East and Africa
LATAM

Companies Profiles

Advanced Micro Instruments
Alphasense
Angst+Pfister Sensors and Power AG
Cedars
Cubic
Dextens
EC Sense
General Monitors
Getamo
GS Yuasa
Hach
JACOMEX
Rainbow Technology
Sensortechnik Meinsberg
Southland Sensing
Supmea Automation
Teledyne Analytical Instruments
Oksidyne
GASTEC CORPORATION
Segmental Analysis
Segment by Type
Smartphones, tablets, and wearables all employ main battery sensors, which are covered here. These kinds of sensors are designed to be compact, light, and power efficient they are perfect for usage in battery-dependent mobile devices.
Primary battery sensors used in fixed applications such industrial machinery, healthcare equipment, and smart home appliances make up this market. Because of their permanent installation and consequent need for precision and dependability, these sensors are built to last.
Segment by Application
Sensors powered by main batteries are widely used in the chemical industry for process control, environmental monitoring, and safety monitoring. To ensure that manufacturing is safe and efficient, these sensors keep an eye on variables like temperature, pressure, and gas concentration.
Sensors powered by primary batteries are often used in wastewater treatment facilities to measure and record parameters such as pH, dissolved oxygen, and temperature. These sensors are crucial for ensuring that the water is properly treated and up to code.
Pimary battery sensors have several uses in scientific research, including the monitoring of environmental conditions (such as temperature, humidity, and gas concentration) in a controlled setting. These sensors are essential for preserving the veracity of scientific studies since they give accurate and dependable data for research purposes.
Patient monitoring, medicine delivery systems, and other medical applications all make use of sensors powered by primary batteries. Important information regarding patient safety and treatment efficacy may be gathered from these sensors
Regional Analysis
The Global Primary Battery Sensor Market is segmented by region as North America, Europe, Asia Pacific, Latin America, and Middle East and Africa.
Due to the increasing demand for primary batteries in a wide range of applications, North America is a sizable market for primary battery sensors. These applications include consumer electronics and medical equipment. Companies like Texas Instruments and Analog Devices, who are among the global leaders in main battery sensors, are headquartered there as well.
As the need for primary batteries in the transportation and aerospace sectors continues to grow, Europe has emerged as a promising market. Several large main battery sensor producers like STMicroelectronics and NXP Semiconductors are headquartered in the area as well.
Due to the rising need for primary batteries in several applications, including consumer electronics, automobiles, and medical devices, the Asia-Pacific region is predicted to be the fastest-growing market for primary battery sensors. Companies like Maxim Integrated and Murata Manufacturing, who are among the global leaders in main battery sensors, are headquartered there as well.
Due to rising demand for primary batteries across a variety of industries, notably in the consumer electronics sector, the Latin American market is forecasted to expand gradually over the coming years.
Due to the rising use of primary batteries in fields as diverse as medicine and consumer electronics, the Middle Eastern and African market is predicted to expand at a modest pace. However, political instability, economic uncertainty, and inadequate infrastructure are only a few of the threats to the region's market development.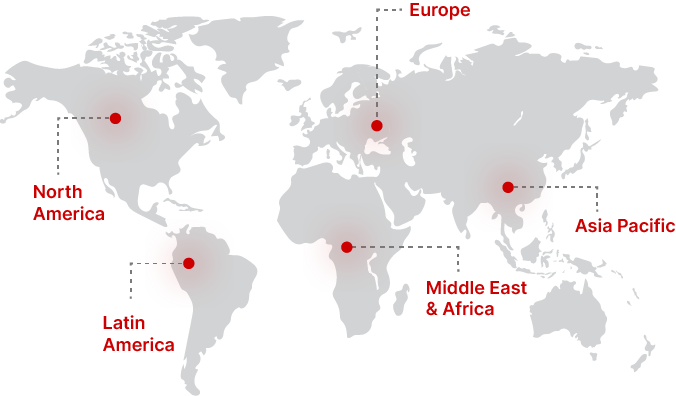 Regional Growth Insights
Download Free Sample
Key Players
Advanced Micro Instruments
Angst+Pfister Sensors and Power AG
Cedars
Cubic
Dextens
EC Sense
General Monitors
Getamo
GS Yuasa
Hach
JACOMEX
Rainbow Technology
Sensortechnik Meinsberg
Southland Sensing
Supmea Automation
Teledyne Analytical Instruments
Oksidyne
GASTEC CORPORATION
Primary Battery Sensor Market Segmentations
Segment by Type
Segment by Application
Chemical Industry
Wastewater Treatment
Scientific Research
Medical Industry
Frequently Asked Questions