Market Overview
The Global Adirondack Blue Potatoes Seeds Market Size is projected to register a CAGR of 3.3% from 2023 to 2031.
A type of potato known as Adirondack Blue Potatoes has a blue-purple skin and a brilliant blue-purple inside. They are well-liked in specialty food stores due to their high antioxidant content and distinctive appearance.
Adirondack Blue Potato Seeds are not as commonly grown as other potato kinds, so their market is very specialized. Farmers and backyard gardeners who want to plant this particular Type still need these seeds.
Several variables, including customer desire for specialized cuisines, the cost of other potato types, and the availability of high-quality seeds, impact the Adirondack Blue Potato Seeds market. The same elements that generally influence the potato market, such as weather patterns and shifts in customer tastes, also apply to this market.
Market Dynamics
Market Drivers
Increase in Demand for Specialty or Non-GMO foods
Consumers are paying more attention to what they eat as health and wellness is becoming more popular. They are concerned with interesting and healthy food options, so non-GMO specialty potatoes like Adirondack Blue Potatoes are popular in this market. Also, the market for specialty foods, including Adirondack Blue Potatoes, is expanding due to the rising demand for organic and non-GMO goods.
Due to their unusual blue-purple skin and flesh, Adirondack Blue Potatoes are a visually appealing alternative for chefs and home cooks eager to produce visually impressive dishes. Adirondack Blue Potatoes are a common option in the culinary world due to their distinctive appearance, which can give a touch of elegance to any dish, and their nutritional benefits. For fresh consumption and usage in processed foods, this has helped the market for Adirondack blue potatoes grow.
Market Restraints
The limited knowledge of this Type among customers, farmers, and seed providers is one of the major issues the Adirondack Blue Potatoes Seeds Market faces. Adirondack Blue Potatoes are not widely known, which can reduce seed demand and impede market expansion. Adirondack Blue Potatoes have special features and nutritional value that consumers may not be aware of. Farmers and seed suppliers may not know the advantages of growing and selling this Type. Adirondack Blue Potatoes Seeds may only have a small market because of this lack of awareness, which may affect the market's expansion.
Market Opportunity
Innovation in the food industry
Adirondack Blue Potatoes' distinctive color and strong antioxidant content offer prospects for food sector innovation. When cooked, Adirondack Blue Potatoes keep their unusual blue/purple color, which can enhance the aesthetic attractiveness of culinary items. Adirondack blue potatoes' high antioxidant content also makes them valuable to health and wellness products because antioxidants have many positive health effects.
Adirondack Blue Potatoes can be a natural food coloring instead of artificial colors. Those seeking natural and healthier eating options may find this appealing. Adirondack Blue Potatoes can also be used to make chips, a snack that appeals to consumers looking for a healthy alternative.
Market Scope
Report Metric
Details
Market Size by 2031
USD XX Million/Billion
Market Size in 2023
USD XX Million/Billion
Market Size in 2022
USD XX Million/Billion
Historical Data
2019-2021
Base Year
2022
Forecast Period
2023-2031
Report Coverage
Revenue Forecast, Competitive Landscape, Growth Factors, Environment & Regulatory Landscape and Trends
Segments Covered

By Type

Conventional Type
Micro Propagation Type

By Application

Farmer Retail
Large Farm

Geographies Covered

North America
Europe
APAC
Middle East and Africa
LATAM

Companies Profiles

HZPC
Agrico
Germicopa
EUROPLANT Pflanzenzucht
Solana
Danespo
C. Meijer
NORIKA
Interested Potatoes
IPM Potato Group
Bhatti Agritech
Valley Tissue Culture
Segmental Analysis
By Type
The market is segmented into Conventional Type Micro Propagation Type.
Micropropagation is gaining popularity due to its advantages in producing high-quality, disease-resistant plants. The Adirondack Blue Potatoes Micro Propagation Type of Seeds describes growing new plants using tissue culture techniques. This technique allows a little tissue sample from a healthy Adirondack Blue Potato plant to be grown in a lab under carefully monitored circumstances. Farmers may benefit from this strategy's ability to produce many consistent, disease-free plants.
The term "conventional type" refers to the standard process of producing seeds, which entails sowing fresh crops with mature Adirondack Blue Potatoes seeds. This approach is popular in the potato seed business and is economical for farmers.
By Application
The market is bifurcated into Farmer Retail, Large Farms.
The Farmer Retail segment includes small-scale farmers who buy Adirondack Blue Potato Seeds for their personal use. These farmers generally raise potatoes for their own consumption or local markets.
The large farm section includes the commercial farms that cultivate Adirondack Blue Potatoes on a big scale for distribution to shops, eateries, and other food service providers. These farms, which typically employ machinery to sow, harvest, and prepare their crops, need more seeds.
Regional Analysis
The Global Adirondack Blue Potatoes Seeds Market is segmented by region as North America, Europe, Asia Pacific, Latin America, and Middle East and Africa.
Depending on the region, the market is analyzed in North America, Asia-Pacific, Europe, and LAMEA. North America dominates the market.
North America is a sizable market due to the popularity of specialty potatoes and the region's increased desire for organic meals. The United States is the primary producer and consumer of Adirondack Blue Potatoes in North America, and during the following few years, the market expansion is projected.
Due to the rising demand for specialty potatoes and the expansion of the organic food industry in the region, Europe is another important market for Adirondack Blue Potato Seeds. The Netherlands, France, and Germany are some of the continent's top growers of Adirondack Blue Potatoes.
As a result of the rising demand for specialized potatoes in nations like China, India, and Japan, the Asia Pacific region represents a sizable market. Some of the largest potato-producing nations in the world, including China and India, are located in this region.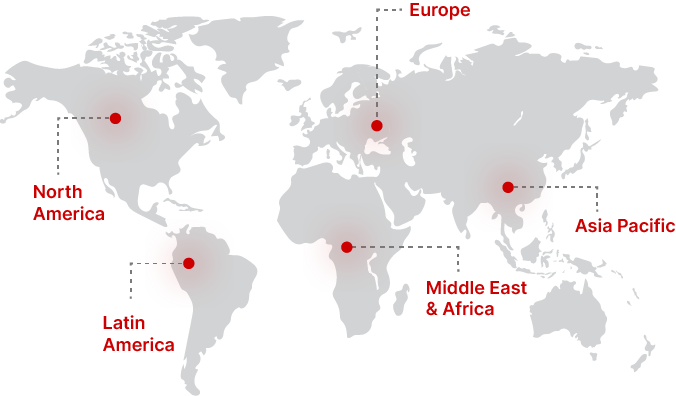 Regional Growth Insights
Download Free Sample
Key Players
HZPC
Agrico
Germicopa
EUROPLANT Pflanzenzucht
Solana
Danespo
C. Meijer
NORIKA
Interested Potatoes
IPM Potato Group
Bhatti Agritech
Valley Tissue Culture
Recent Developments
In February 2023, Five novel potato types for tropical climates are being developed by HZPC in collaboration with the potato institute CIP (International Potato Centre).
Adirondack Blue Potatoes Seeds Market Segmentations
By Type
Conventional Type
Micro Propagation Type
By Application
Frequently Asked Questions