Market Overview
According to Reed Intelligence the Global Advanced Fuel Cells Market Size will approximately grow at a CAGR of 6.7% during the forecast period.
A fuel cell is an electrochemical cell that uses fuel to produce electrical energy through an electrochemical reaction. To sustain the reactions that generate electricity, fuel cells need a continuous fuel supply and an oxidizing agent, typically oxygen. As a result, these cells can continuously produce electricity until the fuel and oxygen supply is interrupted. A fuel cell is similar to an electrochemical cell, composed of a cathode, an anode, and an electrolyte. The electrolyte in these cells facilitates the movement of protons. They have been utilized to fuel numerous space expeditions, including the Apollo space program. The byproducts typically generated by these cells are heat and water. The portability of certain fuel cells proves to be highly advantageous in various military applications. Electrochemical cells can power various electronic devices as well.
Market Dynamics
Advanced Fuel Cells Market Drivers
The Increasing Demand For Fuel Cells In Automobiles
There is a growing demand for portable devices and equipment, which requires efficient and reliable power sources. After covid-19, the demand for automobiles has increased. The rising popularity of electric and hybrid automobiles is contributing to the demand for advanced battery and fuel cell materials. Companies worldwide are actively engaged in research and development efforts to advance fuel cell vehicle technologies. All these factors are driving the market growth fuel cells.
Advanced Fuel Cells Market Restraints
High Initial Investments Are Required For Fueling Infrastructure
Setting up fueling infrastructure for fuel cell vehicles necessitates significant upfront investments and continuous expenses for operation and maintenance. The costs associated with fuel cell vehicles are quite high, which can be a major obstacle to their widespread adoption. This is especially true when there is no consistent legal framework in place and limited financial support from governments and regulators in the form of subsidies. This can be a major restraint for this market.
Advanced Fuel Cells Market Opportunities
Advancements In Research And Development On Fuel Cells
Advanced batteries and fuel cells power various military hardware, vehicles, and uninterruptible power systems. They are also used as versatile and stationary power supplies. Energy components are electrochemical devices that essentially combine hydrogen and oxygen to generate power. Unlike batteries, fuel sources can continuously generate and supply power until connected. Furthermore, the issue of power scarcity in developing nations is also driving the market, as there is a growing need for reliable and sustainable energy solutions.
Market Scope
Report Metric
Details
Market Size by 2031
USD XX Million/Billion
Market Size in 2023
USD XX Million/Billion
Market Size in 2022
USD XX Million/Billion
Historical Data
2019-2021
Base Year
2022
Forecast Period
2023-2031
Report Coverage
Revenue Forecast, Competitive Landscape, Growth Factors, Environment & Regulatory Landscape and Trends
Segments Covered

Segment By Type

Proton Exchange Membrane Fuel Cells (PEMFC)
Alkaline (AFC)
Phosphoric acid (PAFC)
Molten carbonate (MCFC)

Segment By Application

Transportation
Stationary

Geographies Covered

North America
Europe
APAC
Middle East and Africa
LATAM

Companies Profiles

Bloom Energy Corporation
FuelCell Energy, Inc.
Panasonic Corporation
Ballard Power Systems
Plug Power Inc.
Ceres Power Holdings Plc
Doosan Corporation
Horizon Fuel Cell Technologies
Hydrogenics Corporation
AFC Energy Plc
SFC Energy AG
Nuvera Fuel Cells, LLC
Nedstack Fuel Cell Technology B.V.
Altergy Systems
Toshiba Energy Systems & Solutions Corporation
Johnson Matthey
AVL
Elcogen
Umicore
Oorja Corporation
Segmental Analysis
Segment By Type
Proton Exchange Membrane Fuel Cells (PEMFC)
These devices function effectively within low temperatures, specifically between 50 and 100 degrees Celsius. They possess a remarkable power density and are capable of rapid start-up. They are suitable for portable and transportation applications like cars, buses, laptops, and mobile phones.
These engines exhibit a remarkable electrical efficiency, reaching up to 60%. Additionally, they are versatile in terms of fuel options, as they can utilize hydrogen, ammonia, or hydrazine. However, they are sensitive to carbon dioxide and thus require pure oxygen as the oxidant. These devices are primarily utilized in space applications, specifically in missions like Apollo and the Space Shuttle.
The fuel cells utilize concentrated phosphoric acid as the electrolyte, transporting protons from the anode to the cathode. These devices function effectively within a moderate temperature range of 150 to 200 degrees Celsius, exhibiting excellent stability and durability.
The fuel cells utilize a molten mixture of lithium, sodium, and potassium carbonates as electrolytes. These systems can operate at temperatures ranging from 600 to 700 degrees Celsius. The fuel options available are natural gas, biogas, or coal gas, while air can be used as the oxidant. In addition, they generate heat that can be utilized for cogeneration or steam production. They are primarily utilized for generating power on a large scale, specifically in utility plants and industrial facilities.
Segment By Application
Transportation accounts for approximately 25% of the world's total energy consumption. PEM fuel cells are primarily utilized in transportation applications and certain stationary applications. PEM fuel cells are highly suitable for passenger vehicles, such as cars and buses, due to their quick start-up time and favorable power-to-weight ratio.
Fuel cell technologies have numerous applications in stationary power production. These include primary power generation, grid stabilization, backup power systems, and combined heat-and-power configurations (CHP).
Regional Analysis
North America (USA and Canada)
The transportation system in North America is diverse and encompasses various modes of transportation. With the increasing number of automobiles, the traffic rate is increasing daily. Increasing concern about air pollution due to the emission of hazardous chemicals through vehicles leads to various health issues. Furthermore, the growing awareness regarding the detrimental effects of air pollution and the increasing levels of traffic and greenhouse gas emissions drive the demand for advanced fuel cell vehicles. This, in turn, contributes to the market's growth in North America.
Europe (Germany, the U.K., France, Russia, Italy, and the Rest of Europe)
Fuel cells are highly used in the automobile industry. Many manufacturers are demanding good-quality of fuel cells. Fuel cells provide power to vehicles. The transport industry experienced significant advancements with the increased production of fuel-cell electric vehicles (FCEVs) in this region. Hence, the government is also trying to get coupled with the advanced fuel cell industry by emphasizing research and development. Fuel cell vehicles have several advantages over conventional vehicles. These include higher efficiency, lower emissions, longer driving range, and fuel flexibility. Fuel cell vehicles play a significant role in the shift towards zero-emission transportation, particularly in long-haul freight applications. This can increase the market share of advanced fuel cells in this region.
Asia-Pacific (China, Japan, South Korea, India, Southeast Asia, Rest of Asia-Pacific)
The growth of the global advanced fuel cell market in this region can be attributed to several things, such as more people caring about the environment, government efforts to build infrastructure for hydrogen-based fuel cells, improvements in technology, and the potential of fuel cell technology in the future. As people worry more about the environment getting worse and natural resources running out, more and more technologies are being put on the market to make things more eco-friendly and protect the environment.
South America, Middle East, and Africa
These regions are experiencing a rise in disposable income and technical advancement, contributing to new markets in these regions. Nevertheless, it is anticipated that the region will have a slower growth rate when compared to other regions.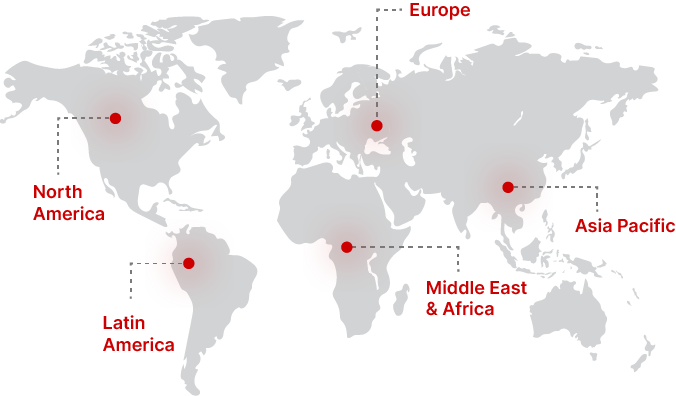 Regional Growth Insights
Download Free Sample
Key Players
Bloom Energy Corporation
FuelCell Energy, Inc.
Panasonic Corporation
Ballard Power Systems
Ceres Power Holdings Plc
Doosan Corporation
Horizon Fuel Cell Technologies
Hydrogenics Corporation
AFC Energy Plc
SFC Energy AG
Nuvera Fuel Cells, LLC
Nedstack Fuel Cell Technology B.V.
Altergy Systems
Toshiba Energy Systems & Solutions Corporation
Johnson Matthey
AVL
Elcogen
Umicore
Oorja Corporation
Recent Developments
27 April, 2023: Bloom Energy has recently entered into an agreement with Elugie to supply a combined power capacity of 9.75 megawatts (MW) using the Bloom Energy Server. This power will be generated at five different locations in Belgium, specifically commercial, industrial, and data center sites. This marks Bloom's inaugural entry into the northern Europe market. Elugie is an energy service company operating in the Benelux market, specifically Belgium, the Netherlands, and Luxembourg. The company is headquartered in Riga, Latvia, and also has offices in Mechelen, Belgium.
Advanced Fuel Cells Market Segmentations
Segment By Type
Proton Exchange Membrane Fuel Cells (PEMFC)
Alkaline (AFC)
Phosphoric acid (PAFC)
Molten carbonate (MCFC)
Segment By Application
Transportation
Stationary
Frequently Asked Questions