Market Overview
Global Bee Proof Suits Market Size is Slated to Grow Substantially at 2.9% CAGR During Forecast Period.
A Typical, full body bee suit is a single garment usually made out of heavy white cotton canvas or several layers of bee-proof mesh netting. It has long sleeves with elastic at the ends to close around your wrists and long legs with elastic to close around your ankles.
The term bee proof suits refers to protective clothing intended to shield wearers from bee stings while engaging in beekeeping or other activities involving bees. Bee resistant clothing is usually constructed from strong materials, like heavy-duty cotton or polyester, and is intended to completely cover the body, including the head and face.
The market for bee resistant suits has expanded recently as a result of the rising interest in beekeeping as a pastime and the rising need for honey and other bee-related goods. Bee stings can cause dangerous allergic reactions, including anaphylaxis, in some people, so beekeepers and other people who work with bees need protective clothing to avoid getting stung.
Market Dynamics
Bee Proof Suits Market Drivers
Beekeeping is becoming more and more popular all over the world, both as a pastime and as a business. As a result, there are now more beekeepers, which has increased demand for bee proof clothes.
Beeswax, propolis, and alternative for sugar , also used in many healthcare and skin care products are among the additional products of the hive that are in increasing demand, along with honey. The market for bee proof suits has grown as a result of the rise in the number of commercial beekeepers that has resulted from this.
Protection from bee stings is required: Beekeepers must be protected from bee stings when caring for their hives. Bee proof garments are an indispensable piece of beekeeping gear since they offer efficient protection.
Bee Proof Suits Market Restraints
Many beekeepers, particularly those that operate on a small scale, may be discouraged from obtaining bee proof clothing because of their high cost.
Bee resistant clothing may not be widely used in some areas because beekeepers are unaware of their advantages, which could reduce the market for these goods.
Other safety gear is available and can be less expensive for beekeepers than bee proof suits. Examples of such clothing include jackets and veils.
Bee proof suits can be difficult to fit and may not feel comfortable, which can restrict their appeal to some beekeepers. They can also be bulky to wear.
Bee proof suits may be produced from synthetic materials that can have a harmful influence on the environment; as a result, some beekeepers may choose not to use them.
Bee Proof Suits Market Opportunities
Increasing demand for honey and other bee products,
As the world's population expands, so does the market for honey and other bee products. Beekeeping is growing in popularity as a pastime and a means of revenue, which is fueling demand for beekeeping supplies like bee proof suits.
A rise in bee protection awareness
People are becoming more conscious of the need of safeguarding bees and their habitats as a result of the global fall in bee populations. Beekeepers must have bee proof suits in order to protect themselves while handling bees without hurting them.
Beekeeping is performed all over the world, and bee proof suits may find a market in many of these nations. Manufacturers can take advantage of this potential worldwide market by providing goods that cater to specific demands and tastes.
Innovation in product design and construction
There is an increasing market for bee proof suits that are more breathable, long-lasting, and protective. To address these demands, producers are developing new materials and product designs.
Market Scope
Report Metric
Details
Market Size by 2031
USD XX Million/Billion
Market Size in 2023
USD XX Million/Billion
Market Size in 2022
USD XX Million/Billion
Historical Data
2019-2021
Base Year
2022
Forecast Period
2023-2031
Report Coverage
Revenue Forecast, Competitive Landscape, Growth Factors, Environment & Regulatory Landscape and Trends
Segments Covered

Segment by Type

X-Small
Medium
Large
XX-Large

Segment by Application

Bee Farming
Scientific Research
Apiculture
Others

Geographies Covered

North America
Europe
APAC
Middle East and Africa
LATAM

Companies Profiles

Bee Proof Suits, Inc
VIVO
Pest Mall
Aspectek
BeeKool
Humble Bee
Eco-Keeper
Ultra Breeze
Wellco Industries Inc.
CocobeeUSA Beekeeping
Natural Apiary
LORJE Beekeeping
Segmental Analysis
Segment by Application
For most cases, the bee suit consists of a full-body jumpsuit with elasticized wrists and ankles, a zippered hood that covers the head and neck, and a veil that hides the face. The veil is often constructed of a mesh material that lets the beekeeper see and breathe freely while shielding their face from bee stings.
Bee proof suits are also employed in bee-related scientific studies, notably when conducting close-quarters beekeeping trials. These studies could examine bee physiology, behaviour, or communication while also examining how various treatments or environmental variables affect bee colonies.
Beekeeping is the practice of apiculture, and bee proof clothes are a vital instrument in this industry. Beekeepers don bee suits to shield themselves from bee stings and to lessen hive inspection and honey collection-related disruptions to the bee colony.
Regional Analysis
The Global Bee Proof Suits Market is segmented by region as North America, Europe, Asia Pacific, Latin America, and Middle East and Africa.
North America
Given the large number of professional and amateur beekeepers in the United States, there is a significant need for bee proof clothes. While Old Dominion has the highest price per pound of honey in the country, North Carolina has the most beekeeping groups. Outdoor enthusiasts who want to be protected against bees when camping or trekking are also driving up demand for protective apparel. Due to growing recognition of the significance of beekeeping for agriculture and the environment, the bee proof suit market in North America is anticipated to expand. The growing popularity of beekeeping as a pastime and the expansion of the honey industry in North America are the primary factors driving the demand for bee resistant suits.
Europe
The popularity of beekeeping and the need for honey are further factors driving the market for bee proof suits in Europe. With several small-scale beekeepers who might not use protective clothes, the market is increasingly fragmented. The three countries with the greatest bee proof suit markets in Europe are Germany, France, and the United Kingdom. Beekeeping is a way of life in Slovenia. One beekeeper out of every 200 citizens of this little European country of 2 million works in the industry. That is four times as many as there are in the entire European Union, this indicates the reason for demand for bee proof suits in Europe. Due to rising interest in urban beekeeping and a focus on sustainability in the food business, the market in Europe is anticipated to expand.
Asia-Pacific
With China being the world's greatest producer of honey, mainland China was by far the leading producer of natural honey worldwide, driving the need for bee resistant suits in Asia. Almost 472,000 metric tonnes of honey were produced in China. Honey is a significant component of the food culture in nations like Japan, Korea, and India. This may be one of the main causes of the rise in demand for bee protective clothing. Due to the region's rising demand for honey and bee products, as well as government backing for the growth of the beekeeping industry, the market in Asia is anticipated to expand.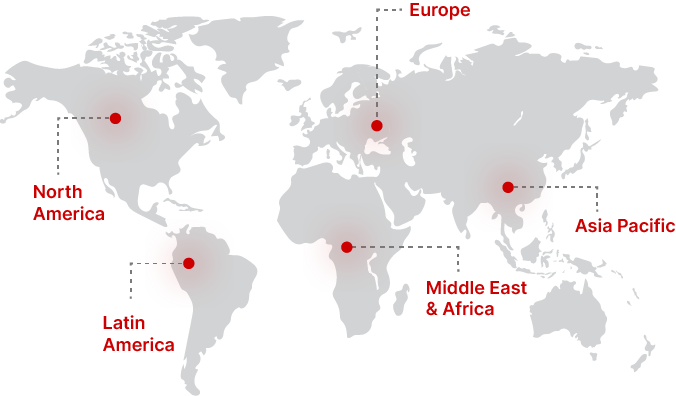 Regional Growth Insights
Download Free Sample
Key Players
Bee Proof Suits, Inc
VIVO
Pest Mall
Aspectek
BeeKool
Humble Bee
Eco-Keeper
Ultra Breeze
CocobeeUSA Beekeeping
Natural Apiary
LORJE Beekeeping
Recent Developments
February,2023- The Internet Is Curious About The Mystery Of North Carolina's Purple Honey- Bees in North Carolina's Sandhills create purple honey. It can only be found there, and nowhere else, on Earth (news by - NEWS 18)
February,2023- Honey bee abundance in an urban setting is correlated with a decline in the diversity of wild bee species. Western honey bees (Apis mellifera L.) in urban settings may provide a new threat to wild bee groups, according to a recent study that was published in PeerJ. There has been a particularly significant surge in beekeeping throughout the city on the Isle of Montréal in Canada.
Februrary, 2023- The Loss of 10 Billion Honeybees Leads to Pest Control Measures- Following an estimated ten billion honeybee deaths or disappearances last fall, the South Korean government has developed pest control techniques. Although apiaries contend odd weather circumstances were to fault for the abrupt population decline, authorities blame mites.
Bee Proof Suits Market Segmentations
Segment by Type
X-Small
Medium
Large
XX-Large
Segment by Application
Bee Farming
Scientific Research
Apiculture
Others
Frequently Asked Questions