Market Overview
According to Reed Intelligence the Global Bike Cycle Computers Market Size will approximately grow at a CAGR of 6.2% during the forecast period.
A bike cycle computer is a navigational device that can be attached to the handlebars of a bicycle or bike. This bike computer collects satellite signals via GPS, allowing riders to monitor their rides and trace their performance more precisely. In addition, it allows for creation of new routes and the ability to follow pre-planned routes for real-time progress. Without cables or magnets, GPS cycle computers monitor positions and accurately calculate distance, speed, and time. They may record routes and submit them to your ride monitoring service, allowing you to analyze your performance for recreational or training purposes. This wireless bicycle computer has undergone substantial enhancements.
Market Dynamics
Market Drivers
Increasing Health Consciousness
The increase in the general public's awareness of the need to maintain a healthy lifestyle, combined with recent advances in technologically advanced wearables, is driving growth in the market for bike computers. Individuals' increased consciousness inspires business owners to provide customers with contemporary and innovative products.
Increasing Demand And Use Of Smart Cycling Gear
The increasing demand for smart cycling gear is a major factor propelling the Bike Cycle Computers Market. The demand for low-cost, user-friendly bicycle computers with GPS capabilities is rising consistently. Increasing public interest in cycling sporting activities and competitions is one of the factors influencing the expansion of the cycling industry. The shift toward analog GPS bicycle computers has reduced demand, and market expansion has been aided by the rising adoption of shared commuter bicycles and rising participation in cycling competitions and sports.
Market Restrains
A bike computer can range anywhere from a few hundred to several thousand dollars, with the more sophisticated and feature-packed models typically pricier. This high cost may operate as a barrier for consumers who are more aware of their financial constraints, limiting the expansion of the industry to some extent.
Limited Adoption in Developing Regions
Computers designed specifically for use on bicycles are most commonly found in developed countries and communities that value cycling as a sport or means of transportation. In contrast, the adoption rate may be slower in developing nations due to variables such as lower levels of private spending and insufficient awareness of the benefits of bike computers.
Market Opportunities
Increasing Awareness of Safety
GPS bike computers with live monitoring, accident detection, and emergency notifications are becoming more popular due to road safety concerns. These features offer cyclists increased safety and peace of mind while riding. The global Bike Cycle Computers Market is expected to grow as more people pedal and use advanced technologies.
Technological Advancements
The GPS technology has improved in terms of accuracy and dependability, which has made it possible to include more advanced capabilities in bike computers. The growth of wireless connectivity and the ability to integrate with other devices, such as smartphones and smartwatches, have contributed to the increasing popularity of these devices.
Market Scope
Report Metric
Details
Market Size by 2031
USD XX Million/Billion
Market Size in 2023
USD XX Million/Billion
Market Size in 2022
USD XX Million/Billion
Historical Data
2019-2021
Base Year
2022
Forecast Period
2023-2031
Report Coverage
Revenue Forecast, Competitive Landscape, Growth Factors, Environment & Regulatory Landscape and Trends
Segments Covered

Segment by Type

Wired Computers
Wireless Computers
Wireless and GPS Computers

Segment by Application

Mountain Bikes
Road Bikes

Geographies Covered

North America
Europe
APAC
Middle East and Africa
LATAM

Companies Profiles

Garmin
CatEye
Pioneer Electronics
Sigma Sport
Polar
Bryton Inc
Giant Bicycles
Raleigh (Accell Group)
Trek Bicycle
Wahoo Fitness
Topeak Inc
VDO Cyclecomputers
o-synce
BBB Cycling
Bion
KNOG
Segmental Analysis
Segment by Type
A wired bike computer is a bicycle with a sensor attached to the fork leg that records data. Using wires, it computes distance, velocity, and other metrics. It has an internal magnetometer that transmits signals to the device for calculation. A cable connects it to the frame of the bicycle. The cable transmits data between the speedometer and the stopwatch, enabling riders to monitor their progress on a visible electronic display.
A wireless computer is a bicycle computer that transmits time, speed, distance, and other cycling metrics via radio frequency (RF). It functions similarly to an Electronic Compass, allowing cyclists to monitor their riding performance. The device is typically attached to the front or rear wheel near the fork with zip ties attachments; it transmits data wirelessly via Bluetooth to provide accurate real-time data.
A Wireless & GPS Computer is a bicycle computer with wireless and GPS capabilities. It is a device that can measure speed, distance traveled, and elapsed time. It can connect wirelessly to the user's smartphone or head unit to provide real-time feedback on their workout performance via Bluetooth, whereas the GPS monitors routes. For this reason, they are also referred to as hybrid computers, which provide accurate results and enhanced connectivity with minimal effort.
Segment by Application
Electronic devices known as bike computers are utilized when riding bicycles to keep track of the time, mileage, and speed traveled. For a more customized and comfortable ride, these accessories can be fastened to the handlebars or stem of a bicycle. Using the GPS technology built into this gadget, it can also indicate the total elevation that has been climbed and the total drop that has been trekked when the rider is out on their mountain bikes.
Computers for bicycles are electronic devices that may be attached to the bicycle and give the rider valuable information such as the current speed, the average or total ride duration, the distance traveled since the last reset, and the highest speed that can be reached. The most basic versions only measure a handful of these parameters. However, more complex variants can measure a user's heart rate via a chest strap and their location via GPS satellites. Some can also communicate with mobile devices such as cell phones and smartwatches to receive text messages and recalculate the route.
Regional Analysis
North America (USA and Canada)
North America holds the largest market share in the Bike Computer Market due to the increasing adoption of cycling as a fitness and recreational activity, the growing prevalence of cycling events and competitions, and the rising awareness of health and fitness. In addition, the presence of key actors in the region and the advancement of technology also contribute to the expansion of the North American market.
Europe (Germany, the U.K., France, Russia, Italy, Rest of Europe)
Europe also holds a sizable portion of the bike cycle computer market as a result of the rising use of cycling as a form of transportation, the presence of top bicycle manufacturers in the area, and the growing desire for technologically advanced products.
Asia-Pacific (China, Japan, South Korea, India, Southeast Asia, Rest of Asia-Pacific)
The Asia-Pacific region is anticipated to experience considerable growth in the Bike Computer Market due to the increasing popularity of cycling as a sport and leisure activity, the rising trend of fitness and health consciousness, and the growing demand for sophisticated cycling technology. Specifically, this growth is anticipated to be driven by the rising demand for advanced cycling technology in the region.
Latin America (Mexico, Brazil, Rest of South America)
The increasing demand for cycling products and accessories, rising health consciousness, and the presence of major bicycle manufacturers in Latin America are all projected to contribute to the growth of the Bike Computer Market.
Middle East and Africa (Saudi Arabia, UAE, Egypt, South Africa, Rest of MEA)
The Middle East and Africa region is also anticipated to expand strongly in the Bike Computer Market. This is projected to occur due to the growing interest in cycling as a form of exercise and leisure activity and the growing popularity of cycling events and competitions.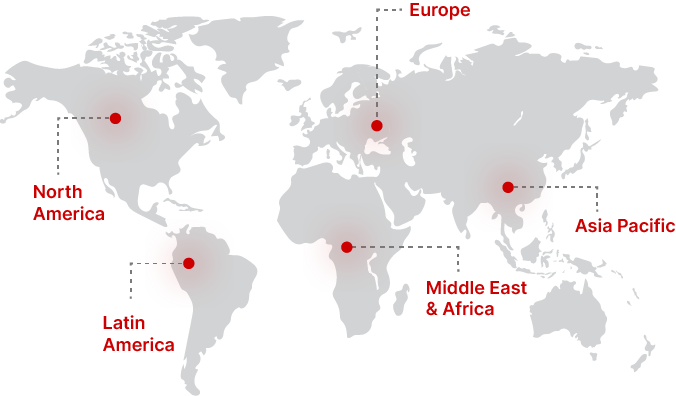 Regional Growth Insights
Download Free Sample
Key Players
Garmin
CatEye
Pioneer Electronics
Sigma Sport
Polar
Bryton Inc
Raleigh (Accell Group)
Trek Bicycle
Wahoo Fitness
Topeak Inc
VDO Cyclecomputers
o-synce
BBB Cycling
Bion
KNOG
Recent Developments
April 2022- Giant and Stages Cycling announced two new GPS cycling monitors, the Dash M200 and Dash L200. These devices are available through the global distribution networks of both companies and feature a full-color display, cycling-specific maps, and an extensive array of training functions.
May 2021- Wahoo announced the release of the ELEMNT BOLT, its latest GPS bike computer. This device features a vivid color display, an intuitive interface, and enhanced navigation capabilities. Additionally, the BOLT GPS has a 15-hour battery life and a 16GB memory capacity. By pairing the Wahoo ELEMNT app with the new Bolt GPS, cyclists can customize their data displays, synchronize routes, and examine data.
Bike Cycle Computers Market Segmentations
Segment by Type
Wired Computers
Wireless Computers
Wireless and GPS Computers
Segment by Application
Mountain Bikes
Road Bikes
Frequently Asked Questions