Market Overview
According to Reed Intelligence the Global Blockchain in Infrastructure Market Size will approximately grow at a CAGR of 58.3% during the forecast period.
Blockchain technology is an advanced computer system that lets business networks share information. A blockchain database saves information in blocks linked together in a chain. Blockchain is an emerging technology that is being adopted innovatively by various industries.
This technology system helps other technologies like IoT, AI, and Big Data grow by making it easier for key infrastructures to talk to each other, automating processes, and collecting more data. Each blockchain network has its own set of software requirements. At a minimum, you need a language, wallet, compiler, tool for deploying smart contracts, and foundation.
Market Dynamics
Blockchain in Infrastructure Market Drivers
The Need For Supply Chain Management
Blockchain can improve supply chains by making it possible to deliver goods faster and cheaper, making it easier for partners to work together and share information, and making it easier to access financing. The need to simplify business processes, the need for supply chain management apps, and the rise of using integrated blockchain technology to track and control financial assets are all driving the growth of the blockchain in the infrastructure industry. Blockchain can help make sure that companies get their materials and goods in a fair and environmentally friendly way. Hence, its demand is increasing daily, leading to an increase in the market share of blockchain in the infrastructure market.
Blockchain in Infrastructure Market Restraints
Need For The Expertise And Its Scalability Issues
Most businesses and banking institutions are using blockchain. Entities have taken a balanced approach that includes both control and decentralization. It isn't very easy, and needs to hire people who know about blockchain. Second, making a good blockchain application work in different places is hard. Also, the network will work less well as more computers and other devices join it. Another problem is that once information is saved, it can't be erased. The technology behind blockchain is still in its early stages.
Blockchain in Infrastructure Market Opportunities
Rising Demand For Blockchain Technology In Logistics
A major complaint in the shipping industry is the lack of communication and transparency due to the large number of logistics companies crowding the space. There are more than 500,000 shipping companies in the U.S., which makes it hard to share information and keep track of things. Blockchain can solve many of the problems in logistics and supply chain management. Blockchain makes data more open by showing that there is only one source of truth. By giving credit to the sources of data, blockchain can help build more trust in the business. The technology can also streamline and automate the logistics process, which could save the business billions of dollars every year. Blockchain is not only safe, but it also helps the logistics business save money.
Market Scope
Report Metric
Details
Market Size by 2031
USD XX Million/Billion
Market Size in 2023
USD XX Million/Billion
Market Size in 2022
USD XX Million/Billion
Historical Data
2019-2021
Base Year
2022
Forecast Period
2023-2031
Report Coverage
Revenue Forecast, Competitive Landscape, Growth Factors, Environment & Regulatory Landscape and Trends
Segments Covered

Segmentation By Type

Public Blockchain
Private Blockchain
Hybrid Blockchain

Segmentation By Application

Agriculture
Automobile
Aviation
Telecommunications
Construction

Geographies Covered

North America
Europe
APAC
Middle East and Africa
LATAM

Companies Profiles

IBM Corp
Microsoft Corp
The Linux Foundation
BTL Group Ltd
Chain, Inc
Circle Internet Financial Ltd
Deloitte Touche Tohmatsu Ltd
Digital Asset Holdings, LLC
Global Arena Holding, Inc. (GAHI)
Monax
Ripple
Segmental Analysis
Segmentation By Type
This is where digital currencies like Bitcoin came from, which helped make distributed ledger technology (DLT) more well-known. It eliminates the problems of putting everything in one place, like less security and openness. Public blockchains that are completely independent of organizations. The most common use case for public blockchains is mining and exchanging cryptocurrencies like Bitcoin.
A private blockchain is a blockchain network that works in a limited setting, like a closed network or a single organization that runs that. They are also called business blockchains, which only certain people can use. The group in charge sets the permission, security, authorizations, and access levels.
Sometimes, organizations want the best of both worlds, so they use hybrid blockchain, a type of blockchain technology that combines parts of both private and public blockchain. It also protects your privacy, but you can still talk to others. It is cheap and quick to make transactions and can grow faster than a public blockchain network.
Segmentation By Application
Blockchain technologies can track all plant information, such as seed quality and crop growth. Blockchain technology enables the traceability of information in the food supply chain and thus helps improve food safety.
Blockchain will be used in keeping and tracking car parts and other components, which will be helpful for original equipment manufacturers (OEMs).
Blockchain can be used to keep track of an aircraft's full life cycle, from maintenance to flight operations. It can also store and manage information about passengers and keep track of aircraft parts' supply lines.
Blockchain enables telecommunications companies to automate processes, such as billing, roaming, and supply chain management.
Blockchain can also track materials and tools through the supply chain, ensuring that only certified products are used on a building site. This would make things safer and better. It could also be used to copy a building project digitally.
Regional Analysis
The Global Blockchain in Infrastructure Market is segmented by region as North America, Europe, Asia Pacific, Latin America, and Middle East and Africa.
North America (USA and Canada)
North America has one of the biggest retail markets. Retailers use blockchain to track how things move from suppliers to buyers. For example, Amazon Retail has filed a patent for a distributed ledger technology system that will use blockchain technology to ensure that all goods sold on the site are real. After registering with a certificate authority, Amazon sellers can map their global supply chains by letting players like manufacturers, couriers, distributors, end users, and secondary users add events to the ledger. Hence, the demand for blockchain in the infrastructure market is increasing with the increasing retail market and various markets available in North America.
Europe (Germany, the U.K., France, Russia, Italy, and the Rest of Europe)
One of the most surprising ways blockchain is used in Europe is by the government. The government uses blockchain to keep government papers safe. However, blockchain can also make bureaucracies more efficient, hold them accountable, and reduce huge financial burdens. Blockchain has the potential to cut through millions of hours of red tape every year, hold government officials responsible with smart contracts, and increase transparency by keeping a public record of all activity. Blockchain could also change the way we vote. Blockchain-based voting could improve political participation by making voting more secure and unchangeable and letting people vote on their phones.
Asia-Pacific (China, Japan, South Korea, India, Southeast Asia, Rest of Asia-Pacific)
The Asia-Pacific Media and Entertainment Market is growing because people in the middle class have more money to spend. Since more young people are getting jobs, there is more desire for entertainment. When it comes to media and entertainment, copyrights play a vital role. Copyright data is managed by media and entertainment companies using blockchain platforms. Copyright proof is important for making sure that artists are paid fairly. Keeping track of the sale or transfer of copyright material takes more than one transaction. Sony Music Entertainment Japan uses blockchain services to improve digital rights management in Japan. They have been able to improve productivity and cut costs in copyright processing by using a blockchain approach.
South America, Middle East, and Africa
Blockchain solutions in healthcare have shown that they have the potential to lower healthcare costs, make it easier for all parties to access information, and streamline business processes. Hence, it is expected to grow market.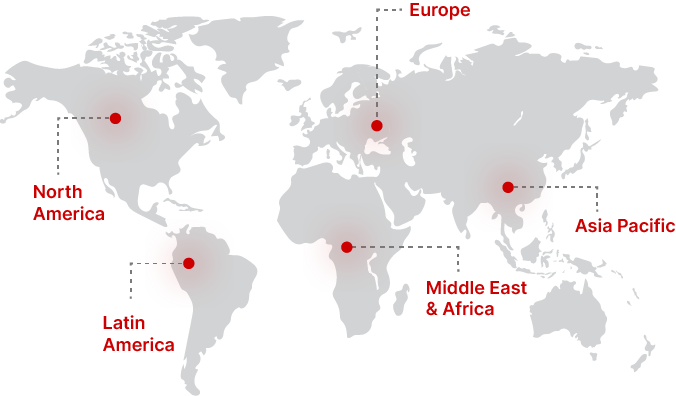 Regional Growth Insights
Download Free Sample
Key Players
IBM Corp
Microsoft Corp
The Linux Foundation
Chain, Inc
Circle Internet Financial Ltd
Deloitte Touche Tohmatsu Ltd
Digital Asset Holdings, LLC
Global Arena Holding, Inc. (GAHI)
Monax
Ripple
Recent Developments
June 2023: The Linux Foundation and IOWN Global forum has decided to collaborate for the future smart connected world. Both organizations have signed a Memorandum of Understanding (MoU) to solidify their working relationship by establishing joint activities. These will include cross-organization teams creating presentations, seminars, and market education materials. The organizations will accelerate the development of integrated photonic network architecture (from the IOWN Global Forum Vision 2030) with open-source networking and IoT software (from Linux Foundation-hosted projects within the ecosystem). They aim to deliver comprehensive and accessible next-generation infrastructure for future use cases and business impacts.
Blockchain in Infrastructure Market Segmentations
Segmentation By Type
Public Blockchain
Private Blockchain
Hybrid Blockchain
Segmentation By Application
Agriculture
Automobile
Aviation
Telecommunications
Construction
Frequently Asked Questions