Market Overview
The Global Chai Tea Mix Market Size is slated to grow substantially at a CAGR of approximately 7.3% during forecast period.
The need for flavorful, fresh tea made by blending ginger, black tea, and other spices is driving the market for chai tea mixes. Consuming chai tea blends is a fantastic method to guarantee the freshest tea is provided since tea is the first meal of the day.
The distinctive powdered beverage mixture known as chai tea may be used to create a chai tea latte at home. To sample the flavor profile and guarantee they are drinking the freshest tea available, many tea consumers now buy chai tea mixes for home use. In recent years, as consumer buying habits have evolved, chai tea blends have become more and more popular.
The growth of cafés is boosting commercial revenues as well. The market expansion for chai tea mixes is ultimately driven by the advancement of tea equipment technology and the continuous release of new tea flavor blends by multinational firms.
A crucial element that contributes to the pleasure of the whole experience is a tea's aroma. The aroma of chai tea blends is unexpectedly strong and relaxing, arousing the senses and causing the production of endorphins, which has a refreshing effect. However, as tea is often seen as a lifestyle choice that promotes good health, there are benefits to routinely drinking it that go well beyond rehydrating.
Customers are curious in chai tea blends because they provide the beverage's genuine taste. In addition to their speed, chai tea blends' unadulterated taste is a key driver of the market's growth.
Market Dynamics
Market Drivers
It has been shown that chai tea blends have great health benefits. Cinnamon and ginger are two elements included in chai tea blends that may be healthy for the body and help control blood sugar levels. Therefore, due to their ability to decrease blood pressure, chai tea blends may minimize a person's chance of dying from a stroke.
Market Restraints
Numerous significant applications and end-use sectors have seen a sharp rise in demand for and acceptance of chai tea mix in recent years. However, it is projected that the international economy, which has suffered since the outbreak, will develop at a slower rate due to the Russia-Ukraine war, rising inflation, and rising interest rates. All of these factors are altering consumer purchasing behavior, which is bad for the manufacturing sector and the overall market potential.
Market Opportunities
E-commerce is rising in popularity around the globe, providing chai tea mix manufacturers with a potential marketing opportunity. As a consequence of digitization, technological advancements, and consumer preferences for online purchasing, e-commerce has greatly risen in developing countries.
Market Scope
Report Metric
Details
Market Size by 2031
USD XX Million/Billion
Market Size in 2023
USD XX Million/Billion
Market Size in 2022
USD XX Million/Billion
Historical Data
2019-2021
Base Year
2022
Forecast Period
2023-2031
Report Coverage
Revenue Forecast, Competitive Landscape, Growth Factors, Environment & Regulatory Landscape and Trends
Segments Covered

Segmentation by Type

Bottles
Boxes
Bages

Segmentation by Application

Household
Industrial Food & Beverage
Restaurants & Hotels
Café restaurants

Geographies Covered

North America
Europe
APAC
Middle East and Africa
LATAM

Companies Profiles

Bettys and Taylors of Harrogate
Kerry Group plc
Urban Platter
Tea Forte
Oregon Chai
Caffe Nero
Kraft Food
Peet's Coffee and Tea
Ajinomoto General Foods
Starbucks
Segmental Analysis
Segmentation By Type
"Chai tea mix available in bottles" refers to the packaging design that contains the mixture within a bottle. These bottles come in a variety of sizes, from little ones for single meals to bigger ones for many servings. Bottled chai tea blends are portable and ideal for usage on the move. Since they often come in liquid or powder form, they may need to be dissolved in hot water or milk before eating.
The term "chai tea mix" describes a variety of packing styles used for containers in which the blend is maintained. Individual packets or sachets of chai tea mix might be found in these cartons. Each sachet or container typically contains one serving of chai tea. The ease with which consumers may portion out the mix and preserve its freshness makes this kind of container popular in domestic settings. Powdered chai tea blends must be dissolved in hot water or milk before use.
When chai tea mix is offered in bags, the packaging is said to be formed of tea bags. Chai tea mix bags function similarly to ordinary tea bags in that they contain a mixture of tea leaves and other ingredients that may be steeped in hot water to produce chai tea. Making this kind of tea is simple and uncomplicated since the tea bags are simply soaked in hot water without any further mixing or measuring. In homes or companies where single servings are favored, chai tea mix containers are often utilized.
Segmentation By Application
In the home: A solitary person or a small household often consumes chai tea blends. They are often offered in smaller sizes and formats, which makes meal preparation at home easier. The majority of the time, domestic users follow the instructions on the container when preparing chai tea at home using chai tea blends.
Industrial Food & Beverage
This industry includes businesses like cafes, restaurants, hotels, and catering services. Larger quantities of chai tea blends are often purchased for use in this company's business endeavors. These companies may use customized chai tea blends for special occasions or to add chai tea to their menu.
The chai tea blends used in restaurants and hotels are painstakingly created to satisfy customer needs. It may be possible to choose between bulk packaging and portioned volumes, depending on the requirements of the institution. Customers of restaurants and hotels may order chai tea either on its own or as part of a meal or beverage package.
In these places, chai tea is sometimes provided as an alternative to coffee. Chai tea blends are often made in smaller amounts for single servings or for bulk brewing in cafes and restaurants. These locations can possibly provide specialized chai tea blends by adding distinctive flavors or additives into the base mixture.
Regional Analysis
The Global Chai Tea Mix Market is segmented by region as North America, Europe, Asia Pacific, Latin America, and Middle East and Africa.
North America
The chai tea mix market in North America has expanded significantly in recent years. There is a sizable customer base close by, and specialty and flavored teas are becoming more and more popular. Since millennials are growing more and more reliant on chai tea, the demand for ready-to-drink tea choices is rising. Major firms in this sector invest a lot of time and effort into developing new products and marketing techniques in order to keep on top of changing customer trends.
Europe
The European Union is a significant market for Chai Tea Mix. The market for specialized teas is growing in nations with long-standing tea traditions, such the United Kingdom, Germany, and France. Popularity of herbal teas, rising health awareness, and the advent of creative chai tea varieties are some of the drivers propelling market growth in Europe. The market is expanding as a result of the expansion of the café culture and the availability of high-end tea brands.
Asia Pacific
Due to the area's long history of tea consumption and the widespread usage of traditional chai teas in nations like India, China, and Japan, the Asia Pacific region is a significant market for chai tea mixes. India has a substantial market share in the industry as a result of its long-standing history of chai drinking. The market expansion in Asia Pacific is being driven by the region's increasing urbanization, changing consumer lifestyles, and rising demand for instant and ready-to-drink tea blends.
Latin America
As the demand for specialized teas rises and the café scene develops, the chai tea mix market in the area is growing. Emerging markets for chai tea variants include Mexico, Brazil, and Argentina. Growing health awareness and the demand for natural and organic tea products both have an impact on market expansion.
Middle East and Africa
Countries like South Africa, Morocco, and Egypt are important centers for the consumption of tea in the Middle East and Africa area. Traditional hot, spicy teas that resemble chai are very well-liked in this area. The creation of novel flavors and blends, the growing impact of western tea cultures, and the increasing demand for tea drinks that are ready to drink are the main forces behind market progress in this sector.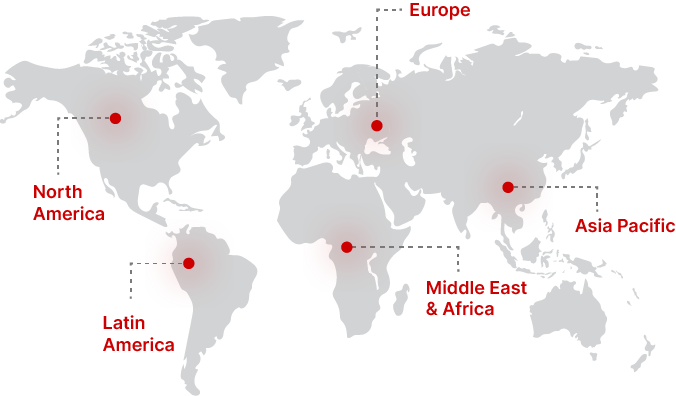 Regional Growth Insights
Download Free Sample
Key Players
Bettys and Taylors of Harrogate
Kerry Group plc
Tea Forte
Oregon Chai
Caffe Nero
Kraft Food
Peet's Coffee and Tea
Ajinomoto General Foods
Starbucks
Recent Developments
The development of fresh packaging methods will help manufacturers maintain product quality and increase shelf life. Intensive R&D facilities are anticipated to provide chai tea mix producers new market opportunities by boosting the efficacy and efficiency of the present product line.
Chai Tea Mix Market Segmentations
Segmentation by Type
Segmentation by Application
Household
Industrial Food & Beverage
Restaurants & Hotels
Café restaurants
Frequently Asked Questions