Market Overview
The Global Communication Photovoltaic Market Size is estimated at a CAGR of 5.7% during the forecast period.
Solar cells, also called photovoltaic cells, convert sunlight directly into electricity. Communication photovoltaic (CPV) is a technology that concentrates sunlight onto tiny, high-efficiency solar cells using light-emitting devices. Communication Photovoltaic systems typically utilize lenses or mirrors to concentrate sunlight on small areas of solar cells, typically composed of gallium arsenide or silicon germanium. Communication Photovoltaic systems are intended to enhance the amount of electricity that can be produced from a given quantity of sunlight. Integrating sensors, transmitters, and receivers into the system makes solar panel communication possible. This work designs a communication network architecture for the remote monitoring of large PV power facilities.
By concentrating sunlight onto a limited area of solar cells, CPV systems can achieve much higher efficiencies than conventional solar photovoltaic (PV) systems, which absorb sunlight over a larger area using flat panels. The primary advantage of CPV systems is that they can be combined with tracking systems to track the sun's path across the heavens, thereby increasing efficiency. In regions with abundant direct sunlight, such as deserts, CPV systems can generate substantial electricity. Real-time monitoring and control of large PV power plants require reliable two-way communications with low latency to provide accurate electrical and environmental parameters and allow the system operator to evaluate performance and identify abnormal conditions and faults.
Market Dynamics
Market Drivers
Growing Demand for Clean Energy
The growth of the Communication Photovoltaic Market is driven by the increasing demand for renewable energy sources. As many nations and organizations look to reduce their carbon footprint, CPV technology is becoming attractive for generating solar-powered electricity. Population growth is one of the primary causes of the increase in the quantity of energy we consume. As the global population and energy consumption rates rise, there is a need to increase water, food, and energy supplies to meet all people's requirements sustainably.
Market Restraints
High Cost Associated with Communication System
The communication network of an electric power system plays a crucial role in assuring a stable electricity supply by transmitting information. This information is used to regulate power plants' output and prevent the spread of power outages when they occur. Inverters are typically the most expensive component in solar energy installations compared to solar panels.
Integrating a communication system into a photovoltaic system raises the overall price of the panels. Increasing Communication Photovoltaic system costs have necessitated specialized sensors, controllers, data recorders, and other data transmission and analysis devices. In addition, their maintenance and repair expenses will increase.
Market Opportunities
Technological advancements
Continual advances in Communication Photovoltaic technology are creating opportunities for increased productivity and cost-effectiveness. For instance, new designs for Communication Photovoltaic systems are being created to reduce their components' size and weight while increasing the amount of sunlight that can be captured.
Inverters convert the direct current (DC) electricity generated by solar photovoltaic modules into alternating (AC) electricity for local transmission. Advanced inverters permit both directions of communication between the inverter and the electrical utility. This can assist in balancing supply and demand either automatically or remotely with utility operators. This insight into (and potential control over) supply and demand enables utilities to reduce costs, maintain grid stability, and decrease the likelihood of power disruptions.
Market Scope
Report Metric
Details
Market Size by 2031
USD XX Million/Billion
Market Size in 2023
USD XX Million/Billion
Market Size in 2022
USD XX Million/Billion
Historical Data
2019-2021
Base Year
2022
Forecast Period
2023-2031
Report Coverage
Revenue Forecast, Competitive Landscape, Growth Factors, Environment & Regulatory Landscape and Trends
Segments Covered

Segment by Type

Off-grid Photovoltaic Power Generation System
Hybrid Power Generation System

Segment by Application

Communication Base Station
Communication Tower
Data Center

Geographies Covered

North America
Europe
APAC
Middle East and Africa
LATAM

Companies Profiles

Waaree Group (India)
Canadian Solar Inc. (Canada)
Abengoa (Spain)
BrightSource Energy, Inc. (U.S.)
Tata Power Solar Systems Ltd. (India)
First Solar (U.S.)
eSolar Inc. (U.S.)
SunPower Corporation (U.S.)
Trina Solar (China)
Yingli Solar (China)
Jinko Solar (China)
TD Tech
Segmental Analysis
Segment by Type
Off-grid Photovoltaic Power Generation System
Off-grid Communication Photovoltaic systems initially utilized in remote villages, farming areas, sea islands, and other remote locations to generate electricity for fundamental daily needs such as lighting, television, and radio. A PV system that is not connected to the electricity utility is an off-grid system. This indicates that all energy produced is stored and utilized locally.
Off-grid Communication Photovoltaic systems rely primarily on energy stored in a battery bank. The off-grid inverter is designed specifically for off-grid power systems with high efficacy. It extracts energy from the battery to convert DC to AC. A correctly designed off-grid PV system will generate enough electricity to meet a home's needs throughout the entire year, even in the middle of winter when the days are short and there is much less sunlight.
Hybrid Power Generation System
A hybrid power system is a system that uses a single connection point to produce electricity from two or more sources, typically renewable ones. Inverted energy is never able to go beyond this threshold, despite the fact that the addition of powers of hybrid generation modules is more than the release capacity.
In hybrid power plants, the use of a second generation or storage method, such as a diesel generator set, fuel cell, or battery storage system, is frequently used to balance out the renewable energy component (such as solar panels). Costs, environmental implications, and disruptions can all be minimized with hybrid energy systems because they build off of existing energy infrastructure.
Segment by Application
Communication Base Station
A communication-based station is a transmission and reception station consisting of one or more receive/transmit antennas, a microwave dish, and electronic circuitry used to manage cellular traffic. A base station functions as the central communication hub for wireless devices. It then connects the device to other networks or devices, typically via high-bandwidth, dedicated wire or fibre optic connections.
This interaction occurs between the PV system and the base station. The functions performed here are data exchange, control, and monitoring. PV systems send data to the base station via Communication Photovoltaic components. On the base station, data is collected, processed, and stored.
Communication Tower refers to a structure intended to support antennas for telecommunications and broadcasting, which may include television, mobile phone, wireless internet, or radio signals. Cell towers, also known as cell sites, house electric communications equipment, and antennae, allowing nearby residents to use wireless phones and radios. Communication PV systems transmit their data to the communication tower, which facilitates information exchange and system control. This system exchanges data with the devices connected to it.
A data center is a visible facility businesses use to store their essential applications and data. The architecture of a data center is founded on a network of computing and storage resources that facilitate the delivery of shared applications and data. A data center is a facility that houses an organization's information technology (IT) infrastructure to store, process, and share information and software.
Data collecting, analysis, and control of smart grid components and devices depend on the Communication Photovoltaic system. Thousands of smart meters and controlled gadgets are in the smart grid. Thus, the communication infrastructure must send massive amounts of data continually and bi-directionally. This data is first stored in the data center, and analysis of this data takes place.
Regional Analysis
North America
The most significant market for Communication Photovoltaic technology has been the United States of America. This technology has been the recipient of major investments across the US, and multiple commercial Communication Photovoltaic power plants are currently operating in places such as California, Texas, and others. In the following years, Canada's Communication Photovoltaic Market will also experience growth.
Europe
Europe is anticipated to expand as a result of the region's government's initiatives to promote renewable energy generation. In addition, the rising demand for energy efficiency in the power supply is anticipated to drive Communication Photovoltaic market growth. The growing investment in distribution automation and the increasing complexity of the infrastructure for power distribution are anticipated to boost the communication photovoltaic market.
Asia-Pacific
Due to the widespread use of these technologies and the intense concentration on the expansion of renewable energy, Asia Pacific currently holds a commanding industry leadership position for Communication Photovoltaic Market. Countries such as China, India, Japan, Australia, and South Korea are making significant contributions to the region's overall market growth. The expansion of smart city development plans in the region is also anticipated to impact regional market growth positively.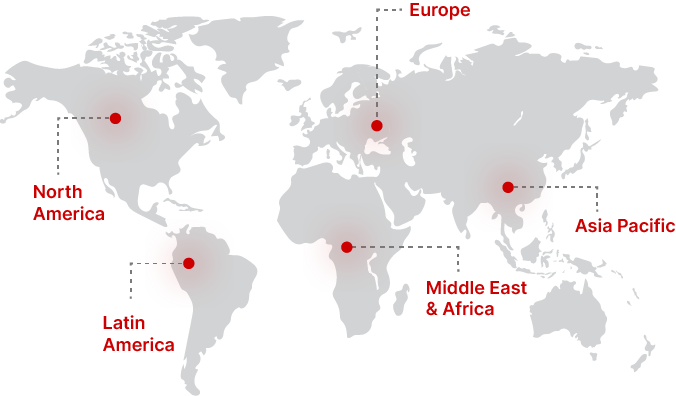 Regional Growth Insights
Download Free Sample
Key Players
Waaree Group (India)
Canadian Solar Inc. (Canada)
Abengoa (Spain)
Tata Power Solar Systems Ltd. (India)
First Solar (U.S.)
eSolar Inc. (U.S.)
SunPower Corporation (U.S.)
Trina Solar (China)
Yingli Solar (China)
Jinko Solar (China)
TD Tech
Recent Developments
September 15, 2021- A new solution from Array STI Norland, one of the five major solar tracker vendors, optimizes electricity generation in solar tracking facilities. This new technology, STI Control, controls and monitors solar installations with Array STI Norland trackers. STI Control has three networked components and a smart method that promotes system communication. The System Network Controller, the heart of the solar plant, communicates wirelessly with all other system elements and can manage up to 200 solar trackers.
Communication Photovoltaic Market Segmentations
Segment by Type
Off-grid Photovoltaic Power Generation System
Hybrid Power Generation System
Segment by Application
Communication Base Station
Communication Tower
Data Center
Frequently Asked Questions