Market Overview
The Global Compressor-cooled Incubator Market size is projected to grow at a CAGR of approximately 4.3% during the forecast period.
Compressor cooled incubator is an insulated enclosure device made up of cooled incubator with compressor that is used to grow and maintain microbiological cultures or cell cultures, BOD test, serum and medicines. The incubator maintains optimal temperature, gas composition, humidity and other conditions. These devices are built with highly efficient automatic defrosting system, air jacket heating system for gentle all around thermostating and auto diagnostic system with fault indication. It is also equipped with monitoring and controlling digital display (LED) of all set parameters, such as temperature, weekdays, time, fan speed, ramp segments and set-up values.
Compressor cooled incubator Ideal at temperatures around zero and below. Due to the finely adjusted control technology, self-diagnostics for fault analysis, temperatures exactly reach the set point values without energy-intensive bursts of power makes Compressor cooled incubator a perfect choice for wide range of industries. Growing research sector in the industries such as biotech, pharma, clinical trials, hospitals, food processing and research institutes stimulates the growth of incubator market.
Moreover, presence of various incubators and escalating use of incubators for hatching eggs, and incubating insects drives the incubator market. Introduction of neonatal incubators for new born infant suffering from specific disease further triggers the growth of market. However, high cost of incubators and lack of awareness in developing economies may impact on the growth of incubator market. Moreover, strong economic growth in terms of investments by international Healthcare and pharmaceutical companies and contract manufacturers towards development of new and innovative product offers lucrative opportunities for the refrigerated incubators market players in the upcoming years.
Market Dynamics
Global Compressor-cooled Incubator Market Drivers
Highly Infectious Diseases Across The Globe
The rising threats of infectious diseases in the last decade is driving this Compressor cooled incubator market. Lethal viral infections such as Novel Coronavirus, Ebola, Hepatitis B, Monkey Pox Virus, Zika Virus, Nipah Virus with high mortality rates and other types of Japanese encephalitis, Diphtheria, Measles, HIV viral infections needs vaccinations to cure. These growing vaccines demands require Compressor Cooled Incubators across all supply chain and cold storage chains.
Due to globalization, any virus originated from a region or locality has tendency to become global with span of few days or month. Hepatitis B is a potentially life-threatening liver infection, a major global health problem. As per WHO, there are 30.4 million people living with Hepatitis B in the world and 8,20000 people with Hepatitis B lost their lives in 2019.There is 90% global coverage of hepatitis B is 90% by 2020. As a result, there is huge demand for storage of medicines, vaccines, test kits which can be catered by compressor cooled incubator market.
Rising Storage and Expenditure In R&D Activities
Due to rising incidents of epidemics and pandemic, there is sharp increase in expenditure for research and development activities by healthcare and pharma Industry, led to rapid development of vaccines. More and more people require medication and cases of polymedication, where people need to take numerous different types of medicine every day, are becoming more common.
During Covid 19, There was need for emergency uses of vaccines and big brands such as Pfizer, Moderna, BioNTech, Sinovac, AstraZeneca has generated significant rise in their revenue and profit by their vaccines production. This led to increase in demand for Cold Storage facility and drive global compressor cooled incubator Market. The countries in the tropical region have hot and dry climate which has high incidence of infectious diseases and demand for compressor cooled incubator. During the coronavirus vaccination program, thousands of cooling chains relied on BINDER and HETTICH NORTH AMERICA and other brands for compressor cooled incubators ultra-low temperature freezers.
Global Compressor-cooled Incubator Market Restraints
The rising utility of refurbished incubators negatively impacts the growth of the global refrigerated incubators market. Compressor Cooled incubator is expensive and their growth is negatively affected by the rising use of refurbished incubators. Major producers of Cooled market are dominated by USA and rising inflation rates and global supply chain disruptions may lead to high costs for Compressor Cooled incubator.
Technologically Advancements By Pharma Companies
Pharmaceuticals and healthcare manufacturers are using, edge computing, artificial intelligence and others emerging technology to increase their product, value chain, Price control, and energy efficiency. Rural communities in developing countries often require small cold storage for vital medicines while having no access to electricity. The utilization of waste heat – Thermoacoustic cooler is alternative of Compressor cooled incubator to meet medical storage needs of rural communities in developing countries.
Global Compressor-cooled Incubator Market Opportunities
Increasing Investments In Pharmaceuticals and Healthcare
In 2020, Venture funding for health tech innovators was US $ 14 billion almost doubled from 2019 and this growth will likely to continue for upcoming years. This will positively impact the growth of global compressor cooled incubator market.
Cooled Compressor cooled incubator pricing must be reasonable and provide long onsite after sales services to eliminate refurbished compressor cooled incubator market presence. Compressor Cooled Incubator's low operating cost can give boost to its sale for all business types companies.
Market Scope
Report Metric
Details
Market Size by 2031
USD XX Million/Billion
Market Size in 2023
USD XX Million/Billion
Market Size in 2022
USD XX Million/Billion
Historical Data
2019-2021
Base Year
2022
Forecast Period
2023-2031
Report Coverage
Revenue Forecast, Competitive Landscape, Growth Factors, Environment & Regulatory Landscape and Trends
Segments Covered

Segmentation by Type

Small Incubator
Medium Incubator
Large Incubator

Segmentation by Application

Biology
Pharmaceutics
Food Industry
Others

Geographies Covered

North America
Europe
APAC
Middle East and Africa
LATAM

Companies Profiles

MEMMERT
BINDER GMBH
BOEKEL SCIENTIFIC
THERMO FISHER SCIENTIFIC
AMEREX INSTRUMENTS, INC.
HETTICH NORTH AMERICA
BENCHMARK SCIENTIFIC
GILSON INC
SHELDON MANUFACTURING, INC
PHC CORPORATION OF NORTH AMERICA
TECHCOMP
EPPENDORF AG
SHANGHAI XINNUO INSTRUMENT GROUP
JINTAN JINCHENG ZHIJIE EXPERIMENTAL INSTRUMENT FACTORY
SHANGHAI FARUI INSTRUMENT
JINWENYIQI
Segmental Analysis
Segmentation By Type
Global Compressor Cooled Incubator are devices have small body dimensions, lower Body weight and less power supply consumption. Small incubator is used as per specific need in labs and hospitals. These refrigerated incubators are frequently used in small laboratories because of their space-saving construction.
Medium sized incubators are designed specifically as per any industry requirements. These incubators have more space than mini or small size cooling incubator and its energy consumption is better than large incubators.
Large Incubators are made for heavy industries usage. These large size compressors cooled incubators are available with environmentally friendly thermoelectric cooling, powerful compressor cooling and Peltier technology.
Segmentation By Application
Compressors cooled incubators are used for BOD test culture of bacteria, microorganism, and tissue culture.
The growing cell cultures requires the cleanliness of the environment and protection against contamination. The humidity management system in compressor cooled incubator protects your cultures from drying out, while a CO2 gas supply ensures that an optimum pH value is achieved in the cell medium. Ultra-low temperature Compressor cooling incubator keep sensitive samples safe so they emerge from long-term storage in tip-top condition. Vaccination supply chain has huge demand for Compressor Cooled Incubator to store vaccines from pharmaceuticals industry.
If you are not provided with a precise use-by date, you may end up throwing away a perfectly good product before you need to – or selling one that is already past its best despite apparently not having reached its use-by date yet. To avoid problems such as these, stability tests are absolutely vital for food industry growth and revenue. In food microbiology, shelf-life testing is used to determine microbiological spoilage and, accordingly, the date of minimum durability of a food. Stability tests are also important when it comes to your food packaging and these compressed cooled incubators enhance product shelf life.
Compressed Cooled Incubator are also used by biotechnology, cosmetics, chemistry and Aerospace industries to store their products who requires stable temperature.
Regional Analysis
The Global Compressor-cooled Incubator Market is segmented by region as North America, Europe, Asia Pacific, Latin America, and Middle East and Africa.
North America
The North American region is anticipated to dominate the market due to various factors such as the increasing prevalence of infectious diseases, a growing geriatric population, and the rising number of product approvals. The data from the Centers for Disease Control and Prevention reveals that the geriatric population is more susceptible to infectious diseases, with a significant number of flu-related illnesses, hospitalizations, and deaths reported in the 2019-2020 season.
High concentration of market players in USA are some crucial factors contributing to the growth of the North American market. An example of a recent development in the industry is the collaboration between Follett Products, LLC (a subsidiary of The Middle by Corporation) and PHC Corporation of North America (PHCNA) in February 2021. The two companies have formed a partnership to market and distribute PHCbi's range of ultra-low temperature (ULT) freezers, biomedical freezers, and pharmaceutical grade refrigerators to healthcare clients of Follett.
Latin America
Increasing awareness of energy-efficient products and the adoption of eco-friendly refrigerants have also contributed to the growth of the Latin American refrigerator market. Key players in this market include LG Electronics, Samsung Electronics, Whirlpool Corporation, and Electrolux, among others.
Europe
The level of research and development in the biotechnology and pharmaceutical industries, the regulatory environment, and the availability of funding and resources for research favors growth of Compressor cooled incubator Market in this region. The European pharmaceutical industry's top five companies by market capitalization are F. Hoffmann-La Roche Ltd, Novo Nordisk AS, Novartis AG, AstraZeneca Plc, and Sanofi. The Swiss-based F. Hoffmann-La Roche Ltd is the world's leading pharma company by market cap.
Asia Pacific
The healthcare industry in Asia is witnessing significant growth due to the rising population, increasing urbanization, and improving healthcare infrastructure. This is leading to an increase in the number of diagnostic and research laboratories, creating a demand for advanced laboratory equipment such as compressor cooled incubators. In addition to it, the growth of the pharmaceutical industry in the region is also driving the demand for compressor cooled incubators, as they are essential for drug discovery and development.
Middle East and Africa
There is an increasing government investment in healthcare infrastructure, rising prevalence of chronic diseases, and a growing demand for innovative drugs and therapies. As a result, there is a significant demand for high-quality equipment and technologies, including cooled system incubators. Infectious diseases such as malaria, tuberculosis, and HIV/AIDS continue to be major health challenges in Africa. In addition, outbreaks of infectious diseases such as Ebola and Lassa fever have occurred in several African countries in recent years.
These outbreaks can have significant public health and economic impacts, particularly in countries with weaker healthcare systems and limited resources. Furthermore, economic instability and political unrest in some countries in the Middle East and Africa may also affect the growth of the market for cooled system incubators, which could, in turn, limit the demand for cooled system incubators.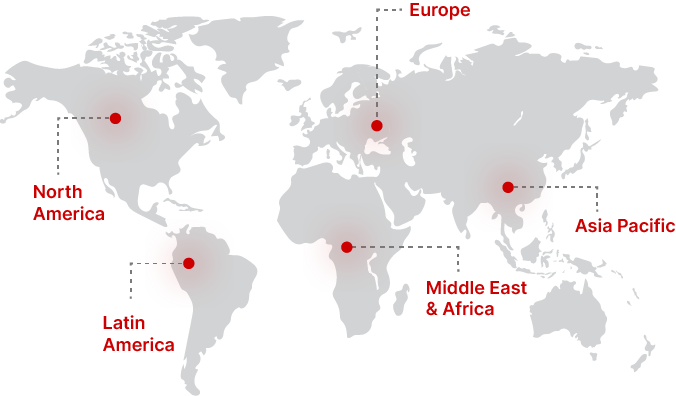 Regional Growth Insights
Download Free Sample
Key Players
BINDER GMBH
BOEKEL SCIENTIFIC
THERMO FISHER SCIENTIFIC
AMEREX INSTRUMENTS, INC.
HETTICH NORTH AMERICA
BENCHMARK SCIENTIFIC
GILSON INC
SHELDON MANUFACTURING, INC
PHC CORPORATION OF NORTH AMERICA
TECHCOMP
EPPENDORF AG
SHANGHAI XINNUO INSTRUMENT GROUP
JINTAN JINCHENG ZHIJIE EXPERIMENTAL INSTRUMENT FACTORY
SHANGHAI FARUI INSTRUMENT
JINWENYIQI
Recent Developments
In November 2021 Engineers of PHC Corporation, a subsidiary of global healthcare company PHC Holdings Corporation, have received two awards at the 2021 Kanto Regional Commendation for Invention for the company's PHCbi-branded ultra-low temperature freezers which are widely used around the world in the development and storage of COVID-19 vaccines.
In January 2021, Memmert expanded its Peltier-cooled incubators IPPeco of 1400L and 2200L incubator line by increasing its temperature range from +15 to +60°C to the new 0 to +70°C range to provide better operational flexibility.
Compressor-cooled Incubator Market Segmentations
Segmentation by Type
Small Incubator
Medium Incubator
Large Incubator
Segmentation by Application
Biology
Pharmaceutics
Food Industry
Others
Frequently Asked Questions