Market Overview
The Electrochemical Energy Storage Market is expected to grow at a CAGR of 14.6% from 2023 to 2031.
Electrochemical energy storage turns electrical energy into chemical energy and saves it for later use. It includes using electrochemical reactions to store and release electrical energy in a device or system. There are Two main types of systems use electrochemistry to store energy.
Batteries are devices which store energy that turn electrical energy into chemical energy and back into electricity when needed.
They consist one or more electrochemical cells with positive and negative electrodes and a medium that lets ions move between the electrodes when the battery is charged or discharged. Electrochemical devices called supercapacitors store energy as electrical charges at the point where an electrode and a liquid meet. Batteries physically separate positive and negative charges instead of storing energy through chemical processes. Supercapacitors have a high-power density to charge and discharge quickly. This makes them good for uses that need quick bursts of energy, like regenerative braking in cars or providing power when demand is high. Batteries and supercapacitors have unique qualities that make them good for various uses. Batteries usually have a higher energy density, which means they can store more energy per unit of mass or volume. This makes them better for users that need to store energy for a long time. On the other hand, Supercapacitors have a higher power density, which means they can give energy quickly but can't store as much energy as batteries.
Market Dynamics
Market Drivers
Increasing demand for energy storage
The changing demand and supply trends lead to the energy grids becoming more complicated. Energy storage is an important component of keeping the grid stable. Electrochemical energy storage systems can react quickly to changes in energy demand, which helps to keep the grid balanced. They can take care of peak shaving, load levelling, and grid support, which makes the power system more reliable and efficient as an entire system. More people want to drive electric cars, so require better battery systems. EVs has lithium-ion batteries which is a type of electrochemical energy storage used as their main technology. The demand for electrochemical energy storage increases along with the demand for electric cars. These applications and increase in energy storage drives the Electrochemical Energy Storage Market demand.
Technological advancements
One of the primary objectives of technological advancements is to make energy storage devices contain more energy. Higher energy density means more energy can be held in the same space. This makes batteries and supercapacitors last longer and be more powerful. This improvement is especially important when energy storage needs to be small and light, like electric cars and portable gadgets. Most new technologies try to reduce the amount of energy lost during charging and draining. When efficiency is improved, less energy is wasted, which means the whole system works more effectively, costs less, and has a smaller global impact. Technological advances can reduce the costs of making electrochemical energy storage systems by changing materials, manufacturing methods, and design.
Market Restraints
Costs can encourage money to be put into research and development to make electrochemical energy storage systems more efficient and cost-efficient. As the need for energy storage increases, companies and governments are more ready to spend on research and development to find new ways to lower costs and make energy storage more economically affordable. Traditional energy sources could create a Electrochemical Energy Storage Market desire for technologies as they become more competitive and cost-effective over time. As the price of fossil fuels and other ways to store energy goes up or regulations get stricter, electrochemical energy storage can be a cleaner and cheaper option.
Market Scope
Report Metric
Details
Market Size by 2031
USD XX Million/Billion
Market Size in 2023
USD XX Million/Billion
Market Size in 2022
USD XX Million/Billion
Historical Data
2019-2021
Base Year
2022
Forecast Period
2023-2031
Report Coverage
Revenue Forecast, Competitive Landscape, Growth Factors, Environment & Regulatory Landscape and Trends
Segments Covered

Segment By Type

Liquid Flow
Lithium
Lead Acid

Segment By Application

User Side
Grid Side
Renewable Energy Grid-Connected
Electrical Auxiliary Service
New Energy Vehicle

Geographies Covered

North America
Europe
APAC
Middle East and Africa
LATAM

Companies Profiles

Tesla Motors
Greensmith Energy
S&C Electric Company
LG CNS
NEC Energy Solutions
Fluence Energy LLC
Advanced Microgrid Solutions
Convergent Energy and Power LP
Duke Energy Corporation
NextEra Energy
Zhejiang Narada Power Source
Shenzhen Clou Electronics
EVE Energy
Sungrow Power
Segmental Analysis
Segment By Type
Liquid flow batteries are device that uses electrochemistry to store energy. They offer a unique way to store and send electricity by keeping liquid electrolytes in tanks outside the battery. In regular batteries, the amount of energy that can be stored is limited for the electrodes. Liquid flow batteries, separate power and energy capacity, which makes it easier to increase the amount of energy that can be stored. In a liquid flow battery, the electrolytes are kept in different tanks outside of the battery itself, rather than inside. Most of the time, these electrolytes are liquid solutions with active species that can take part in reversible redox processes.
Lithium-based electrochemical energy storage has lithium-ion batteries to store and release electrical energy by undergoing reversible electrochemical processes. Lithium-based batteries are one of the prominent used ways to store energy because they have a high energy density and long cycle life and can be used in many industries. Most of the time, lithium-ion batteries are used for storage of electrical energy. Iron phosphate is used as the electrode in lithium iron phosphate batteries which is a lithium-ion battery type. LFP batteries are known for being safe and working effectively in places with high temperatures.
Lead-acid batteries are an electrochemical energy storage method that has been used for a long time. Most lead-acid batteries consist of positive and negative electrodes are made of lead and lead dioxide plates, which are submerged in a diluted sulfuric acid solution. Most of the time, the plates are put into a plastic or other fitting container. There are two types of lead-acid batteries. Starting (SLI) batteries and deep-cycle batteries. Lead-acid batteries are used in many places, like starting batteries for cars, uninterruptible power supply (UPS) systems, solar and wind energy storage, backup power for telecommunications, electric scooters, and many other portable and stationary power uses.
Segment By Application
Electrochemical energy storage systems can be used for many things on the user side. They can be used to store energy and provide power which can be backed up. Consumers and businesses use these applications, which are important for improving the energy economy, grid stability, and the capability to use renewable energy sources. Based on lithium-ion batteries, energy storage devices can be used in homes to store the extra electricity produced by solar panels during the day. This saved energy can be used at night or when there isn't much energy from the sun, making it less necessary to use the grid. EVs store energy in lithium-ion batteries, which lets them store and use electricity to power the electric motor. The batteries give electric cars range and performance, making it possible to switch to cleaner and more sustainable ways of getting elsewhere.
Electrochemical energy storage systems may respond quickly to changes in the amount of power needed and available. This helps to stabilize the frequency of the grid and keep the grid stable. By adding or taking away power as needed, these systems can keep the grid balanced and ensure there is always enough electricity. Systems that store energy can store extra power when demand is low and use it when demand is high. This load moving helps the grid work better and reduces stress. Electrochemical energy storage gives essential organizations like hospitals, data centres, and backup power sources if the grid is disrupted. Energy storage can help increase the grid's capacity by putting off the need for expensive changes to the grid's infrastructure.
Renewable Energy Grid-Connected
Electrochemical energy storage is very important factor of making it easy to use and integrate renewable energy sources in systems which are linked to the grid. By dealing with the irregular and variable nature of renewable energy, energy storage devices help to keep the grid stable and enable renewable energy to be used more reliably and efficiently. Renewable energy can be made at different times by preserving energy in an electrochemical way. When there is a lot of energy production, the extra energy can be saved and used when there is no production. Energy storage systems can help the grid by regulating the frequency.
Electrical Auxiliary Service
Renewable energy sources such as sun and wind can cause voltage changes on the grid. Electrical auxiliary services, such as reactive power compensation, help to keep voltage levels within acceptable ranges by regulating them. This makes sure that the power source is always steady and reliable. The grid frequency can change when the amount of green energy changes. Electrical support services, like the ability of energy storage systems and other flexible resources to respond to fluctuations in frequency, help keep the grid's frequency within a restricted range so that the power supply is stable and reliable. In the case of a grid blackout or system failure, electrical auxiliary services like black start potential from energy storage systems.
Plug-in electric cars have an internal combustion engine, an electric motor, a battery pack, and a plug to charge the batteries. The electrochemical energy storage system, a lithium-ion battery, helps the car run on electricity alone for shorter lengths, saving fuel and reducing pollution. Some NEVs, especially those with small batteries, can use electrochemical energy storage to get more miles per charge. Adding a small battery pack to a car can increase the all-electric range, or extra power can be added in high-demand situations. This makes the internal combustion engine less important.
Regional Analysis
North America
The market for lead acid batteries in North America is expected to expand at a CAGR of 5.2%. The SLI Battery section is part of the North American battery market with the fastest growth. Due to the large number of cars in the country, many lead-acid batteries are sold for SLI, i.e., Starting, Lighting, and Ignition. The United States is one of the most significant markets in the world for industrial batteries because it has a strong industrial infrastructure, a growing number of battery-based energy storage projects, and a growing infrastructure for green power. It indicates a higher demand for Electrochemical Energy Storage Market in the North American region.
Europe
As the auto industry grows rapidly, the SLI battery segment is expected to be the leading Electrochemical Energy Storage Market over the next few years. More money going into off-grid solar installations is anticipated to give the lead acid companies in Europe a big opportunity. Solar power removes carbon emissions and encourages the use of renewable energy sources. Due to the high number of companies in Germany, the country is expected to be the leader in Europe's lead acid battery market. This indicates that the demand for lead acid batteries will keep increasing, which could lead to a Electrochemical Energy Storage Market for holding electrochemical energy in Europe.
Asia Pacific
The lithium-ion battery market in Asia-Pacific is expected to grow at a CAGR of about 15.8%. In the future, the car industry will likely be one of the largest markets for lithium-ion batteries. Electric vehicles are expected to grow the lithium-ion battery business as they become more popular. Many of Asia-Pacific's population does not have access to power and relies on traditional fuels like kerosene and diesel to light their homes and charge their phones. Because of the technical benefits and decreasing cost of lithium-ion batteries, energy storage systems that use lithium-ion batteries are likely to be used more and more. China is expected to be the biggest player in the Asia-Pacific Electrochemical Energy Storage Market. This is because more people are moving to cities, spending money, and buying electric vehicles.
South America
The market for consumer batteries in South America will continue to grow quickly. The Electrochemical Energy Storage Market that was taken at is mostly driven by the region's economy getting better and the prices of lithium-ion batteries going down. But South American countries have a high tax on telecommunications and don't invest much in the telecommunications sector. This is expected to slow down the Electrochemical Energy Storage Market since telecommunications is the biggest end-user. Lithium-ion sources are likely to be found in the future in places like Chile. So, the country is expected to make a big contribution. Prices for lithium-ion batteries have gone down a lot because technology has improved, and they are now made in large quantities, which is called economies of scale.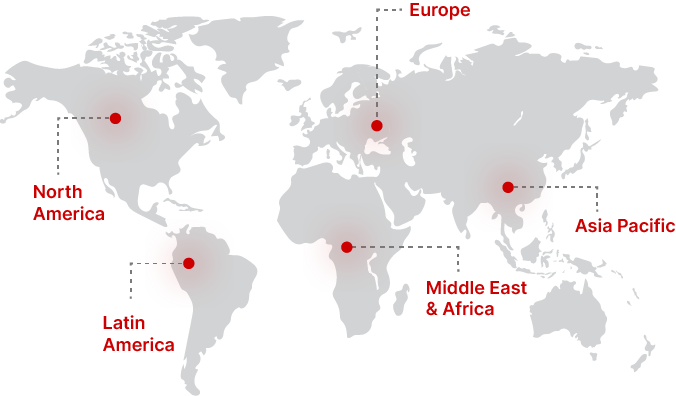 Regional Growth Insights
Download Free Sample
Key Players
Tesla Motors
Greensmith Energy
S&C Electric Company
LG CNS
NEC Energy Solutions
Fluence Energy LLC
Advanced Microgrid Solutions
Duke Energy Corporation
NextEra Energy
Zhejiang Narada Power Source
Shenzhen Clou Electronics
EVE Energy
Sungrow Power
Recent Developments
18 May 2021 Researchers from Harvard University reported the design of a long-lasting, solid-state lithium battery that can be charged and discharged at least 10,000 times at a high current chemical. The battery uses a multilayer structure that controls and contains the growth of lithium dendrites, which are the main cause of instability and short-circuiting in lithium-metal batteries.
Electrochemical Energy Storage Market Segmentations
Segment By Type
Liquid Flow
Lithium
Lead Acid
Segment By Application
User Side
Grid Side
Renewable Energy Grid-Connected
Electrical Auxiliary Service
New Energy Vehicle
Frequently Asked Questions