Market Overview
According to Reed Intelligence the Electrochemical Flow Cells Market Size will approximately grow at a CAGR of 9.7% during the forecast period.
The efficiency and performance of electrochemical flow cells are being improved via intensive research and development activities. The energy efficiency, cycle life, and reliability of flow cells have improved as a result of advancements in electrode materials, system design, and manufacturing techniques.
Overall, the market for electrochemical flow cells is expanding quickly due to the need for energy storage, the inclusion of renewable energy, and grid stability. The market's potential is influenced by ongoing technological advancement, appropriate regulatory frameworks, and growing R&D expenditure.
Market Dynamics
Market Drivers
Grid stability is required since the system relies on erratic renewable energy sources, necessitating the introduction of technology that can do so. Due to their rapid reaction times and high power output, This are ideal for grid applications such as frequency regulation and peak shaving.
This are now operate and perform more efficiently because to the creation of novel materials and electrode designs. The market is now getting greater attention and investments as a result of these developments.
Market Restraints
Limited Commercialisation
Despite the potential of these devices, electrochemical flow cell commercialisation is still in its infancy. Lithium-ion batteries, a conventional energy storage technology with reliable supply chains and affordable prices, dominate the market. As a consequence, the potential for growth of electrochemical flow cells is constrained.
Some of the technological challenges to the development of them include system integration, insufficient power density, and limiting energy density. The technology must overcome a number of obstacles before it can be extensively used.
Market Opportunities
It may be coupled to renewable energy sources to store surplus energy and provide a steady power supply. Storage devices that can efficiently store and use renewable energy will be more and more crucial as their use grows.
The Electric Car Market is Growing
As the demand for electric cars rises, they will provide more options for stationary storage and charging infrastructure. Flow cells may be a viable energy storage solution for EVs due to its quick charging, high power output, and extended cycle life.
Market Scope
Report Metric
Details
Market Size by 2031
USD XX Million/Billion
Market Size in 2023
USD XX Million/Billion
Market Size in 2022
USD XX Million/Billion
Historical Data
2019-2021
Base Year
2022
Forecast Period
2023-2031
Report Coverage
Revenue Forecast, Competitive Landscape, Growth Factors, Environment & Regulatory Landscape and Trends
Segments Covered

Segment by Type

Electrode Area <0.001 m²
Electrode Area <0.01 m²
Electrode Area <0.1 m²
Electrode Area <1 m²
Electrode Area ≥1 m²

Segment by Application

All Vanadium Flow Battery
Lithium Ion Flow Battery
Lead Acid Flow Battery

Geographies Covered

North America
Europe
APAC
Middle East and Africa
LATAM

Companies Profiles

ElectroCell A/S
Reichert Technologies (AMETEK, Inc)
KNAUER Wissenschaftliche Gerate GmbH
Bioanalytical Systems, Inc
Tech Innovation
Antec Scientific
EL-Cell GmbH
Thermo Fisher
Segmental Analysis
Segmentation By Type
This section covers them with electrode surfaces less than 0.001 square meters. These tiny flow cells are often used for lab work, research, and specialty applications.
This section includes electrochemical flow cells with electrode areas smaller than 0.01 square meters. Microgrids, portable energy storage, and small-scale industrial operations all make use of these flow cells. They slightly outpace the region in front of them.
Segmentation By Application
All Vanadium Flow Battery
Vanadium flow batteries are renowned for their large capacity, long cycle life, and exceptional efficiency. They are often used for the integration of renewable energy, grid stability, and stationary energy storage.
Lithium-ion are covered in this section. The advantages of the flow cell architecture are combined with the high energy density and widespread use of lithium-ion batteries in portable electronics and electric vehicles to create lithium-ion flow batteries. They provide greater safety and scalability as compared to traditional lithium-ion batteries. They are used for grid applications, storage of renewable energy, and recharging of electric vehicles.
This part of the flow battery is made up of them with a lead acid basis. Lead acid flow batteries are built on the well-known lead acid battery technology, which has been used for many years in a variety of applications. Compared to typical lead acid batteries, flow cell designs perform better and have longer cycle lifetimes. These flow cells are primarily used for large-scale energy storage, off-grid power, and emergency power.
Regional Analysis
The Global Electrochemical Flow Cells Market is segmented by region as North America, Europe, Asia Pacific, Latin America, and Middle East and Africa.
North America
Due to the growing need for grid stability, renewable energy integration, and energy storage solutions, the area is a substantial market for electrochemical flow cells. The fierce rivalry in the industry has resulted in a large investment in R&D. The United States has made a lot of noteworthy efforts in the field of flow cells, where it has been at the forefront of scientific advancements.
All throughout the European continent, demand for electrochemical flow cells is skyrocketing. The development of flow cell technology has benefited from the European Union's emphasis on decarbonization and renewable energy targets. To encourage energy storage and grid stability, nations like Germany, the United Kingdom, and France have put supporting regulations and incentives in place. Leading corporate executives, utilities, and academic institutions in Europe have teamed together to further the study and use.
Asia Pacific
The market for expanding quickly in this region as a result of the advancement of renewable energy sources and the region's rising demand for energy storage solutions. Large quantities of money are being invested on research and development of flow cell technology as well as increasing production capacity in nations like China, Japan, and South Korea. The market has room to grow because of the area's substantial population, growing ability to produce renewable energy, and government measures to lessen dependency on fossil fuels.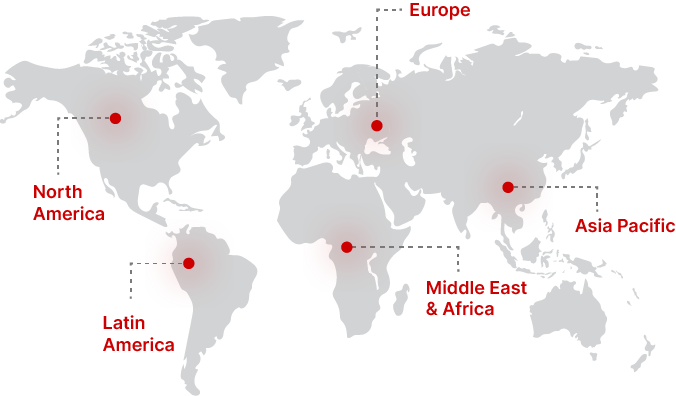 Regional Growth Insights
Download Free Sample
Key Players
ElectroCell A/S
Reichert Technologies (AMETEK, Inc)
KNAUER Wissenschaftliche Gerate GmbH
Bioanalytical Systems, Inc
Tech Innovation
Antec Scientific
EL-Cell GmbH
Thermo Fisher
Recent Developments
Many businesses are accelerating the manufacturing of electrochemical flow cells and constructing sizable demonstration projects to highlight the technology's potential. These exercises will demonstrate the efficiency, accessibility, and performance of flow cells in practical applications.
Electrochemical Flow Cells Market Segmentations
Segment by Type
Electrode Area <0.001 m²
Electrode Area <0.01 m²
Electrode Area <0.1 m²
Electrode Area <1 m²
Electrode Area ≥1 m²
Segment by Application
All Vanadium Flow Battery
Lithium Ion Flow Battery
Lead Acid Flow Battery
Frequently Asked Questions