Market Overview
According to Reed Intelligence the Energy Storage Solution Market Size will approximately grow at a CAGR of 8.1% during the forecast period.
Energy storage technology has seen a dramatic increase in demand over the last several years. The business has been pushed by the demand for stable electrical supplies, the growth of renewable energy sources, and the necessity for strong networks.
Lithium and lead acid solutions are the two biggest market subcategories. Due to their high energy density, prolonged cycle life, and quick charging characteristics, lithium solutions using lithium-ion battery technology have attracted a lot of interest. Due to their high discharge rates and cheap cost, lead acid solutions are still used in a variety of industries.
Market Dynamics
Market Drivers
Integration of Renewable Energy Sources
As the globe strives to decrease its carbon footprint and migrate to cleaner energy sources, the use of renewable energy sources such as solar and wind power has increased. However, because these sources are intermittent, energy storage is critical. Energy storage systems enable excess energy created during high renewable output periods to be stored and used during low generation periods, ensuring a consistent and reliable power supply.
Grid Reliability and Stability
Energy storage solutions are critical to improving grid stability and dependability. They provide as a backup power source during power outages and help to balance supply and demand. This is especially crucial when other sectors, such as transportation and manufacturing, electrify, putting additional strain on power infrastructures. Energy storage systems can respond swiftly to fluctuations, maintaining continuous power supply and lowering the risk of blackouts. These factors are boosting the global use of energy storage solutions.
Market Restraints
The upfront investment required for energy storage technologies continues to be a key impediment. Manufacturing, installation, and maintenance of energy storage systems such as batteries, pumped hydro, or flywheels are relatively expensive. Despite the long-term benefits, many firms and utilities are unwilling to make large capital investments. Cost-cutting methods, such as technological breakthroughs and economies of scale, are critical to make these solutions more financially appealing.
Energy storage projects can face substantial obstacles in complex and developing regulatory frameworks. Uncertain rules, variable incentives, and compliance requirements create market entry obstacles and stymie the expansion of the energy storage sector. Furthermore, the lack of regionally consistent rules can make it difficult for enterprises to navigate legal and permitting processes, hindering the development of energy storage solutions. Streamlining and harmonizing rules can help to stimulate energy storage solution market growth and investment in energy storage technology.
Market Opportunities
The ability to establish virtual power plants (VPPs) by aggregating dispersed energy storage devices is a key opportunity in the energy storage solution market. VPPs allow for the efficient and flexible use of energy resources, such as renewables and storage, in order to improve grid stability and satisfy peak demand. Utilities and energy operators can optimize their operations, cut costs, and speed the transition to a more sustainable and reliable energy system by adopting VPPs.
Market Scope
Report Metric
Details
Market Size by 2031
USD XX Million/Billion
Market Size in 2023
USD XX Million/Billion
Market Size in 2022
USD XX Million/Billion
Historical Data
2019-2021
Base Year
2022
Forecast Period
2023-2031
Report Coverage
Revenue Forecast, Competitive Landscape, Growth Factors, Environment & Regulatory Landscape and Trends
Segments Covered

Segmentation By Type

Lithium Solution
Lead Acid Solution

Segmentation By Application

Residential
Commercial

Geographies Covered

North America
Europe
APAC
Middle East and Africa
LATAM

Companies Profiles

Samsung SDI
LG Chem
Hitachi
SMA Solar Technology
NGK
Saft Batteries
Lockheed Martin Energy
Eos Energy Storage
General Electric
Primus
Panasonic
BYD
Aggreko
Segmental Analysis
Segmentation By Type
Because of its high energy density, extended cycle life, and quick charge/discharge capabilities, lithium-ion batteries are a dominant force in the energy storage solution market. They are commonly used in a variety of applications, such as grid storage, home energy storage, and electric vehicles.
Lithium-ion solutions provide better efficiency and energy density, making them excellent for applications requiring little space and weight. Furthermore, continued advances in lithium-ion technology, combined with lower costs, have increased their acceptance in the renewable energy sector, assuring a steady and clean energy source.
Lead-acid batteries have long been a popular alternative for energy storage due to their longevity and low cost. They are commonly employed in UPS systems, backup power, and some stationary energy storage applications. These batteries are particularly useful for short-term energy storage and backup power solutions.
Segmentation By Application
Residential energy storage systems are intended for usage in private residences. These devices allow households to store extra energy generated by sources such as solar panels and use it during times of high energy demand or when the grid is disrupted.
Residential energy storage solutions offer numerous advantages, including lower electricity bills, energy independence, and environmental sustainability. They also play an important role in encouraging clean and sustainable energy consumption by boosting the integration of renewable energy sources at the household level.
Commercial energy storage systems are designed to meet the needs of businesses, institutions, and organizations. These applications are larger in size than residential systems and perform a variety of functions, including as load shifting to reduce peak demand charges, backup power during outages, and optimizing energy use to increase cost efficiency.
Commercial energy storage is critical for ensuring continuous operations in industries such as manufacturing, data centers, and healthcare institutions. It also helps to maintain overall grid stability by enabling large-scale renewable energy projects to store excess energy and feed it back into the grid as needed.
Regional Analysis
The Global Energy Storage Solution Market is segmented by region as North America, Europe, Asia Pacific, Latin America, and Middle East and Africa.
North America
North America is a prominent geographical location driving the market for energy storage technology. The region has made significant efforts to use renewable energy sources and upgrade its infrastructure. The installation of energy storage devices has expanded dramatically, particularly in the United States, as a result of state-level renewable energy objectives, enabling legislation, and financial incentives.
A strong industrial basis, cutting-edge technological breakthroughs, and a welcoming regulatory framework foster the advanced energy storage sector in the region. The necessity for stable networks, as well as a growth in the use of electric vehicles, are two factors driving the North American Energy Storage Solution Market Analysis.
Europe
Europe is a market leader in energy storage technology due to aggressive renewable energy ambitions and various national energy transformation initiatives. A number of countries, most notably Germany, the United Kingdom, and France, have implemented policies to encourage the development of energy storage systems, such as feed-in tariffs and capacity market mechanisms.
Energy storage projects that enable frequency management, the use of renewable energy sources, and grid stability have also grown in popularity in the sector. As a result of the European Union's emphasis on decarbonization and renewable energy sources, the market for energy storage systems is developing in Europe.
Asia Pacific
As a result of factors such as rapid urbanization, industrialization, and increased energy consumption, the energy storage solution Market is expanding significantly. Energy storage research is at the forefront in countries such as China, Japan, South Korea, and Australia due to government support, renewable energy goals, and the need to overcome grid dependability and stability challenges.
Energy storage system installation is emphasized in China for utility-scale and behind-the-meter applications. The region's large population and developing renewable energy industry offer a variety of opportunities for energy storage system manufacturers.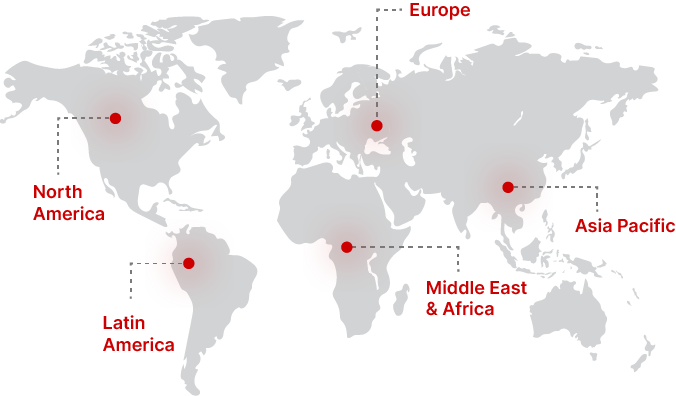 Regional Growth Insights
Download Free Sample
Key Players
Samsung SDI
LG Chem
Hitachi
SMA Solar Technology
NGK
Saft Batteries
Lockheed Martin Energy
General Electric
Primus
Panasonic
BYD
Aggreko
Recent Developments
There are several advantages to using energy storage technology in off-grid and microgrid applications. Remote communities, islands, and industrial complexes may profit from energy storage systems by decreasing their dependence on pricey, ecologically risky diesel generators. Energy self-sufficiency is increased and the resilience of remote or grid-restricted locations is strengthened by the capacity to store additional renewable energy for use during times of low production.
Energy Storage Solution Market Segmentations
Segmentation By Type
Lithium Solution
Lead Acid Solution
Segmentation By Application
Frequently Asked Questions