Market Overview
The Global Energy Storage Inverter Market Size is expected to grow at a CAGR of approximately around 14.9% during the forecast period of 2023-2031.
Energy storage Inverters are the optimal method for utilizing renewable energy sources. During a power outage, they use solar and wind-generated energy to operate loads such as pumps, fans, and lighting. The unit converts battery D.C. voltage to A.C. (alternating current) electricity compatible with existing electrical infrastructure and then supplies 120 VAC output currents to standard wall outlets in residences. The worldwide market for energy storage inverter aims to offer effective and environmentally friendly energy storage solutions that can aid in lowering carbon emissions and dependence on fossil fuels. Among other battery technologies, lithium-ion and lead-acid batteries can be connected with the inverter to offer homes and businesses a dependable and effective energy storage option.
Market Dynamics
Market Drivers
The Demand For Power Conversion System
When connecting a device that runs on A.C. to a D.C. power supply or requires a different voltage or frequency than the available power source, power conversion is required since the input power source and the load are incompatible. Due to rapid development and technological innovation, the market for power conversion systems has become a vital enabler for the best integration or assimilation of the grid. As a result, power storage battery inverters are used extensively worldwide. Electronic inverters are tools for converting D.C. to A.C. The market for energy storage inverters will grow as a result.
Market Restraints
Installation and Maintenance Cost
Batteries do not last forever, and to avoid having an adverse effect on the environment, proper disposal of spent batteries should be avoided. One disadvantage is the initial expense incurred when installing battery storage devices. The installation requires the assistance of a specialist's assistance and regular maintenance on the energy storage inverter. The high installation costs associated with this inverter contribute to an increase in the total cost. This energy storage inverter is affordable enough for low-income populations to install.
Market Opportunities
Rise In Demand For Sustainable Power Supply
Sustainable energy, such as wind and solar energy, produces no carbon emissions that can damage the atmosphere and exacerbate global warming. Government assistance for the rapid deployment of solar and wind projects to reduce rising carbon dioxide emissions and deteriorating air quality levels are the primary factors attempting to accelerate the growth of the sustainable energy sector. The inverter is one of the most vital components of a solar energy system. It is a device that converts the direct current (D.C.) electricity generated by solar panels to the alternating current (A.C.) electricity used by the electrical grid. The growing market for energy storage inverters results from the increasing demand for renewable energy.
Market Scope
Report Metric
Details
Market Size by 2031
USD XX Million/Billion
Market Size in 2023
USD XX Million/Billion
Market Size in 2022
USD XX Million/Billion
Historical Data
2019-2021
Base Year
2022
Forecast Period
2023-2031
Report Coverage
Revenue Forecast, Competitive Landscape, Growth Factors, Environment & Regulatory Landscape and Trends
Segments Covered

Segment by Type

Single-Phase Electric Power
Three-Phase Electric Power

Segment by Application

Residential
Commercial
Utility Scale

Geographies Covered

North America
Europe
APAC
Middle East and Africa
LATAM

Companies Profiles

SMA
Parker
Dynapower
SUNGROW
ABB
KACO
Eaton
GOODWE
Zhicheng Champion
Schneider Electric
Power Electronics
SolaX Power
Segmental Analysis
Segment by Type
Single-Phase Electric Power
Single-phase electric power is a variety of alternating current (A.C.) electricity that delivers the same voltage as direct current (D.C.). It is also referred to as a single-wire system.
Three-Phase Electric Power
Three-Phase Electric Power uses three separate conductors in a single circuit to convey a converted high-voltage alternating current. Each phase utilizes a single conductor and can be compared to low-voltage currents carried by individual conductors. The output is identical to the sum of the three phases, which have the same magnitude but opposite directions.
Segment by Application
There are fundamental residential applications for energy storage inverters. The first is to reduce home energy consumption, which necessitates that it can be used as a device that reserves electrical power during off-peak hours and then delivers it when the electricity demand exceeds household needs. This helps individuals save money on utility bills by decreasing the amount they pay for peak time rates or when prices may increase due to high user demand.
In a commercial setting, an energy storage inverter is utilized for off-grid electrification, peak shaving, and grid support services. Central and hybrid inverters are typically the types of energy storage inverters used in commercial applications. Inverters that utilize energy storage can also be utilized for commercial applications. They contribute to the heating, cooling, and lighting of commercial buildings and the powering of the numerous equipment used in these structures, which helps maintain a consistent supply in commercial regions.
Solar P.V. and wind power generation are two utility-scale applications of energy storage inverters. Similar to utility-scale solar facilities, they store energy generated by photovoltaic panels during sunny periods for use when there is no sun. In addition, it reduces the burden on the local power grid by injecting electricity into the grid as needed. Utility-scale energy storage inverters can be utilized as an alternative system with renewable and non-renewable energy sources, such as diesel generators and natural gas turbines.
Regional Analysis
North America
One of the most important markets for energy storage inverters is North America, specifically the United States of America, which is also the most important market in the region overall. In North America, the expansion of renewable energy sources like solar and wind power, in conjunction with the rising need for energy storage systems, is driving the growth of the market for energy storage inverters.
Europe
The market for energy storage inverters in Europe is growing over the forecast period. This market is driven by the government's pollution control regulations and policies and the increasing investment in the automotive industry. The market for energy storage inverter is driven by the increasing demand for electric vehicles and the expansion of the renewable energy infrastructure. In addition, the German market for energy storage inverters held the greatest market share, while the U.K. market is the fastest growing in Europe.
Asia-Pacific
Asia-Pacific dominates the global market for energy storage inverters. Major energy storage inverter market trends include accelerating government initiatives to promote renewable energy and the presence of numerous battery manufacturers in this region. In addition, the increasing emphasis on combating rising pollution levels by increasing eco-friendly power generation solutions in these nations expands the market for energy storage inverters in the region. As the need for inverters grows steadily in countries like India, Japan, and China, the APAC region is emerging as the hub for energy storage inverter makers.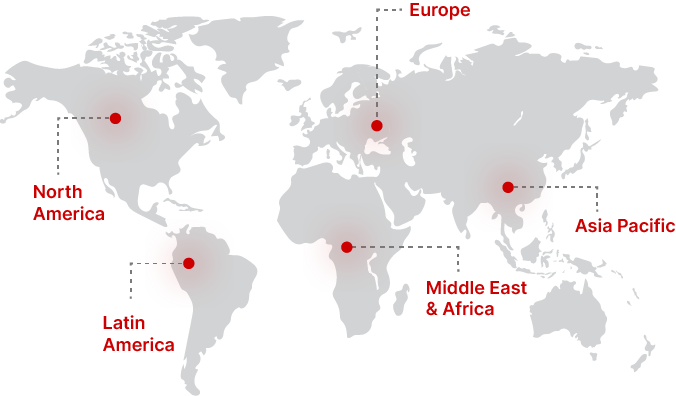 Regional Growth Insights
Download Free Sample
Key Players
SMA
Parker
SUNGROW
ABB
KACO
Eaton
GOODWE
Zhicheng Champion
Schneider Electric
Power Electronics
SolaX Power
Recent Developments
January 2022- Samsung SDI Co., Ltd. introduced PRIMX, a brand-new battery that offers customers quality, performance, and a competitive advantage that translates to user convenience because of the company's unique technology.
April 2021- Sungrow has introduced a high-voltage battery and hybrid inverter for residential applications in Europe and Australia. The new battery and inverter achieve the goal of increasing fuel efficiency up to 98.4% and a storage capacity between 9.6 kWh and 102.4 kWh.
Energy Storage Inverter Market Segmentations
Segment by Type
Single-Phase Electric Power
Three-Phase Electric Power
Segment by Application
Residential
Commercial
Utility Scale
Frequently Asked Questions