Market Overview
According to Reed Intelligence the Flip Chip Ball Grid Array Market Size will approximately grow at a CAGR of 6.3% during the forecast period.
A controlled collapse chip connection, also known as a Flip-Chip connection, is a method for attaching dies such as semiconductor devices, IC chips, integrated passive devices, and microelectromechanical systems (MEMS) to external circuitry using solder bumps placed into the chip pads.
A switch chip Ball grid arrays that employ controlled collapse chip connections, sometimes known as flip-chips, are known as BGAs. The solder bumps on the chip pads' tops are what make it function. On the wafer are integrated circuits at the beginning of the process. The chips have metallized pads with solder balls on each one. After being sliced, the chips are turned around so that the solder balls are facing the external circuitry. After that, the solder is reflow to form a connection.
The semiconductor sector, which is predicted to develop further due to rising demand for high-performance electronic devices like smart phones, tablets, and laptops, is the main driver of the FCBGA market. The need for high-performance electrical gadgets has also been pushed by the rising usage of artificial intelligence, machine learning, and big data analytics.
Market Dynamics
Flip Chip Ball Grid Array Market Drivers
Electrical performance is crucial since it has an impact on the device's speed and dependability. Since FCBGA technology enables shorter interconnects between the semiconductor chip and the package, lowering the resistance and capacitance of the interconnects, it offers superior electrical performance. As a result, signal integrity is enhanced, and data transmission speeds are increased.
FCBGA technology is frequently utilized in small electronic products including mobile phones, tablets, and wearable technology because to its high degree of downsizing. In high-performance computer applications like graphics processing units (GPUs) and central processing units (CPUs), where downsizing is essential for effective heat dissipation and fast processing, FCBGA technology is also utilized.
Improved signal integrity
One explanation for this is that the FCBGA technology's direct electrical connections between the IC and the PCB may lead to shorter signal pathways, decreasing the possibility of signal deterioration as a result of interference or noise. In addition, the FCBGA's tiny solder balls enable a high density of I/O connections, which can enhance signal isolation and lessen crosstalk.
Flip Chip Ball Grid Array Market Restraints
The price of FCBGA packaging in comparison to other packaging methods is one important restraint. Additional stages like bumping, testing, and cleaning are part of the manufacturing process for FCBGA packages, which might raise the final cost. Because of this, FCBGA packages are often more costly than alternative packaging choices like quad flat no-leads (QFN) or plastic ball grid array (PBGA).
The price of producing and testing these devices is one of the main barriers to the FCBGA industry. The FCBGA technology uses expensive, sophisticated production techniques including lithography, metallization, and wafer bonding. The testing and quality control processes for FCBGA devices are very intricate and time-consuming, which raises the overall cost even more.
There are many businesses vying for market share in the fiercely competitive FCBGA industry. Manufacturers may experience pricing pressure and decreased profit margins as a result of this rivalry, particularly those that are unable to attain economies of scale. Also, new competitors may find it challenging to establish them in the market due to the fierce rivalry.
Flip Chip Ball Grid Array Market Opportunities
Compared to other types of semiconductor packages, FCBGA devices are made to perform better. Better heat management and signal performance are made possible by the flip chip architecture, which may lead to a quicker and more effective operation. Because of this, FCBGA devices are highly sought after in fields like artificial intelligence, high-speed data processing, and high-end gaming.
Customization options are provided via FCBGA technology. Because FCBGA devices have a smaller form factor and better performance, manufacturers may create unique solutions for certain applications by adjusting the design to fit the demands of the client.
Market Scope
Report Metric
Details
Market Size by 2031
USD XX Million/Billion
Market Size in 2023
USD XX Million/Billion
Market Size in 2022
USD XX Million/Billion
Historical Data
2019-2021
Base Year
2022
Forecast Period
2023-2031
Report Coverage
Revenue Forecast, Competitive Landscape, Growth Factors, Environment & Regulatory Landscape and Trends
Segments Covered

By Packaging Type

Below 8 Layer
8-20 Layer

By Application

CPU
ASIC

Geographies Covered

North America
Europe
APAC
Middle East and Africa
LATAM

Companies Profiles

IBM Corporation
Intel Corporation
Fujitsu Ltd
3M
Samsung Electronics Co Ltd
Amkor Packaging Technology
TSMC Ltd
Apple
Texas Instruments
AMD Amkor Technology
Valtronic
SFA Semicon
Unimicron
Tongfu Microelectronics
NexLogic Technologies
Analog Devices (ADI)
Renesas Electronics
Panasonic
Segmental Analysis
By Packaging Type
FCBGAs having less than eight layers of interconnects within the package are known as "below 8 layer" FCBGAs. Depending on the integrated circuit's complexity and the package's specifications, an FCBGA package's layer count can change.
An 8–20 layer flip chip ball grid array (FCBGA) is a form of integrated circuit package that has between 8 and 20 layers of interconnects and attaches the die directly to the package substrate using the flip chip bonding process.
Segmentation By Application
For many different reasons, flip chip ball grid array (FCBGA) packaging is frequently utilised in CPUs (Central Processing Units). High-performance CPUs can benefit from FCBGA packages because they have various benefits over other packaging techniques like wire bonding and through-hole mounting.
For a number of factors, flip chip ball grid array (FCBGA) packaging is frequently utilised in ASICs (Application Specific Integrated Circuits). In comparison to conventional packaging techniques like wire bonding or through-hole mounting, FCBGA packages have a number of benefits, which makes them ideal for usage in high-performance ASICs.
Regional Analysis
The global Flip Chip Ball Grid Array Market is segmented by region as North America, Europe, Asia Pacific, Latin America, and Middle East and Africa.
North America
Due to the presence of numerous top semiconductor producers, including Intel Corporation, Nividia, and Texas Instruments, as well as the enormous demand for cutting-edge technology across a variety of sectors, North America is an important market for FCBGA technology. Due to the increased usage of artificial intelligence, the Internet of Things, and autonomous cars, the area is anticipated to have considerable development in the FCBGA market..
Europe
Another sizable market for FCBGA technology is Europe, which is anticipated to have rapid expansion in the years to come. Automotive and aerospace companies with significant regional presences, such as Volkswagen AG, Stellantis NV, and Mercedes-Benz Group AG, rely on FCBGA technology for sophisticated sensor technology and high-performance computation. The region's need for FCBGA technology is also anticipated to increase because to the rising demand for consumer electronics.
Asia-Pacific
The FCBGA technology's largest and fastest-growing market is Asia-Pacific. Smartphones, tablets, and other electronic gadgets are in great demand in the region, where semiconductor firms like Tianyu Semiconductor and Spectron Technologies are well-represented. Major producers of electronic gadgets include China, Japan, South Korea, and Taiwan, and the region's FCBGA industry is expanding as a result of the increasing demand for these products.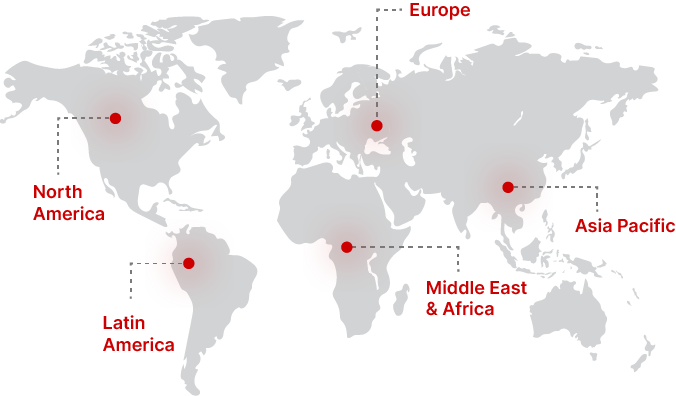 Regional Growth Insights
Download Free Sample
Key Players
Intel Corporation
Fujitsu Ltd
3M
Samsung Electronics Co Ltd
Amkor Packaging Technology
TSMC Ltd
Apple
Texas Instruments
AMD Amkor Technology
Valtronic
SFA Semicon
Unimicron
Tongfu Microelectronics
NexLogic Technologies
Analog Devices (ADI)
Renesas Electronics
Panasonic
Recent Developments
April, 2022- Samsung Electro-Mechanics is expected to develop a flip chip ball grid array (FC-BGA) for Apple's next-generation. PC processors. FC-BGA is a semiconductor substrate that connects the semiconductor chip to the main substrate. Samsung Electro-Mechanics will develop the product and expected to supply to Apple.
Flip Chip Ball Grid Array Market Segmentations
By Packaging Type
By Application
Frequently Asked Questions