Market Overview
The Global Frozen Pie Crusts Market Size is projected to register a CAGR of approximately 4.3% during the forecast period.
The study focuses on the market size for frozen pie crusts, the size of its segments (which primarily encompass product type, application, and region), the competitive environment, the most recent developments, and development trends.
The frozen pie crusts industry sells pie crusts that have already been made and are prepared for usage. These crusts provide a useful and efficient solution for consumers who want to experience homemade pies but don't want to go through the hassle of making the crust from scratch. The market for frozen pie crusts has grown significantly in recent years for a variety of reasons. The first is that there is a greater need for fast and simple meal replacements. Frozen pie crusts provide a simple solution for consumers who wish to bake pies at home but lack the time or knowledge to make the crust from scratch.
As the popularity of home baking and do-it-yourself (DIY) culinary fads has grown, so has the demand for frozen pie crusts. While many consumers like making pies at home, others choose to buy pre-made crusts for convenience's sake. Frozen pie crusts provide a dependable and consistent foundation for handmade pies that allow consumers to choose the filling and flavors they like.
Market Dynamics
Market Drivers
An rising number of customers are asking for ready-to-bake goods as a result of changing lifestyles and a desire for fast and simple meals. The need for frozen pie crusts demonstrates this. Customers like prepared items that may be quickly cooked while yet being of a good quality.
Market Restraints
Limited Customization - Frozen pie crusts are practical, but they may not provide you as much creative flexibility as homemade crusts. Some consumers would love to have the ability to choose the flavor, thickness, or ingredients when purchasing pre-made frozen crusts.
Market Opportunities
Companies that provide flavors like chocolate, graham cracker, or nut-based crusts may attract clients seeking for exotic tastes. new products and changes in consumer desires. Multiple pie serving sizes and flavors may be made accessible by having different crust sizes and thicknesses.
Market Scope
Report Metric
Details
Market Size by 2031
USD XX Million/Billion
Market Size in 2023
USD XX Million/Billion
Market Size in 2022
USD XX Million/Billion
Historical Data
2019-2021
Base Year
2022
Forecast Period
2023-2031
Report Coverage
Revenue Forecast, Competitive Landscape, Growth Factors, Environment & Regulatory Landscape and Trends
Segments Covered

Segmentation by Type

Rolls
Flat
Shells

Segmentation by Application

Online
Retail

Geographies Covered

North America
Europe
APAC
Middle East and Africa
LATAM

Companies Profiles

Continental Mills
Immaculate Baking
Pepperidge Farm
Dutch Ann Food
Bake Friend
Mrs. Smith's
Marie Callender's
Wholly Wholesome
Pillsbury
MI-DEL
King Arthur Baking
Better Bakeries
Trader Joe's
Segmental Analysis
Segmentation By Type
Pie crusts that come in rolls or sheets and need to be unrolled in order to fit into a pie pan fall under this category. Rolls provide customers flexibility and let them alter the thickness and form of the crust to suit their unique pie needs.
The term "flat" in this context refers to pre-formed, frozen, flat, and usable pie crusts. These crusts often don't need any further rolling or shaping before being put into a pie pan. Flat crusts are convenient and quick since the rolling out stage is skipped.
Pie crusts that have been created in advance and frozen are referred to as "shades". The chosen pie crust shape, such as deep-dish or conventional, is already molded into these shells. Simply bake the pie shells with the filling of the customer's choice. People who like consistent, homogenous crusts without having to roll or shape their own prefer shells in particular.
Segmentation By Application
The distribution of frozen pie crusts through the internet is the focus of this application area. Customers may purchase frozen pie crusts on e-commerce and speciality food websites. Because they provide convenience, a huge selection of options, and home delivery, online platforms are often used by customers who are busy or have restricted access to traditional retailers.
Frozen pie crusts are sometimes sold at actual retail establishments including supermarkets, grocers, quick-service restaurants, and specialized food shops. This refers to the retail industry. These companies provide frozen pie crusts that customers can either purchase off the shelf or directly from the freezer. Customers who buy products via retail distribution have direct access to them and may visually contrast various brands and types.
Regional Analysis
The Global Frozen Pie Crusts Market is segmented by region as North America, Europe, Asia Pacific, Latin America, and Middle East and Africa.
Due to the region's high pie consumption and convenience-oriented culture, the market for frozen pie crusts is sizable. It notably dominates the market since there are so many possible flavor combinations and large pie crust producers in the United States.
Pies and pastries are a few of the many baked goods with a lengthy history in Europe. The ease of use and rising popularity of ready-to-bake dishes in Europe are driving demand for frozen pie crusts. France, Germany, and the United Kingdom are also major participants in this sector.
Asia Pacific As a consequence of urbanization, changing consumer lifestyles, and more exposure to Western cuisine trends, the market for frozen pie crusts is expanding in the Asia Pacific area. Convenient baking solutions are becoming more and more well-liked in nations like China, Japan, and South Korea.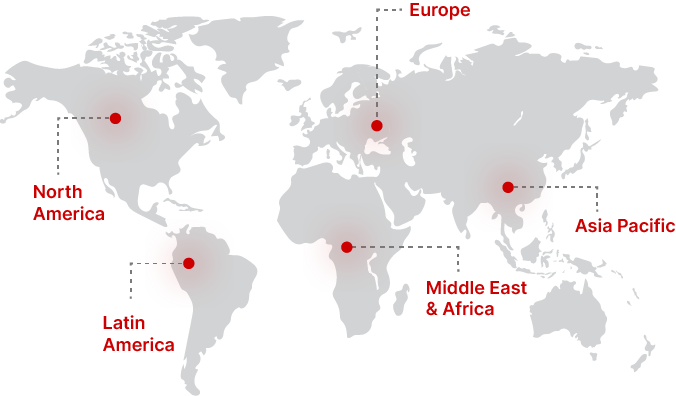 Regional Growth Insights
Download Free Sample
Key Players
Immaculate Baking
Pepperidge Farm
Dutch Ann Food
Bake Friend
Mrs. Smith's
Marie Callender's
Wholly Wholesome
Pillsbury
MI-DEL
King Arthur Baking
Better Bakeries
Trader Joe's
Recent Developments
Some companies are trying to fill certain niches by providing artisanal or premium frozen pie crusts that are made using premium ingredients or using traditional baking techniques. These may be found by anybody searching for high-end, gourmet pie experiences.
Frozen Pie Crusts Market Segmentations
Segmentation by Type
Segmentation by Application
Frequently Asked Questions