Market Overview
The Global Generator for Nuclear Power Market Size is projected to grow at CAGR of approximately 2.3% during the forecast period.
The market for nuclear power producers has also been significantly impacted by the global recession, causing businesses to change their business strategies in order to compete. The article provides a detailed analysis of the recession's many aspects and instructional information on the tactics used by corporations to lessen its effects. These figures might be useful to companies as they manage the consequences of the recession and become stronger as a result.
Market Dynamics
Market Drivers
Nuclear energy should be emphasized in attempts to reduce carbon emissions since it emits less greenhouse gases than other energy sources. The need for generators in this industry is driven by the worldwide emphasis on lowering carbon emissions and mitigating climate change, which encourages the construction of nuclear power stations.
Market Restraints
Public sentiment and worries about the security of nuclear power plants
The public is worried about nuclear power plant safety, waste management, and the possibility of accidents. These worries might result in legal problems, drawn-out project approvals, and opposition from the general public, all of which would limit the market growth of nuclear power sector generators
Market Opportunities
Modern nuclear reactor technology is used in both molten salt and fast neutron reactors, therefore generator makers may design items specifically for both cutting-edge reactor designs.
Market Scope
Report Metric
Details
Market Size by 2031
USD XX Million/Billion
Market Size in 2023
USD XX Million/Billion
Market Size in 2022
USD XX Million/Billion
Historical Data
2019-2021
Base Year
2022
Forecast Period
2023-2031
Report Coverage
Revenue Forecast, Competitive Landscape, Growth Factors, Environment & Regulatory Landscape and Trends
Segments Covered

Segmentation By Type

Pressurized Water Reactor (PWR)
Water Energetic Reactor (WWER)
Pressurized Heavy Water Reactor (PHWR)

Segmentation By Application

Fast Neutron Nuclear Reactors
Molten-Salt Reactors

Geographies Covered

North America
Europe
APAC
Middle East and Africa
LATAM

Companies Profiles

AREVA
The State Atomic Energy Corporation ROSATOM
Toshiba
Mitsubishi Heavy Industries
Doosan
Segmental Analysis
Segmentation By Type
Pressurized Water Reactor (PWR)
Water is used as a moderator and coolant in pressurized water reactors (PWRs), which are nuclear power plants. PWRs are widely used in nuclear power plants all over the globe and have a high thermal efficiency and a number of safety features.
Water-Water Energetic Reactor(WWER)
Pressurized water reactors, or WWERs, are often used in Eastern European countries. They are also known as WWERs, or water-water energetic reactors. Although they resemble PWRs, they have unique designs that adhere to regional restrictions.
Pressurized Heavy Water Reactor (PHWR)
Pressurized heavy water reactors (PHWRs) employ heavy water as a moderator and coolant. It is common knowledge that the element uranium is used in these processes and often fulfills this purpose. In countries like India and Canada, it is often extracted from the soil.
Segmentation By Application
Fast Neutron Nuclear Reactors
Nuclear reactors classified as "fast neutron reactors" employ fast neutrons to carry on the fission chain reaction. To improve fuel conversion, these reactors may use a variety of coolants, such as molten salt or liquid metal, as well as high-energy neutrons.
Molten-Salt Reactors: In molten-salt reactors, a liquid salt mixture functions as both a coolant and a fuel delivery mechanism. The reactors' built-in safety measures, fuel efficiency, and ability to run at higher temperatures may make the production of medicinal isotopes and energy conceivable.
Regional Analysis
The Global Generator for Nuclear Power Market is segmented by region as North America, Europe, Asia Pacific, Latin America, and Middle East and Africa.
South America
In the United States and Canada, where there are now a number of operational nuclear power reactors, the nuclear power industry is well-established. The need for producing systems has increased as both nations struggle to maintain, repair, and extend the lifetime of their current infrastructure and reactors. It's possible that American interest in cutting-edge nuclear reactor technologies like compact modular reactors may lead to future economic prospects for generator suppliers.
Europe
Since France, the United Kingdom, and Germany are countries with sizeable nuclear arsenals, Europe has a significant presence in the nuclear power business. The desire of numerous European nations, especially Germany, to phase out nuclear power may have an influence on the business in these areas. Given that other European nations, most notably the United Kingdom, are investing in the development and maintenance of new nuclear power facilities, there may be a market for generator suppliers.
Asia-Pacific
Because of the many nuclear reactors that are now operational or that are slated for development in nations like China, Japan, South Korea, and India, the Asia-Pacific region offers a sizable market for nuclear power. There is a considerable need for generator sets in China due to its rapidly developing nuclear power capacity. As a consequence of the Fukushima tragedy, Japan is concentrating on plant restarts and renovations, which creates prospects for generator providers. India plans to increase its nuclear energy production, which might provide growth prospects for the generator industry.
Eastern Europe and South Africa
Nuclear energy has attracted attention in the Middle East as a way to diversify its energy mix and satisfy rising power demand. Nuclear power facilities have already begun to operate in nations like the United Arab Emirates (UAE), increasing the need for generator systems. Nuclear energy production is a goal of certain African nations, including Kenya and South Africa, which may provide prospects in the future.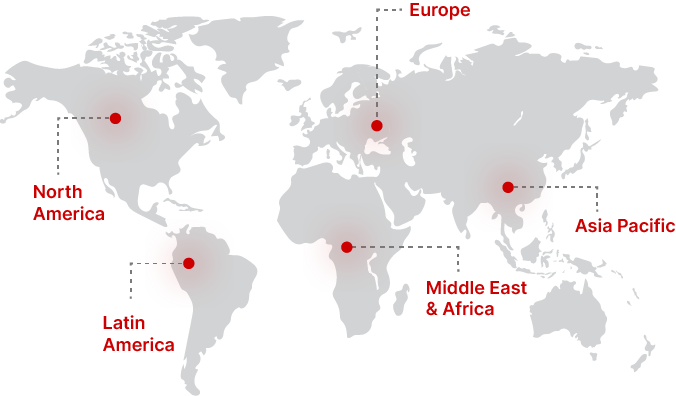 Regional Growth Insights
Download Free Sample
Key Players
AREVA
The State Atomic Energy Corporation ROSATOM
Toshiba
Doosan
Recent Developments
In order to preserve safety, modern nuclear power plant generator technology was created with passive cooling techniques, complex control systems, and quicker response times to unanticipated operating situations.
Generator for Nuclear Power Market Segmentations
Segmentation By Type
Pressurized Water Reactor (PWR)
Water Energetic Reactor (WWER)
Pressurized Heavy Water Reactor (PHWR)
Segmentation By Application
Fast Neutron Nuclear Reactors
Molten-Salt Reactors
Frequently Asked Questions