Market Overview
The Global Hair Towel Wrap Market Size is projected to grow at CAGR of approx. 7.2% during the forecast period.
A hair towel is a smaller, softer, and more flexible cloth that wraps around one's hair. The use of hair towel wraps is relatively new to the beauty and hair care industry; They are quickly taking the place of bulky, heavy bath towels that people use to wrap their heads around after a shower. The majority of hair towel wraps are made of ultra-absorbent materials. Hair towels wrap are used to dry hair quickly and with less effort and friction. Because they reduce breakage and damage to the hair while drying, hair towel wraps are becoming increasingly popular with health-conscious customers.
The demand for hair towel wrap in the region is being driven by consumers' growing concern about the health of their hair in nations like the United States and Canada. Additionally, the presence of major hair towel wrap manufacturers in North America presents growth opportunities for the market.
Market Dynamics
Market Drivers
Increasing demand for hair care products among consumers, especially among women, is driving the growth of the market.
Rising awareness among consumers about the benefits of using hair towel wraps, such as reducing hair breakage and drying time, is driving the demand for these products.
The availability of a variety of hair towel wraps in the market, including different sizes, materials, and designs, is attracting consumers and driving the market growth.
The popularity of hair towel wraps among professionals in the beauty and wellness industry is also driving the demand for these products.
Market Restraints
Limited awareness about hair towel wraps among consumers, especially in emerging economies, is restraining the market growth.
The availability of alternative products, such as traditional towels and hair dryers, which are already widely used and accepted, is also hindering the growth of the market.
The high cost of some hair towel wraps, especially those made from premium materials, may limit their adoption among price-sensitive consumers.
Market Opportunities
The introduction of innovative hair towel wraps with advanced features, such as antimicrobial properties and quick-drying technology, can create new growth opportunities in the market.
Expansion into emerging markets, where the adoption of hair towel wraps is still low, presents significant growth opportunities for manufacturers.
Collaboration with beauty and wellness professionals, such as hair salons and spas, can help increase awareness and drive the adoption of hair towel wraps among consumers.
The growing trend of e-commerce and online shopping presents opportunities for manufacturers to reach a wider audience and expand their customer base.
Market Scope
Report Metric
Details
Market Size by 2031
USD XX Million/Billion
Market Size in 2023
USD XX Million/Billion
Market Size in 2022
USD XX Million/Billion
Historical Data
2019-2021
Base Year
2022
Forecast Period
2023-2031
Report Coverage
Revenue Forecast, Competitive Landscape, Growth Factors, Environment & Regulatory Landscape and Trends
Segments Covered

Segment by Type

Curly Hair
Delicate Hair
Straight Hair

Segment by Application


Online
Offline

Geographies Covered

North America
Europe
APAC
Middle East and Africa
LATAM

Companies Profiles

Turbie Twist
Utopia Towels Inc.
AQUIS
The Perfect Haircare.
Evolatree
YoulerTex
Segmental Analysis
By Type
Curly hair towel wraps are often created from soft, absorbent materials that won't frizz or tangle the hair. They frequently feature a loose weave that enables natural drying of the hair.
Towel wraps produced specifically for delicate hair are also soft and absorbent, but they are frequently kinder on the hair. They might be constructed of a particular fabric, like silk or bamboo, or have a tighter weave.
Towel wraps are frequently created from a more breathable material, such microfiber, when they are intended for straight hair. They are made to rapidly and damage-free dry the hair.
By Application
Online merchants provide a large selection of hair towel wraps at reasonable costs. Due to the convenience of online shopping and the accessibility of a greater choice of products, this segment is anticipated to develop faster than the offline segment.
Hair towel wraps are also sold by offline merchants such as supermarkets, department stores, and specialized shops. Given that many customers prefer to touch and feel a product before they buy it, this market is anticipated to be a significant source of sales for hair towel wraps.
Regional Analysis
The Global Hair Towel Wrap Market is segmented by region as North America, Europe, Asia Pacific, Latin America, and Middle East and Africa.
North America holds a significant share in the market due to the increasing demand for hair care products and the presence of major market players.
Europe is also a major market for hair towel wraps due to the high awareness among consumers and the popularity of hair care products.
The Asia Pacific region is expected to witness substantial growth in the market due to increasing disposable income, rising awareness about hair care, and the growing trend of personal grooming among consumers. The Middle East and Africa and South America regions are also expected to show significant growth in the market due to the increasing availability of hair care products and rising demand for personal grooming products.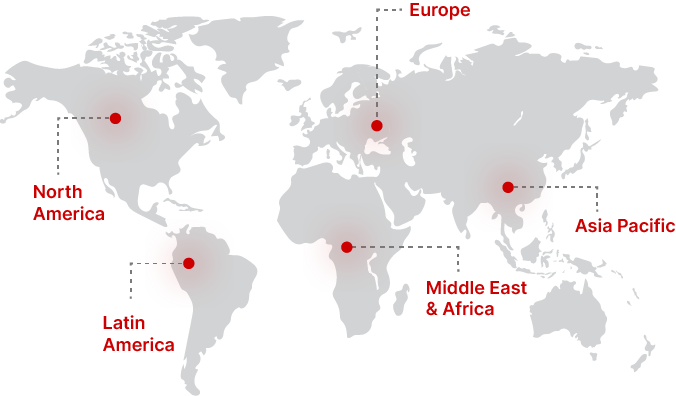 Regional Growth Insights
Download Free Sample
Key Players
Turbie Twist
Utopia Towels Inc.
AQUIS
The Perfect Haircare.
Evolatree
Hair Towel Wrap Market Segmentations
Segment by Type
Curly Hair
Delicate Hair
Straight Hair
Segment by Application
Frequently Asked Questions