Market Overview
The Global Handheld Raman Spectrometer Market size is expected to grow at a CAGR of approximately around 7.1% during the forecast period of 2023-2031.
Handheld Raman spectrometers are used to directly sample loose solid or liquid material or conduct sampling on a containerized sample. These devices are rugged, field-portable units designed to allow responders to analyze unknown powders and liquids without destroying the sample. Coupling a Raman spectrometer with a regular optical microscope is common practice to create a Raman instrument. As a result of their capability to do high-resolution material imaging and Raman analysis, these devices are finding widespread application. Because it is so easy to use, it has seen meteoric popularity. They are used in various industries such as Research and Academics, pharmaceuticals, Food, and Agricultural, etc.
Market Dynamics
Market Drivers
Growing Awareness Regarding Food Safety
It is essential for maintaining life and fostering good health to have access to adequate quantities of wholesome and uncontaminated food. Over 200 diseases, ranging from diarrhea to cancer, are caused by unsafe food containing harmful bacteria, viruses, parasites, or chemical substances. These contaminants can be found in food. Safe food supply chains require food monitoring devices. Traditional methods for detecting food contamination are difficult, expensive, time-consuming, and require frequent sample changes. Due to these issues, the food industry needs better methods to detect pollutants in all three food kinds. Raman spectroscopy tests food safety since it is non-destructive, accurate, fast, and easy.
Market Restraints
Lack of Awareness Among End Users
Although the scope of the market for Raman spectroscopy is quite great in the food and beverage industry, the pharmaceutical industry, carbon materials, and clinical applications in developing nations, knowledge of all these applications is slow among end users. This is because Raman spectroscopy is primarily used in these industries. Because it is a current method, it is more limited and primarily used in research facilities and laboratories. This limitation exists because a relatively low number of end users are aware of the various possible applications that can be serviced by Raman spectroscopy.
Market Opportunities
The Increased Focus on Drug Development In Healthcare
Drug Discovery falls within the medical, biotechnology, and pharmacology fields. It is the process that leads to the discovery of a new medication. Drugs undergo laboratory and animal testing to answer basic questions about safety. Drugs are tested on people to make sure they are safe and effective. Raman spectroscopy is becoming one of the most popular analytical measurement tools for pharmaceutical applications ranging from verification of raw materials to process monitoring of drug production to quality control of products. An attractive advantage to this technique is that samples do not have to be extracted or prepared, and the laser can be aimed at a sample to perform chemical measurements, which can often be accomplished in a minute or less. That's why its demand is increasing in drug development in the healthcare industry.
Market Scope
Report Metric
Details
Market Size by 2031
USD XX Million/Billion
Market Size in 2023
USD XX Million/Billion
Market Size in 2022
USD XX Million/Billion
Historical Data
2019-2021
Base Year
2022
Forecast Period
2023-2031
Report Coverage
Revenue Forecast, Competitive Landscape, Growth Factors, Environment & Regulatory Landscape and Trends
Segments Covered

Segmentation by Type

Battery-Powered Spectrometer
External Power Supply Spectrometer

Segmentation by Application

Pharmaceutical
Industrial Sector
Food and Agricultural
Research and Academic

Geographies Covered

North America
Europe
APAC
Middle East and Africa
LATAM

Companies Profiles

TSI
Horiba Jobin Yvon
Metrohm Raman
Sciaps
HORIBA Group
Bruker
Renishaw
Metrohm
Ocean Optics
Smiths Detection
Thermo Fisher Scientific
Rigaku
Bwtek
Kaiser Optical
Segmental Analysis
Segmentation By Type
Battery-Powered Spectrometer
Battery-powered spectrometers are generally more portable and easier to use. Battery-powered spectrometers have a limited battery life, which can be a disadvantage if the user needs to operate the instrument for an extended period.
External Power Supply Spectrometer
Spectrometers that need an external power source can run as long as needed as they are attached to a power source. Batteries can be less stable than external power sources, which can be important for some types of spectrometry. Spectrometers that need to be tied to a power source are usually less portable than those that run on batteries.
Segmentation By Application
Pharmaceutical mass spectrometry is a sensitive instrumental method used to detect the mass-to-charge ratio of charged molecules within a chemical sample. Spectroscopic analysis has been very important in the development of pharmaceuticals. It has been used to check the identification and purity of drugs, their crystalline structures, how active ingredients interact with other parts of the drug, antibiotic patents, and a lot more.
Spectrophotometers can tell the color of many things, like liquids, plastics, metal, cloth, paints, and paper. Because they are non-destructive, they don't ruin the sample and can be used more than once during production.
Reflectance of mid-infrared (MIR) is used in spectroscopy to study earth and food because it tells us about structure-function relationships in quantitative analysis.
Spectroscopy is used to figure out how atoms and molecules are put together. Because these systems give off a lot of different bands, it is possible to learn a lot about their structures, such as how the electrons are arranged in their normal and excited states. Hence, it is widely used for research and academic purpose.
Regional Analysis
The Global Handheld Raman Spectrometer Market is segmented by region as North America, Europe, Asia Pacific, Latin America, and Middle East and Africa.
North America
The market for Raman spectroscopy technology in North America is witnessing significant expansion in terms of the number of applications for Raman spectrometers in a variety of different industrial sectors, including the health sciences, the material sciences, carbon materials, and semiconductors. It is anticipated that countries such as the United States and Canada will generate significant space for market development in the region. Researchers and process equipment manufacturers widely use Raman spectroscopy techniques in the region. These researchers and manufacturers adhere to various government safety standards for the healthcare, food and beverage, and chemical industries. The rising demand for precise, accurate, and high-quality Raman spectrometers from end users is propelling the growth of the Raman spectroscopy market worldwide.
Europe
The aerospace and energy industry is growing daily in Europe. The carbon nanomaterials market has a lot of potential in areas that are still growing, like aerospace and energy. The Graphene Nano platelet is the most profitable graphene-based product because it has the best quality and can be made in large quantities. Due to interest in processing, modifying, and customizing carbon nanomaterials, characterization methods are in high demand. Raman spectroscopy is a good approach for the characterization of these materials. It is especially sensitive to highly symmetric covalent connections without natural dipole moments. Raman spectroscopy is sensitive to these materials because their carbon-carbon bonds meet this criterion. Because it can detect minute structural changes, Raman spectroscopy is valuable for characterizing carbon nanomaterials. Raman spectroscopy can analyze fullerenes, diamonds, graphene, graphite, carbon nanotubes, etc. All these factors are driving the growth of the Raman Spectrometer market.
Asia-Pacific
In the Asia-Pacific region, India is the second biggest market for jewelry after China. So, it's not surprising that India was the biggest consumer of gold for decades until China passed them in 2009. Raman micro-spectroscopy is best for commercial jewels. Raman analysis is non-destructive and does not require sample preparation, making it ideal for examining diamonds. Micro-Raman examination of stones also identifies demands. Enhanced Spectrometry, Inc. offers low-cost and easily identifies colorless real diamonds. Hence, it is expected to drive the demand for Raman spectrometers in this region.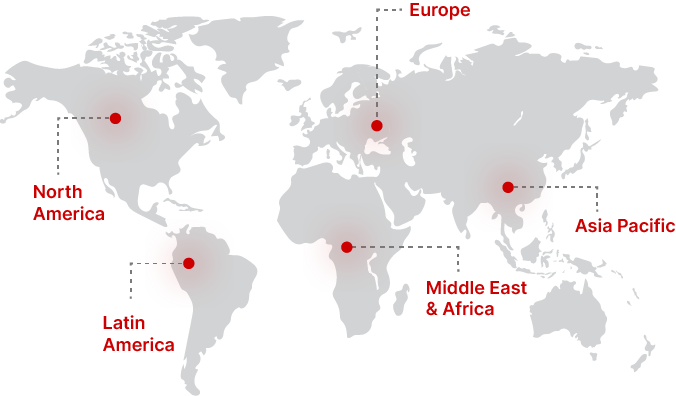 Regional Growth Insights
Download Free Sample
Key Players
Horiba Jobin Yvon
Metrohm Raman
Sciaps
HORIBA Group
Bruker
Renishaw
Metrohm
Ocean Optics
Smiths Detection
Thermo Fisher Scientific
Rigaku
Bwtek
Kaiser Optical
Recent Developments
Oct 2022 - TSI Instruments Ltd., a UK subsidiary of TSI Incorporated, has acquired Casella from IDEAL Industries, Inc. Casella is prominent in the design and manufacture of innovative instruments and systems for occupational health, industrial hygiene, the outdoor environment, and the workplace. Products include real-time dust monitors, personal sampling pumps, sound level meters, vibration monitors, and outdoor boundary monitoring systems. This acquisition expands TSI's portfolio of offerings to the occupational/industrial health and safety market, and together they continue to meet the evolving needs of their customers. This acquisition demonstrates TSI's commitment to help protect people and the environment.
Handheld Raman Spectrometer Market Segmentations
Segmentation by Type
Battery-Powered Spectrometer
External Power Supply Spectrometer
Segmentation by Application
Pharmaceutical
Industrial Sector
Food and Agricultural
Research and Academic
Frequently Asked Questions