Market Overview
The Global Microscope Objectives Lenses Market Size is projected to grow at a CAGR of approximately 11% over the analysis period.
A microscope is a special optical device designed to magnify the image of an object. The Microscopic objective lens is a vital part of the microscope optics. The microscope objective is positioned near the sample, specimen, or object being observed. It has a very prominent role in imaging, as it forms the first magnified image of the sample. Most microscopes contain four or three objective lenses, each of which provides a different amount of intensification, with the longest lens providing the most power. The objective lens is the furthest from the spectator's eye and gives the greatest intensification as it is closest to the sample.
The high-performance, high-quality microscopes are applicable to a range of uses, including education, training, laboratory work, and in leading-edge research in the life science fields, such as pathology and cytology. Manufactures of this market offers customization in parameters including antireflection coatings, chromatic focus shift, working distance, image quality (MTF and spot size), lens mount, glass window thickness, and field of view, among others. This market is important segment of imaging and photography Industry, and this industry is expected to have high demand in the next years. The growing application base in diverse industries is further projected to augment the growth of the objective lens market during forecast period.
Market Dynamics
Market Drivers
Growing Demand For Customized Objective Lenses
The growing demand for customized objective lenses is driving the microscope objective lenses market. Customers are largely looking for lenses that are personalized to their specific requirements and applications. The microscope objective lenses market is driven by technological advancements such as advanced imaging techniques, computer-aided imaging, and high-resolution microscopy. These advancements have led to improved image quality and enhanced data analysis capabilities.
Increasing Funding For Life Sciences Research
The increase in investment for life sciences research is driving the demand for advanced microscopy systems and microscopic objective lenses. This is especially true in developing nations where governments make significant investments in R&D. Microscopy is becoming high in demand across wide range of industries, including the life sciences, materials sciences, and clinical research. This is mainly driven by the rising need for advanced imaging and analysis techniques.
Market Restraints
High Maintenance and Operational Costs
Microscopy systems with advanced optical capabilities have high maintenance and operational costs, which can be a significant barrier for smaller and midsize business organizations to adopt them. Additionally, the shortage of skilled professionals who can operate advanced microscopy systems restrains the market. It is difficult to adopt these systems because they require specialized knowledge and expertise.
Several manufacturers offer a wide range of microscope objective lenses, making the microscope objective lens market highly competitive. As a result of this intense competition, pricing pressures may occur and profit margins may be reduced. In this way, the growth of microscopic objectives lens market growth may get affected.
Market Opportunities
There is a growing demand for advanced microscopy systems and objective lenses in emerging markets, particularly in Asia. These markets offer major growth potential due to the increasing investment in research and development activities and the growing demand for advanced imaging and analysis techniques. The increasing demand for high-resolution microscopy is also driving growth in the market. This is particularly true in the life sciences and material sciences industries, where researchers are looking for advanced imaging and analysis techniques to study complex biological and chemical structures.
Collaborations and Partnerships
Collaborations and partnerships between microscope objective lens manufacturers and other industry players, such as microscope system manufacturers, can provide significant growth opportunities. By partnering with other players in the industry, manufacturers can gain access to new markets and technologies, and develop new products and services that meet the evolving needs of customers.
Market Scope
Report Metric
Details
Market Size by 2031
USD XX Million/Billion
Market Size in 2023
USD XX Million/Billion
Market Size in 2022
USD XX Million/Billion
Historical Data
2019-2021
Base Year
2022
Forecast Period
2023-2031
Report Coverage
Revenue Forecast, Competitive Landscape, Growth Factors, Environment & Regulatory Landscape and Trends
Segments Covered

Segmentation by Type

Standard
Long Working Distance

Segmentation by Application

Medical Center
Research Center
Others

Geographies Covered

North America
Europe
APAC
Middle East and Africa
LATAM

Companies Profiles

OLYMPUS
NIKON
MEIJI TECHNO
ZEISS
LEICA
SIGMAKOKI
KEYENCE
NEWSPORT
AMSCOPE
OMAX
THORLABS
MOTIC
GLO
Segmental Analysis
Segmentation By Type
Standard microscopes come with interchangeable lenses known as objective lenses. Objective lenses come in various magnification powers, with the most common being 4x, 10x, 40x, and 100x, also known as scanning, low power, high power.
The Long Working Distance Objectives are ideal for applications that require room between the objective and the target for other equipment such as syringes or pipettes.
Segmentation By Application
Excellent doctors and health professionals acquire special knowledge in their respective fields with microscopes. This instrument has been a staple in their daily lessons and practical examinations. During certain surgical procedures, a high-quality microscope is an indispensable tool. A microscope becomes the surgeon's eyes during procedures that occur on a minute scale. Medical centers held the largest share owing to the rising adoption of microscopes for medical education and research.
Pharmaceutical research and scientific development also depend heavily on microscopy, especially in the identification and investigation of pharmaceutical materials. In this way, pharmaceutical researchers are able to research, develop, and produce new medicines.
The Microscopic objective lens is used in camera, slide projectors, and other optical instruments.
Regional Analysis
The Global Microscope Objectives Lenses Market is segmented by region as North America, Europe, Asia Pacific, Latin America, and Middle East and Africa.
North America
In North America, USA dominates the global microscope objective lenses market due to the early adoption of highly developed technologies in general health care in the region. US is also heavily investing on research and development which will aid in growing the microscopic objectives lens market.
Europe
Europe has presence of key players in UK, Germany and France and expertise in designing personalized microscopic objectives lens. This favours this region for growth of Microscopic objective lens market.
Asia Pacific
In this region, China, India, Japan dominates the microscope objective lenses market due to the presence of a large number of manufacturers in Asia Pacific. The positive government support, and increase in the number of contract manufacturing organizations in this region is expected to boost the market in the region.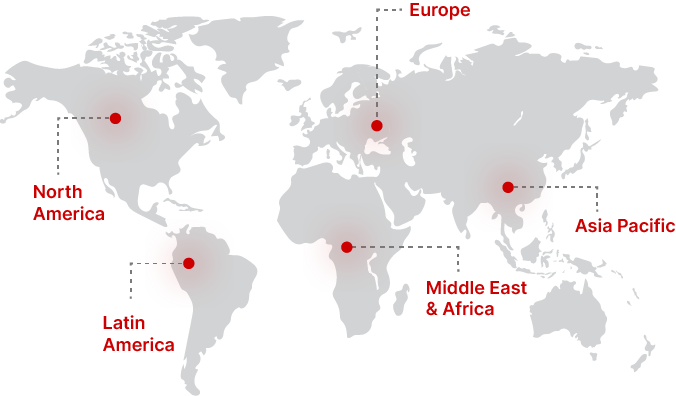 Regional Growth Insights
Download Free Sample
Key Players
NIKON
MEIJI TECHNO
ZEISS
LEICA
SIGMAKOKI
KEYENCE
NEWSPORT
AMSCOPE
OMAX
THORLABS
MOTIC
GLO
Recent Developments
In 2023, Leica Microsystems, a leader in microscopy and scientific instrumentation, has launched Mateo TL, a digital transmitted light inverted microscope for cell culture routine.
Microscope Objectives Lenses Market Segmentations
Segmentation by Type
Standard
Long Working Distance
Segmentation by Application
Medical Center
Research Center
Others
Frequently Asked Questions