Market Overview
According to Reed Intelligence the Hydrolyzed Wheat Protein (HWP) Market Size will approximately grow at a CAGR of 3.10% during the forecast period.
Hydrolyzed wheat protein is a protein fraction derived from wheat that has been hydrolyzed, which is a chemical process in which a molecule reacts with water and hydrochloric acid to generate a changed product. It is a hair conditioner and texture enhancer. This protein has numerous hair and skin advantages. This ingredient's tiny molecules quickly penetrate the surface and mend tissues from deep within. Many skincare and hair care products contain hydrolyzed wheat protein, such as facial serums, lotions, and hair sprays.
Proteins are the most significant nutrition for the human body since they offer all the essential amino acids that the body demands. The vegan and vegetarian population is growing worldwide. This has raised the demand for plant-based diets. Vegans rely on plant-based protein to meet their protein needs. This has altered the global demand for wheat protein. Wheat protein manufacturers sell their goods to private-label businesses that sell sports nutrition, meat analogs, and processed foods.
Market Dynamics
Market Drivers
Increased Demand for Dairy Products and Animal Protein Substitutes
Wheat protein products have a greater protein content and nutritional properties, providing consumers with health benefits. Wheat protein includes essential nutrients and other qualities, making it an excellent choice. Wheat protein products are used as a replacement for animal protein products. The growing number of lactose-intolerant people in Western countries is increasing the demand for alternate protein sources. Consumers in North America and Europe are becoming more interested in plant-based foods. Wheat protein is becoming more popular since it gives the same health benefits as animal and dairy proteins.
Increased Utilization of Wheat Protein in a Variety of End-User Industries
Wheat protein's functional qualities make it an excellent choice for use in a wide range of applications across many sectors. Wheat protein is commonly utilized in bakery items, confectioneries, snacks, cereals, dairy fillings, and other products. They also being used more in beauty goods due to its emulsifying qualities. Gluten in wheat protein is an emulsifier in cosmetics, boosting its use in the industry. Wheat protein is preferred by athletes and gymnasts because to its low calorie content and high nutritious value, which helps control glucose levels in the body. As a result, increased applications of wheat protein offer the Hydrolyzed Wheat Protein (HWP) Market opportunities to grow during the forecast period.
Market Restraints
Allergy Risk and Contact Dermatitis
Because hydrolyzed wheat protein is made from wheat, so it may cause allergic reactions in persons sensitive to wheat, also, it may cause contact dermatitis in some people. This is a sort of allergic reaction that produces irritation to the skin. This can restrict the Hydrolyzed Wheat Protein (HWP) Market.
Market Opportunity
Changes in Organic Product Preferences
Clean-label products are becoming more popular among people who want natural food. Food makers have long used artificial colors, fillers, sweeteners, GMOs, and other contaminants that harm the body's health. So, consumers prefer healthier and more natural options as their awareness of these chemicals grows. Health-conscious consumers prefer foods that are free of allergies and artificial additives.
Market Scope
Report Metric
Details
Market Size by 2031
USD XX Million/Billion
Market Size in 2023
USD XX Million/Billion
Market Size in 2022
USD XX Million/Billion
Historical Data
2019-2021
Base Year
2022
Forecast Period
2023-2031
Report Coverage
Revenue Forecast, Competitive Landscape, Growth Factors, Environment & Regulatory Landscape and Trends
Segments Covered

Segmentation By Type

75% Concentrated HWP
85% Concentrated HWP
95% Concentrated HWP

Segmentation By Application

Food & Beverage
Cosmetics & Personal Care
Animal Feed

Geographies Covered

North America
Europe
APAC
Middle East and Africa
LATAM

Companies Profiles

ADM
Cargill
Agridient
MGP Ingredients
Manildra Group
Agrana
Roquette
Glico Nutrition
Kroner-Starke
Tereos
Crespel & Deiters
Cropenergies
Segmental Analysis
Segmentation By Type
75% hydrolysed wheat protein concentrate is frequently used as a supplement to increase protein to the diet, particularly for vegans. It's also employed in food and beverage goods including protein-enhanced pasta, protein bars, and snacks.
85% concentrated hydrolyzed wheat protein is a wheat-derived food component. It is a protein that contains all of the essential amino acids and can be used as a substitute for soy, milk, and other protein sources. The product also offers various advantages over other goods, such the absence of hormones or allergens such as soy, more nutritional content than milk and soy products, and easier digestion than dairy products and others.
95% concentrated heat protein hydrolyzed is a good supply of essential amino acids, which are the building blocks of protein. It's also high in dietary fiber, which helps to regulate digestion and maintain gut health.
Segmentation By Application
Wheat protein hydrolyzed is a versatile component that can be found in a wide range of food and beverage products. It is a good source of protein and dietary fiber, as well as having a variety of other advantageous features such as being easy to digest and boosting intestinal health. It is commonly utilized in the food and beverage industries as protein supplement to increase the protein content of protein powders, bars, and drinks, hydrolyzed wheat protein can be added.
Cosmetics & Personal Care
Hydrolyzed wheat protein is a safe and effective cosmetic and personal care component. It's high in amino acids, which are the building blocks of protein. Amino acids can assist to increase the flexibility and moisture of the skin and protect it from injury. They can aid to improve the texture and performance of cosmetic and personal care products in addition to its skin and hair conditioning advantages. It can thicken items, make them more spreadable, and improve their skin adhesion.
In the animal feed industry, hydrolyzed wheat protein is utilized as a source of protein and amino acids. It is a less expensive and more sustainable alternative to animal-based proteins. Wheat protein hydrolyzed is also easily digested, which is helpful for young animals. In addition to protein, hydrolyzed wheat protein has a variety of other advantages for animals. It can aid in the improvement of gut health, the strengthening of the immune system, and the prevention of diarrhea. They can also aid in animal growth performance.
Regional Analysis
The Global Hydrolyzed Wheat Protein (HWP) Market is segmented by region as North America, Europe, Asia Pacific, Latin America, and Middle East and Africa.
North America
Protein content in food products is sometimes increased by including a protein hydrolysate when making protein supplements or high protein food and drink products. North America continues to dominate the market for hydrolyzed wheat protein, followed by Europe and Asia-Pacific. Consumers in the United States always demand beverages that deliver sensory flavor and the necessary nutritional advantages. The increased adoption of plant-based food and beverages due to consumer awareness of the benefits of a plant-based diet is one of the primary drivers driving demand for plant-based protein beverages across the country.
Europe
Europe has various developing economies, including Germany, France, Italy, the United Kingdom, and Russia. Changing lifestyle changes in the food and beverage industry have significantly impacted the European Hydrolyzed Wheat Protein (HWP) Market. The existence of well-established competitors is driving growth in the European wheat protein industry. Crespel & Deiters GmbH & Co. KG, CropEnergies AG, and Kréner-Stérke GmbH are a few examples. With rising consumer health consciousness, demand for plant protein products such as soy, wheat, and oat is predicted to rise during the forecast period. Wheat protein has grown in popularity throughout the continent, particularly in Italy, Norway, France, and the United Kingdom. The changing food and beverage lifestyle patterns have significantly impacted the European wheat protein market.
Asia-Pacific
The wheat protein market in Acia-Pacific is expected to grow significantly as a result of the economy's general expansion, population growth, increased awareness of low calorie and nutritional food, and demographic changes in terms of consumer lifestyle. India and China are the major Acia-Pacific countries driving demand for wheat protein, according to the World Wheat Protein Association, attributable to the increase in population, improved lifestyle, and growth of the economy. Prominent wheat protein market participants such as Roquette, Manildra Group, Cargill Inc, and Anhui Ruifuxiang are focusing on offering novel wheat protein products, which is leading to prospects for growth in the Acia pacific wheat protein market. This is accompanied with growing demand.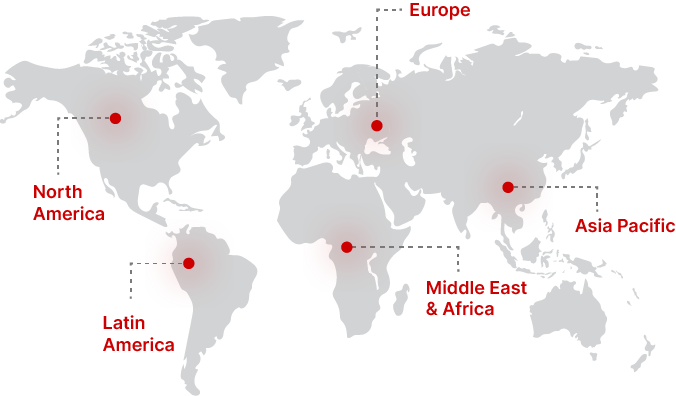 Regional Growth Insights
Download Free Sample
Key Players
ADM
Cargill
Agridient
MGP Ingredients
Agrana
Roquette
Glico Nutrition
Kroner-Starke
Tereos
Crespel & Deiters
Cropenergies
Hydrolyzed Wheat Protein (HWP) Market Segmentations
Segmentation By Type
75% Concentrated HWP
85% Concentrated HWP
95% Concentrated HWP
Segmentation By Application
Food & Beverage
Cosmetics & Personal Care
Animal Feed
Frequently Asked Questions