Market Overview
According to Reed Intelligence the Global Hydrotalcite for Polyolefin Market Size will approximately grow at a CAGR of 4.1% during the forecast period.
Hydrotalcite is a mineral found in nature and utilized in producing various polyolefin-based products. Hydrotalcite can be used as an acid polymerization catalyst in polyolefin, such as PP and PE. The use of hydrotalcite as a flame retardant and thermal stabilizer has been the subject of research. Hydrotalcites also offer good anti-blocking qualities, which are important to maintain flowability during high-temperature processing. Hydrotalcites have been examined for their potential applications. Manufacturers can develop low-emission plastic by adding hydrotalcite, which can either increase, decrease, or remove melt temperatures without compromising the quality of the product.
The rise in the use of the product in a wide range of applications, such as synthetic rubber, synthetic resins, and agricultural films, is estimated to drive sales growth in the global hydrotalcite for the polyolefin market during the forecast period 2023-2031.
Market Dynamics
Market Drivers
Rising Use of Hydrotalcite In Synthetic Resins, Agricultural Film, And Synthetic Rubber
Hydrotalcite for polyolefin is increasingly used in applications such as synthetic resins, agricultural film, and synthetic rubber. Companies operating in the global hydrotalcite for the polyolefin market focus on developing next-gen products with improved quality. Hence, they are investing intensely in research activities. Moreover, these initiatives are also helping enterprises strengthen their product portfolios. Such efforts will favor the global hydrotalcite for the polyolefin market in the forthcoming years.
Market Restraints
Harmful Causes of Plastics on Surroundings
Plastic is important to agriculture because it works well, is cheap, and is safe. However, using plastic harms the environment because it increases pollution and global warming. But farmers often throw away plastic trash incorrectly, which hurts the environment even more. Plastic wraps not thrown away properly can clog streams and pile up in landfills. Mishandling plastic can also let harmful chemicals seep into the ground, stopping the market from growing.
Market Opportunities
A Growing Amount of Nano Greenhouses
Nano greenhouse helps to increase production. People are more worried about their health and turn to nano greenhouses, which use new technologies to grow plants. It is a closed, controlled environment using sensors, nanomaterials, and automatic systems to help plants grow. They keep water away and the plants from getting too much direct sunlight. This change to nano greenhouse could lead to more people wanting agricultural films. Hence, increasing production for agricultural films leads to increase in demand for hydrotalcite market.
Market Scope
Report Metric
Details
Market Size by 2031
USD XX Million/Billion
Market Size in 2023
USD XX Million/Billion
Market Size in 2022
USD XX Million/Billion
Historical Data
2019-2021
Base Year
2022
Forecast Period
2023-2031
Report Coverage
Revenue Forecast, Competitive Landscape, Growth Factors, Environment & Regulatory Landscape and Trends
Segments Covered

Segmentation by Type

PP Grade
PE Grade
BOPP Grade

Segmentation by Application

Synthetic Resins
Synthetic Rubber
Agricultural Film

Geographies Covered

North America
Europe
APAC
Middle East and Africa
LATAM

Companies Profiles

Clariant (Sud-Chemie)
Kyowa Chemical/Kisuma Chemicals
Sakai Chemical Industry
Doobon
BELIKE Chemical
Sinwon Chemical
SAEKYUNG (Hengshui) New Materials
Sasol Germany
GCH Technology
Kanggaote
BELIKE Chemical
Segmental Analysis
Segmentation By Type
PP grade hydrotalcite is the variety of this mineral utilized most frequently in producing polyolefins due to its capacity to tolerate high temperatures. As a result, it is utilized in a wide variety of applications. It plays an important role in producing a wide variety of plastic goods, such as containers and films, among other things. The term "PP grade" refers to a specific variety of hydrotalcite used in various applications, including agricultural film lines, synthetic resin production, and synthetic rubber production.
The form of hydrotalcite known as PE grade possesses a high level of purity and is used to enhance the surface qualities of polyolefin products such as plastics, synthetic rubber, and agricultural film. PE grade hydrotalcite is also known as "PE grade" hydrotalcite. It is the most popular type and can be utilized in various contexts due to its adaptability. During the production of products, it is frequently utilized as a plasticizer for polyolefin, a corrosion inhibitor, a filler for plastics or rubber, etc. In addition, PE grades are useful in producing agricultural films because they are very compatible with the vast majority of polymer resins utilized in the film manufacturing process.
The thermoplastic material known as BOPP (biaxially orientated polypropylene) has been stretched in both the longitudinal and transverse directions. The end product is a sheet of plastic film that is exceptionally clear and robust despite its low thickness. BOPP films are frequently used as carrier materials for printing ink or paint onto the surface to generate graphics such as writing, line drawings, logos, and other pictures. This process is known as surface printing. BOPP films are constructed with three layers of material: two outer protective layers that sandwich a polymer or resin core layer that contains the image to be printed onto one side of the film. One of the sides of the film will be used for printing.
Segmentation By Application
Due to increasing demand, synthetic resin dominates the polyolefin hydrotalcite market. Key businesses are expanding capacity to produce polypropylene (PP) grade hydrotalcite. Carbon dioxide and methane emissions have also limited synthetic resin production. Hydrotalcite flame retardants lower melt temperatures without affecting product quality, which explains their rising popularity.
Synthetic rubber applications are growing gradually. Hydrotalcite is needed to make polyolefin goods as natural resins become scarcer. Hydrotalcite flame retardants lower melt temperatures without affecting product quality, which explains their rising popularity.
Hydrotalcite, a natural, eco-friendly substance, is in demand in agricultural film because of environmental concerns. It can replace chemical additions because it doesn't release gas or VOC during processing. Hydrotalcite is needed to make polyolefin goods as natural resins are becoming scarcer.
Regional Analysis
The Global Hydrotalcite for Polyolefin Market is segmented by region as North America, Europe, Asia Pacific, Latin America, and Middle East and Africa.
North America
The US is expected to have the biggest share of the polyolefin market over the next few years because the building industry is using more of it. Polyolefins are used more in the construction business because there are more building and residential and commercial infrastructure projects. Polyolefin is made from natural gas and crude oil. But because natural gas is easy to get in North America, it is mostly used to make polyethylene.
Europe
Synthetic rubber and plastic are used in many things, from automobile parts to household items. It seems to be due in large part to the fact that glass fibers or carbon fillers have been used to improve the strength, rigidity, and heat resistance of synthetic resins and rubbers, as well as the fact that different synthetic resins and rubbers have been made for different uses. The European automobile parts market is expected to grow at 1.5% per year over the next few decades. This will increase the need for hydrotalcite for polyolefin.
Asia-Pacific
One of the most important marketplaces for agricultural films is located in the Asia-Pacific region. This is because of rising populations all around the world, but especially in China and India. The agricultural film market in the Asia Pacific area also benefits from the supportive government policies in this region. The need for hydrotalcite in agricultural films is increasing due to environmental concerns and natural resin supply constraints.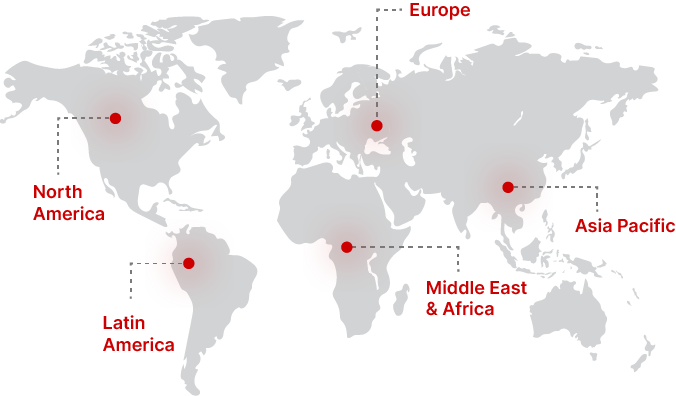 Regional Growth Insights
Download Free Sample
Key Players
Clariant (Sud-Chemie)
Kyowa Chemical/Kisuma Chemicals
Sakai Chemical Industry
BELIKE Chemical
Sinwon Chemical
SAEKYUNG (Hengshui) New Materials
Sasol Germany
GCH Technology
Kanggaote
BELIKE Chemical
Hydrotalcite for Polyolefin Market Segmentations
Segmentation by Type
PP Grade
PE Grade
BOPP Grade
Segmentation by Application
Synthetic Resins
Synthetic Rubber
Agricultural Film
Frequently Asked Questions