Market Overview
The Global Indoor Carbon Dioxide Monitor Market size is anticipated to touch at a CAGR of approximately 6% during the forecast period.
The market for interior carbon dioxide monitors includes devices that detect the amount of carbon dioxide (CO2) in internal settings such as homes, workplaces, classrooms, and hospitals. These sensors are intended to aid in the protection of healthy interior air quality as well as the avoidance of harmful quantities of CO2 buildup, which can lead to health issues and diminished brain function.
Interior carbon dioxide sensors have grown in popularity in recent years as people have become more conscious of the significance of indoor air quality and the potential health risks associated with inadequate airflow. The COVID-19 epidemic has raised demand for these devices as people spend more time indoors and are worried about the virus spreading through the air.
Indoor carbon dioxide sensors come in a range of forms, from simple portable devices to complex systems that can be connected to building management systems. Temperature, humidity, and volatile organic compounds are other interior air quality variables measured by some devices. (VOCs).
The global internal carbon dioxide monitor market is expected to grow in the future years as people become more concerned about indoor air quality and the need for better building ventilation. Government regulations and incentives, technological advancements, and greater usage of smart building technologies are all expected to fuel market growth.
Market Dynamics
Market Drivers
Sensor technology and Internet of Things (IoT) advancements are making tracking indoor air quality simpler and less costly. This is propelling innovation in the interior carbon dioxide monitor market, as new goods and solutions are launched to meet the requirements of a diverse customer base.
The importance of interior air quality is becoming more widely recognized, especially in places where people spend a significant amount of time. People are growing concerned about the potential health consequences of elevated CO2 levels, which can cause migraines, dizziness, and fatigue, among other symptoms.
Market Restraints
Despite growing general awareness of indoor air quality, many people are still unaware of the possible health risks linked with elevated carbon dioxide levels. Due to a lack of knowledge, justifying the expense of carbon dioxide sensors may be challenging.
Due to some internal carbon dioxide monitors are linked to the internet, privacy and data security concerns have arisen. Organizations worried about data protection may be reluctant to use these devices.
Market Opportunities
Manufacturers are able to provide more complex and user-friendly products as advanced sensing and monitoring technologies, such as wireless devices and cloud-based tracking systems, advance. These technologies have the potential to increase precision and reliability while also making data entry and interpretation easier for users.
As green construction practices, such as LEED certification, gain recognition, manufacturers will have the chance to create goods that satisfy the particular standards of these programs. Internal air quality tracking and real-time input could be included.
Market Scope
Report Metric
Details
Market Size by 2031
USD XX Million/Billion
Market Size in 2023
USD XX Million/Billion
Market Size in 2022
USD XX Million/Billion
Historical Data
2019-2021
Base Year
2022
Forecast Period
2023-2031
Report Coverage
Revenue Forecast, Competitive Landscape, Growth Factors, Environment & Regulatory Landscape and Trends
Segments Covered

Segmentation by Type

Desktop
Handheld

Segmentation by Application

Restaurant
Hotel
Hospital
Others

Geographies Covered

North America
Europe
APAC
Middle East and Africa
LATAM

Companies Profiles

Edinburgh Sensors
CO2Meter
Extech Instruments
Senseair
Gain Express Holdings
Onset Computer Corporation
Process Sensing Technologies
Amphenol-ASTG
E+E Elektronik
Amprobe
Segmental Analysis
Segmentation By Type
Desktop CO2 meters are larger, fixed devices that can be placed on a table or other level surface. They typically have a larger display screen than portable screens, making information easier to view and understand. Desktop screens also have more sophisticated functions, such as the ability to connect to a building management system or generate data.
Handheld carbon dioxide meters are small, movable devices that can be carried with the user. They are typically less costly and easier to use than desktop screens, and they are frequently used to test the interior air quality in a variety of settings. Handheld displays may be particularly useful in industries where employees must gather data in numerous places, such as HVAC.
Segmentation By Application
Carbon dioxide sensors can help restaurants keep healthful interior air quality for clients and workers. Cooking tools, as well as the presence of a large number of people in a confined area, can release a significant amount of carbon dioxide. Restaurant proprietors can use carbon dioxide sensors to determine when it's time to boost airflow or take other measures to enhance interior air quality.
Many people remain in motels in tiny towns, which can result in elevated carbon dioxide levels. Hotel proprietors can use carbon dioxide sensors to ensure that the interior air quality is secure and healthy for visitors and employees.
Hospitals have strict interior air quality requirements because poor air quality can endanger patient health and safety. Carbon dioxide sensors can help hospital administrators ensure that ventilation systems are working and that the quality of the internal air remains consistent.
Classrooms, workspaces, and homes may be included in the market for indoor carbon dioxide sensors. In each of these situations, carbon dioxide monitors can help ensure that the indoor air quality is healthy and safe for people.
Regional Analysis
The Global Indoor Carbon Dioxide Monitor Market is segmented by region as North America, Europe, Asia Pacific, Latin America, and Middle East and Africa.
North America
Due to growing awareness of the importance of indoor air quality and the potential health risks associated with high levels of carbon dioxide, North America is anticipated to be a major market for indoor carbon dioxide monitors. There are many large companies in the region, and they may be more willing to participate in indoor air quality monitoring devices. The region's largest market is anticipated to be the United States.
Europe
Europe is anticipated to be a significant market for indoor carbon dioxide monitors due to strict regulations aimed at enhancing interior air quality. Many European countries have adopted indoor air quality guidelines that, in some cases, require the use of carbon dioxide monitors. The United Kingdom, Germany, and France are all likely contenders.
Asia Pacific
Due to increased knowledge of indoor air quality and increased demand for air pollution control devices, Asia Pacific is anticipated to be a quickly expanding market for indoor carbon dioxide monitors. China, Japan, and South Korea, which have big populations and growing manufacturing industries, are anticipated to be major market participants in the area.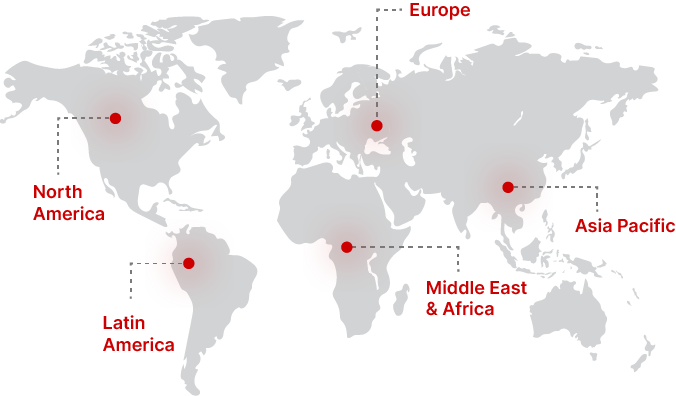 Regional Growth Insights
Download Free Sample
Key Players
CO2Meter
Extech Instruments
Senseair
Gain Express Holdings
Onset Computer Corporation
Process Sensing Technologies
Amphenol-ASTG
E+E Elektronik
Amprobe
Indoor Carbon Dioxide Monitor Market Segmentations
Segmentation by Type
Segmentation by Application
Restaurant
Hotel
Hospital
Others
Frequently Asked Questions