Market Overview
The Global Industrial PC Power Supply Market Size is slated to grow substantially at a CAGR of approximately 4.4% during forecast period.
The market for power supply units (PSUs) specially designed for use in industrial computers is referred to as the industrial PC power supply. Because they are frequently used in harsh environments that may include exposure to dust, moisture, temperature extremes, and other factors that can impact performance, these PSUs are typically more robust and dependable than those used in normal consumer-grade computers.
The industrial PC power supply market share is expected to expand in the coming years, driven by factors such as rising demand for industrial automation, increased use of IoT devices in industrial settings, and the need for dependable and efficient power supplies to support these technologies. Furthermore, the growing adoption of renewable energy sources such as wind and solar power is anticipated to drive growth in this market, as these energy sources require specialized power supplies to convert their output into usable energy for industrial applications.
Overall, the industrial PC power supply is expected to grow in the coming years, driven by rising demand for dependable and efficient power supplies to support the growing use of automation in industries, IoT devices, and renewable energy sources in industrial settings.
Market Dynamics
Market Drivers
Digital Technology Advancements In The PC Power Supply Market
PC Power Supply Market Revenue is anticipated to grow at a healthy rate, fueled by massive demand from emerging markets. Digital technology advancements in the PC Power Supply market enable efficient production, portfolio expansion, effective operational maintenance, and sales tracking. Proliferating demand for smart storage, decentralized networks, intelligent automation, and rising disposable incomes in rapidly growing countries are just a few of the key market developments. The post-pandemic economic recovery is boosting energy usage, and automotive, industrial, and consumer product sales, resulting in an impressive growth rate in the near future.
Advance Technology Driving The Market
The creation of advanced power supply technologies such as AC-DC and DC-DC converters, switch-mode power supplies, and modular power supplies has aided the growth of the industrial PC power supply industry. With the shrinking size of industrial PCs, there is an increasing demand for compact power supplies that can fit into smaller spaces while still providing the necessary power.
Market Restraints
Fluctuation In Raw Material Prices
However, some of the Industrial PC Power Supply market restraints over the forecast period include complying with stringent regulations and varying standards around the world, growing competition, and inflation expected to remain above the upper band in key nations in the short term, as well as fluctuating raw material prices.
Market Opportunities
Power Supply Solutions In Various Sectors
The growing demand for dependable and efficient power supply solutions in various sectors such as manufacturing, automotive, aerospace, defense, and healthcare offers significant growth opportunities for the Industrial PC (IPC) power supply market. The industrial sector's automation and digitization have increased the demand for IPCs, which is driving the development of the IPC power supply market.
Increasing Use of Industrial Robots and Automation Systems
The Internet of Things (IoT) has raised the demand for high-performance and energy-efficient IPC power supplies capable of supporting advanced computing and communication capabilities. Furthermore, the increasing use of industrial robots and automation systems in manufacturing and other sectors is increasing the demand for IPC power supplies that can endure harsh operating conditions and provide consistent and reliable power.
Market Scope
Report Metric
Details
Market Size by 2031
USD XX Million/Billion
Market Size in 2023
USD XX Million/Billion
Market Size in 2022
USD XX Million/Billion
Historical Data
2019-2021
Base Year
2022
Forecast Period
2023-2031
Report Coverage
Revenue Forecast, Competitive Landscape, Growth Factors, Environment & Regulatory Landscape and Trends
Segments Covered

Segment by Type

Enclosed Industrial PC Power Supply
External Adapter

Segment by Application

Semiconductor
Energy and Power
Oil and Gas
Chemical
Pharmaceutical
Automotive
Aerospace and Defense

Geographies Covered

North America
Europe
APAC
Middle East and Africa
LATAM

Companies Profiles

Delta
MeanWell
FSP
Lite-On
China Greatwall Technology
Acbel
Segmental Analysis
Segment By Type
Enclosed Industrial PC Power Supply
A shielded power supply can safeguard it from electromagnetic interference while also preventing it from interfering with nearby electronic equipment.
External power adapters are a form of power source that plugs into a wall outlet and converts alternating current (AC) to direct current (DC), allowing certain electronic devices to be powered.
Segment By Application
This relates to the recourse of industrial PC power supplies in the production of semiconductor components such as microchips and integrated circuits.
This describes the use of industrial PC power supplies in the energy and power production industry, such as power plants, wind turbines, and solar farms
The use of commercial PC power supplies in the oil and gas sector, such as drilling rigs, refineries, and pipelines, is referred to here.
The use of industrial PC power supplies in the chemical industry, such as in chemical processing facilities and labs, is referred to here.
This refers to the use of industrial PC power supplies in the pharmaceutical industry, such as in R&D labs and manufacturing plants.
The use of industrial PC power supplies in the automotive sector, such as in vehicle manufacturing plants and testing centres, is referred to here.
The use of industrial PC power supplies in the aerospace and military industries, such as manufacturing and testing facilities for aircraft and spacecraft.
Regional Analysis
The Global Industrial PC Power Supply Market is segmented by region as North America, Europe, Asia Pacific, Latin America, and Middle East and Africa.
North America
The North American industrial PC power supply was expected to grow steadily due to rising automation demand in sectors such as automotive, healthcare, and manufacturing. The increasing adoption of industrial PCs in various applications, the growing trend of digitization and automation in industries, and the rising demand for reliable power supplies with high efficiency and low power consumption are all factors driving market development. It's essential to remember that market trends and forecasts can change due to a variety of factors such as economic circumstances, technological advancements, and changes in consumer behaviour.
Asia Pacific
Increasing Smartphone and Tablet Penetration
The increase can be attributed to rising demand for high-performance systems in countries like China and India, which are among the world's biggest consumers of power supplies. Furthermore, increasing smartphone and tablet penetration in this region has prompted system makers to increase production capacity for these products, driving industry growth over the forecast period. From 2022 to 2026, Asia Pacific is projected to be the fastest-growing region, with a CAGR of approximately 5.4%.
Growth of Industrialization, Increased Infrastructure Investments Boosting The Market
Rapid industrialization, increased infrastructure investments in the energy and power sectors, and favourable government policies encouraging foreign players to join the APAC industrial PC market are anticipated to drive market growth during the forecast period. Because of the growing demand for healthcare services, rising health-related concerns, and rising R&D investments, high-tech medical device manufacturing firms are aggressively focusing on geographical expansions. This is expected to fuel the development of the APAC industrial PC market during the forecast period.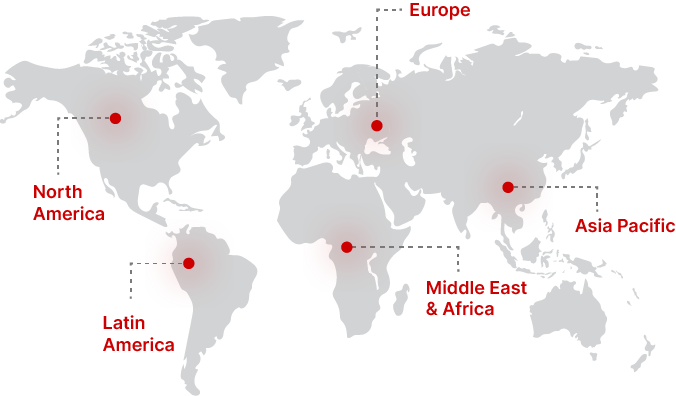 Regional Growth Insights
Download Free Sample
Key Players
MeanWell
FSP
Lite-On
China Greatwall Technology
Acbel
Industrial PC Power Supply Market Segmentations
Segment by Type
Enclosed Industrial PC Power Supply
External Adapter
Segment by Application
Semiconductor
Energy and Power
Oil and Gas
Chemical
Pharmaceutical
Automotive
Aerospace and Defense
Frequently Asked Questions