Market Overview
The Global Load Lock Chambers Market Size is projected to grow at CAGR of approximately 5.7% during the forecast period.
In the vacuum and semiconductor industries, a load-lock is a vacuum chamber for loading semiconductor wafers from ambient air pressure conditions into the main vacuum processing chamber. During process cycles, the process vacuum chamber in the semiconductor industry is kept at a high vacuum pressure and is not vented to the surrounding pressure. When ventilated, the wafers must be isolated from the primary process chamber in an auxiliary vacuum chamber.
The COVID-19 virus has a significant global impact. The pandemic is affecting Europe, Asia, and North America the most. Europe was the first location where the virus spread, and the lockdown affected production activities there. Manufacturing activities like the production of vacuum chambers, which had an impact on market productivity, were among the activities that were affected and halted in addition to those at Asian, North American, and European locations.
The operations of the supply chain were affected, which changed how the systems were made and distributed on the market. As a result of the compromised safety of employees, output decreased and vacuum chambers were required. On the other hand, work and operations are being resumed in several markets. Consequently, the vacuum chamber industry is working to reduce the effects of COVID-19, which may take some time to catch up. The vacuum chambers market may experience some growth and eventually normalize with the situation as a result of new safeguards, vaccines, and technology entering the market.
Market Dynamics
Market Drivers
The Load Lock chamber market growth is likely to expand significantly in the coming years as a result of its widespread use in numerous industries. Numerous manufacturing operations in industry and research, including the packing of espresso and the simulation of space environments, have required the use of a Load Lock chamber environment in recent years.
Customers expectations of product quality and dependability have increased due to the rise of e-commerce and online shopping. The quality of electronic components like microprocessors and memory chips used in these products is crucially maintained by load lock chambers. Consequently, businesses are investing in load lock chambers, intending to enhance their manufacturing procedures and deliver products of superior quality to their clients.
The Internet of Things (IoT) is being used more and more, which is driving growth in the Load Lock chambers market. As a result of technological advancements, manufacturers can now construct electronic equipment with greater efficiency, including higher throughput and lower cost per unit output. By increasing demand for consumer electronics like smartphones and tablets, this feature benefits the entire industry. The expanding semiconductor industry is anticipated to drive growth in the vacuum chambers market. A growing number of mobile devices and rising demand for integrated circuits are driving the global expansion of semiconductor output.
Demand for thin-film solar cells and other related products has increased due to the growing emphasis on renewable energy sources like wind and solar power. Because they make it possible to deposit thin films in a high vacuum, load lock chambers are frequently used to produce these products.
The semiconductor industry has experienced significant expansion due to the rising demand for electronic gadgets like smartphones, laptops, and tablets. By providing a means of transferring wafers into and out of the central vacuum chamber without breaking the vacuum, load lock chambers play a crucial role in manufacturing, reducing contamination and increasing yield.
Market Restraints
The equipment's high cost drives the market for load lock chambers. Due to their high cost of manufacture and installation, load lock chambers may be out of reach for small and medium-sized semiconductor manufacturers with limited financial resources.
To operate and maintain load lock chambers, specialized knowledge and abilities are required.
Market Opportunities
Automation systems can be integrated with load lock chambers to boost productivity and cut costs. Load lock chambers will likely increase in value as more businesses focus on automation and Industry 4.0 initiatives.
The semiconductor market is rapidly expanding in response to the rising prevalence of electronic devices across various sectors. Since the manufacturing of semiconductors depends on load lock chambers, they are a valuable asset for businesses in this industry.
Market Scope
Report Metric
Details
Market Size by 2031
USD XX Million/Billion
Market Size in 2023
USD XX Million/Billion
Market Size in 2022
USD XX Million/Billion
Historical Data
2019-2021
Base Year
2022
Forecast Period
2023-2031
Report Coverage
Revenue Forecast, Competitive Landscape, Growth Factors, Environment & Regulatory Landscape and Trends
Segments Covered

Segment by Type


Mainframe or Transfer Chamber
Process Chamber

Segment by Application


Semiconductor
Analytical Equipment

Geographies Covered

North America
Europe
APAC
Middle East and Africa
LATAM

Companies Profiles

Hine Automation
PREVAC
Kurt J. Lesker Company
Nor-Cal Products
Angstrom Engineering Inc
Moorfield Nanotechnology
Ferrovac Gmbh
ST Instruments
Thermionics Laboratory
Denton Vacuum
Segmental Analysis
Segment by Type
Mainframe or Transfer Chamber
Mainframe or Transfer Chambers are designed to transfer wafers or substrates between different processing chambers while maintaining a vacuum. These chambers are commonly used in the semiconductor industry.
Process Chambers are used for performing various processes such as deposition, etching, and annealing on wafers or substrates. These chambers are commonly used in the semiconductor, solar panel, and flat panel display manufacturing industries.
Segment by Application
The Semiconductor industry is the largest application segment for Load Lock Chambers. Load Lock Chambers are used in various processes such as etching, deposition, and annealing in semiconductor manufacturing.
Load Lock Chambers are also used in analytical equipment such as mass spectrometers, electron microscopes, and X-ray diffraction systems. These chambers are used for sample preparation, transfer, and analysis.
Regional Analysis
The Global Load Lock Chambers Market is segmented by region as North America, Europe, Asia Pacific, Latin America, and Middle East and Africa.
North America (USA and Canada)
The North American region can be linked to the rise in demand for semiconductor products and technological advancements. Demand for vacuum chambers is likely to rise as the region's semiconductor industry grows.
Europe (Germany, the U.K., France, Russia, Italy, Rest of Europe)
Asia-Pacific (China, Japan, South Korea, India, Southeast Asia, Rest of Asia-Pacific)
South America (Mexico, Brazil, Rest of South America)- Due to the growing use of semiconductor equipment, the market is anticipated to moderately expand in Latin America.
Middle East and Africa (Saudi Arabia, UAE, Egypt, South Africa, Rest of MEA)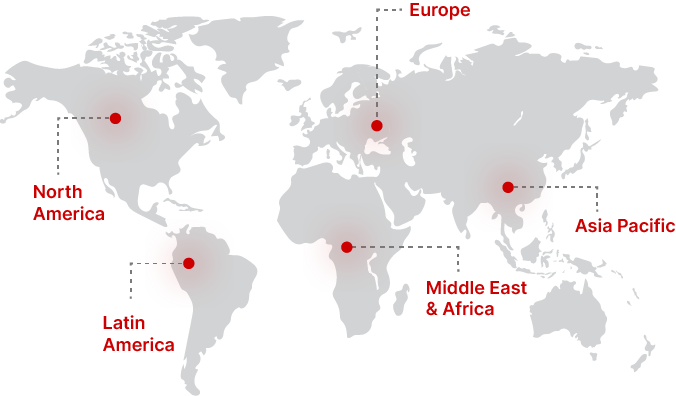 Regional Growth Insights
Download Free Sample
Key Players
PREVAC
Kurt J. Lesker Company
Nor-Cal Products
Angstrom Engineering Inc
Moorfield Nanotechnology
Ferrovac Gmbh
ST Instruments
Thermionics Laboratory
Denton Vacuum
Recent Developments
Hitachi Super Advanced Company announced the release of its brand-new load lock chamber for the 300 mm wafer process in January 2022.
Load Lock Chambers Market Segmentations
Segment by Type
Mainframe or Transfer Chamber
Process Chamber
Segment by Application
Semiconductor
Analytical Equipment
Frequently Asked Questions