Market Overview
According to Reed Intelligence the Global Natural Edible Pigment Market Size will approximately grow at a CAGR of 6.8% during the forecast period.
Globally, the desire for organic and healthier food products as well as the usage of clean-label ingredients are driving a considerable growth in the market for natural edible pigments. Due to naturally occurring edible pigments, many foods and medications are available in a variety of stunning and dazzling hues. These pigments may be found in plants and fruits. As more people become aware of the potential health risks associated with synthetic food colors, demand for natural alternatives like beta carotene and shellac pigments has increased.
The food business uses the majority of naturally occurring edible colors, which are often used in sauces, beverages, sweets, baked products, and other sorts of food. Food producers are using natural colors to adapt to shifting consumer expectations for clean-label products and sustainable ingredients. The use of natural food colors is encouraged by stringent legislation that forbids the use of synthetic food colors in a variety of circumstances.
Market Dynamics
Market Drivers
The bread, confectionery, beverage, and dairy products sectors of the booming food and beverage business provide opportunity for natural edible pigments. To enhance the aesthetics and visual appeal of food items, these colors are often added.
Market Restraints
Natural edible pigments have the drawback of not being as color-permanent as manufactured food colors. Natural pigments can struggle to maintain their color in food items due to elements including light, heat, and pH.
Market Opportunities
Innovation in Manufacturing and Extraction Methods
The color stability and flexibility of natural edible pigments might be enhanced by changing the extraction and production processes. Innovations in research and development might result in a wider range of uses for food items as well as increased pigment stability.
Market Scope
Report Metric
Details
Market Size by 2031
USD XX Million/Billion
Market Size in 2023
USD XX Million/Billion
Market Size in 2022
USD XX Million/Billion
Historical Data
2019-2021
Base Year
2022
Forecast Period
2023-2031
Report Coverage
Revenue Forecast, Competitive Landscape, Growth Factors, Environment & Regulatory Landscape and Trends
Segments Covered

Segmentation By Type

Beta Carotene
Shellac Pigment

Segmentation By Application

Food
Drug

Geographies Covered

North America
Europe
APAC
Middle East and Africa
LATAM

Companies Profiles

CHR Hansen
DSM
SENSIENT
ADM
Dohler
Dupont Nutrition
DDW Color
Naturex
Kalsec
Lycored
EXBERRY
San-Ei Gen FFI
Phinix International
Kolorjet Chemicals
IFC Solutions
Segmental Analysis
Segmentation By Type
A lovely, naturally occurring carotenoid pigment is beta carotene. Mangoes, sweet potatoes, and carrots are a few examples of the fruits and vegetables that contain it. Beta carotene is a typical natural food coloring component due to its striking orange-red hue.
The lac insect secretes a substance that is used to make shellac pigment. Red, orange, and yellow may be produced using shellac pigments, which are made from the resin. Natural shellac pigments are often used in food preparation.
Segmentation By Application
Natural edible colors are often used in the food sector. Many foods, including drinks, sweets, baked products, sauces, and dressings, are given their natural colors using beta carotene and shellac pigments. For food makers looking for natural and clean-label alternatives to synthetic food colors, these are the best options.
Natural edible pigments are also used in the pharmaceutical and medical industries. Medicines, nutraceuticals, and nutritional supplements may acquire color and aesthetic appeal using beta carotene and shellac colors. In order to satisfy legal criteria and customer expectations for all-natural products, natural pigments are utilized in pharmaceuticals.
Regional Analysis
The Global Natural Edible Pigment Market is segmented by region as North America, Europe, Asia Pacific, Latin America, and Middle East and Africa.
North America
Because of the growing popularity of organic and clean-label products in North America, natural edible pigments now have a substantial market. Due to stringent regulation that prohibits the use of artificial food colors and increased public knowledge of the health dangers, there is an increase in the demand for natural alternatives. In the food and beverage sector in the United States and Canada, natural edible pigments are often employed to enhance the visual appeal of a number of products, including beverages, confections, and dairy.
Europe
Europe provides a substantial market for natural edible pigments because of the area's well-established food and beverage industry, emphasis on sustainability, and usage of natural ingredients. In countries like Germany, France, and the United Kingdom, food additives are subject to strict regulations, which encourages the use of natural colors. More proof of the importance of plants' natural hues may be provided by Europe's shift toward vegan and plant-based diets.
Asia Pacific
The Asia Pacific region offers significant growth potential for the market for natural edible pigments. Rapid urbanization, increased disposable income, and changing consumer preferences toward healthier foods in countries like China, India, and Japan are driving the demand for natural food colors. Many different plant-based sources for natural colors are available because to the area's various plant species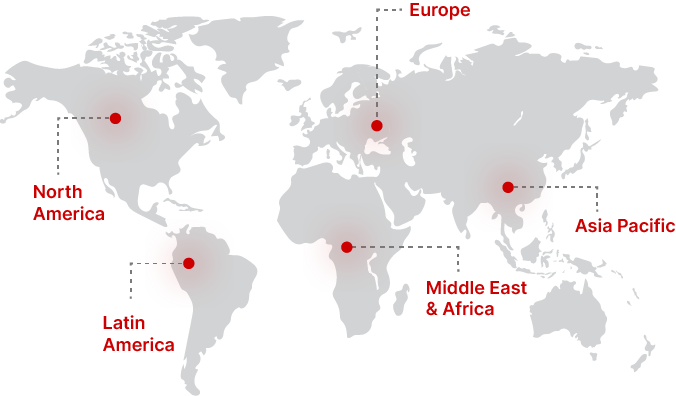 Regional Growth Insights
Download Free Sample
Key Players
DSM
SENSIENT
ADM
Dohler
Dupont Nutrition
DDW Color
Naturex
Kalsec
Lycored
EXBERRY
San-Ei Gen FFI
Phinix International
Kolorjet Chemicals
IFC Solutions
Recent Developments
The methods for acquiring natural pigments and extending their life have been improved by modern technology. Natural food pigments are finding more applications, and color stability has increased.
Natural Edible Pigment Market Segmentations
Segmentation By Type
Beta Carotene
Shellac Pigment
Segmentation By Application
Frequently Asked Questions