Market Overview
According to Reed Intelligence the Global Peptide CDMO Market Size will approximately grow at a CAGR of 8.6% during the forecast period.
The peptide Contract Development and Manufacturing Organization (CDMO) market is the industry that develops and makes peptides on a contract basis. Peptides are short chains of amino acids that play important roles in biological processes and have therapeutic potential in many areas, such as pharmaceuticals, diagnostics, and research. Several things have led to the growth of the peptide CDMO market. One of the most important factors is the growing demand for medicines based on peptides. Peptides have potential in several medical fields, including cancer, metabolic disorders, and heart disease. Because making peptides is hard and requires specialized knowledge, many companies find it more convenient to work with CDMOs.
Market Dynamics
Market Drivers
Increasing Demand for Peptide
Peptides are small molecules made up of amino acids. Each peptide has its special qualities that can be used to make medicines. They can treat cancer, diabetes, and heart disease safely and effectively because they can target specific disease processes. Peptide-based drugs are in higher demand as these diseases become more popular. Peptide CDMO (manufacturers) are crucial to meeting this demand. They make it easy and cheap to make these drugs, which lets pharmaceutical companies focus on what they do best while ensuring that high-quality, low-cost peptide therapies are made.
Market Restraints
Complex Manufacturing Processes
Synthesis of peptides can be hard and complicated, needing special knowledge, tools, and facilities. Because making peptides is so complicated, it can lead to higher prices, longer production times, and even technology problems. Complexities like these can make it harder for peptide CDMO to scale up and work more efficiently, making it harder for them to meet the growing demand for peptide-based drugs.
Market Opportunities
Demand for biologics is growing
Biologic drugs, such as peptide-based medicines, are becoming more important in the pharmaceutical sector. Peptide CDMO Market can meet the growing demand for biologics by making peptide-based drugs in a way that is different from how other drugs are made. The market is growing because of the progress of personalized medicine, targeted treatments, and a better knowledge of how peptides could meet unmet medical needs.
Market Scope
Report Metric
Details
Market Size by 2031
USD XX Million/Billion
Market Size in 2023
USD XX Million/Billion
Market Size in 2022
USD XX Million/Billion
Historical Data
2019-2021
Base Year
2022
Forecast Period
2023-2031
Report Coverage
Revenue Forecast, Competitive Landscape, Growth Factors, Environment & Regulatory Landscape and Trends
Segments Covered

Segment by Type

APIs and Intermediates
Finished Dosage Forms (FDF)

Segment by Application

Pharmaceutical
Academic Research

Geographies Covered

North America
Europe
APAC
Middle East and Africa
LATAM

Companies Profiles

Bachem
PolyPeptide
AmbioPharm
USV Peptides
Thermo Fisher
Bio Basic
JPT
Genscript
Xinbang Pharma
ScinoPharm
SN Biopharm
CBL
Piramal Pharma
CordenPharma
CPC Scientific
Segmental Analysis
Segment by Type
Peptide CDMO offer services for developing and making Active Pharmaceutical Ingredients (APIs) and intermediates related to peptides. This involves the synthesis, purification, and characterization of peptide molecules at different stages of the production process. Peptide CDMO can help clients optimize the synthesis route, scale production, and ensure the API or intermediate is pure and high-quality.
Finished Dosage Forms (FDF)
Peptide CDMOs offer services for making finished dosage forms of drugs based on peptides and formulating them. This includes making sure the right delivery systems are made, putting peptides into different dosage forms like injectables, oral pills, or topical creams, and testing the product's security to ensure it stays the same over its shelf life. Peptide CDMOs that focus on FDF work closely with their clients to meet regulatory standards, follow good manufacturing practices (GMP), and make peptide-based pharmaceutical products that are safe and efficient.
Segment by Application
Peptide CDMO serve the pharmaceutical business by creating, making, and testing peptide-based drugs. These services include peptide synthesis, process improvement, laboratory testing, formulation creation, and help with regulation issues. Pharmaceutical companies utilize peptide CDMO to access specialized knowledge, modern facilities, and cost-effective manufacturing options for their peptide drug candidates.
Peptide CDMO help academic research institutions make peptide molecules on consumer demand and analyze them. Academic workers often need peptides for studies like biological research, structure-activity relationship studies, and drug development projects. Peptide CDMO work with academic researchers to formulate and make peptides based on what they need for their research, which helps them proceed with their studies further.
Regional Analysis
North America
The pharmaceutical business in North America, especially the United States, is well-established and highly regulated. The number of pharmaceutical companies, biotechnology companies, and academic educational institutions in the area drives demand for peptide CDMO. These organizations often employ CDMOs to make and create peptides to use their knowledge, infrastructure, and cost-effective solutions.
Europe
Biopharmaceuticals, such as medicine made from peptides, are getting more and more attention in Europe. The area has been at the forefront of research and development in biotechnology, which has led to a higher demand for peptide CDMO. Biotech companies and European universities are heavily interested in peptide-based drug development and clinical research. This allows CDMOs to offer specialized peptide synthesis, formulation, and analytical testing services.
Asia Pacific
In Asia-Pacific, people are becoming more interested in personalized medicine, which means making medicines meet each patient's needs. With their ability to be focused and their ability to be specific, peptides are consistent with the goals of personalized medicine. Peptide contract development and manufacturing organizations (CDMOs) have the chance to offer customized synthesis and production solutions for personalized peptide-based drugs. This helps meet the changing needs of the healthcare system in the region.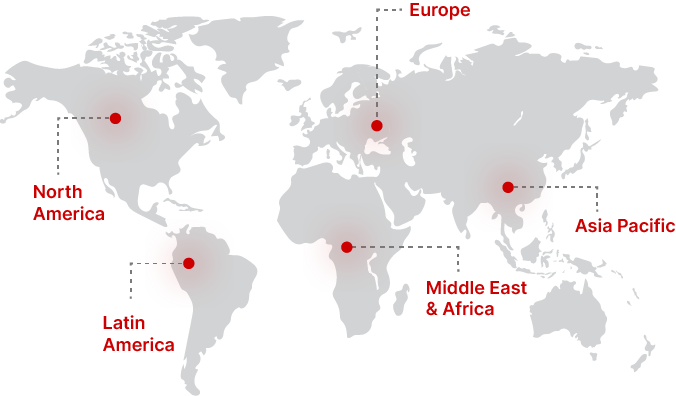 Regional Growth Insights
Download Free Sample
Key Players
Bachem
PolyPeptide
AmbioPharm
USV Peptides
Thermo Fisher
Bio Basic
JPT
Genscript
Xinbang Pharma
ScinoPharm
SN Biopharm
CBL
CordenPharma
CPC Scientific
Recent Developments
Dec 2022: Archer Next Generation Sequencing (NGS) research assays have been acquired by Integrated DNA Technologies, Inc. (IDT) from Invitae Corporation. By adding NGS research assays to IDT's portfolio, the acquisition strengthens IDT's position as a provider of solutions for oncology research. This allows laboratories access to a comprehensive biomarker discovery and cancer research solution. The acquisition expands IDT's operations.
Peptide CDMO Market Segmentations
Segment by Type
APIs and Intermediates
Finished Dosage Forms (FDF)
Segment by Application
Pharmaceutical
Academic Research
Frequently Asked Questions