Market Overview
According to Reed Intelligence the Global Punching Gear Market Size will approximately grow at a CAGR of 5.5% during the forecast period.
Punching gear is one of the most growing segments within the sports equipment industry. The increasing popularity of combat sports fuels the growth of this market. A combat sport, also known as a fighting sport, is a type of contact sport that typically involves one-on-one combat. In numerous combat sports, a participant can secure victory through various means. These include outscoring the opponent, submitting them with a hold, incapacitating them with a knockout (KO), or executing a specific and designated technique to attack the opponent. This market includes various products designed to enhance performance, improve safety, and provide comfort for individuals participating in these sports. The market offers a wide range of products, including boxing gloves, hand wraps, mouthguards, headgear, groin protectors, boxing shoes, and other accessories.
Market Dynamics
Market Drivers
The Increasing Popularity Of Combat Sports
Punching gears are highly used in combat sports like boxing, mixed martial arts (MMA), and kickboxing. The sport of boxing, as we know it today, traces its origins back to 19th-century England. However, the roots of this sport can be traced even further back to the original Olympics in Ancient Greece. Today, boxing is a widely adored sport with a global following. Legendary figures such as Muhammad Ali have been a profound source of inspiration for countless individuals, motivating them to embrace the sport and enter the boxing ring. This can drive the market growth of the punching gear market.
Market Restraints
High Cost Associated With Equipment That Involves Punching Gear
Punching gears are highly used equipment in sports like boxing. Professionals and pro players use this equipment. Many coaches suggest using this equipment to the players for practice. These types of equipment are very costly and have limited availability and accessibility of high-quality products. Using this equipment involves potential risks of injuries and infections associated with boxing. These factors can hinder the growth of this punching gear market.
Market Opportunities
Decrease In The Gender Gap Among Participants
Over the past few years, there has been a notable increase in the involvement of women in various sports, including boxing. This rise in participation has created lucrative market opportunities for sport equipment brands. In recent times, there has been a noticeable decrease in the gender gap among participants in global tournaments and championships. The Olympic Agenda 2020 has given the International Olympic Committee the authority to work with various International Federations to ensure a minimum of 50% female participation in the Olympic Games. Hence, parents from urban areas also encourage their daughters to participate in the male dominant sports, leading to the growth of the market share of the punching gear market.
Market Scope
Report Metric
Details
Market Size by 2031
USD XX Million/Billion
Market Size in 2023
USD XX Million/Billion
Market Size in 2022
USD XX Million/Billion
Historical Data
2019-2021
Base Year
2022
Forecast Period
2023-2031
Report Coverage
Revenue Forecast, Competitive Landscape, Growth Factors, Environment & Regulatory Landscape and Trends
Segments Covered

Segment By Type

Gloves
Sandbags
Protective Gear

Segment By Application

Professional Use
Amateur Use

Geographies Covered

North America
Europe
APAC
Middle East and Africa
LATAM

Companies Profiles

Everlast Worldwide
Hayabusa Fightwear
Ringside
Venum
King Professional
Combat Sports
Twins Special
Fairtex
Winning
TITLE Boxing
Century LLC
Segmental Analysis
Segment By Type
The most crucial equipment in boxing is gloves. They are available in a range of weights and sizes. Gloves are typically measured in ounces (oz) to indicate their weight. Common sizes for this product include 8 oz, 10 oz, 12 oz, 14 oz, and 16 oz. The more padding a glove has, the heavier it will be, providing better protection for sparring or heavy bag work.
A heavy bag is a robust and sizable bag filled with sand or other materials. It is typically suspended from the ceiling or a stand. Boxers utilize it as a training tool to enhance their punching technique, power, and ability to execute combinations.
In most casual boxing competitions and training sessions, wearing protective gear is optional. The protective gear protects the head, cheeks, and temples during sparring, effectively minimizing the likelihood of cuts and bruises.
Segment By Application
Manufacturers are constantly striving to innovate and create gear that is not only technologically advanced but also visually appealing. This gear is designed to meet the needs of both professional athletes and amateur enthusiasts. Materials such as synthetic leather, advanced foam padding, and moisture-wicking fabrics are increasingly being used to improve durability, protection, and comfort.
Manufacturers emphasize innovating and creating gear designed to provide safety to amateur users so that there can be no injury. Amateur users can use this product for their practice or hobby.
Regional Analysis
North America (USA and Canada)
Approximately 6.67 million people in the United States participated in boxing in 2021. Not only has this sport attracted a large number of individuals, but it has also created opportunities for various industries to grow. The government has set some regulations for health and safety concerns. Health and safety regulations have shaped the demand for high-quality gear that meets safety standards. Many manufacturing companies are focused on product certification and testing to build consumer confidence in their product. There has been a significant increase in boxing world championships and tournaments. This has provided more opportunities for boxers to showcase their skills and compete at a global level. All these factors are propelling the growth of the market share of the punching gear market.
Europe (Germany, the U.K., France, Russia, Italy, and the Rest of Europe)
Many people have always loved Boxing. In the past, boxing was predominantly played by men. The trend has shifted in the past decade because of the influence of women's empowerment and changing cultural beliefs, particularly in developing economies. The International Boxing Association (AIBA) has expanded the number of women's boxing categories for the Tokyo 2020 Olympic Games. In the Tokyo 2020 Games, women's boxing introduced five distinct weight categories. The increasing popularity of boxing among women as a mainstream sport is a positive trend expected to impact the market in the forecast period positively.
Asia-Pacific (China, Japan, South Korea, India, Southeast Asia, Rest of Asia-Pacific)
India is a hub for combat sports. It has been played and loved by many youngsters and adults. Players like Mary Kom encourage many people to play this sport. People are purchasing various equipment from online platforms. Online retail platforms provide diverse products, convenient comparison options, and seamless delivery services. These factors contribute to the increased accessibility and expansion of the market. The expansion of punching gear in this region has been greatly facilitated by e-commerce.
South America, Middle East, and Africa
More and more people are becoming interested in boxing for fitness purposes or as a competitive sport. This surge in popularity has led to a larger fan base and increased sports participation. Furthermore, there has been a heightened focus on safety in boxing. Adherence to international boxing standards has become a priority, ensuring that boxers are protected, and the sport is conducted fairly and regulated. This emphasis on safety has helped to improve the overall image of boxing and attract more participants.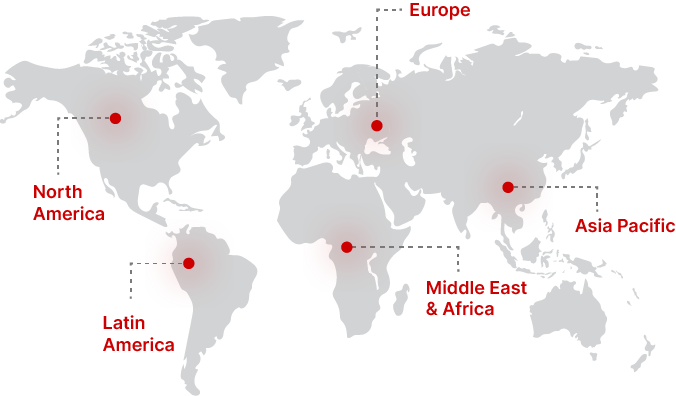 Regional Growth Insights
Download Free Sample
Key Players
Everlast Worldwide
Hayabusa Fightwear
Ringside
Venum
King Professional
Twins Special
Fairtex
Winning
TITLE Boxing
Century LLC
Recent Developments
18 March 2021: Everlast Worldwide Inc., manufacturer, marketer, and licensor of sporting goods and apparel under the Everlast brand name, announced that it had signed a new agreement with SportLife Brands, LLC of New York City. SportLife, a major supplier to the U.S. apparel market, will produce, market, and sell Men's, Ladies, Boys, and Girls; Underwear, Sleepwear, Baselayer, and Thermals under the Everlast brand in the United States. This partnership with SportLife has brought a new line of Everlast Underwear, Loungewear, & Sleepwear for Men and Women to the U.S. market.
Punching Gear Market Segmentations
Segment By Type
Gloves
Sandbags
Protective Gear
Segment By Application
Professional Use
Amateur Use
Frequently Asked Questions