Market Overview
The Global PVC Cables Market Size is slated to grow substantially at a CAGR of approximately 7.11% during forecast period.
PVC often known as polyvinyl chloride, is a thermoplastic substance. PVC is a very elastic material that is widely recognized and frequently used. It is the material used the most often for wire and cable. Because it possesses a strong combination of qualities, PVC is frequently used for cable jacketing and wire insulation.
Due to their excellent features, such as resistance to chemicals, heat, and water, robustness, durability, and versatility, PVC cables are frequently used. The insulating or sheathing substance is the only area of specialization for PVC wires and cables. Recently, PVC Cables Market has become more popular for several wire and cable constructions. The wiring of instruments, houses, mines, power supply systems, submarines, ships, and other applications all frequently use PVC wires and cables. Even highly sensitive locations like kitchens and related appliances use them.
Market Dynamics
Market Drivers
Recyclability of Polyvinyl Chloride
The environmental impact of plastics, including PVC, is a developing concern, as is the need to reduce plastic waste and carbon footprint. By reducing the waste and emissions associated with conventional PVC, the use of green PVC made from recycled industrial refuse and content derived from renewable sources addresses these concerns.
By promoting sustainable production and consumption, using PVC made from recycled industrial waste and renewable resources helps achieve these objectives. PVC cables are recycled mechanically. At the end of their life cycle, recyclers recover cables that, through extraction, separate the conductor (copper) from sheathing and insulation (the plastic materials). Using green PVC with recycled industrial waste is responsible for the growth of the PVC cables market.
Growing Demand for Lightweight Materials
The automotive industry uses polyvinyl chloride plastic cables due to their low weight and high durability. Polyvinyl chloride has properties such as high flexibility, flame resistance, high thermal stability, and high gloss.
Various rigid or flexible products can be manufactured using extruded, injection molding, compression molding, and blow molding methods, depending on the several plasticizers used in polyvinyl chloride. Since PVC-insulated cables are lighter than other wires, manual operation is easier. Additionally, it has a lower bending radius, which facilitates installation and storage. Demand for PVC cables is rising as a result of PVC's flexibility.
Market Restraints
Polyvinyl chloride is a flexible substance. It has many different applications. Other polymers, such as polyethylene and polypropylene, are major competitors. Additionally, these plastics frequently cost cheaper and offer comparable qualities to polyvinyl chloride.
Other plastics are frequently more affordable to produce than polyvinyl chloride. Numerous elements, including the cheaper cost of raw materials and the more effective production methods, are responsible for this. Other plastics with characteristics similar to PVC Cables include polyethylene and polypropylene. They are, therefore, frequently used in the same applications as polyvinyl chloride.
High Cost Involved in the Production of Green PVC
Green polyvinyl chloride (PVC) is manufactured more sustainably. Green PVC formulation costs depend on the manufacturing technique, raw ingredients, and production scale. Green PVC manufacture involves more expensive raw ingredients and processing procedures than standard PVC production. This hinders the PVC Cables Market.
Market Opportunities
Demand from the End-use Industries
PVC (polyvinyl chloride) cables are widely utilized in various end-use industries, including packaging, electrical wiring, automobiles, home appliances, WiFi, traffic system, security system, and automation systems. Due to its superior characteristics, including durability, flexibility, and resistance to fire and chemicals, PVC cables are widely used in the construction, automotive, and packaging industries.
This sector is also progressively adopting sustainable methods. PVC is a more affordable option than other materials used in the building and automotive industries, including metal or wood. PVC is adaptable and can be produced in various shapes, including rigid and flexible PVC, making it suitable for usage in various applications. The PVC Cables Market is anticipated to increase due to the increasing demand from this end-use sector.
Market Scope
Report Metric
Details
Market Size by 2031
USD XX Million/Billion
Market Size in 2023
USD XX Million/Billion
Market Size in 2022
USD XX Million/Billion
Historical Data
2019-2021
Base Year
2022
Forecast Period
2023-2031
Report Coverage
Revenue Forecast, Competitive Landscape, Growth Factors, Environment & Regulatory Landscape and Trends
Segments Covered

Segment by Type

Medium Voltage Cable
Low Voltage Cable

Segment by Application

Household Appliances
Municipal Appliances

Geographies Covered

North America
Europe
APAC
Middle East and Africa
LATAM

Companies Profiles

Eland Cables
Top Cable
Bhuwal Cables Limited
DDA Ltd.
Treotham Automation
Misterlight Electrical
YESSS Electrical
BATT Cables
Huadong Cable Group
Nexans
Guangdong Wasung Cable
Beacon Electrical
HELUKABEL
Selcoplast Cables
Helkama Bica
Excellent Source Group
Segmental Analysis
Segment by Type
The system voltage ratings for the medium-voltage power cables is up to 35kV. Electricity is delivered via these cables to industrial distribution circuits and residential and commercial structures. They can be used indoors and outdoors, such as in underground cable pipelines and cable boxes for industrial buildings, switchboards, and power stations.
Low-voltage wires power large motors and other industrial equipment. These cables are produced for a voltage range of 1kV to 3.3kV for IEC and BS requirements. Stranded copper or aluminum conductors are used in LV cables. Specialized LV cables could include extra components such as steel structural supports for overhead or vertical use.
Segment by Application
The wiring of instruments and houses frequently uses PVC wires and cables. Even highly sensitive locations like kitchens and related appliances rely on them. The majority of electrical wiring systems are found in residential and commercial settings. Power sources, bulbs, switches, and other electrical cabling are connected to the primary electrical hub using PVC cables.
PVC cable is a very safe type of cable that is utilized in-home wiring. In wired internet connections, PVC cables link the router, computer, and other network devices to the existing WiFi network at home. The residence has a number of automation systems, including those for security, heating, cooling, and lighting. To build a centralized automation network, PVC cables are used to connect smart devices, sensors, and control systems.
Numerous municipal applications demand the usage of PVC Cables. PVC cables are frequently utilized in street lighting systems to deliver powerful night lights. Traffic lights, pedestrian crossing signals, and other traffic control devices make up traffic signal systems. PVC cables ensure that the traffic lights on the road operate correctly.
PVC cables are buried beneath the ground's surface for underground power channels. Residential, business, and municipal corporations all receive electricity from PVC cables. PVC cables are used to fully operate vehicles in municipal public transportation networks. Electric buses, trains, and trams are all used for local municipal transit.
In municipal water treatment, PVC cables are installed to power the control system, motors, and pumps. These parts are utilized in various water treatment applications, such as distribution, filtration, and water purification. Municipal CCTV and security systems frequently use PVC cables to transmit video signals, power cameras, and regulate the entire system.
Regional Analysis
North America
The PVC Cables Market in North America is projected to be driven by the rising usage of plastics in the building industry and rising applications in the healthcare sector. In addition, polyvinyl chloride recycling and increased use in electric vehicles may present a future opportunity.
The largest producer of polyvinyl chloride in North America is currently the United States, and it is anticipated that this will continue in the years to come as the sectors that utilize it are expected to expand even further. This increases North American demand for PVC cables.
Europe
Germany has the biggest economy globally, ranking fifth overall. With 20% of the overall industrial income, the automotive sector is the largest in Germany. The rate of public consumption has increased by 0.5%, which is anticipated to fuel the expansion of the automobile, construction, electrical, and electronics industries.
The construction sector is anticipated to expand moderately in Europe during the coming years, supported by roads and bridges and the development of institutions. Due to this increase in industrialization in Europe, PVC cable demand is rising.
Asia-Pacific
The building industry is the major end-user of polyvinyl chloride in the Asia-Pacific area. The PVC Cables Market is expanding as a result of the rising demand for polyvinyl chloride pipes and fittings from the residential and commercial construction sectors. Another significant consumer of polyvinyl chloride is the electrical industry.
The region's polyvinyl chloride (PVC) market is expanding due to the increased demand for polyvinyl chloride cables from the power and telecommunications industries. Polyvinyl chloride is used in the healthcare sector for a number of products, including surgical gloves, IV bags, and medical tubing. As a result, the PVC Cables Market in the Asia-Pacific region is expanding as a result of the growing demand for these products from hospitals and clinics.
South America
Brazil dominated the Latin American market and is anticipated to keep doing so during the estimated time frame. The expansion of the automobile, electronics, and construction industries is credited with helping the nation. The expanding automotive sector is driving the size of the PVC cables market. The market is anticipated to grow even further as a result of the automotive industry's transition to electric vehicles. The healthcare sector is expanding quickly, and as the infrastructure does, so will the demand for PVC cable.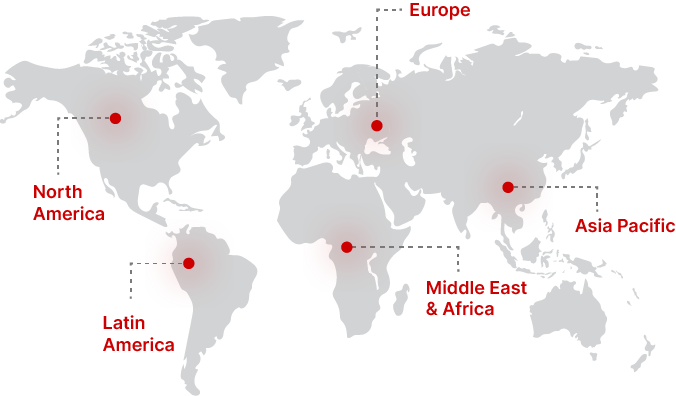 Regional Growth Insights
Download Free Sample
Key Players
Eland Cables
Top Cable
Bhuwal Cables Limited
DDA Ltd.
Misterlight Electrical
YESSS Electrical
BATT Cables
Huadong Cable Group
Nexans
Guangdong Wasung Cable
Beacon Electrical
HELUKABEL
Selcoplast Cables
Helkama Bica
Excellent Source Group
Recent Developments
October 2022- New polymer modifiers from INEOS Styrolution have been released; they improve processability, physical characteristics, and sustainability. Styrolution's modifiers improve PVC's heat and UV resistance and its ability to retain mechanical properties, helping it to withstand the growing effects of climate change better.
PVC Cables Market Segmentations
Segment by Type
Medium Voltage Cable
Low Voltage Cable
Segment by Application
Household Appliances
Municipal Appliances
Frequently Asked Questions