Market Overview
According to Reed Intelligence the Global Refuse-Derived Fuel (RDF) Market Size will approximately grow at a CAGR of 7.6% during the forecast period.
Refuse-derived fuel (RDF) is extracted from municipal solid and commercial or industrial wastes. RDF is a fuel that can be used for heating and generating electricity. Wood, paper, plastics, garden residue, and other organic materials are included. Commonly, they are burned in coal-fired power plant furnaces or with refuse from municipal solid waste incineration plants to generate electricity and steam that operates turbines that generate additional electricity. Coal ash, also known as fly ash, is one of the oldest and most prevalent forms of Refuse-Derived Fuel (RDF) and can be found in every country that burns coal. Coal combustion produces two byproducts: fly ash and bottom ash from power plants. RDF production's primary objective is to extend landfills' lifespan while reducing their environmental impact. RDF may be a low-cost alternative to natural gas in construction applications, with lower emissions than fossil fuels such as oil or coal.
Market Dynamics
Refuse-Derived Fuel (RDF) Market Drivers
Increasing Demand for RDF in waste-to-energy initiatives for Electricity Generation
RDF fuel is produced from combustible components known in the industry as MSW, or Municipal Solid Waste. Typically collected from industrial or commercial locations, this waste is destroyed, dried, baled, and then burned to generate electricity. Refuse Derived Fuel is a renewable energy source that prevents waste from being dumped in landfills and puts it to beneficial use. One of the alternative fuels derived from municipal waste is Refuse-Derived Fuel. It is the process of converting waste into useful energy. Thus, the issue with solid waste management is reduced, and RDF can be used in steam boilers instead of coal. The cement industry and power plants widely use this fuel. The increasing demand for RDF in waste-to-energy initiatives for electricity generation is projected to propel the growth of the refused-derived fuel market.
High demand for Secondary Fuel
Global demand for refuse-derived fuel is driven by energy-intensive industries, such as cement and thermal power plants, which utilize secondary fuels as a substitute, reducing their reliance on fossil fuels and their environmental impact. The cement industry's emphasis on reducing Carbon Dioxide and Nitrogen Oxide is likely to contribute to the expansion of the refuse-derived fuel market.
Refuse-Derived Fuel (RDF) Market Restrain
High Costs associated with Processing Fuel
RDF derived from municipal solid waste is among the most promising alternative fuels. With increasing waste production in many regions, there is an estimated high potential availability. However, producing RDF presents obstacles, such as the high capital investment required to establish pre-processing facilities and the increased cost of collecting, separating, and transporting solid waste. This hinders the expansion of our RDF market.
The technical barrier in Solid Waste
In addition to cost, technical obstacles, such as poor solid waste quality and high moisture content, degrade the quality of RDF, thereby increasing its production cost. Changes in the composition and integrity of a result affect fuel quality. This issue impeded the expansion of the market.
Refuse-Derived Fuel (RDF) Market Opportunities
The ongoing growth of the Incineration Industry creates an Opportunity for the RDF Market
RDF is derived from municipal solid waste and commercial or industrial waste. It is a supplement or replacement for thermal coal, and production facilities can use it with minimal or no modification to their solid fuel systems. To reduce pollution caused by these wastes, the government encourages their reduction and utilization through the incineration industry, where they are treated with a high-temperature, sustained incineration process. The same types of waste as RDF can also be accepted at incineration facilities. The increasing preference for plant-based activities in key global regions will likely drive the growth of the refuse-to-derive market.
Market Scope
Report Metric
Details
Market Size by 2031
USD XX Million/Billion
Market Size in 2023
USD XX Million/Billion
Market Size in 2022
USD XX Million/Billion
Historical Data
2019-2021
Base Year
2022
Forecast Period
2023-2031
Report Coverage
Revenue Forecast, Competitive Landscape, Growth Factors, Environment & Regulatory Landscape and Trends
Segments Covered

Segmentation by Type

Low-grade RDF
Higher grade RDF

Segmentation by Application

Cement Plants
Coal-Fired Power Plants
Lime Plant

Geographies Covered

North America
Europe
APAC
Middle East and Africa
LATAM

Companies Profiles

Estre Ambiental
Biffa
Ecomondis
Countrystyle Recycling
Renewi
SUEZ Recycling and Recovery
Veolia
Carey Group
FCC Austria Abfall Service AG
EcoUrja Renewable Energy
Segmental Analysis
Segmentation by Type
Low-grade RDF has ten megajoules per kilogram or less. Recycled paper, cardboard, and plastic are ground into tiny particles and combined with tar products to increase binding. Cement factories operate at lower temperatures than coal-fired power plants and employ low-grade refuse-derived fuels. Faster refining rates make low-grade fuels more efficient, but they also produce more particle pollutants, which may impact populations near industrial plants that produce them. Hammers and presses shred basic material during manufacture.
RDF of a higher grade is a fuel with an energy content greater than or equal to ten megajoules per kilogram and may include wood particles, cardboard, plastic bottles, and paper products. This refuse-derived fuel is primarily utilized in coal-fired power plants for electricity generation, combined heat and power (CHP) production, lime production at high temperatures, and cement production where higher temperatures can be tolerated. This fuel reduces particulate emissions because it does not require a grinding mechanism, which can generate particulates as lower grades do.
Segmentation by Application
The low grade is used for cement manufacturing. To maintain temperatures above 1450 degrees Fahrenheit, cement production necessitates a substantial heat input with minimal pollution. This makes it an ideal scenario for low-grade RDF, as no other byproducts are produced at these temperatures.
The coal-fired power plant utilizes RDF to produce steam, which turns turbines that power electric generators. RDF can increase efficiency by reducing air pollution, ash content in coal, boiler tube failure due to excessive temperature fluctuations during start-up, and the cost of operating thermal facilities under low load conditions.
Utilization of RDF as a fuel source in lime plants is increasing. The primary reason for this type of usage is that it reduces the carbon footprint and aids in complying with environmental regulations while also reducing operating costs due to less energy required for cooking. Using refuse-derived fuels such as coal or biomass mixed with municipal solid waste (MSW) instead of natural gas has the added benefit of being less expensive than natural gas alternatives.
Regional Analysis
The Global Refuse-Derived Fuel (RDF) Market is segmented by region as North America, Europe, Asia Pacific, Latin America, and Middle East and Africa.
North America (USA and Canada)
North America is the largest RDF market. The market for RDF is primarily concentrated in North America. It is anticipated that there will be a rise in demand in this region due to the expansion of economic activity and the imposition of new environmental rules on fossil fuels such as coal, oil, and natural gas, amongst others.
Europe (Germany, the U.K., France, Russia, Italy, Rest of Europe)
RDF is the third-largest market in Europe. Increasing economic activity and environmental regulations on fossil fuels such as coal, oil, and natural gas are expected to increase demand in this region. The United Kingdom will experience a rise in demand for refuse-derived fuels due to the standardization of regulations and the application of fuels. Due to the numerous advantages of refuse-derived fuel, it was a no-brainer for the United Kingdom to establish a large number of WFE plats, thereby enhancing market growth due to the public's belief in using eco-friendly fuels and maintaining a clean environment.
Asia-Pacific (China, Japan, South Korea, India, Southeast Asia, Rest of Asia-Pacific)
Asia and the Pacific have the fourth largest RDF market globally. The perception and adoption of EFW (energy from refuse) as a source of bioenergy would be enhanced by a faster rate of growth within the region. The expansion is attributable to the accessibility of wats from Thailand, Bangladesh, and Indonesia, followed by India and China. The desire of people to use eco-friendly fuels as a substitute for fossil fuels is one of the most significant changes brought about by the industrial revolution in India.
Latin America (Mexico, Brazil, Rest of South America)
RDF is the second-largest market in Latin America. Increasing economic activity and environmental regulations on fossil fuels such as coal, oil, and natural gas are expected to increase demand in this region. Brazil is expected to hold the largest share of the expansion of the Refused- derived fuel market in Latin America. Demand from cement kilns is anticipated to continue to dominate this market over the next few years. The country's market will expand due to the combination of moderate growth in end-user industries and preferences for waste-to-energy producers.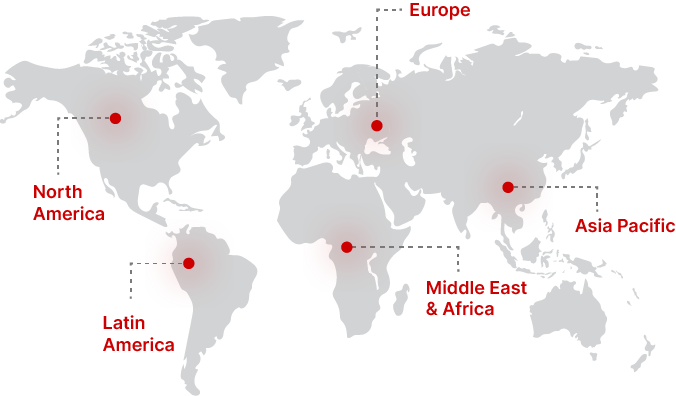 Regional Growth Insights
Download Free Sample
Key Players
Biffa
Ecomondis
Countrystyle Recycling
Renewi
SUEZ Recycling and Recovery
Veolia
Carey Group
FCC Austria Abfall Service AG
EcoUrja Renewable Energy
Recent Developments
Dec 3, 2021 Recent research examined the viability of large-scale production of refuse-derived fuels derived from municipal solid waste to reduce reliance on fossil fuels, meet rising energy demands, and address the ongoing overproduction of waste in urban areas.
Refuse-Derived Fuel (RDF) Market Segmentations
Segmentation by Type
Low-grade RDF
Higher grade RDF
Segmentation by Application
Cement Plants
Coal-Fired Power Plants
Lime Plant
Frequently Asked Questions