Market Overview
The Global Silicon Thin Film Solar Cell Market Size is projected to register a CAGR of approximately 8.2% during the forecast period.
The sector is expanding as a result of rising worries about greenhouse gas emissions, climate change, and increased demand for renewable energy sources.
A silicon thin film solar cell is a solar cell made of a thin layer of silicon. Silicon thin film solar cells are important because they can be produced more cheaply than traditional silicon solar cells and with more adaptability.
Market Dynamics
Market Drivers
The market for silicon thin film solar cells is growing and evolving as a result of many causes. The growing need for clean and renewable energy sources on a worldwide scale is one of the main contributors to this. Due to its efficiency, cheap price, and adaptability, silicon thin film solar cells provide an alluring approach to address this demand. The technology is appropriate for a variety of applications in the residential, commercial, and industrial sectors because to its versatility and low weight.
Market Restraints
Market restrictions and difficulties do exist. The relative lower efficiency of silicon thin film solar cells as compared to conventional crystalline silicon solar cells is one of its key drawbacks. Despite a gain in efficiency, this problem still prevents broad use. In order to guarantee long-term performance, it is also critical to address the stability and possible deterioration of the thin film materials used in silicon thin film solar cells.
Market Opportunities
To expand markets and provide new income streams, solar cells are being integrated into construction materials, consumer gadgets, and wearable technologies. Due to rising energy consumption and government policies that encourage development, emerging nations, especially those in the Asia Pacific and Africa, have enormous potential for growth. With the increased interest in smart cities and sustainable infrastructure projects, silicon thin film solar cells have a broad range of potential applications.
Market Scope
Report Metric
Details
Market Size by 2031
USD XX Million/Billion
Market Size in 2023
USD XX Million/Billion
Market Size in 2022
USD XX Million/Billion
Historical Data
2019-2021
Base Year
2022
Forecast Period
2023-2031
Report Coverage
Revenue Forecast, Competitive Landscape, Growth Factors, Environment & Regulatory Landscape and Trends
Segments Covered

Segmentation by Type

Amorphous Silicon
Monocrystalline Silicon
Polysilicon

Segmentation by Application

Industrial
Commercial
Civil

Geographies Covered

North America
Europe
APAC
Middle East and Africa
LATAM

Companies Profiles

Oxford Photovoltaics
Kaneka Corporation
Trony Solar
Sharp
Canadian Solar Inc.
Mitsubishi Electric Us, Inc.
Xunlight kunshan co. Ltd.
Solar Frontier K.K.
Ascent Solar Technologies Inc.
Global Solar, Inc.
Segmental Analysis
Segmentation By Type
Amorphous silicon is a kind of silicon that lacks the crystalline structure that is present in the majority of other varieties of silicon. Amorphous silicon solar cells are utilized in certain solar panels because they are more effective at converting sunlight into power as a result.
Monocrystalline silicon, which contains no additives, is the purest kind. A few of its outstanding characteristics are high thermal conductivity, a low absorption coefficient, and superior oxidation resistance. Monocrystalline silicon is ideal for solar cells due to these properties.
In order to provide an effective electrical connection between the solar cell and the battery, polysilicon is a substance utilized in solar cells. In order to make a solar cell that is more robust, this substance is also employed. Although it may be more effective at producing power, this form of solar cell is often more costly to build than a conventional solar cell. This is so that sunlight can travel more effectively to the solar cell thanks to polysilicon.
Segmentation By Application
Using photovoltaic systems to provide renewable energy in commercial buildings is one of the commercial uses for solar cells. Industrial buildings may have solar panels put on their roofs, parking lots, or open spaces to balance energy usage and save operating expenses. Cost reduction, energy independence, and sustainability are required for industrial applications.
A few examples of commercial uses for solar cells are solar energy systems for hotels, malls, and office buildings. The solar energy produced by solar panels mounted on rooftops or carports helps to partially power the building. Reducing energy expenses, upholding sustainability targets, and being environmentally mindful are a few examples of how they may be used in company.
When solar systems are put in infrastructure and public places, they are being employed in civil applications. These include solar-powered water pumps, solar-powered street lights, solar-powered home energy systems, and solar-powered electric car charging stations. Among the objectives of civil applications are improvements in energy efficiency, a reduction in carbon emissions, and the availability of easily accessible renewable energy sources.
Regional Analysis
The Global Silicon Thin Film Solar Cell Market is segmented by region as North America, Europe, Asia Pacific, Latin America, and Middle East and Africa.
North America has been a key market for silicon thin film solar cells because of supportive governmental laws, objectives for renewable energy, and growing environmental consciousness. Solar energy systems are widely used in the US, mostly in the residential and commercial sectors. In Europe, where solar energy installations are most prevalent in countries like Germany, Italy, and the United Kingdom, silicon thin film solar cells have also been in great demand. Due to the region's focus on sustainability, strict legal restrictions, and strong financial incentives, the industry has expanded. The solar energy industry has had substantial growth in the Asia Pacific region, notably in China, Japan, and India, as a result of increased energy demand, advantageous governmental policies, and declining solar installation costs.
The considerable expenditures in solar energy infrastructure that these countries plan to undertake over the next years are anticipated to boost demand for silicon thin film solar cells. Emerging countries in Southeast Asia are using solar energy technologies as well, opening up new commercial opportunities. In particular, Saudi Arabia and the United Arab Emirates have shown a rising interest in renewable energy throughout the Middle East and Africa, where solar energy is considered as a practical substitute for fossil fuels. Since it is still in the early stages of growth, the market in this sector need supportive policies and investments in order to attain its full potential. The geographical study of the market for silicon thin film solar cell shows a global trend towards clean energy sources based on market maturity, governmental support, and energy demand. Every place has its own opportunities and limitations.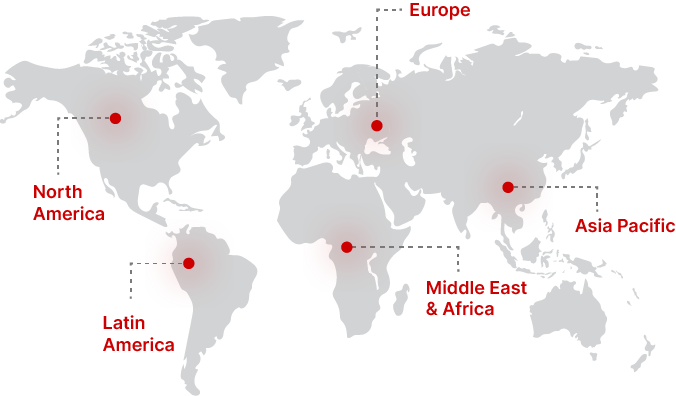 Regional Growth Insights
Download Free Sample
Key Players
Oxford Photovoltaics
Trony Solar
Sharp
Canadian Solar Inc.
Mitsubishi Electric Us, Inc.
Xunlight kunshan co. Ltd.
Solar Frontier K.K.
Ascent Solar Technologies Inc.
Global Solar, Inc.
Recent Developments
Modern silicon thin film solar cells are more efficient, long-lasting, and cost-effective because to advancements in manufacturing processes and technology. Manufacturers of solar cells, suppliers of materials, and research institutes have joined forces and formed partnerships in the market to promote innovation and discover answers to problems. Additionally, it is clear that bigger solar projects have gotten more money. Solar-powered consumer electronics and building-integrated photovoltaics (BIPV) are two other uses for silicon thin film solar cells.
Silicon Thin Film Solar Cell Market Segmentations
Segmentation by Type
Amorphous Silicon
Monocrystalline Silicon
Polysilicon
Segmentation by Application
Industrial
Commercial
Civil
Frequently Asked Questions