Market Overview
The Global Solar Canopy Market Size is projected to grow at CAGR of approximately 4.2% during the forecast period.
The primary goals of the solar canopy market, a growing sector of the renewable energy industry, are the design, production, and installation of solar canopies. These structures provide cover and shade for outdoor spaces and use solar panels to harvest solar energy. A variety of factors have an influence on the market. First off, the growing global emphasis on renewable energy and the need to reduce carbon emissions are what are driving the market for solar canopies.
In order to lessen their detrimental impacts on the environment and improve energy efficiency, governments, businesses, and nonprofit organizations are making great efforts to develop sustainable energy solutions. Second, the corporate sector invests in solar canopies in order to create inexpensive and clean energy due to the rising cost of electricity and the necessity for energy independence. The usage of solar canopies is also encouraged by beneficial governmental programs, financial incentives, and tax benefits in both commercial and nonprofit contexts. The only two negatives of solar canopy market are the expensive upfront installation costs and the small installation area in densely populated areas. Nevertheless, there are many of choices.
Market Dynamics
Market Drivers
Rising energy costs and demand
These elements help to create an environment that encourages the adoption of solar energy alternatives. You may utilize solar canopies to consume less costly fossil fuels and generate green energy locally.
A number of countries throughout the world provide tax breaks, financial assistance, and supportive policies to encourage the adoption of solar power systems. These supportive laws and rules provide clients and businesses financial incentives to purchase solar canopies, which promotes the sector's expansion.
Market Restraints
Starting expenses that are too high
The cost of building solar canopies may be a major barrier. The mounting, installation, and pricing of solar panels might be more than those offered for traditional roofing or shading. The initial investment is often covered by subsequent energy cost reductions and longer-term benefits.
Space limitations and design difficulties: To construct solar canopies, a good site and sufficient area are required. Due to structural or physical restrictions, the development of projects may be challenging in certain areas.
Market Opportunities
Advancements in energy storage technology
Battery systems and other efficient energy storage technologies operate in concert with solar canopies by storing additional energy generated during the sun's peak hours. Solar Canopy Systems' reliability and adaptability are increased by allowing them to utilise solar energy at night or when there is little sunlight.
Due to their increased urbanization and rising energy consumption, developing countries offer significant prospective markets for solar canopy manufacturers. These countries, which also include China, India, and Southeast Asia, are investing in the renewable energy infrastructure.
Market Scope
Report Metric
Details
Market Size by 2031
USD XX Million/Billion
Market Size in 2023
USD XX Million/Billion
Market Size in 2022
USD XX Million/Billion
Historical Data
2019-2021
Base Year
2022
Forecast Period
2023-2031
Report Coverage
Revenue Forecast, Competitive Landscape, Growth Factors, Environment & Regulatory Landscape and Trends
Segments Covered

Segmentation By Type

Thin Film
Crystalline Silicon

Segmentation By Applications

Non-profit
Commercial

Geographies Covered

North America
Europe
APAC
Middle East and Africa
LATAM

Companies Profiles

Trina Solar
Jinko Solar
SunPower
First Solar
Solarworld
JA Solar
Tesla
Yingli
REC Group
ReneSola
Canadian Solar
Upsolar
Segmental Analysis
Segmentation By Type
According to the graphic, thin-film solar panels were used to create the solar canopies in this region. Photovoltaic components are lightly layered onto a substrate using thin-film technology. Because of its adaptability, small weight, and effectiveness in low-light conditions, thin film solar panels are well known.
The solar canopies at this market are made from crystalline silicon solar panels. Crystalline silicon, which is further divided into the subcategories of monocrystalline and polycrystalline, is the most commonly used solar cell technology. Crystalline silicon is used to make solar panels, which are renowned for their excellent performance and long lifespan.
Segmentation By Application
The major focus of this section is the usage of solar canopies in non-profit institutions, such as schools, community centers, and charitable organizations. Nonprofit organizations often employ solar energy options to save energy costs, promote sustainability, and demonstrate environmental responsibility.
This section looks at how solar canopies may be used in a range of commercial spaces, including as offices, malls, parking lots, and airports. Solar canopies are used by commercial organizations to balance their energy demands, reduce carbon emissions, and show their support for renewable energy sources.
Regional Analysis
The Global Solar Canopy Market is segmented by region as North America, Europe, Asia Pacific, Latin America, and Middle East and Africa.
In North America, solar canopies have a considerable market share. The region benefits from a strong emphasis on sustainability and renewable energy sources. The use of solar energy systems, especially the use of solar canopies, has been pushed in the US and Canada by laws, regulations, and incentives. Due to the high cost of electricity, rising demand for renewable energy, and a burgeoning solar industry, the region's solar market is growing.
All around Europe, there are several solar canopies. Many European countries, like Germany, France, and the United Kingdom, have ambitious renewable energy ambitions and strong support infrastructure. Feed-in prices, net metering programs, and suitable regulatory frameworks all contribute to the expansion of solar canopies. The region's commitment to reducing carbon emissions and the impacts of global warming is one element fostering industry expansion.
In the Asia-Pacific area, there is still a ton of space for the Industry to grow. The growing urbanization, industrialization, and energy consumption in countries like China, India, and Japan are ideally suited for solar energy solutions. Several government initiatives, including appealing feed-in tariffs, renewable energy goals, and subsidies, promote the usage of solar canopies. Due to the need for renewable energy sources and the general public's rising environmental consciousness, the market for the area is anticipated to rise.
Additionally, there are business potential in Africa, the Middle East, and Latin America. Some of the Latin American countries with investments in renewable energy projects and laws in their favor include Chile, Mexico, and Brazil. The Middle East and Africa area, renowned for its abundant sunlight, is increasingly taking into consideration solar energy choices, such as solar canopies, in order to diversify its energy mix and lessen its dependency on fossil fuels.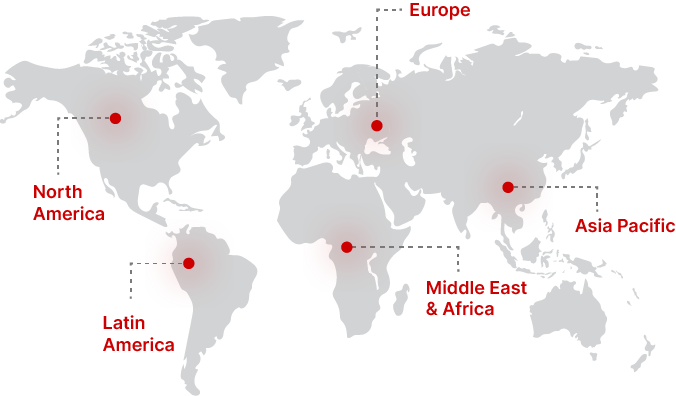 Regional Growth Insights
Download Free Sample
Key Players
Trina Solar
Jinko Solar
SunPower
Solarworld
JA Solar
Tesla
Yingli
REC Group
ReneSola
Canadian Solar
Upsolar
Recent Developments
Collaborations
Companies that sell solar canopies are forming partnerships and working together with construction companies, energy storage companies, and providers of EV charging infrastructure in order to provide comprehensive sustainable energy solutions and speed the installation process.
Solar Canopy Market Segmentations
Segmentation By Type
Thin Film
Crystalline Silicon
Segmentation By Applications
Frequently Asked Questions