Market Overview
According to Reed Intelligence the Wifi Network Cameras Market Size will approximately grow at a CAGR of 15.2% during the forecast period.
Wireless IP cameras are also known as for Wi-Fi network cameras. These are the wireless network-capable surveillance cameras. These cameras are built in such a way that video footage is recorded and sent over the network. This enables users to watch and access camera feeds remotely. It is possible to accomplish this utilising gadget such as cell phones, tablets, or laptops.
Wi-Fi network cameras can serve a variety of functions. Wi-Fi network cameras may record and stream live video footage over the network. Users can remotely access the camera's feed by using special software or mobile apps. This adaptability is especially useful for home security, small companies, and tracking specific areas of interest. Motion detection is built into many Wi-Fi network cameras. When motion is detected within the camera's field of vision, the camera can notify the user via email, push notifications, or SMS messaging. This functionality can be used to draw rapid attention to possible security breaches or to record specific incidents.
Some Wi-Fi PTZ and Remote Cameras have capabilities, which allow users to control the camera's movement remotely, including panning (horizontal rotation) and tilting (vertical movement). Some Wi-Fi network cameras allow for two-way audio communication. This function allows users to listen to sounds from the camera's surroundings and communicate with others nearby via a built-in microphone and speaker. Cloud storage adds an extra degree of data security and allows for easy access to recorded films from multiple devices.
Market Dynamics
Market Drivers
Technological Advancements
Technological advances in image sensors, video processing, and compression techniques have significantly increased video quality for Wi-Fi network cameras. Higher resolution, improved low-light performance, and improved clarity lead to more exact surveillance and higher demand for these cameras. Wi-Fi network cameras are especially dependent on wireless communication. Wifi standards advancements, such as the introduction of wifi 6 and the upcoming wifi 6E, provide faster data transfer speeds, expanded capacity, and lower latency. These enhancements make video streaming more dependable and fluid, resulting in a better user experience. Connection with mobile devices has become essential for wifi network cameras. These technological advancements are expected to drive the demand for wifi network Cameras.
Increasing Demand for Home Security
The Rising demand for home security options is driven by rising crime rates and increased awareness of the need for home security which can lead to overall Wifi Network Cameras Market growth. As more people and companies seek to improve their security, the demand for wifi network cameras is expected to grow. As the Wifi Network Cameras Market grows, there will be a greater emphasis on product innovation and development. Manufacturers may engage in R&D to add new features, improve camera resolution, expand networking potential, and expand functionality. This competition might result in a significant selection of consumer options and technological breakthroughs. This may drive the demand for wifi Network Cameras.
Market Restraints
Wifi network cameras, like any other connected device, are subject to weaknesses in security. They can be targeted by hackers or unauthorized people if not properly secured. Breach of camera security can result in privacy violations, unauthorized access to video material, or even the camera being used as a gateway to the network. These security concerns may hinder the adoption of wifi network cameras, particularly in applications where privacy and data protection are essential. This may reduce the purchase frequency of wifi Network Cameras, which may hinder the Wifi Network Cameras Market growth due to increased security concerns.
Market Scope
Report Metric
Details
Market Size by 2031
USD XX Million/Billion
Market Size in 2023
USD XX Million/Billion
Market Size in 2022
USD XX Million/Billion
Historical Data
2019-2021
Base Year
2022
Forecast Period
2023-2031
Report Coverage
Revenue Forecast, Competitive Landscape, Growth Factors, Environment & Regulatory Landscape and Trends
Segments Covered

Segment By Type

Fisheye
Dome
Bullet

Segment By Application

Residential Applications
Commercial Applications
Public Utilities Applications

Geographies Covered

North America
Europe
APAC
Middle East and Africa
LATAM

Companies Profiles

HIKVISION
Dahua (LeChange)
Axis Communications
FLIR Systems
Tyco Security Products
Samsung
Tiandy
Motorola
Infinova
Kodak
VIVOTEK
CP PLUS
Summer Infant
Philips
TP-Link
Netgear
D-Link
LG
Uniden
Panasonic
iON Cameras
Segmental Analysis
Segment By Type
Fisheye cameras possess an extremely wide field of vision, ranging from 180 to 360 degrees. This means they can cover a big region without using multiple cameras. Fisheye cameras are particularly beneficial for monitoring open areas or large rooms, as they minimize blind spots that often occur with normal cameras. Fisheye cameras with a 360-degree field of view provide overall surveillance coverage, capturing the entire region in a single image. This enables complete surveillance without the need for additional cameras. Users can pan around the captured image to identify specific areas of interest. Compared to setting up numerous conventional cameras to cover the same area, fisheye cameras can be an affordable option. Users can achieve vast coverage with a single fisheye camera while spending less on installation and maintenance.
A dome camera is a Wi-Fi network camera characterized by its dome-shaped enclosure. It is widely used in both interior and outdoor surveillance and security applications. Dome cameras are popular because of their low-profile design, adaptability, and usability. These cameras can link wirelessly to a local network or the internet through Wi-Fi, giving remote access and monitoring from compatible devices such as smartphones, tablets, or PCs. This convenience minimizes the need for complicated wiring and increases installation flexibility. Other benefits of dome Wi-Fi network cameras are high-definition video capture, night vision capabilities, motion detection, pan-tilt-zoom (PTZ) functionality, and two-way voice communication. These features improve the camera's capacity to capture good footage, monitor wide regions, and allow communication between the viewer and the camera's position.
A bullet WiFi network camera is a small, cylindrical security camera usually installed outside. These weatherproof cameras can survive rain, snow, and dust. They are also generally fitted with infrared night vision, which allows them to offer crisp images even in low-light circumstances. A wireless transmission connects bullet WiFi network cameras to a network. There are no cables to run, so they are simple to install and maintain. They can also be accessible remotely, allowing you to watch live or recorded videos from anywhere. As no cables are required, installation is quick and simple. We can watch live or recorded videos from anywhere in the world.
Segment By Application
Wi-Fi network cameras allow people to monitor their property and surroundings remotely. They can be installed at entrance points. These network cameras can monitor children or pets moving around the house. Even when parents are away from home, they may check in on their children or make sure their pets are secure. Wi-Fi network cameras can help care for elderly family members by allowing remote monitoring and assistance. It allows family members or caretakers to monitor their well-being and ensure safety and comfort. Wi-Fi network cameras are often used for infant monitoring. They enable parents to remotely monitor their infants, allowing them to check on their baby's well-being from another room or outside the home.
Wi-Fi network cameras are frequently used in businesses for security and surveillance. They can keep watch on a company's entrances, exits, parking lots, storage facilities, and other essential areas. The cameras can give real-time video feeds and records, allowing business owners to remotely monitor their premises and improve overall property security. Wi-Fi network cameras may help deter theft and reduce losses in retail stores, warehouses, and other commercial locations. These cameras can help identify and prevent theft, shoplifting, and other suspicious actions by watching high-risk areas including as cash registers, inventory storage, and employee-only zones. Wi-Fi network cameras can be used to monitor staff actions in particular businesses, such as manufacturing or logistics, for safety, quality control, or process optimization. They can help in the identification of possible bottlenecks, the improvement of workflow efficiency, and the adherence to safety rules.
Public Utilities Applications
Wi-Fi network cameras can monitor premises and protect the security of essential systems at public utility sources such as power plants, water treatment plants, or waste management sites. They can help prevent theft, damage, and unwanted access. Wi-Fi network cameras enable the monitoring and tracking of valuable assets in public utilities, such as vehicles, equipment, or machinery. Operators may remotely monitor the state and placement of assets by carefully placing cameras, assuring correct utilization, and lowering the danger of theft or damage. Public utilities often track environmental conditions to ensure compliance with rules and identify potential problems. Environmental sensors can be added to Wi-Fi network cameras to monitor features such as air quality, temperature, humidity, or water levels, providing real-time data for analysis and decision-making.
Regional Analysis
North America
Wi-Fi network cameras in the United State usually operate at frequencies between 2.4 and 5 GHz. In the United States, Wi-Fi network cameras must comply with Federal Communications Commission (FCC) laws regulating power levels and frequency usage before using it. Wi-Fi network cameras have become popular in recent years due to their convenience, ease of installation, and technological advances. Wi-Fi network cameras are used to improve workplace safety standards in Canada widely. Workplace safety is the major segment that dominates the Wifi Network Cameras Market in Canada. The high-paying capacity and technological advancements in the regions have led to an increase in the demand for Wifi network cameras in the region of North America.
Europe
The Europe Home Security System Market is estimated to grow at a 6.5% CAGR. Growing security concerns are expected to drive development in demand for smart homes. The Internet of Things has made it simple to build up an intelligent home by remotely controlling door locks, lights, thermostats, vacuum cleaners, lawnmowers, and even feeders via a smartphone app. It has also made it easier (and less expensive) to monitor homes from practically anywhere. Smart security is the largest growing segment of the wifi network cameras in Germany, providing security in commercial and residential areas. This drives the demand for Wifi Network Camera in the region.
Asia Pacific
The Asia Pacific Smart Office Market is expected to grow at CAGR of 10.8%. Internet penetration has increased substantially in the Asia Pacific area. Countries with high internet penetration rates include South Korea, Japan, Singapore, and Australia, while developing countries such as India, Indonesia, and the Philippines have witnessed significant growth in recent years. Smartphones have become ubiquitous in the Asia Pacific region, and they are the primary device through which many people access the internet. The affordability of smartphones and the availability of affordable data plans have contributed to their widespread adoption at a CAGR of 16%.The increasing crime rates in India have led to increased demand for security and surveillance solutions. These overall drives the wifi network cameras market demand in the region of Asia Pacific.
South America
The rising adoption of cloud-based services is also contributing to the growth of the wifi network cameras market in Brazil. Some of the key players in the wifi network cameras market in Brazil include Hikvision, Dahua Technology, Axis Communications, Bosch Security Systems, and Sony. The Colombian wifi network cameras market is expected to grow at a CAGR of 8.5%. The increasing demand for home security, the growing popularity of smart homes, and the increasing availability of high-speed internet are all factors that are expected to drive the growth of the wifi network cameras market.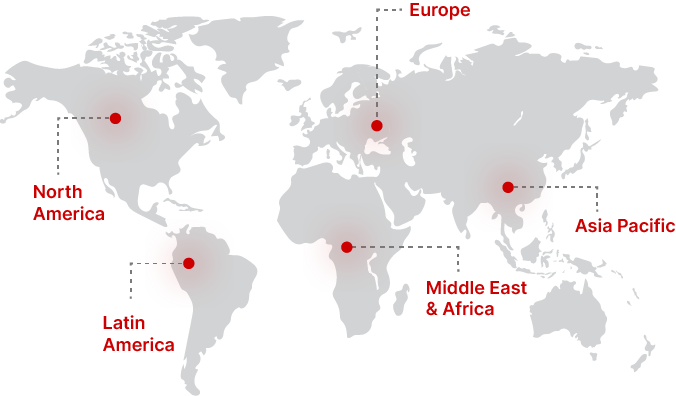 Regional Growth Insights
Download Free Sample
Key Players
HIKVISION
Dahua (LeChange)
FLIR Systems
Tyco Security Products
Samsung
Tiandy
Motorola
Infinova
Kodak
VIVOTEK
CP PLUS
Summer Infant
Philips
TP-Link
Netgear
D-Link
LG
Uniden
Panasonic
iON Cameras
Wifi Network Cameras Market Segmentations
Segment By Type
Segment By Application
Residential Applications
Commercial Applications
Public Utilities Applications
Frequently Asked Questions