Market Overview
The Global Aircraft Docking System Market Size is projected to grow at CAGR of approximately 7.1% during the forecast period.
The aircraft docking system is crucial to the safety and effectiveness of airport ground operations.An aircraft docking system is a collection of equipment and infrastructure used to safely guide and position aircraft during different ground activities such as passenger boarding and deboarding, cargo loading and unloading, refueling and maintenance. The aircraft docking system normally uses a series of guiding lights and ground markers to assist pilots in correctly aligning the aircraft with the gate or parking location. It also incorporates ground handling equipment such as a jet bridge and moveable steps to aid passenger and freight mobility.
Apart from that, the Aircraft Docking System includes safety features such as chocks and wedges, which are used to prevent the aircraft from moving while it is parked. These chocks and wedges are also placed on the wheel for the same reason, and the work for ground power units is to provide electricity to the aircraft's systems when the engines are turned off.
The industry is being pushed by factors such as increased air traffic and the requirement for effective ground handling operations at airports. Moreover, the expansion of the aviation sector and the rising number of airports being created or expanded impact ADS demand. The market for aircraft docking systems is extremely competitive, with numerous significant competitors offering a diverse variety of goods and services. These businesses engage substantially in R&D to create and enhance their goods, as well as marketing and sales to acquire new consumers.
Market Dynamics
Aircraft Docking System Market Driver
Increasing aircraft traffic is driving the expansion and improvement of aircraft docking technologies. As more airlines and airports try to handle more passengers and flights, there is a rising need for efficient and effective aircraft parking and docking systems.
The requirement to maximize the utilization of limited airport space is one significant element driving the rise of aircraft docking systems. With more planes coming and departing, there is a greater need to ensure that aircraft are parked safely and efficiently, making the most use of available space. Improved aircraft docking systems can assist achieve this by guiding pilots to their parking places and ensuring they are parked correctly.
Improved safety & security
Another reason driving the expansion of aircraft docking systems is the need to enhance airport safety and security. With more flights coming and departing, there is a greater need to maintain aviation security and a safe and fast evacuation and boarding procedure. Modern aircraft docking systems can assist achieve this by delivering real-time information on the state of the aircraft and directing ground workers and passengers safely and efficiently to and from the aircraft.
Furthermore, the need to enhance efficiency and minimize costs in airport operations is driving the rise of aircraft docking systems. Airports must discover methods to simplify their operations and decrease delays and downtime when there are more planes and passengers to manage.
Improved aircraft docking systems can contribute to this goal by automating many components of the docking process, lowering the need for manual involvement and reducing the chance of mistakes or delays.
Increased aircraft traffic is pushing the development of improved aircraft docking systems that can assist airports in accommodating more planes and people in a safe, efficient, and cost-effective manner. As the need for air travel grows, we may expect further advances in Aircraft docking systems to assist maintain the smooth and dependable functioning of airports worldwide.
Aircraft Docking System Market Restraints
Aircraft docking systems are used for aircraft maintenance and repair. Yet, in order for these systems to work correctly, they must be maintained and repaired. Other than to offer engineers the access they need to carry out their duties in the area of maintenance, repair, and overhaul, the appropriate kind of equipment is required. Also, you need specialized equipment while working with large aircraft, which might add to the expense. Potential customers may be discouraged from investing in these systems if the maintenance and repair expenses are prohibitive.
Furthermore, if the downtime required for maintenance and repair is high, it can impair the overall efficiency of the maintenance and repair process, thus limiting the growth of the aircraft docking system market. To guarantee the market's continued growth, producers must design and create aircraft docking systems that are simple to operate and repair with low downtime.
Aircraft Docking System Market Opportunities
Technological Advancement
Aircraft docking system technological developments have opened up a lot of market expansion potential. These developments have produced more sophisticated, effective, and reasonably priced systems that offer improved capabilities and features. One such development is the incorporation of intelligent technology like as sensors, automation, and the Internet of Things (IoT) into aircraft docking systems. For instance, the full-color LED displays will relay vital Ramp Information Display System (RIDS) signals to ground workers during aircraft turnaround and give pilots with easy docking advice. These technologies offer predictive maintenance and real-time monitoring of the system's operation, minimizing the amount of downtime needed for maintenance and repair. For operators, this may result in greater efficiency and lower costs.
The creation of more flexible and adaptable systems represents another area for expansion. Manufacturers are developing docking systems that are simple to construct and adapt to accommodate various aircraft types and sizes. Its versatility makes it possible to better satisfy the changing requirements of the aviation sector.
Market Scope
Report Metric
Details
Market Size by 2031
USD XX Million/Billion
Market Size in 2023
USD XX Million/Billion
Market Size in 2022
USD XX Million/Billion
Historical Data
2019-2021
Base Year
2022
Forecast Period
2023-2031
Report Coverage
Revenue Forecast, Competitive Landscape, Growth Factors, Environment & Regulatory Landscape and Trends
Segments Covered

Segment by Type

Self-propelled
Towed

Segment by Application

Aircraft
Helicopter

Geographies Covered

North America
Europe
APAC
Middle East and Africa
LATAM

Companies Profiles

Lico
Erectastep
TBD
Langa
Dedienne Aerospace
NIJL
Chiarlone
Cti Systems
Zarges
Tubesca-Comabi
Fortal
Segmental Analysis
Segment by Type
Self-propelled aircraft docking systems have their own power supply and are capable of moving independently. They are often utilized for smaller aircraft or in instances where the docking system must be relocated around the airport regularly. Self-propelled devices are extremely maneuverable and may be operated by an operator via a remote control or an in-built control system.
Towed aircraft docking systems, on the other hand, lack their own power source and are propelled by a towing vehicle. They are often utilized for bigger aircraft or when the docking system will be operated in a fixed place for a prolonged length of time. Towed systems are less agile than self-propelled systems, but they are more stable and can sustain higher weights in general.
Segment by Application
The aircraft docking application sector refers to the many types of aircraft that are served by aircraft docking systems. These technologies are utilized to offer a safe and steady platform for aircraft maintenance, repair, and other jobs.
Regional Analysis
The Global Aircraft Docking System Market is segmented by region as North America, Europe, Asia Pacific, Latin America, and Middle East and Africa.
North America
Due to the presence of significant companies and the rising need for advanced docking systems in the area as a result of a spike in air traffic .North America is predicted to lead the market. With 614 million air travelers in the area in 2019, the domestic air travel industry in the United States is the largest in the world. American Airlines, Delta, and United are the country's three major airlines. Some of the busiest airports in the world are located in this nation. The busiest airport, Hartsfield-Jackson Atlanta International Airport (ATL), continued to hold the top place. Although there aren't many aircraft accidents in the United States, recent occurrences have raised questions about safety on airport runways and ramps. Traffic at airports might worsen ground safety problems as the nation's aviation infrastructure gets busier every day, Thus increasing the demand for aircraft docking system.
Europe
Due to a number of variables, Europe is a key market for aeroplane docking systems. First off, there has been a marked rise in air travel in Europe, which has led to an increase in demand for effective airport operations. In the EU, there were 373 million passengers flying in total in 2021, a significant rise of 34.9% from the previous year. Advanced docking technologies that can speed up the process of boarding and departing people as well as loading and unloading cargo are thus becoming more and more necessary. Second, there are several big airports in Europe that manage a huge amount of air traffic. To maintain smooth and efficient operations, reduce turnaround times, and improve passenger safety and comfort, these airports need cutting-edge docking technologies.
Asia-Pacific
A significant market for Aircraft docking systems is the Asia-Pacific area. Countries like China, Japan, South Korea, India, Australia, and others are represented in this industry. The number of aircraft deliveries planned by carriers located in the Asia Pacific area would rise by 40% from 2020 to 2021. These statistics demonstrate the expanding aviation industry, which will fuel the need for Aircraft docking systems. Both the expansion of the aviation sector as a whole and the rising number of airports in this area are driving demand for aircraft docking systems.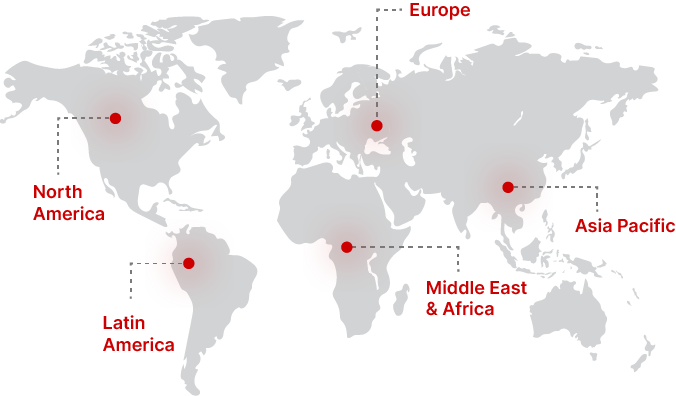 Regional Growth Insights
Download Free Sample
Key Players
Lico
TBD
Langa
Dedienne Aerospace
NIJL
Chiarlone
Cti Systems
Zarges
Tubesca-Comabi
Fortal
Recent Developments
May, 2022- Dallas Fort Worth International Airport (DFW) has become the first airport to buy the newest visual docking assistance system from ADB SAFEGATE (A-VDGS).
To replace earlier systems on Terminal B gates, the airport has bought 42 Safe dock Flex systems. This is part of a larger technological overhaul at the airport aimed at boosting operational performance and the customer experience.
Aircraft Docking System Market Segmentations
Segment by Type
Segment by Application
Frequently Asked Questions