Market Overview
The Global Airport Refueling Station Market Size is projected to grow at CAGR of approximately 11.1% during the forecast period.
An airport refueling station is a facility found at airports that provides aircraft refueling services. These stations often incorporate gasoline storage tanks, pumps, and other equipment needed to refuel airplanes safely and efficiently. Third-party fuelling companies that provide fueling services to airlines and other aviation-related industries often operate airport refueling stations. These businesses are in charge of maintaining the equipment and ensuring that fuelling operations are carried out safely and effectively.
The transfer of aviation fuel from fuel storage tanks to the aircraft's fuel tanks is the process of refueling an aircraft. This is accomplished using customized hoses and nozzles linked to the aircraft's fuelling port.
Airport refueling stations are essential in the aviation sector because they guarantee that airplanes have enough fuel to safely finish their flights. They are also subject to stringent safety laws and must follow specific protocols in order to avoid accidents and safeguard the safety of passengers and crew members. Factors such as the expansion of the aviation sector, increased air travel, and rising demand for fuel-efficient aircraft are also driving the market. Moreover, technical developments in fuelling equipment and systems have contributed significantly to the expansion of this industry.
Market Dynamics
Market Drivers
Increased in number of Air Travelers
The rising number of air travelers is one of the primary drivers of the airport refueling station market's expansion. As the need for air travel develops, so does the requirement for airport refueling stations to supply gasoline to the growing number of aircraft.
Increased air travelers indicate more flights, which mean more planes will need to be refueled more frequently. This growing demand for fuelling services provides chances for airport refueling station firms to expand their operations and serve more planes. With the increase of low-cost carriers and regional airlines, the number of smaller aircraft in operation has increased. Smaller aircraft usually consume less gasoline than bigger airplanes but must still be refueled on a regular basis. This opens up new potential for airport refueling stations to offer fuel to a broader range of planes.
Market Restraint
Fuel price fluctuation is one of the market restrictions for airport refueling stations. The cost of aviation fuel is vulnerable to swings in global oil prices, which can have an influence on market profitability.
When oil prices are high, the cost of fuelling aircraft rises, potentially leading to decreased demand for fueling services and lower profitability for airport refueling station operators. Similarly, when oil prices are low, demand for fuelling services may grow, but profit margins may still be impacted by market competition. Another constraint to the airport refueling station market growth of the high capital expenditures involved with the construction and maintenance of the requisite infrastructure. This covers the cost of establishing and maintaining fuel storage tanks, pumps, and other station equipment. For new enterprises wanting to enter the market, these capital expenses might be a barrier to entrance.
Market Opportunities
Price differential between sustainable aviation fuel (SAF) and conventional fuel
Due to the price differential between sustainable aviation fuel (SAF) and conventional fuel, airport refueling stations have a potential to capture a rising market segment. Because of the greater manufacturing expenses, SAF is often more costly than normal aviation fuel. Even though, there is an increasing need for more ecologically friendly and sustainable aviation fuel, driven by both legal requirements and a growing awareness of the environmental effect of flying. As a result, the market for SAF is expanding, with several airlines promising to utilize a set amount of SAF in their fuel mix.
Airport refueling stations that provide SAF as part of their fuelling services will be able to differentiate themselves in the market and perhaps gain a larger client base.
Furthermore, when the cost of producing SAF falls due to increased demand and technological developments, the price differential between SAF and traditional aviation fuel may fall, making it more accessible to a larger variety of clients.
Market Scope
Report Metric
Details
Market Size by 2031
USD XX Million/Billion
Market Size in 2023
USD XX Million/Billion
Market Size in 2022
USD XX Million/Billion
Historical Data
2019-2021
Base Year
2022
Forecast Period
2023-2031
Report Coverage
Revenue Forecast, Competitive Landscape, Growth Factors, Environment & Regulatory Landscape and Trends
Segments Covered

Segment by Type

Tank
Line

Segment by Application

Helicopter
Light Aircraft

Geographies Covered

North America
Europe
APAC
Middle East and Africa
LATAM

Companies Profiles

AMA
Parker
Findlay Aviation
Musthane
Westmor
ProFlo
Avifil
Segmental Analysis
Segment by Type
A tank refueling station is a fixed device that stores aviation fuel in massive subterranean tanks. The fuel is subsequently delivered to airplanes parked nearby through pipes and hoses. This sort of refueling station is widely utilized at bigger airports and has the ability to deliver gasoline at a rapid rate, which is vital for busy airports with high passenger flow.
A line refueling station is a mobile system that stores gasoline in a tanker truck and transports it to the aircraft, where it is linked to a fuelling point. This type of refueling station is typically utilized at smaller airports or for smaller aircraft when a tank refueling system would be impractical owing to space restrictions or lesser fuel demand.
Segment by Application
Helicopter refueling stations are built to refuel helicopters, which have different fuelling needs than fixed-wing aircraft. Due to their smaller size and mobility, helicopters require a more flexible and transportable refueling system. As a result, helicopter refueling stations tend to be smaller and more mobile than fixed-wing aircraft refueling stations.
Light aircraft refueling stations, on the other hand, are designed for the refuelling of tiny fixed-wing aircraft. Smaller aircraft have reduced fuel requirements and may require a more specialised fuel type, such as aviation gasoline (avgas), rather than the Jet A or Jet A-1 fuel frequently used in bigger aircraft. Several forms of smaller aircraft, such as gliders or small business jets, may also use light aircraft refueling stations.
Regional Analysis
The Global Airport Refueling Station Market is segmented by region as North America, Europe, Asia Pacific, Latin America, and Middle East and Africa.
North America & Europe
North America and Europe are now the main markets for airport refuelling stations, owing to the presence of major airports and substantial air traffic volume in these regions. These regions are also better developed in terms of sustainable aviation fuel infrastructure and regulatory frameworks, which is fuelling demand for greener fuel choices. Neste, for example, has pledged to dramatically cut its customers' greenhouse gas emissions over the next decade and to achieve carbon neutral output by 2035. Neste's gasoline is used by three major US airlines: Alaska Airlines, American Airlines, and JetBlue Airways. Presently, the EU's highest potential SAF production capacity is projected to be about 0.24 million tones, representing just 10% of the total quantity of SAF required.
Asia- Pacific & Middle-East
The Asia-Pacific region is predicted to have considerable expansion in the market, owing to the area's fast rise in air traffic and increased investment in airport infrastructure. Because of the Asia-Pacific area's large population and the fraction of that population that now has enough discretionary income to make air travel a feasible option; well-run airlines may thrive in the region. Asia is predicted to represent for around 40% of future airplane manufacturing.
The Middle East and Africa are also projected to enjoy market development as airport infrastructure expands and aviation traffic volumes increase. Middle Eastern carriers had a 265 percent increase in air travel demand year on year in April 2022, outpacing the world average of 78.7 percent growth.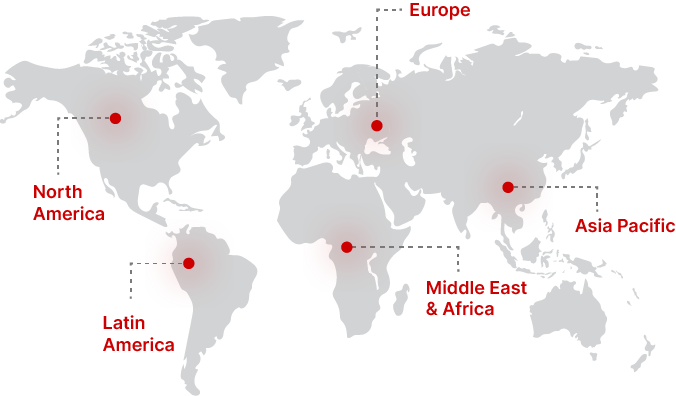 Regional Growth Insights
Download Free Sample
Key Players
AMA
Parker
Findlay Aviation
Westmor
ProFlo
Avifil
Recent Developments
January, 2023- A joint venture called Blue Blade Energy was announced by United Airlines, Tallgrass, and Green Plains Inc. to create and market a revolutionary Sustainable Aviation Fuel (SAF) technology that employs ethanol as its feedstock. If the technology works as intended, Blue Blade plans to build a pilot plant in 2024, then a full-scale facility that may start doing business by 2028. The offtake arrangement may allow for enough SAF to operate more than 50,000 flights annually between Chicago and Denver, the hub airports for United.
Airport Refueling Station Market Segmentations
Segment by Type
Segment by Application
Helicopter
Light Aircraft
Frequently Asked Questions