Market Overview
The Global Aliphatic Isocyanate Market Size is projected to grow at a CAGR of approximately 8.5% during the forecast period.
Aliphatic isocyanates consist of isocyanates in which the NCO group is not directly attached to an aromatic ring. Aliphatic isocyanates yield UV-stable, colorless, and transparent polyurethane systems. Consequently, aliphatic isocyanates are frequently used to manufacture polyurethane systems that will be exposed to the environment and have stringent performance requirements.
Aliphatic isocyanates are used in protective coatings for buildings, bridges, and infrastructure in the construction industry. These coatings provide UV radiation resistance, preventing color fading and deterioration. The market for aliphatic isocyanates is anticipated to expand consistently due to the rising demand for high-performance coatings and adhesives in various industries. However, factors such as regulatory constraints, worker safety, and environmental impact concerns should also be considered.
Market Dynamics
Market Drivers
Increasing Demand in High-Performance Coatings
The growing demand for high-performance coatings in automotive, construction, and industrial applications is an important factor. Due to their superior UV resistance and weather ability, aliphatic isocyanates are preferred in these applications. These compounds protect against color fading, luster reduction, and degradation from exposure to sunlight and other environmental elements. As a result, the demand for aliphatic isocyanates has increased as manufacturers seek coatings that can withstand severe conditions and are durable and long-lasting.
Transition to Low-VOC and Sustainable Products
Environmental regulations and consumer preferences have prompted a shift in many industries toward sustainable and low-VOC (volatile organic compound) products. Aliphatic isocyanates are an environmentally preferable alternative to aromatic isocyanates associated with increased VOC emissions. Aliphatic isocyanates have lower odor and toxicity levels, making them suitable for applications where health and environmental concerns are paramount, such as coatings for interior spaces. This transition towards sustainable and low-VOC products has been a major driver of the aliphatic isocyanate market as manufacturers seek alternatives to meet regulatory requirements and consumer expectations.
Market Restraints
Using isocyanates, including aliphatic isocyanates, poses potential health and safety hazards. Isocyanate exposure can result in respiratory issues, skin sensitization, and other health issues. Therefore, stringent safety regulations and guidelines have been enacted to protect laborers and ensure the proper handling and application of isocyanates. Compliance with these regulations adds complexity and expense to the manufacturing process, which may dissuade some companies from employing aliphatic isocyanates or compel them to seek materials with lower associated risks.
Market Opportunities
Innovative, Flexible Packaging
The flexible packaging industry is experiencing rapid expansion due to shifting consumer preferences and rising demand for convenience. Aliphatic isocyanates are crucial in producing adhesives and sealants for flexible packaging. As the demand for flexible packaging materials is anticipated to increase, the aliphatic isocyanate market has an opportunity to provide specialized solutions that provide strong adhesion, heat resistance, and flexibility for various packaging applications.
Market Scope
Report Metric
Details
Market Size by 2031
USD XX Million/Billion
Market Size in 2023
USD XX Million/Billion
Market Size in 2022
USD XX Million/Billion
Historical Data
2019-2021
Base Year
2022
Forecast Period
2023-2031
Report Coverage
Revenue Forecast, Competitive Landscape, Growth Factors, Environment & Regulatory Landscape and Trends
Segments Covered

Segment by Type

HDI
IPDI
H12MDI

Segment by Application

Coatings
Adhesives & Sealants
Elastomers

Geographies Covered

North America
Europe
APAC
Middle East and Africa
LATAM

Companies Profiles

Bayer
Evonik
Vencorex
BASF
Asahi Kasei
NPU
Wanhua Chemical
Covestro
Tosoh
Segmental Analysis
Segment by Type
HDI (hexamethylene diisocyanate) is an aliphatic isocyanate compound frequently employed in producing polyurethane coatings, adhesives, and elastomers. Its highly versatile chemical gives the final products superior durability, weather resistance, and chemical resistance.
IPDI (Isophorone diisocyanate) is an aliphatic isocyanate compound utilized in the production of various polyurethane products. It is produced by reacting isophorone, a cyclic ketone, with phosgene to form a diisocyanate compound. IPDI is a popular option in various industries due to its exceptional durability, chemical resistance, and weather ability.
Hexamethylene Diisocyanate (H12MDI) is an aliphatic isocyanate compound. Isocyanates are a class of extremely reactive chemicals that are predominantly employed in producing polyurethane foams, coatings, adhesives, and elastomers. They are distinguished by their reactivity with compounds such as alcohols that contain active hydrogen atoms.
Segment by Application
Aliphatic isocyanates' superior chemical and UV resistance makes them a popular coating component. Aliphatic isocyanates react with hydroxyl groups in various substrates, including metals, plastics, and wood, to form a durable polyurethane film when applied as a coating. This film provides a protective barrier against corrosion, weathering, and other environmental factors, making it appropriate for use in the automotive, aerospace, construction, and marine industries. Utilizing aliphatic isocyanates in coatings ensures long-lasting, high-performance surface protection, extending their lifespan and preserving their aesthetic appeal.
Due to their superior adhesion properties and chemical resistance, aliphatic isocyanates are widely used to formulate adhesives and sealants. Aliphatic isocyanates react with hydroxyl groups in adhesive formulations to form strong polyurethane bonds when incorporated into adhesives. These compounds feature high tensile strength, flexibility, and water, chemicals, and ultraviolet light resistance.
Aliphatic isocyanates are utilized in the manufacture of elastomers, particularly polyurethane elastomers. Polyurethane elastomers are versatile materials with exceptional mechanical properties, including high elasticity, flexibility, and abrasion resistance. To crosslink the polymer chains, aliphatic isocyanates are a key ingredient in the formulation of polyurethane elastomers.
Regional Analysis
North America
The market for aliphatic isocyanate in North America has been expanding steadily. Aliphatic isocyanates are extensively used in various industries, including the automotive, construction, furniture, and electronics sectors, due to their excellent properties, including high durability, UV resistance, and weather resistance. Additionally, North American environmental regulations have expanded the market for aliphatic isocyanate. In many applications, aliphatic isocyanates are favored over aromatic isocyanates due to their lower toxicity and lower potential to emit hazardous volatile organic compounds (VOCs).
Europe
Factors including the rising demand for high-performance coatings, strict environmental regulations, and the expansion of end-use industries drive the European market for aliphatic isocyanates. The automobile industry primarily fuels Europe's demand for aliphatic isocyanates. Using these compounds in automotive coatings provides resistance to UV radiation, degradation, and corrosion, resulting in increased vehicle durability and aesthetic appeal.
Asia-Pacific
The Asia-Pacific construction industry also contributes to expanding the market for aliphatic isocyanate. These isocyanates are utilized in infrastructure coatings, architectural coatings, and flooring products. Rapid urbanization, infrastructure development, and rising disposable income in countries such as China, India, and Southeast Asian nations fuel the construction industry's demand for aliphatic isocyanates.
South America
As the greatest economy in South America, Brazil significantly impacts the market for aliphatic isocyanate in the region. The nation has an established manufacturing sector is a significant consumer of coatings and polyurethane-based goods. In addition to Argentina, Chile, Colombia, and Peru, other South American nations, including Chile, Colombia, and Peru, are experiencing growth in the construction and automotive industries, which supports the demand for aliphatic isocyanates.
Middle East and Africa
Middle East and Africa are important markets for aliphatic isocyanates. The rapid expansion of the region's construction, automotive, and furniture industries is fueling the demand for aliphatic isocyanates. BASF, Huntsman, Wanhua Chemical, Dow, and Tosoh are the leading firms in the Middle East and Africa aliphatic isocyanates market. These companies invest in research and development to create new aliphatic isocyanate products and applications.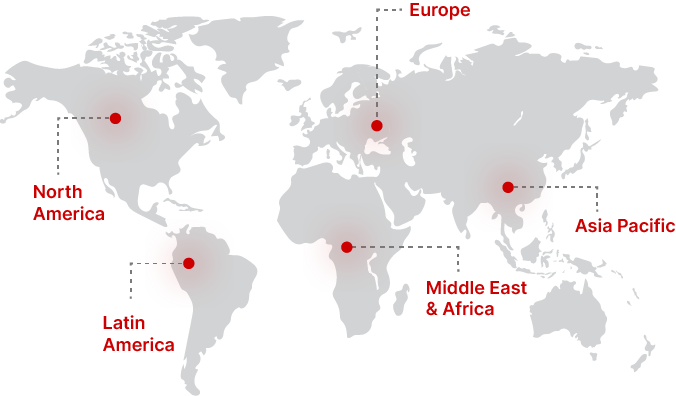 Regional Growth Insights
Download Free Sample
Key Players
Evonik
Vencorex
BASF
Asahi Kasei
NPU
Wanhua Chemical
Covestro
Tosoh
Recent Developments
April 2021: Lanxess is expanding its exclusive selection of triene aqua-blocked, water-based isocyanate dispersions. New brands designed to extend applications and satisfy the most demanding customers have been added to the product line.
Aliphatic Isocyanate Market Segmentations
Segment by Type
Segment by Application
Coatings
Adhesives & Sealants
Elastomers
Frequently Asked Questions