Market Overview
The Global Anti-Sensitive Mouthwash Market Size is expected to grow at a CAGR of approximately around 5% during the forecast period of 2023-2031.
Oral hygiene products such as mouthwash, which are often referred to as oral lotion, have the purpose of eliminating microorganisms that cause tartar and preventing dental problems such as gingivitis, cavities, and bad breath that are brought on by it. Mouthwash can also assist with clearing the throat of mucous and food particles that have become lodged there. Anti-sensitive mouthwashes are used for oral hygiene practices, which can potentially contribute to the overall health of a person's mouth.
Market Dynamics
Market Drivers
Increasing awareness about oral health and hygiene
Our teeth and gums affect our overall health, medical costs, and quality of life. Access to health care, nutrition, cancer, HIV, heart disease, and oral health are among the top 10 health indicators. Oral health enables you to talk, smile, smell, and eat regularly, but it also helps you communicate, get along, and make money. Poor dental health can cause pain, difficulty, and expense. Awareness of these variables helps people prioritize oral hygiene. It is anticipated that factors such as effective product packaging and labeling, the growing popularity of alcohol-free mouthwash, and the introduction of herbal mouthwash will all contribute to the market expansion during the time covered by the analysis.
Market Restraints
Use of Chlorhexidine gluconate in antiseptic mouthwashes
Chlorhexidine gluconate is a prescription germicidal mouthwash that decreases bacteria in your mouth. Chlorhexidine is the most effective antiseptic mouthwash to date. Dentists primarily prescribe it to treat gingivitis's inflammation, swelling, and bleeding. Plaque can be prevented from forming by using antiseptic mouthwashes, which reduce the number of bacteria in the mouth. Chlorhexidine (CHX) is available only with a doctor's prescription. However, taking only one CHX might cause your teeth to become discolored and throw off the normal balance in your mouth. Hence, if you're allergic to chlorhexidine, users can't use it. There's a possibility of a serious allergic reaction.
Market Opportunities
Growing demand for cosmetic mouthwashes
It is a liquid held in the mouth and then gargled for rinsing, and it cleans and freshens up the mouth while giving the mouth a good smell. Cosmetic mouthwash is used in this manner. Consumers are supposed to use these products per the instructions printed on the tubes or bottles. The cosmetic mouthwash is offered in various flavors, including those with active salt, mint, fresh tea, and other ingredients. The most important elements contributing to the expansion of the market are the rising incidence of dental diseases and the expansion of programs that promote oral hygiene.
Market Scope
Report Metric
Details
Market Size by 2031
USD XX Million/Billion
Market Size in 2023
USD XX Million/Billion
Market Size in 2022
USD XX Million/Billion
Historical Data
2019-2021
Base Year
2022
Forecast Period
2023-2031
Report Coverage
Revenue Forecast, Competitive Landscape, Growth Factors, Environment & Regulatory Landscape and Trends
Segments Covered

Segmentation by Type

Cosmetic Mouthwashes
Therapeutic Mouthwashes

Segmentation by Application

Household
Hospital & Clinics

Geographies Covered

North America
Europe
APAC
Middle East and Africa
LATAM

Companies Profiles

Colgate
Listerine
Tom's Of Miane
Harold Katz
TP
Amway
Biotène
Sunstar
CHTT
Johnson
P&G
FREZYDERM
GSK
Segmental Analysis
Segmentation By Type
Most people use cosmetic mouthwash to improve their teeth and gums. Fluoride in cosmetic mouthwashes strengthens tooth enamel, reducing tooth decay. Essential oils, herbal extracts, and detergents help remove plaque and bacteria from gums and teeth. Cosmetic mouthwashes can whiten teeth or reduce halitosis (bad breath).
Therapeutic mouthwashes treat gum disease, dry mouth, and sore throat. Antibacterial mouthwashes kill germs that cause infection or irritation. Some soothe and protect damaged mouth cells. Therapeutic mouthwashes are non-prescription.
Segmentation By Application
Anti-sensitive mouthwashes are usually used by adults and children. In households, therapeutic mouthwashes are used for various purposes, such as dry mouth, tooth decay, bad breath, and gingivitis, because they do not require a doctor's prescription.
Sensitive mouthwashes are effectively used in dentist offices. These hospitals attract patients with tooth sensitivity. It's popular with sensitive skin sufferers who desire to feel better.
Regional Analysis
The Global Anti-Sensitive Mouthwash Market Analysis is segmented by region as North America, Europe, Asia Pacific, Latin America, and Middle East and Africa.
North America
North American countries have the highest disease issues due to varied health behaviors and lifestyle factors. Governments, rules, resources, facilities, and health management systems vary per country. America is one of the world's top cuisine destinations. Our mouth bacteria make tooth-destroying acid from sugar and starch in our diet. Hence, the rising incidence of dental caries and other gum diseases is boosting the market.
Europe
Children's cavities are a common problem since they eat unhealthy food and don't properly care for their teeth. Therefore, dental cavities are more common in children and adolescents. The market is also helped by advancements in technology and an increase in the number of people concerned about their health. People are getting more aware that when compared to the costs of other dental care products, anti-sensitive mouthwashes have lower prices and are less costly than other dental treatments.
Asia-Pacific, Middle East, and Africa
The rising population in these regions has increased the need for gentle mouthwashes on sensitive teeth. Increasing levels of income experienced by individuals within the population. Increasing levels of consciousness regarding proper mouth hygiene. Oral care products that have benefitted from recent developments in technology. Mouthwashes designed specifically for sensitive teeth are abundant on the market today. A growing number of hospitals and clinics specializing in dental care in these regions drive the market.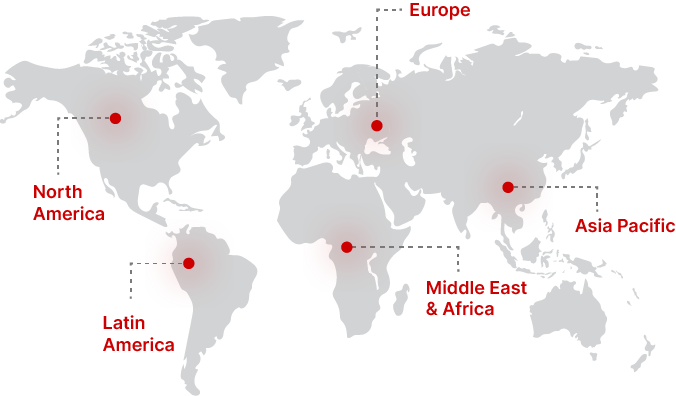 Regional Growth Insights
Download Free Sample
Key Players
Colgate
Tom's Of Miane
Harold Katz
TP
Amway
Biotène
Sunstar
CHTT
Johnson
P&G
FREZYDERM
GSK
Recent Developments
Dec 2022 - Johnson & Johnson, one of the world's largest, most diversified healthcare products company, announced that it had completed its acquisition of Abiomed, Inc. Abiomed is now part of Johnson & Johnson and will operate as a standalone business within Johnson & Johnson's MedTech segment. Completing this acquisition allows Johnson & Johnson MedTech to expand their portfolio in the high-growth cardiovascular markets, adding solutions for heart recovery to the global market-prominent Biosense Webster electrophysiology business.
Anti-Sensitive Mouthwash Market Segmentations
Segmentation by Type
Cosmetic Mouthwashes
Therapeutic Mouthwashes
Segmentation by Application
Household
Hospital & Clinics
Frequently Asked Questions