Market Overview
The Global Avian Influenza Vaccines Market Size is expected to grow at a CAGR of approximately around 5.56% during the forecast period of 2023-2031.
Avian influenza is a viral infection caused by the type A virus prevalent in birds. The virus's most common carrier is aquatic birds. Based on the protein remaining on its surface (HA), avian influenza type A virus is classified as either neuraminidase (NA) or hemagglutinin (HA). Based on molecular characteristics, it is classed as either highly pathogenic or low pathogenic. The virus can cause serious sickness if it enters the eyes, nose, or mouth. The antiviral medicines oseltamivir and zanamivir are included in the Avian Influenza Vaccines for infection prevention and treatment. Ducks, chickens, geese, and other birds reportedly consume it.
Increasing government efforts to spread the news about avian influenza and funding for private-sector research to develop effective vaccines could drive market expansion over the study period. Strategic collaborations between corporate and public organizations and collaborative activities in the digitalization of medical aid facilities may aid in market growth. The increased prevalence of diseases in developing countries may contribute to the increase in poultry mortality. At the same time, more research is needed to create effective vaccinations for disease prevention due to the rising human consumption of chicken. Chickens can be genetically resistant to avian flu using gene editing methods.
Market Dynamics
Market Drivers
Rising Frequency of Disease In Developing Countries
The rising frequency of illness in developing nations will operate as a primary driver, increasing the market's growth rate. Infections are becoming increasingly widespread in emerging areas, potentially increasing poultry mortality. At the same time, the rising human consumption of chicken necessitates greater research to create effective disease-prevention vaccinations. Chickens can be made resistant to avian flu using gene editing techniques. Furthermore, specific regulation allows for the eradication of hen bird flu.
Increasing Healthcare Infrastructure Investment
Another key element affecting the growth rate of the avian influenza vaccines market is rising healthcare spending, which aids in infrastructure improvement. Furthermore, numerous government organizations intend to improve healthcare infrastructure by boosting financing, which would impact market dynamics. Furthermore, increased public and private sector attempts to raise awareness about avian influenza, and rising healthcare spending will drive the avian influenza vaccines market. Furthermore, rising consumer demand for chicken and increased outbreaks will grow the avian influenza vaccine market.
Market Restraints
Limited Shelf Life and Vaccine Scarcity
Because avian influenza vaccines have a relatively short shelf life, they must be stored and transported in freezing temps. This can be difficult in some regions due to a lack of cold storage infrastructure. Also, avian influenza vaccines are not accessible in all countries, and even in those that do, they may not be readily available. This can make getting the immunizations needed to protect their flocks challenging for poultry breeders.
Market Opportunities
Increase In the Number of Collaborations
The growing number of strategic collaborations will provide new and valuable market opportunities in the coming years. Strategic collaboration between commercial and government entities in developing healthcare solutions and collaborative efforts in the digitalization of medical aid facilities could help the industry thrive. Furthermore, increased investment in advanced technology research and an increase in emerging markets will give further chances for avian influenza vaccines market growth throughout the projection period.
Market Scope
Report Metric
Details
Market Size by 2031
USD XX Million/Billion
Market Size in 2023
USD XX Million/Billion
Market Size in 2022
USD XX Million/Billion
Historical Data
2019-2021
Base Year
2022
Forecast Period
2023-2031
Report Coverage
Revenue Forecast, Competitive Landscape, Growth Factors, Environment & Regulatory Landscape and Trends
Segments Covered

Segment by Type

Type H5
Type H9

Segment by Application

Chicken
Duck & Goose

Geographies Covered

North America
Europe
APAC
Middle East and Africa
LATAM

Companies Profiles

Merial
CEVA
Zoetis
Elanco (Lohmann)
Merck Animal Health
Avimex Animal Health
Segmental Analysis
Segment by Type
H5 type of avian influenza vaccines are intended to protect chickens from infection with this virus. Vaccines can be given in either live or inactivated form. The virus in live vaccinations is attenuated but still capable of eliciting an immunological response in the bird. The virus has been eliminated in inactivated vaccinations, but the proteins the bird's immune system needs to identify remain. Avian influenza vaccines are given to chickens in two doses, with the second provided approximately four weeks after the first. The immunizations are effective for up to six months.
Type H9 avian influenza vaccines are intended to protect chickens and other birds from infection with H9 subtype AI viruses. Inactivated or live attenuated vaccinations are available. Inactivated vaccinations contain viral particles that have been destroyed, whereas live attenuated vaccines contain virus particles that have been weakened. Inactivated vaccinations are usually given by injection, whereas live attenuated vaccines can be given by injection or spray. Inactivated vaccinations are more efficient than live attenuated vaccines in avoiding severe disease, although they may not provide long-lasting protection. Live attenuated vaccinations may provide longer-lasting protection but may increase the danger of virus transmission to other birds.
Segment by Application
Avian influenza (AI) vaccinations protect chickens from AI virus infection. AI viruses are divided into low pathogenic (LP) and highly pathogenic (HP). LP AI viruses can cause minor sickness in hens, whereas HP AI viruses can cause severe illness and death. Vaccination is a critical component of AI control programs. It can assist in minimizing virus spread, protecting flocks from infection, and avoiding economic losses. Vaccination works best with other control methods, such as biosecurity and surveillance.
Avian influenza vaccinations prevent ducks and geese from avian influenza virus infection. These viruses can cause various illnesses in birds, ranging from minor to severe and even lethal. Avian influenza viruses can be transmitted to humans in some situations, but this is uncommon. Several avian influenza vaccines are available, and the type of vaccination utilized will depend on the target virus. Some vaccinations are inactivated, which means the virus was destroyed, while others are live attenuated, which means the virus was weakened.
Regional Analysis
North America
The market is divided into three regions: the United States, Canada, and Mexico. The United States is North America's largest market for avian influenza vaccines. The market is divided into three categories, inactivated vaccines, live attenuated vaccines, and recombinant vaccines. In North America, inactivated vaccines are the most regularly utilized avian influenza vaccine. They are efficient at preventing avian influenza but not as successful at stimulating the immune system as live attenuated vaccines. Although live attenuated vaccinations are more efficacious than inactivated vaccines, they may cause moderate illness in some birds. Recombinant vaccines are a more recent avian influenza vaccination not extensively utilized in North America. They are created by combining genes from many viruses and are intended to be more effective and safer than regular vaccination.
Europe
Bird flu, commonly known as avian influenza, is a viral virus that mostly affects birds. However, certain strains of avian influenza viruses can occasionally infect people and constitute a public health risk. Various steps are being implemented in Europe to prevent and control the spread of avian influenza, including developing and distributing vaccinations. The incidence of avian influenza strains, government initiatives, and vaccination programs all impact the European avian influenza vaccine market. Various important players in the market include pharmaceutical corporations and vaccine makers.
Asia-Pacific
The Asia Pacific area, which includes China, Japan, India, Australia, and South Korea, has a high demand for avian influenza vaccinations due to the high occurrence of bird flu epidemics and dense chicken populations. The region's market for avian influenza vaccinations has grown steadily in recent years. In the Asia Pacific market, several global pharmaceutical companies and regional producers are actively involved in the production and marketing of avian influenza vaccines. These firms provide vaccines targeting specific strains of the avian influenza virus, emphasizing efficacy and safety.
South America
Avian influenza has been recorded in several South American countries, including Brazil, Argentina, Chile, Colombia, and Peru. These countries have put in place measures to prevent the disease's spread and protect both animal and human health. Avian influenza vaccinations are critical in preventing and controlling the spread of the virus in poultry populations. Governments and poultry companies frequently adopt vaccination programs to reduce avian influenza outbreaks danger and protect chickens against the disease.
Middle East and Africa
Several variables influence the market in this region, including government initiatives, chicken farming techniques, and disease outbreaks. The Middle East and Africa region has a sizable poultry sector, with nations like Egypt, Nigeria, South Africa, and Saudi Arabia having sizable chicken populations. In the Middle East and Africa, major pharmaceutical businesses involved in developing and distributing avian influenza vaccines operate. To ensure vaccination availability and accessibility, these corporations frequently engage with local veterinary organizations, poultry groups, and government authorities.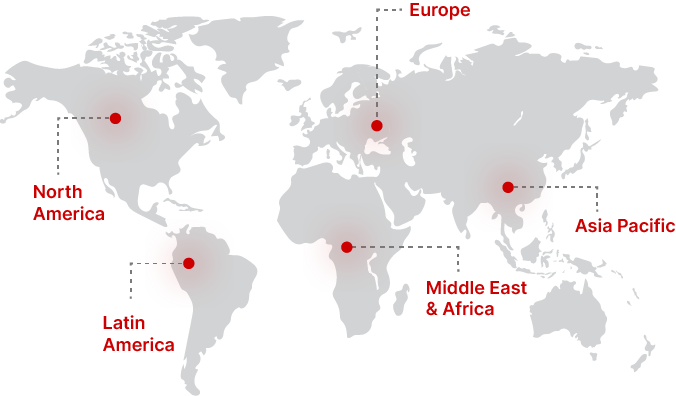 Regional Growth Insights
Download Free Sample
Key Players
Merial
Zoetis
Elanco (Lohmann)
Merck Animal Health
Avimex Animal Health
Avian Influenza Vaccines Market Segmentations
Segment by Type
Segment by Application
Frequently Asked Questions