Market Overview
The Global Business Dashboard Software Market Size is projected to grow at a CAGR of 10.5% during the forecast period 2023-2031.
The rising requirement for data-driven decision-making and the necessity for real-time insights have contributed to the rapid development and expansion of the business dashboard software industry in recent years. Effective monitoring and tracking of an organization's performance is made possible through business dashboard software, which provides a centralized platform for visualizing and analyzing key performance indicators (KPIs) and metrics. The increasing use of data analytics and business intelligence tools across sectors is a key driver of the business dashboard software industry. Business dashboards are becoming increasingly important as companies realize they can utilize data to achieve a competitive edge. They do this by providing a streamlined interface for viewing and analyzing information.
The expansion of telecommuting and distributed-team trends has increased the need for business dashboard programs. With staff spread out throughout the globe, businesses want a centralized platform that can update key business indicators in real-time to improve communication, teamwork, and decision-making. There is a lot of variety in the kinds of business dashboard software on the market, and the market is extremely competitive. Well-established firms looking to maintain their market share and upstarts eager to break into the industry with their take on things are constantly changing their products and services.
Market Dynamics
Market Drivers
Increasing Demand For Business Intelligence
Demand for business intelligence is increasing because companies want to use data to gain a competitive edge. Business dashboard software is a key part of business intelligence because it provides interactive visualizations and analytics that help companies understand trends, find opportunities, and solve problems.
Remote Work and Distributed Teams
The shift towards remote work and distributed teams has accelerated the need for business dashboard software. With employees working from different locations, organizations require a centralized platform that can provide real-time updates and enable collaboration and alignment. Business dashboards facilitate communication, tracking of goals, and performance management in a remote work environment.
Market Restraints
Security and Data Privacy Concerns
As business dashboard software deals with sensitive business data, security and data privacy are major concerns for organizations. There is a risk of unauthorized access, data breaches, or misuse of data if proper security measures are not in place. Compliance with data protection regulations, such as GDPR (General Data Protection Regulation), adds complexity to the implementation and usage of business dashboard software.
Market Scope
Report Metric
Details
Market Size by 2031
USD XX Million/Billion
Market Size in 2023
USD XX Million/Billion
Market Size in 2022
USD XX Million/Billion
Historical Data
2019-2021
Base Year
2022
Forecast Period
2023-2031
Report Coverage
Revenue Forecast, Competitive Landscape, Growth Factors, Environment & Regulatory Landscape and Trends
Segments Covered

Segment by Type

On-premises
Cloud-based

Segment by Application

SMEs
Large Enterprises

Geographies Covered

North America
Europe
APAC
Middle East and Africa
LATAM

Companies Profiles

SAP
Microsoft
TIBCO Software
Klipfolio
IDashboards
Dundas Data Visualization
Sisense
Tableau Software
Domo
Corporater
Geckoboard
Scoro
Datapine GmbH
InetSoft
Smartsheet
Zendesk
Dynistics
Qlik Sense
TapClicks
Olympic Software
Phocas Software
Datahero
Adaptive Insights
Cyfe
SAS Institute
SIBIA Analytics
Sage Group
ISHIR
BOARD International
ClicData
Segmental Analysis
Segment by Type
On-premises business dashboard software is software that is installed and runs on a company's hardware or in its own data center. In this model, the software is put on local servers and managed by the company's IT department. On-premises solutions give businesses more control over and protection for their data because it stays on their network. They also allow you to change the software to meet your unique needs. On-premises solutions, on the other hand, usually cost more upfront for hardware, software licenses, and maintenance. They also require dedicated IT resources to manage and keep the infrastructure.
Cloud-based business dashboard software, also known as Software-as-a-Service (SaaS), is hosted and delivered over the internet by the software provider. In this model, organizations access the software through a web browser, and the infrastructure, data storage, and software updates are managed by the provider. Cloud-based solutions offer several advantages, including lower upfront costs, scalability, and easy accessibility from anywhere with an internet connection. They also eliminate the need for organizations to handle infrastructure maintenance and software updates. However, organizations may have concerns about data security and privacy when using cloud-based solutions, although reputable providers implement robust security measures to address these concerns.
Segment by Application
Small and Medium-sized Enterprises typically have a smaller scale of operations and a limited number of employees compared to large enterprises. These organizations often have specific budget constraints and may require business dashboard software solutions that are cost-effective, easy to implement, and user-friendly. Business dashboard software for SMEs is designed to cater to their unique needs, providing essential features for monitoring and analyzing key metrics, tracking performance, and making data-driven decisions. The software may offer scalability options to accommodate the growth of SMEs over time.
Large Enterprises encompass organizations with significant operations, a large workforce, and complex reporting and analytics requirements. These organizations deal with extensive data sets and often require advanced functionalities and customization options in their business dashboard software. Large enterprises may need the ability to integrate data from multiple sources, perform sophisticated data analysis, and generate comprehensive reports for various departments or business units. The software should also support collaboration and provide access to real-time data for effective decision-making across the organization. Customization options are crucial to meet the specific needs of large enterprises and align the software with their existing IT infrastructure and workflows.
Regional Analysis
North America
In North America, the market for business panel software is very developed and competitive. The United States rules the area because it is the biggest market for software solutions like these. The growth of the market is helped by the country's strong economy, advanced technology infrastructure, and high rate of digitalization. Canada and Mexico also play important roles, especially as more and more companies use business intelligence tools. In North America, the need for real-time data insights, performance tracking, and decision-making help is driving the demand for business dashboard software. Tableau Software, Microsoft Corporation, and IBM Corporation, among others, are all major players in the area. The market is projected to keep growing because more people are paying attention to making decisions based on data, and more advanced analytics technologies are becoming available.
Europe
The European business dashboard software market has a developed and diverse landscape. The three countries that have contributed most to the market's expansion are Germany, the UK, and France. The demand for data visualization and analytics solutions is fueled by the substantial presence of well-established industries in these nations, including manufacturing, automotive, and financial services. Additionally, business intelligence solutions are increasingly being adopted in emerging markets like Spain, Russia, and Italy. The adoption of advanced dashboard software has been accelerated by the region's focus on data protection and security legislation, such as the General Data Protection Regulation (GDPR). QlikTech International AB, SAP SE, and MicroStrategy Inc. are significant market participants in Europe. As businesses work to obtain useful insights and boost operational effectiveness, the market is anticipated to rise steadily.
Asia-Pacific
In the Asia-Pacific area, the market for business dashboard software is growing quickly. China, Japan, and India are the main producers of the region's market. These countries have a lot of businesses in many different fields, like manufacturing, retail, and healthcare. More and more of these businesses use dashboard software to track success and make decisions. Also, Southeast Asian countries like Singapore, Malaysia, and Indonesia are emerging markets with rising digitalization efforts. The growing amount of data pushes the market, the rising demand for insights based on data, and the growing use of cloud-based solutions. Key players in the area include TIBCO Software Inc., Zoho Corporation, and Sisense Inc. The Asia-Pacific market is projected to grow significantly because of ongoing digital transformation efforts and the growing business landscape.
South America
South America's business dashboard software market is growing steadily, with most of the growth coming from Brazil, Argentina, and Colombia. As the biggest economy in the area, Brazil drives the demand for business intelligence solutions like dashboard software. Argentina and Colombia are also using this kind of software more and more, especially in the banking, telecommunications, and retail businesses. The market is growing because of things like the need for better operational efficiency, more competition, and a greater focus on making decisions based on data. Microsoft Corporation, Oracle Corporation, and TOTVS S.A. are all major players in the area. The South American market will likely keep growing as more businesses try to use data analytics for strategic planning and improving performance.
Middle East and Africa
The market for business dashboard software in the Middle East and Africa is rising steadily, with South Africa, the United Arab Emirates, and Saudi Arabia as the most important markets. Dashboard software is increasingly used in the region's banking, healthcare, and government sectors to get real-time insights and improve operational efficiency. In particular, the UAE has made a lot of progress in digital transformation and smart city projects, which has increased the need for business data.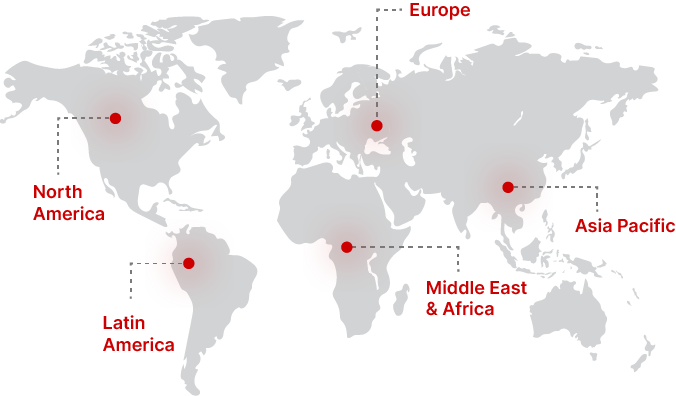 Regional Growth Insights
Download Free Sample
Key Players
SAP
TIBCO Software
Klipfolio
IDashboards
Dundas Data Visualization
Sisense
Tableau Software
Domo
Corporater
Geckoboard
Scoro
Datapine GmbH
InetSoft
Smartsheet
Zendesk
Dynistics
Qlik Sense
TapClicks
Olympic Software
Phocas Software
Datahero
Adaptive Insights
Cyfe
SAS Institute
SIBIA Analytics
Sage Group
ISHIR
BOARD International
ClicData
Recent Developments
June 30, 2023 - Microsoft announced a new AI Skills Initiative to help people and communities around the world learn to harness the power of AI. The new initiative, part of Microsoft's Skills for Jobs program, includes new, free coursework developed with LinkedIn; a new grant challenge with data.org for organizations to create new ways of training, upskilling and reskilling workers in generative AI.
Business Dashboard Software Market Segmentations
Segment by Type
Segment by Application
Frequently Asked Questions