Market Overview
According to Reed Intelligence the Cheese and Dairy Powders Market Size will approximately grow at a CAGR of 7.35% during the forecast period.
Cheese powder is made by dehydrating cheese. There are several methods to make cheese powder, but the most commonly used commercial process involves melting fresh, whole cheese and spraying it through a hot dryer. This results in a thick, velvety powder that can be used to enhance the flavor of various foods such as popcorn, bread, sauces, and even homemade cheese recipes. Cheese powder offers a convenient and cost-effective alternative for enhancing the flavor of various products. Additionally, it has a longer shelf life compared to other options. Powdered cheese is a popular ingredient in the dairy industry, particularly for making sauce bases. Cheese powder is typically derived from cheddar, although it is also available in Swiss, sharp, and a few other varieties. While it is not commonly found on supermarket shelves but can still be purchased from various online cheese making supply stores as well as spice or baking goods shops. At the same time, dairy products refer to various food items that are derived from milk. This includes popular butter, cheese, ice cream, yogurt, and condensed and dried milk.
Market Dynamics
Market Drivers
Increase Consumption of Convenient Food
The rise of urbanization and Western culture has resulted in a significant increase in fast food consumption. The increasingly busy lifestyles of individuals have resulted in higher consumption of packaged food, thereby driving the growth of the packaged food market. During the COVID-19 pandemic, consumers found it necessary to purchase and store essential food products with longer shelf lives, including items like soups, baking flour, snack bars, and more. This has led to a shift in consumer preferences towards convenient eating, creating a new opportunity for private players to enter the market and meet the increased demand.
Market Restraints
Awareness and Health Concerns
With the increasing consumer awareness about health and dietary concerns, many individuals are choosing to avoid dairy products for various reasons such as lactose intolerance, allergies, or concerns about saturated fats. The growing popularity of plant-based and vegan diets has resulted in a higher need for non-dairy options, such as plant-based cheeses. These alternative options frequently assert that they are both healthier and more sustainable, potentially affecting the sales of conventional dairy cheeses and the demand for traditional dairy products.
Market Opportunities
Use of Cheese and Dairy Powder in the Food Industry
The cheese and dairy powders market demand is continuously growing with the increasing interconnections of global diets as versatile ingredients in various cuisines. It is used by many chefs in various hotels, and restaurants for cooking a variety of cuisines and dishes. Various manufacturers demand cheese and dairy powder to expand their food products with new varieties, flavors, and formulations that effectively capture consumers' attention. Dairy powders are versatile ingredients that can enhance the flavor, improve the texture, and extend the shelf life of various food products. Furthermore, the Cheese and Dairy Powders Market is anticipated to experience growth due to consumers' increased awareness of the product's nutritional value, such as its high protein and vitamin content, as well as its low-calorie count.
Market Scope
Report Metric
Details
Market Size by 2031
USD XX Million/Billion
Market Size in 2023
USD XX Million/Billion
Market Size in 2022
USD XX Million/Billion
Historical Data
2019-2021
Base Year
2022
Forecast Period
2023-2031
Report Coverage
Revenue Forecast, Competitive Landscape, Growth Factors, Environment & Regulatory Landscape and Trends
Segments Covered

Segmentation By Type

Cheddar Cheese Powder
American Cheese Powder
Mozzarella Cheese Powder
Gouda Cheese Powder

Segmentation By Application

Biscuits
Snacks
Soups
Sauces

Geographies Covered

North America
Europe
APAC
Middle East and Africa
LATAM

Companies Profiles

Kerry Group
All American Foods
Blue Grass Dairy
Lactosan A/S
Aarkay Food Products Ltd.
Segmental Analysis
Segmentation By Type
Cheese powder is frequently included as an ingredient in cheese recipes. Cheddar cheese powder is made by dehydrating standard cheddar cheese to remove moisture, allowing it to be stored for an extended period. Cheese powder is commonly used in cheese recipes to enhance the flavor. Fresh cheese can sometimes have a tangy or bland taste, but the addition of cheese powder can significantly change its flavor.
American cheese powder is derived from processed American cheese. It is commonly utilized as a flavor enhancer in snacks, sauces, and various convenience foods. Parmesan cheese is renowned for its delicate and smooth flavor, making it a popular choice for enhancing the taste of popcorn, chips, and macaroni and cheese dishes.
This type of cheese is famous for its stretchy and melty texture. Mozzarella cheese powder is a versatile ingredient that adds a unique mozzarella flavor and texture to various dishes. It is commonly used as a topping for pizzas and in flavored popcorn, pasta dishes, and baked goods.
Gouda cheese powder is a type of semi-hard Dutch cheese that is renowned for its deliciously rich and subtly sweet taste. Gouda cheese powder is a versatile ingredient that can elevate the flavor of various dishes, such as mashed potatoes, soups, sauces, and savory baked goods.
Segmentation By Application
Savory or cheesy biscuits can be made by incorporating cheese and dairy powders into the biscuit dough. The powders enhance the biscuit's texture and add a rich and distinct flavor.
Cheese powders are frequently used to create savory snack coatings or flavorings, enhancing the overall snacking experience by adding depth of flavor.
Cheese and dairy powders are commonly used in soups to enhance their creaminess, richness, and flavor. You can dissolve them directly into the soup, creating a smooth and consistent texture.
Cheese and dairy powder are versatile ingredients that can enhance the flavors of pasta sauces, cheese-based sauces, and dips. These powders are beneficial for thickening sauces and enhancing the overall flavor.
Regional Analysis
North America (USA and Canada)
The extended shelf life of the product makes it the ideal option for packaged food items. In addition, the demand for cheese powder can be attributed to its ability to enhance taste and flavor. Teenagers and adults in North America highly consume fast food that is made of cheese powders and dairy products. In addition, manufacturers strive to enhance their products' quality and flavors while creating attractive and durable packaging. This is done to expand their business and increase their market reach. All these factors lead to the increased market share of the cheese and dairy powders market.
Europe (Germany, the U.K., France, Russia, Italy, and the Rest of Europe)
Cheese and dairy powders have extensive applications in the food industry, particularly in bakery products, sauces, dressings, and snacks. This widespread usage contributes to a steady and consistent demand for these ingredients. Also, growing economies and increasing disposable incomes characterize emerging markets. As a result, there is a notable rise in the consumption of dairy products, such as cheese and dairy powders.
Asia-Pacific (China, Japan, South Korea, India, Southeast Asia, Rest of Asia-Pacific)
There has been ahuge evolution in the culinary sector. Cheese powder is essentially dehydrated cheese. When it comes to food, there are numerous ways to utilize a food item in various recipes. The food can be cooked either fresh or frozen, just like strawberries. The food item can be used either in raw and natural form or completely dehydrated, similar to milk and milk powder. The same concept is applied to special food ingredients such as cheese, onion, tomato, garlic, ginger, and others. Hence, Asia-Pacific consumers use cheese and dairy powder in various recipes.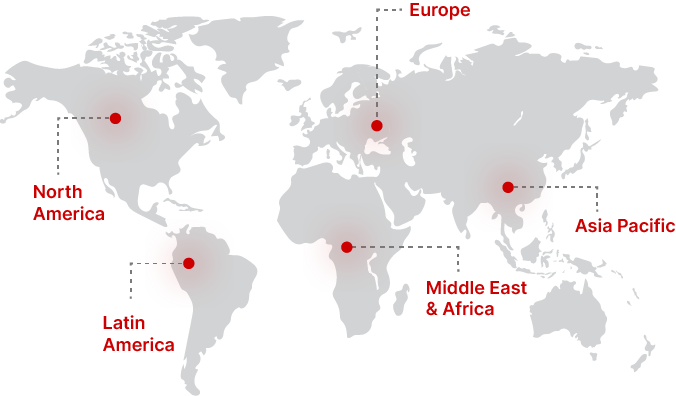 Regional Growth Insights
Download Free Sample
Key Players
Kerry Group
All American Foods
Blue Grass Dairy
Aarkay Food Products Ltd.
Cheese and Dairy Powders Market Segmentations
Segmentation By Type
Cheddar Cheese Powder
American Cheese Powder
Mozzarella Cheese Powder
Gouda Cheese Powder
Segmentation By Application
Biscuits
Snacks
Soups
Sauces
Frequently Asked Questions