Market Overview
According to Reed Intelligence the Global Commercial Bakery Machine Market Size will approximately grow at a CAGR of 3% during the forecast period.
The demand for efficient and automated equipment in industrial bakeries drives the growth of the commercial bakery equipment market. The manufacturing method necessitates the use of widely available commercial baking equipment such as ovens and mixers. These machines are frequently employed in a variety of companies, including bakeries and restaurants, to accommodate rising consumer demand for bread, pastries, cakes, and other bakery items.
A variety of things influence the market. The primary drivers of bakery product demand are a rise in customer demand for baked goods and a shift in consumer tastes. The market is expanding due to the increasing need for efficient, high-capacity equipment that provides consistent quality and meets the production requirements of commercial bakeries and foodservice businesses.
Market Dynamics
Market Drivers
Automation and Technical Advancements
Commercial bakery equipment may be updated with current technology, such as computerized controls, programmed settings, and automated processes, to increase productivity, reduce labor costs, and enhance uniformity and quality of baked items. Bakers are interested in technological advancements because they have the potential to increase output and effectiveness.
Market Restraints
Industrial baking equipment is tough to find on the market since there are so many manufacturers. Intense competition may put pressure on pricing, profit margins, and market share, especially for businesses that provide specialized goods or have a negative reputation.
Market Opportunities
The market for baking equipment is now seeing a rise in demand for ecologically friendly and energy-saving equipment due to a focus on efficiency and sustainability. Producers with eco-friendly procedures, waste reduction features, and energy-saving products may profit from this trend as the market for sustainable baking operations expands.
Market Scope
Report Metric
Details
Market Size by 2031
USD XX Million/Billion
Market Size in 2023
USD XX Million/Billion
Market Size in 2022
USD XX Million/Billion
Historical Data
2019-2021
Base Year
2022
Forecast Period
2023-2031
Report Coverage
Revenue Forecast, Competitive Landscape, Growth Factors, Environment & Regulatory Landscape and Trends
Segments Covered

Segmentation by Type

Ovens
Mixers

Segmentation by Application

Bakery
Restaurant

Geographies Covered

North America
Europe
APAC
Middle East and Africa
LATAM

Companies Profiles

Berjaya
FRITSCH
MJD INDUSTRIES
Salva
R&M Machinery
Twothousand Machinery
Ferneto
Guangzhou Hongling Electric Heating Equipment
Sinmag
PROBAKE INC
Segmental Analysis
Segmentation By Type
Another element in this group are the ovens used in commercial bakeries. These ovens are used to bake a variety of bakery treats, including bread, pastries, cakes, and cookies. Due to their precise temperature control, even heat distribution, and incredible baking capabilities, these ovens are designed to meet the production needs of bakeries and foodservice businesses.
In industrial bakeries, dough and batter are blended and mixed using mixers. These mixers are designed to handle different types of dough and ingredients and come in a range of sizes and capacities. They facilitate the proper mixing, kneading, and blending of components, hence assisting in ensuring uniformity and homogeneity in the dough for baked items.
Segmentation By Application
The usage of specialized bakery equipment in businesses that specialize in baking is covered in this section. Independent bakeries, artisanal bakeries, pastry restaurants, and other businesses with a focus on baking fall under this category. For efficient production processes, consistent quality, and to meet consumer demand for a range of bakery goods, commercial bakery equipment is required.
The primary focus of this category is the use of professional baking equipment in restaurants and other foodservice organizations. Restaurants may have internal bakeries or independent bakery facilities for the production of bread, pastries, sweets, and other bakery items. Using specialized bakery equipment, restaurants are allowed to bake their own baked items inside, maintaining quality control and offering consumers personalized options.
Regional Analysis
The Global Commercial Bakery Machine Market Analysis is segmented by region as North America, Europe, Asia Pacific, Latin America, and Middle East and Africa.
North America
In North America, there is a considerable market for commercial baking equipment. A wide variety of bread products are in high demand in the area, where the bakery industry is growing. The profusion of massive bakery chains, artisanal bakeries, and the expanding restaurant business are the main drivers of the sizeable market for commercial bakery equipment in the United States. Automation, technology, and the use of efficient baking equipment are significant advancements in this field.
Europe
The European Union has a sizable market for baked products. Numerous baked products are part of the region's extensive culinary history. The sophisticated baking methods utilized in countries like Germany, France, and Italy are what's driving the need for bakery equipment. The focus on specialty and artisanal bakery items as well as the surge in demand for environmentally friendly and energy-efficient equipment are two important trends in this sector.
Asia Pacific
The Asia Pacific region has tremendous growth potential for the commercial bakery machine industry. Due to increasing urbanization, shifting customer preferences, and the influence of bread products made in the West, the market is growing in this region. As chain bakeries, coffee shops, and cafes proliferate in countries like China, Japan, India, and South Korea, commercial bakery equipment is becoming increasingly essential. The advent of automation, digitalization, and equipment customization to match regional baking demands are notable developments in this field.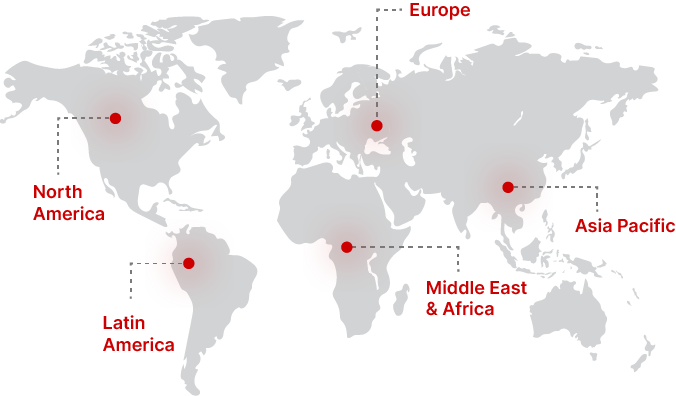 Regional Growth Insights
Download Free Sample
Key Players
Berjaya
FRITSCH
Salva
R&M Machinery
Twothousand Machinery
Ferneto
Guangzhou Hongling Electric Heating Equipment
Sinmag
PROBAKE INC
Recent Developments
Recently, automation and digitization have received a lot of attention in the development of commercial baking equipment. Manufacturing companies are integrating touchscreens, control systems, and communication technologies to provide remote monitoring, data analysis, and recipe management.
Commercial Bakery Machine Market Segmentations
Segmentation by Type
Segmentation by Application
Frequently Asked Questions