Market Overview
According to Reed Intelligence the Commercial Electric Lifting Columns Market will approximately grow at a CAGR of 8.01% during the forecast period.
The market for commercial electric lifting columns has experienced rapid expansion in recent years. This growth has been fueled by a number of factors, including the rising need for ergonomic solutions, automation, and Industry 4.0 implementation, the aging population and its attendant healthcare needs, the expansion of e-commerce and warehousing, and the focus on sustainability and enegy efficiency.
Commercial electric lifting columns are expected to have consistent expansion over the next few years, according to market research assessments. Due to the increasing implementation of electric lifting columns across a variety of sectors and applications, the market is anticipated to grow significantly in terms of revenue.
Market Dynamics
Market Drivers
Demand for ergonomic solutions is rising, and electric lifting columns are becoming more popular because of the increased focus on ergonomics in the workplace. These columns offer alternatives for desks, workstations, and other equipment's adjustable heights, enhancing worker comfort, productivity, and general wellbeing.
The need for electric lifting columns is being driven by the rise of automation and the adoption of Industry 4.0 concepts in the commercial sectors. These columns are frequently incorporated into automated systems, enabling effective logistics, assembly line, and material handling procedures.
Market Restraints
Compared to more conventional lifting methods like manual cranks or hydraulic systems, electric lifting columns may have a greater initial cost. Adoption may be hampered by this cost, especially for groups with limited funding or small firms.
Maintenance and Dependability
To ensure smooth functioning and lifespan, electric lifting columns need to have regular maintenance. Operational disruptions and higher expenditures might result from any maintenance problems or downtime. A lack of regular maintenance of the columns or poor product quality might potentially raise reliability questions.
Market Opportunities
Technological Developments
Opportunities for market expansion are presented by ongoing improvements in electric lifting column technology, including the creation of more effective motors, greater safety features, and better control systems. These developments may result in improved performance, greater dependability, and more varied application options.
Customization and Integration
There is a chance for manufacturers to offer integrated electric lifting columns that are specially made to meet the demands of a given industry. Integration with additional systems, like IoT connection or software control interfaces, can potentially result in value-added products and uncover new market niches.
Market Scope
Report Metric
Details
Market Size by 2031
USD XX Million/Billion
Market Size in 2023
USD XX Million/Billion
Market Size in 2022
USD XX Million/Billion
Historical Data
2019-2021
Base Year
2020
Forecast Period
2023-2031
Report Coverage
Revenue Forecast, Competitive Landscape, Growth Factors, Environment & Regulatory Landscape and Trends
Segments Covered

Segmentation By Type

Multi-stage Electric Lifting Columns
Two-stage Electric Lifting Columns

Segmentation By Application

Bed
Chair
Table

Geographies Covered

North America
Europe
APAC
Middle East and Africa
LATAM

Companies Profiles

Linak
Phoenix Mecano
Jiecang
Thomson Industries
Timotion
Suspa
Kaidi
Progressive Automations
LoctekMotion
MOVETEC Solutions
RICHMAT
X2 Technology
Roemheld
Segmental Analysis
Segmentation By Type
Multi-stage Electric Lifting Columns
Multiple stages or sections on multi-stage electric lifting columns enable a wider range of height adjustment. They are frequently employed in applications where a wide range of height modifications are required because they give versatility in terms of lifting height.
Two-stage Electric Lifting Columns
Electric lifting columns with two stages have two portions that can be adjusted in height. Compared to multi-stage columns, they offer a smaller range of height adjustment, but they are appropriate for applications that call for more straightforward height adjustment alternatives.
Segmentation By Application
Adjustable beds frequently have electric lifting columns in both healthcare facilities and residential settings. For improved comfort, accessibility, and medical treatment, users can alter the height and position of the bed using these columns.
To provide adjustable height and position options, electric lifting columns can be integrated into chairs, such as office chairs or recliners. Users may adjust the chair's tilt, height, and recline for more comfortable and ergonomic seating thanks to these columns.
Adjustable tables, including office desks, workstations, and conference tables, use electric lifting columns. Users can adjust the table height using these columns in accordance with their preferences, fostering ergonomic work environments and accommodating people of various heights.
Regional Analysis
The Global Commercial Electric Lifting Columns Market is segmented by region as North America, Europe, Asia Pacific, Latin America, and Middle East and Africa.
North America
Thanks to the increasing rise of major sectors like manufacturing, healthcare, logistics, and e-commerce, the commercial electric lifting columns market in North America has experienced significant expansion. The region has been a leader in automation and ergonomics, which has increased demand for electric lifting columns. The demand for workplace automation and ergonomics in numerous industries has led to a mature market for electric lifting columns in the United States in particular.
Europe
The market for commercial electric lifting columns in Europe is well-established and supported by strict laws and guidelines that promote worker safety and ergonomics. Electric lifting columns have been widely used in sectors including manufacturing, automotive, healthcare, and retail in nations like Germany, the United Kingdom, and France. The region's emphasis on environmental responsibility and energy conservation has also helped the industry expand.
Asia Pacific
The market for commercial electric lifting columns in this region is increasing quickly. This is largely due to the region's expanding industrial sector and the adoption of automation in nations like China, Japan, and
South Korea
The demand for electric lifting columns in warehouses, logistics facilities, and manufacturing facilities has expanded as a result of the region's thriving e-commerce sector and infrastructure development initiatives. Further boosting market expansion is the healthcare industry's investment in cutting-edge medical devices like patient lifts and adjustable beds in nations like China and India.
Rest of the World
The commercial electric lifting columns market is expanding steadily in other parts of the world, including Latin America, the Middle East, and Africa. The market expansion in these areas is being driven by the growing emphasis on industrial automation, infrastructure development, and the rising demand for ergonomic solutions in industries like healthcare and hospitality. Electric lifting columns are being used more frequently in commercial applications in countries like Brazil, the United Arab Emirates, and South Africa.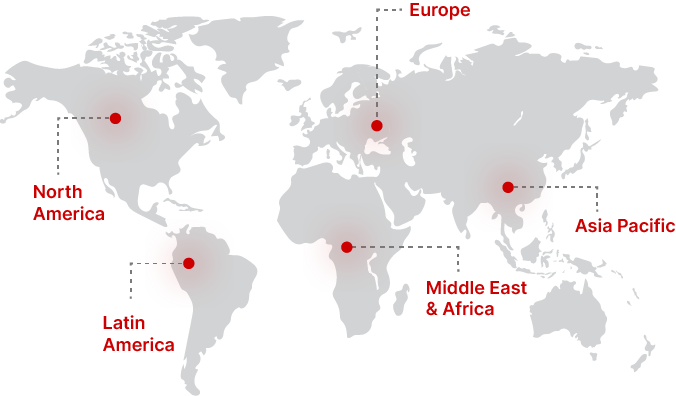 Regional Growth Insights
Download Free Sample
Key Players
Linak
Phoenix Mecano
Thomson Industries
Timotion
Suspa
Kaidi
Progressive Automations
LoctekMotion
MOVETEC Solutions
RICHMAT
X2 Technology
Roemheld
Recent Developments
Integration with smart technology: Smart technology is being incorporated with electric lifting columns to enable capabilities like remote control, wireless connectivity, and automated height adjustment depending on user preferences or sensor inputs. Through this integration, usability is improved and new avenues for automation and data-driven decision-making are made possible.
Focus on safety and compliance: There has been more of a focus on safety features and adherence to industry rules in recent advances in the commercial electric lifting columns market. Safety features like anti-collision sensors, overload protection, and emergency stop functions are being incorporated by manufacturers.
Commercial Electric Lifting Columns Market Segmentations
Segmentation By Type
Multi-stage Electric Lifting Columns
Two-stage Electric Lifting Columns
Segmentation By Application
Frequently Asked Questions