Market Overview
The Global Commercial Robot Scrubbers Market Size is anticipated to touch at a CAGR of approximately 7.1% during the forecast period.
The market for commercial robot scrubbers has recently expanded rapidly, and this trend is expected to continue. The growing use of automation in commercial cleaning methods, which is motivated by the need for higher productivity, cost savings, and maintaining high standards of cleanliness, has an impact on the market's size. Robotic scrubbers come in a variety of styles to accommodate a variety of cleaning settings and situations.
This increase is being driven by the demand for effective cleaning techniques, increased automation adoption, cost reductions, and the market for industrial robot scrubbers. Companies can now assist a wide range of sectors by supplying unique, cutting-edge robot scrubbers. Future technology developments and the introduction of intelligent features are expected to fuel market expansion and the creation of new opportunities for businesses looking for high-end cleaning solutions.
Market Dynamics
Market Drivers
Technological Innovations and Advancements
As robotics and automation technology advance, commercial robot scrubbers become more advanced and effective. Manufacturers are adding modern features such as sophisticated navigation systems, sensors for obstacle recognition and avoidance, and improved cleaning processes. As a result of these technological advancements, commercial robot scrubbers now deliver improved performance, efficiency, and all-around capabilities, which appeals to businesses more.
Market Restraints
Because of their limited flexibility, commercial robot scrubbers may find it difficult to operate and clean in difficult situations. Certain environments, such as congested areas, facilities with odd geometries, or locations with fragile or susceptible equipment, may be difficult for robot scrubbers to explore and adapt to. As a result of these constraints, robotic scrubbers may become less autonomous and efficient, necessitating the use of human labor or other cleaning procedures.
Market Opportunities
Integration of IoT and AI technologies opens up new commercial opportunities. Floor-cleaning industrial robots are one example. Robotic scrubbers can be connected to the Internet of Things (IoT) to collect and process data, enabling remote monitoring, preventative maintenance, and enhanced operational efficiency. As a result of AI's ability to absorb and adapt to a wide range of cleaning needs, robotic cleaning solutions will become more efficient, customizable, and intelligent.
Market Scope
Report Metric
Details
Market Size by 2031
USD XX Million/Billion
Market Size in 2023
USD XX Million/Billion
Market Size in 2022
USD XX Million/Billion
Historical Data
2019-2021
Base Year
2022
Forecast Period
2023-2031
Report Coverage
Revenue Forecast, Competitive Landscape, Growth Factors, Environment & Regulatory Landscape and Trends
Segments Covered

Segmentation by Type

Cleaning Path≤650mm
Cleaning Path: 650-800mm

Segmentation by Application

Supermarkets
Shopping Mall
Warehouses

Geographies Covered

North America
Europe
APAC
Middle East and Africa
LATAM

Companies Profiles

Softbank
Tennant
Avidbots
Gaussian Robotics
Intellibot Robotics
Karcher
Nilfisk
Adlatus
Intelligent Cleaning Equipment
Ddrobo
Minuteman
Segmental Analysis
Segmentation By Type
Industrial robot scrubbers with cleaning paths up to 650mm broad fall under this category. These robotic scrubbers are designed to clean tight places completely. They function effectively in situations requiring agility, such as those with rounded corners or constrained aisles.
The cleaning paths on industrial robot scrubbers in this market segment range in width from 650 to 800 mm. These robot scrubbers are made with the goal of cleaning bigger surfaces more completely in one pass. They perform larger floor surfaces, open areas, and long hallways cleaner and more effectively.
Segmentation By Application
One of the objectives of supermarkets is the use of industrial robot scrubbers in supermarkets and grocery shops. Due to the high volume of foot traffic these places get, ongoing cleaning is necessary to keep them hygienic. Commercial robot scrubbers improve cleaning effectiveness and ensure that all areas, including aisles, entrances, and other locations, are thoroughly cleaned.
Malls are enormous commercial buildings that provide a variety of shops, food courts, and meeting areas. Commercial robot scrubbers are used at malls to keep the areas tidy and pleasant. Customers' shopping experiences could be improved with robotic scrubbers that efficiently clean mall hallways, food courts, toilets, and other public areas.
Consistently cleaning expansive floor surfaces is often necessary to maintain a clean and safe workplace. Commercial robot scrubbers may be used to remove spills, sludge, and debris from warehouse floors. They increase efficiency by requiring less human work and providing trustworthy, thorough cleaning outcomes.
Regional Analysis
The Global Commercial Robot Scrubbers Market is segmented by region as North America, Europe, Asia Pacific, Latin America, and Middle East and Africa.
North America
Commercial robot scrubbers have a sizable market in North America as a result of the region's well-established industries and strong emphasis on automation and efficiency. Many local companies, especially those in the healthcare, retail, and hospitality industries, have an urgent need for better cleaning materials. The two nations that contribute most to the market in this industry, where robot scrubbers are used to automate cleaning procedures and reduce the need for human labor, are the United States and Canada.
Europe
Europe is a big market for commercial robot scrubbers due to its strict cleaning laws and focus on sustainability. Robot scrubbers are employed in a variety of sectors, including healthcare, manufacturing, and commercial enterprises in nations including Germany, France, and the UK. More effective cleaning techniques are projected to be needed, notably in hospitals, hotels, and shopping malls.
Asia Pacific
Due to the region's rapid industrialization, urbanization, and adoption of cutting-edge technology, the market for industrial robot scrubbers is growing there quickly. Three of the primary market contributors in this area are South Korea, China, and Japan. In industries including manufacturing, retail, and hospitality where automation is needed to increase operational efficiency and maintain high standards of cleanliness, robot scrubbers are becoming more and more significant.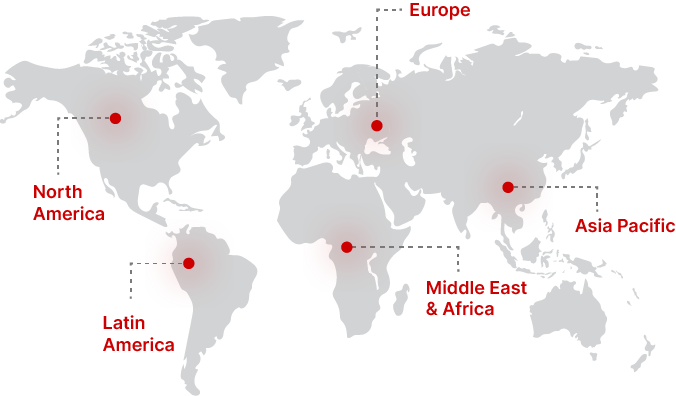 Regional Growth Insights
Download Free Sample
Key Players
Tennant
Avidbots
Gaussian Robotics
Intellibot Robotics
Karcher
Nilfisk
Adlatus
Intelligent Cleaning Equipment
Ddrobo
Minuteman
Recent Developments
With a focus on cleaning skills, the market for industrial robot scrubbers is continually changing. Manufacturers provide cutting-edge cleaning methods, such as enhanced brush designs and more powerful suction, to deliver cleaner results more quickly and efficiently. These modifications increase the bar for cleanliness while also increasing customer satisfaction.
Commercial Robot Scrubbers Market Segmentations
Segmentation by Type
Cleaning Path≤650mm
Cleaning Path: 650-800mm
Segmentation by Application
Supermarkets
Shopping Mall
Warehouses
Frequently Asked Questions